Pattie Gonia Is the World's First Backpacking Queen
A Nebraska-based photographer is bringing positivity and drag culture to the great outdoors—in six-inch heels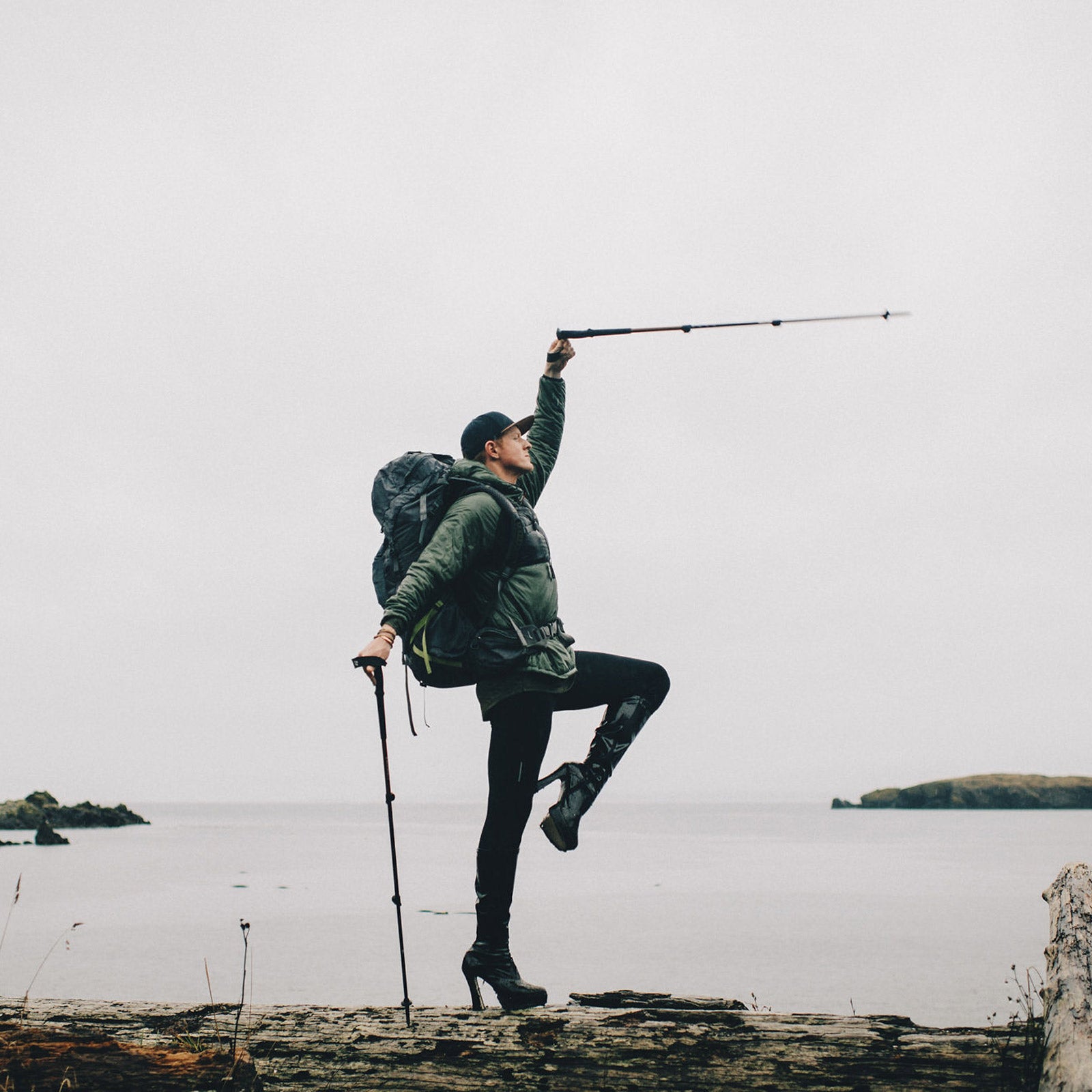 Karen K. Wang Photography(Photo)
Heading out the door? Read this article on the new Outside+ app available now on iOS devices for members! Download the app.
Becoming an Eagle Scout takes serious commitment. Only about 4 percent of Boy Scouts acquire the 21 merit badges and survive the intense review process to reach the elite level of outdoor stewards. Unsurprisingly, the Eagle Scouts count some impressive and hardworking men among them, including Neil Armstrong, President Gerald Ford, and Steven Spielberg. Here's another name you can add to that exclusive list: Pattie Gonia, the viral drag queen who dances atop mountains in six-inch-heeled boots.
Pattie Gonia made her debut on Instagram in early October. Within a month, she gained more than 30,000 followers, and for obvious reasons: She's hilarious and captivating and consistently manages to not fall off the side of a mountain in those six-inch heels. (If there isn't already a Boy Scout badge for that achievement, there should be.) In one video, the 6'10″ Pattie twirls her trekking poles on top of a mountain to Fergie's "London Bridge." (Fergie has seen the video.) In another, geotagged at Brokeback Mountain, she gets sexy in a cowboy getup in front of some unenthused horses. For Halloween, she hiked in full drag as Mother Nature. The self-proclaimed "world's first backpacking queen" is officially here.
The character—whose name is a pun on the California-based gear brand, though she has no sponsorship or formal connection to it—is portrayed by Nebraska-based photographer and Eagle Scout Wyn Wiley. Earlier this year, he and his friends were brainstorming drag names, and a friend tossed out the name Pattie Gonia. An avid skier, thru-hiker, and rock climber, Wiley thought the idea was too fun to pass up. His upcoming trip to the Continental Divide would be Pattie's grand debut. He once did a drag performance as Ginger Snap (he's a red-headed photographer—get it?) and still had the boots, so he dug them up. "I just packed in the boots and was like, 'This does not make sense at all. I have no room in my pack for these.'" Wiley doesn't do entire hikes in Pattie's boots, as the human ankle was not created for such a feat, but he always treks a portion in them.
So how did Pattie blow up so quickly? Wiley boasts more than 75,000 followers on his personal account—he's a professional wedding and portrait photographer and videographer when he's not climbing mountains in heels—which gave Pattie a solid platform from the get-go. But Wiley attributes her popularity to something a little more magical than Instagram analytics. "There's a queen inside everyone," he says. "I think Pattie is the voice inside telling people they should just go for it. Live unapologetically."
Drag culture is as mainstream as it has ever been: RuPaul is now an Emmy-winning household name, and his ubiquity is only trumped by that of drag slang. Drag's appeal reaches far beyond gay men, and to that end, Wiley estimates about half of Pattie's followers are women under the age of 30. But he also cites Pattie's unconventional look—her being in nature and mixing up feminine and masculine attire—as a point of interest. "I think if I just walked onto the scene as Pattie as just a classic drag queen, I don't think it would have as much engagement," Wiley surmises.
"There's a queen inside everyone," Wiley says. "I think Pattie is the voice inside telling people they should just go for it. Live unapologetically."
Wiley posted that first Pattie Gonia video to his personal account with the intention of it being a one-time thing. But given the enthusiastic response, he decided to build out the character, if for no other reason than to make people laugh. "Pattie Gonia is fun, first and foremost," Wiley says. "I feel like social media sucks so much life out of us. If we can have a place where people can have a good laugh or be encouraged, I think I want her to be there."
Beyond that, Wiley's ultimate goal is for Pattie Gonia to inspire more people to spend time outdoors, particularly those who have historically been excluded from the outdoor community, including the LGBTQ community, people of color, and fat folks. Wiley hopes to achieve that goal by leading groups of novice hikers as Pattie Gonia, getting sponsors to provide gear for those who can't afford it, and amplifying the work of others who have been campaigning for inclusiveness in the outdoor community for years. He particularly admires the work of Jenny Bruso, founder of Unlikely Hikers, a Portland-based group that leads hikes for the underrepresented outdoorists.
On a more personal level, drag is a way for Wiley to explore his more feminine sides. "In my normal life, I'd say I'm pretty straight-passing," he says. "But when I put those boots on, it feels like a girl when she puts on mascara for the first time—it unlocks a different side of you that you haven't seen before. I think femme is important. I think masculinity is important. I think it's all inside of us."
For Wiley, nature also contains both a femininity and a masculinity. Outdoorsiness often has a butch connotation—roughing it and rolling around in the mud isn't stereotypically girlie. (Of course, the act of enjoying the outdoors has no gender, but living in a patriarchal society means unwittingly assigning gender roles to all sorts of inanimate things.) As Pattie, Wiley aims to buck that cliché by shining a light on the femininity that he believes has always existed in the outdoor world. "I just got into rock climbing this year, and you can masculine your way up a wall, but there's no beauty in it," he says. "The people I look up to at my rock climbing gym who are so graceful about it pull from all the feminine aspects—it's like watching ballet happen on a wall."
Ultimately, Pattie Gonia is here to unleash the hiker, skier, and rock climber in everyone, regardless of gender. "It takes a freakin' boss-ass bitch to climb a mountain, no matter whoever you are," Wiley says. "Girl, guy, no matter where you are on the spectrum, it's awesome."
Lead Photo: Karen K. Wang Photography
Trending on Outside Online