The Problem With Dogs
Cats are being blamed for killing billions of birds and small mammals in the United States every year, but off-leash, free-roaming, and feral dogs are responsible for a fair bit of damage to wildlife, too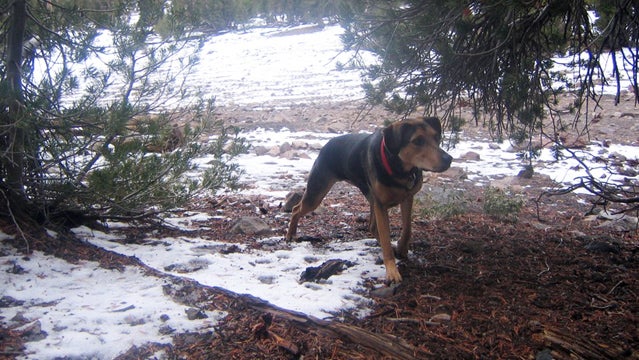 Heading out the door? Read this article on the new Outside+ app available now on iOS devices for members! Download the app.
A study published last week in the journal Nature Communications caused a big stir by estimating that domestic cats kill up to 25 billion birds and small mammals each year. In fact, it suggests that "free-ranging" domestic cats (this includes both pets that are allowed outside as well as feral cats—though feral cats are responsible for the lion's share of the take) are the single biggest source of anthropogenic mortality for birds and mammals in the United States. In other words, cats do more damage than buildings, cars, pollution, or any of the other hazards that humans have wrought.

The author's dog.
Some New Zealand environmental groups consider the toll domestic cats take on wildlife so significant that they're asking the government to take steps to phase out cat ownership completely. (The World Society for the Protection of Animals says New Zealand has the highest percentage of cats per household in the world.)
But cats are not lone actors. Off-leash, free-roaming, and feral dogs do a fair bit of damage to wildlife, too.
In fact, Julie Young, an assistant professor at Utah State University's Wildland Resources department, says canines might munch or harass just as large a slice of the wildlife pie.
An important disclaimer: dog-wildlife interactions have not been nearly as closely or as extensively studied as those of cats, so there is much that researchers do not know about the negative tolls dogs take on wildlife. These tolls are divvied up into three categories: disease spreading, killing/harassing other species, and competing with other species for food.
Young conducted research into the impact that dogs have on three endangered ungulates in Mongolia, which has a significant number of feral and free-roaming dogs (dogs that are free-roaming do have owners who provide them with food and shelter, but they're allowed to move about on their own). In some cases, dogs killed as many as a third of the ungulate populations Young and her partners were studying.
"It's a different problem in the U.S.," says Young. The conflicts here are in some rural areas, some urban corridors, and in places with large packs of free-roaming or feral dogs, such as Native American reservations. "I've heard of some communities where dogs kill more wildlife than wild animals do," she says. In fact, the findings of a 2010 wolf study suggested that, based on analysis of fecal matter, dogs took more livestock than wolves, which had been falsely blamed for the kills. A 1988 study in New Zealand linked the death of up to 800 kiwis (out of a population of 1,000) to a single dog.
"It's a management issue as much as it is a personal responsibility issue," says Young. "There are laws in 44 states about dogs harassing wildlife, but they're not really enforced."
There are some concerted efforts underway to address dog predation, including programs focused specifically on Native American reservations in the Southwest and the Dakotas, which have had mixed results.
Dog-wildlife interactions are particularly intense in large urban parks and along urban beaches where either stray or free-roaming dogs tend to run wild. Nesting snowy plovers are particularly threatened, says Josiah Clark, an independent consulting ecologist based in San Francisco, because they nest along beaches where they're often chased by dogs. That can result in either the direct death of the bird, or in it abandoning its nest and eggs.
The Golden Gate National Recreation Area (GGNRA), which extends from San Francisco Presidio and into the Marin Headlands over the Golden Gate, is one of the world's largest urban parks. With San Francisco dogs outnumbering children, it's not surprising that off-leash dogs are a significant concern to wildlife conservationists.
On San Francisco's Crissy Field, a popular dog-walking area and part of the GGNRA which borders the Bay, fencing protects an area where the snowy plover winters. After the fences went up, so did the snow plover numbers. But, says Clark, it's not enough. "Even with the huge signs and the fences, you can find someone walking their dog in these forbidden areas," he says.
"In urban areas, we're continuing to lose species," says Clark. "It's almost like a conveyor belt, with the brush rabbit and California quail headed toward the edge."
Clark does not place all the blame on dog walkers who allow their pets off-leash. He points to some parklands in the Bay Area that are surrounded by homes and says outdoor cats are likely killing many birds in these areas, as well. He also says that the lack of fallow land is another problem. "When I was a kid, growing up in San Francisco, the Presidio was a refuge." Absent was the trail-building and native habitat restoration—and groves of visitors—that the area has seen since it became part of the National Park Service. But, part of the downside of this work is that the habitats that many birds thrived in are now gone, says Clark, and among the new threats are bounding dogs.
"However good you think you are at finding animals, your dog is 100 times better than you," says Clark. Let's not forget, he adds: finding birds and other prey is what many of our dogs were bred to do.
"Part of the problem is people will never love wild animals as much as they love their pets," Clark says, adding that he's a dog owner himself and loves dogs. But what many San Franciscans feel is their right to allow their dogs off-leash is not, in Clark's estimation, a right. It's a privilege.
The GGNRA is in the midst of a protracted policy debate over where individual off-leash dogs should be allowed and disallowed (a "dog management plan"), and which areas will be permitted for commercial dog-walkers. The battle doesn't look like it'll end anytime soon. "There are a lot of people in San Francisco with a lot of money and a lot of lawyers who are fighting the management plan," says Clark.
Young says she thinks the problem is that many dog owners fail to grasp that the issue is not that their one dog is going to make irreparable harm, it's the larger dog population. "You have to think of the numbers" of dogs in some sensitive areas. "If you see a sign that says no dogs," she says. "There is a reason for that."