This Montana Snowbowl Ad Is So Bad
In a time when so many brands are marketing to women in smart ways, the body-shaming fliers that sparked major blowback in Missoula felt especially tasteless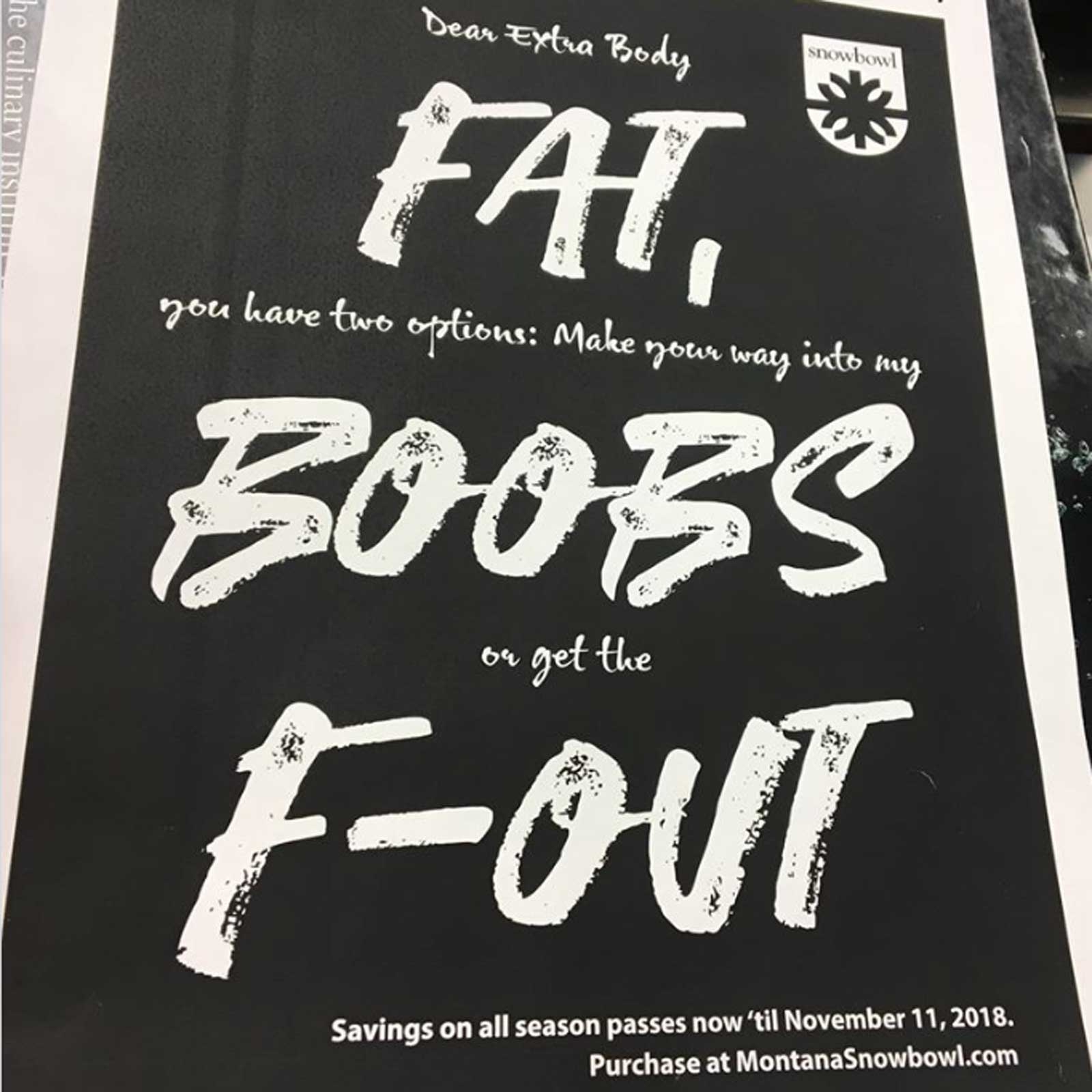 Heading out the door? Read this article on the new Outside+ app available now on iOS devices for members! Download the app.
Before we talk about skiing, let's talk about science. Specifically what boobs are and where they come from. Let's go back to the children's television star Punky Brewster. In a 1987 episode, Punky and Co. tried to give themselves boobs through a combination of chest compressions and eating cheese puffs. Spoiler alert: it didn't work.
You may be wondering why this is relevant. It's because the same kind of low-logic body alchemy attempted by a fictional preteen who couldn't even match her own socks was just applied to a humorless, tone-deaf ski-resort ad.
In October, a flyer for Montana Snowbowl was posted at five breweries and one college campus in Missoula. "Dear extra body FAT," it read. "You have two options: make your way into my BOOBS or get the F-OUT." Capitalization, theirs. Swishy feminine handwriting font, theirs. Indignation, pretty much everyone else's. In the corner, small block letters advertised season-pass deals.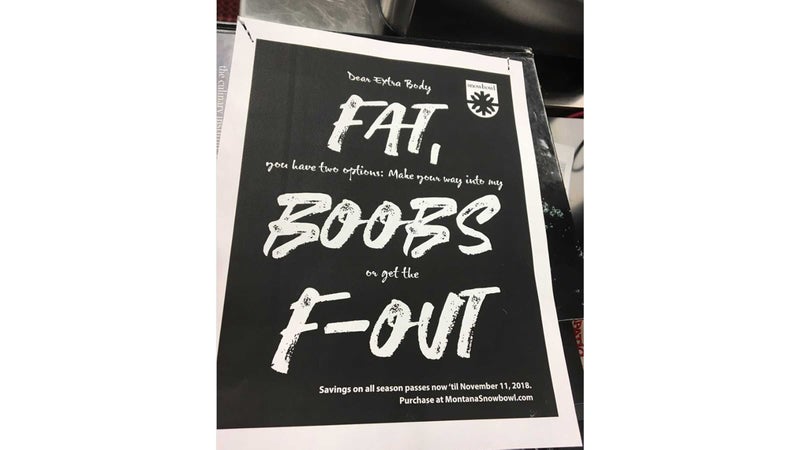 The ads were pulled down after swift social-media blowback against the concept and the execution. Snowbowl hadn't authorized the flyers, the company said in a Facebook post. (Snowbowl had not responded to requests for comment at the time of publishing this article.) It had actually rejected the idea, but Wes Spiker, the head of Spiker Communications, the ad agency that created it, said he thought it was cool and wanted to see what happened if he tacked up a few fliers in the places he saw as his target market. (Spiker was already infamous for ads like one for the Brighton Ski Resort quad chair that poked at Utah's Mormon heritage with the line "Wife. Wife. Wife. Husband.") As for the breast-oriented ad, "I've heard that comment most of my life. I'm hearing it from young women, from men. I work out and I hear it at the gym," he told us. Spiker said he was more worried about the f-word than the body-image connotations. "We were totally off the mark, I got caught with my drawers down around my knees."
Spiker issued an apology on Facebook after the flyer blew up. "First, we apologize to anyone who took offense," he wrote. "It was not my intent to offend anyone, we showed the line around to a handful of ad people and it was well received and thought to be very funny." And that's when the internet got really mad. He (and Snowbowl along with him) was ripped apart for being crass and for the milquetoast apology. " 'The younger audience' here speaking and I'm highly offended. Try something other than sexualizing women for humor and profit," one Facebook user wrote in reply.
It's not just that the ad pandered grimly to outdated ideas of body image. It was that it wasn't even funny. It felt like one of those cheesy "Thank God for wine" dish towels you see at low-grade gift shops, but much worse. Crass and embarrassingly cutesy at the same time, living somewhere deep in the swamp of toxic gender norms and body shame. Spiker said he thought the ad got caught up in a #MeToo sea change, and the timing might be why the response flamed so hot. But the wider response was that it was tasteless regardless of broader social context.
Often jokes are funny because they play to a common language. There's a snort of recognition in the punch line—it's funny because it's true. But by presumably implying that getting a season pass is a ticket to weight loss, and that weight loss is the way to target female consumers, the only thing familiar was how trite the message felt. That conversation is tired. (It's worth noting that Spiker has been doing Snowbowl's ads since 1983.) It's exhausting to be fed messages about what men think women think. That we're simple and stupid, and make decisions based solely on appearance. That women are, categorically, insecure enough to be swayed by fears about our uncontrollable bodies. I'm tired of having to carve out defensible space around the idea that I might like to go skiing because it's fun and feels good. No one I know skis to get skinny.
The Snowbowl ad feels particularly tone deaf now, when some brands in the outdoor space are doing a better job of appealing to female athletes. Outdoor Research flipped the script with its joyful, badass "Where the Wild Things Play" video (about thumbing through Tinder and not getting any hits because the women were all out climbing, skiing, biking, and highlining). Blizzard Skis' new Moments video campaign drills into the many reasons why we might want to ski—to be present, for the solitude, or to feel alive, not for weight loss. REI's Force of Nature ads push for gender equity. The She's Out There series from Scott highlights classic adventure porn with female protagonists. The North Face's She Moves Mountains campaign centers on badasses like Margo Hayes and Ashima Shiraishi and urges women to push themselves harder in the outdoors. Black Diamond's Babsi Zangerl videos draws attention to a remarkable female climber. These are still ads, but they feel fun and true.
Next time, take a note from other outdoor companies. Instead of trying to shame women into skiing your slopes, inspire them.