Indefinitely Wild
Trump's Proposed Budget Would Devastate National Parks
A close reading of the President's 2020 Department of the Interior budget reveals massive funding cuts for everything public-lands related—except for oil and gas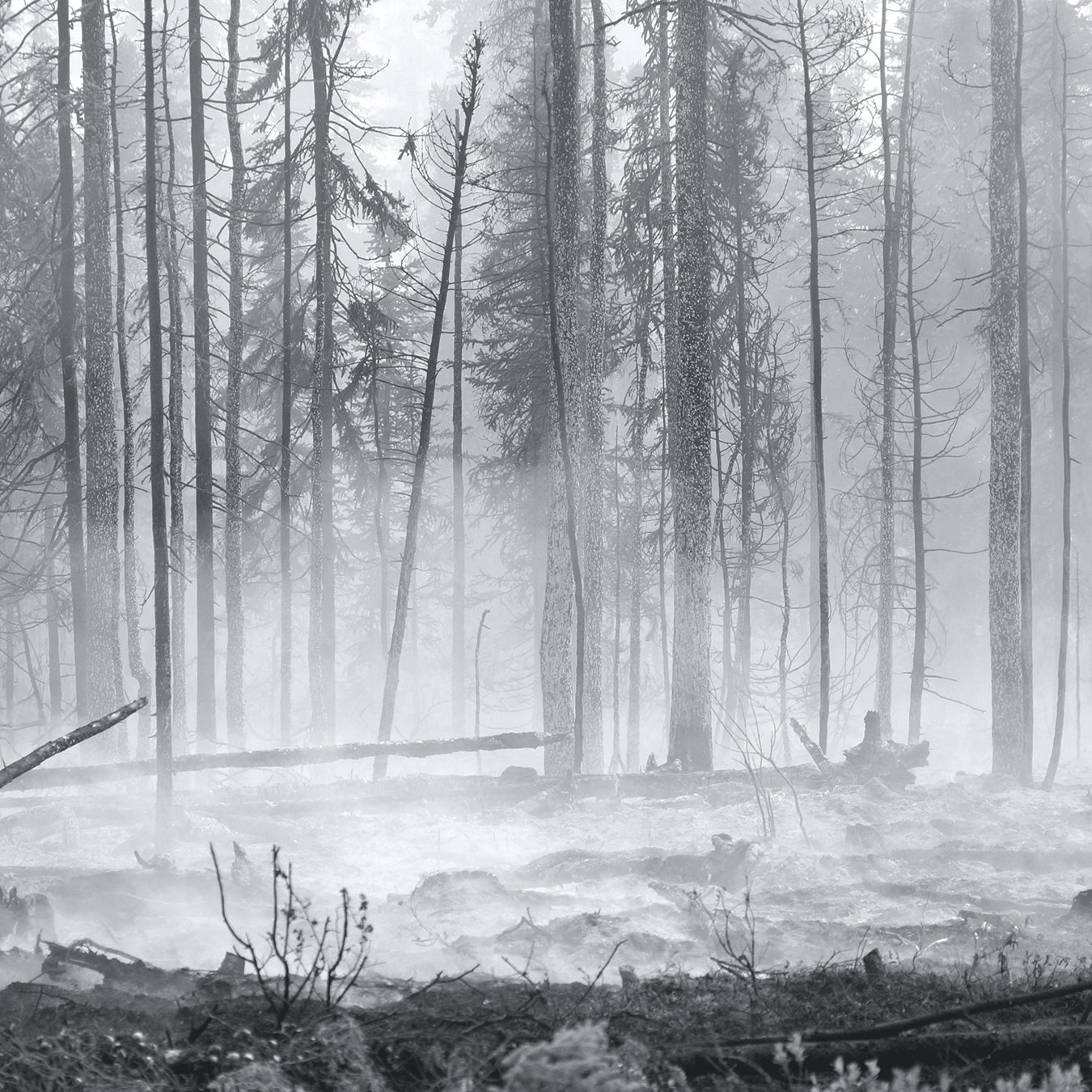 Heading out the door? Read this article on the new Outside+ app available now on iOS devices for members! Download the app.
To understand any budget, all you need to see are the numbers. And when you look at the Trump administration's 2020 budget proposal for the Department of the Interior, those numbers paint a pretty clear picture.
Despite rhetoric about allocating more money for fire suppression and to address the National Park Service's overwhelming maintenance backlog, the reality is that, if this proposal were to move forward, there would be less cash to go around for virtually every line item that isn't directly related to oil and gas extraction.
The good news? The President doesn't set the federal government's budget; Congress does. And, according to House Natural Resources Committee Chair Raúl Grijalva, "This isn't worth the paper it's printed on, it's dead on arrival in Congress, and printing it was a waste of time."
But, as an indication of the Trump administration's priorities, the balance sheets in this budget are about as truthful as it gets. The administration is committed to slashing funding for our national parks and public lands. Let's cut through the bullshit.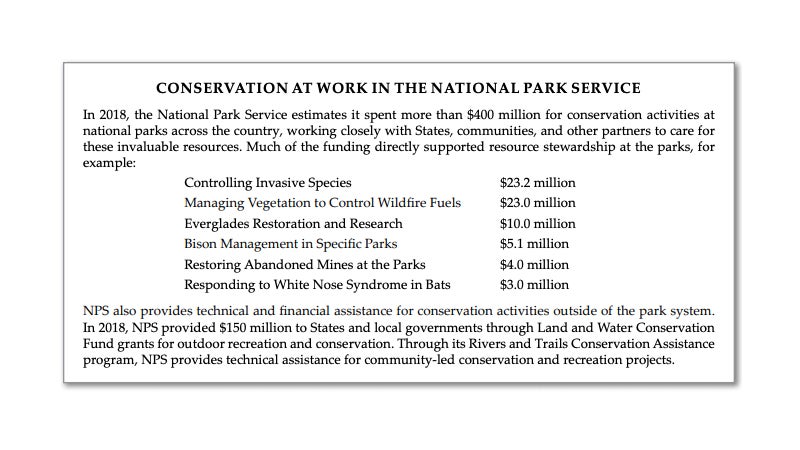 The Rhetoric: "One of Interior's highest priorities remains to address the deferred maintenance backlog on Federal lands," reads the proposed budget. "At the end of 2018, Interior's backlog was over $16.0 billion, about three quarters of which is in the National Park Service's (NPS) crumbling roads, bridges, water systems, and facilities." 
The Reality: The total NPS budget would be cut by $494,946,000. This includes cuts to the operations budget of $52 million, a $31-million cut to the National Recreation and Preservation fund, a $64-million cut to the Historic Preservation Fund, a $113-million cut for the construction and major maintenance budget, and a $176-million cut for land acquisition and state assistance programs.
---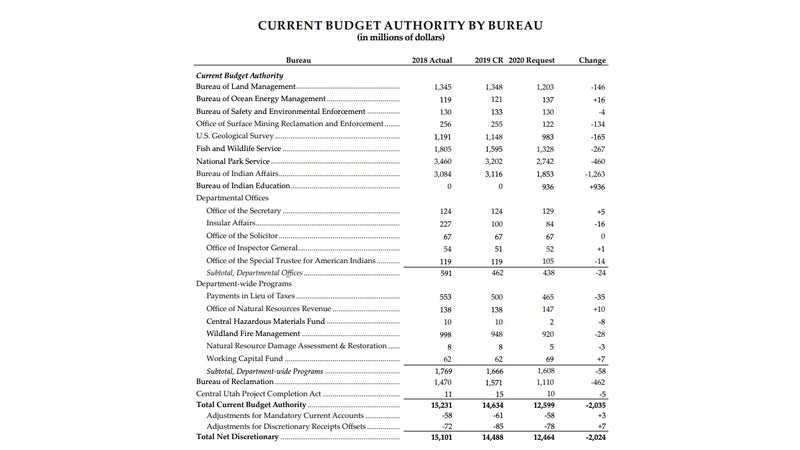 The Rhetoric: "The 2020 budget request includes more than $1.5 billion to support infrastructure maintenance and construction. Funding focuses on projects to address critical health and safety concerns as well as repair existing infrastructure. Complementing this request is the Administration's legislative proposal to invest $6.5 billion over 5 years into a Public Lands Infrastructure Fund to significantly reduce the deferred maintenance backlog. The Fund will support infrastructure improvements through an allocation of 70 percent for national parks, 10 percent for national forests, 10 percent for wildlife refuges, 5 percent for BIE [Bureau of Indian Education] schools, and 5 percent for lands managed by BLM."
The Reality: As of last year the NPS's differed maintenance backlog was $11.6 billion, a number that was expanding at a rate of $275 million per year. That was before the 35-day government shutdown, which saw national parks remain open with reduced staffing. We won't have a full account of how much that situation added to the backlog until next month, but this budget includes no money to address shutdown-related damage. 
Crunching the administration's numbers, they're suggesting a budget of $910 million per year, for five years, to address that backlog. In a best-case scenario, that would only get us $4.55 billion into that ever-increasing backlog, before we talk about the proposed $113 million-per-year reduction in the NPS' regular maintenance budget. And, as with last year's budget, that alleged funding relies on oil and gas leasing rates and sales to remain stable, and is only available if other budgets outside of the DOI, which are given priority access, don't require that money first. It's Monopoly money, basically. 
---
The Rhetoric: "In the FWS [Fish and Wildlife Service] budget, funding supports safe and reliable access to outdoor recreation for over 55 million visitors. These outdoor recreation opportunities, along with special events and outdoor education programs, annually generate $2.4 billion in economic activity and support more than 35,000 jobs." 
The Reality: The FWS's budget is slashed by $267 million. This includes cuts of $21.8 million to the resource management budget, a $13-million reduction in the National Wildlife Refuge Fund, and an $84.5-million cut the bureau's endangered species conservation fund. There's even a $10,000 cut for migratory bird conservation funding. 
---
The Rhetoric: "Decades of poor forest and vegetation management practices nationwide have contributed to deadly and destructive wildfires… Active fuels management is a necessary and important tool to combat these threats, save lives, and protect property."
The Reality: The total wildland fire management budget is cut by $28 million. While its fuels management budget is increased by $10 million, this is more than offset by the program's cuts, which include a $5.7-million cut for suppression operations, an $11-million cut for burned area rehabilitation, an $18-million cut for fire facilities, and a $3-million cut for fire science. 
---
The Rhetoric: "Another central component of Interior's stewardship mission is to ensure the availability of water to communities, farmers, ranchers, and residents across the West. The 2020 budget includes $1.1 billion for Reclamation's water resource programs to ensure millions of customers continue to receive the water and power essential for daily life, healthy local economies, and resource management." 
The Reality: The Bureau of Reclamation's budget is slashed by $462 million. This includes cuts of $451 million for "water, and related resources."
---
The Rhetoric: "The USGS is responsible for monitoring and notification of earthquakes, volcanic activity, and landslides in the United States and collaborates with partners to improve hazard monitoring, explore vulnerable interdependencies, and speed disaster response. Research USGS conducts on minerals, energy resources, and global mineral commodity reports supports national security, provides information to manage energy resources, and informs the understanding of international trade issues. USGS provides essential information for stewardship of the Nation's lands and protection from biological threats."
The Reality: The USGS's budget is cut by $165 million. $164.9 million of that comes out of the surveys, investigations, and research budget.