We Need More Women of Color Working in the Outdoors
Three years after the Camber CEO Pledge, outdoor companies still struggle to find and hire female leaders. The gap is slowly closing, but the lack of focus on hiring women of color is clearer than ever.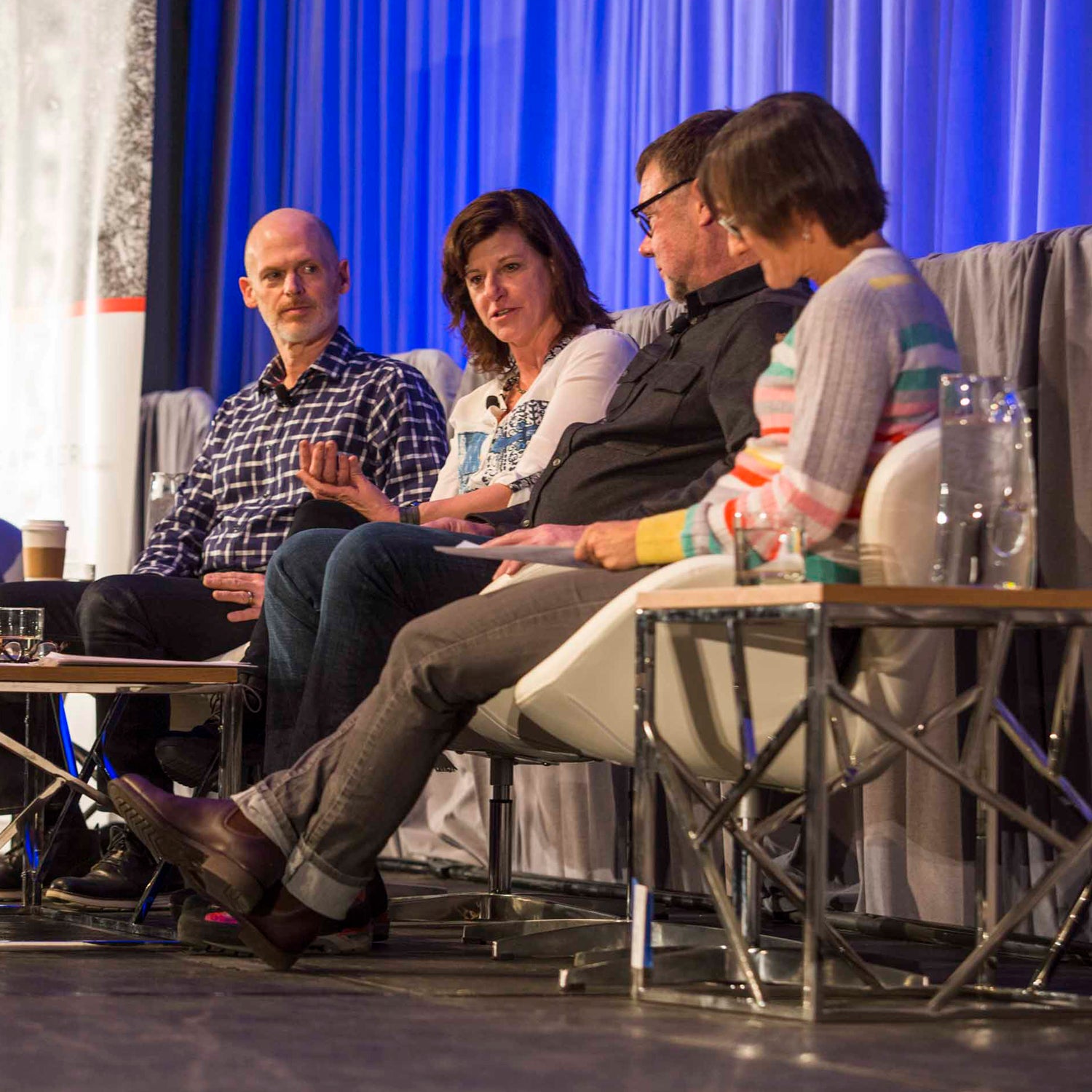 Heading out the door? Read this article on the new Outside+ app available now on iOS devices for members! Download the app.
Of the 76 outdoor industry brands that have signed on to Camber Outdoors's CEO Pledge since it was created in 2015, about 15 now have a woman as president or CEO.
That's a small number, but it's also progress: Roughly half of those women were hired or promoted into their positions since 2015. That's when Camber (formerly the Outdoor Industries Women's Coalition), which advocates for women in outdoor industry careers, launched the CEO Pledge with a $1.5 million grant from REI.
The Camber Pledge aims to hold outdoor industry leaders accountable for hiring more women by making a visible commitment to equity. The end goal? To "attract the most talented and skilled employees who reflect the gender diversity of our participants." After all, women account for 63 percent of the buying power in the activewear industry, yet the companies making that gear are all too often majority-male.
Amanda Worthington, a principal at recruitment firm Heidrick and Struggles—which partnered with Camber to produce a recent white paper celebrating the pledge's successes—has been working with outdoor industry companies for eight years. Worthington says she has seen a shift in the number of female leaders being hired. She doesn't have hard numbers, just anecdotal evidence from companies she's worked with, but she says there have been "marked increases in C-suite women."
There have been other wins, too. Mountain Khakis, for example, was one of the first companies to sign the Camber CEO Pledge and has since adjusted salaries and maternity leave, created paternity leave, and revised written policies to work toward pay and opportunity parity on staff. The brand's staff is now 51 percent female, according to Ross Saldarini, the company's co-founder and president.
But there are some who think Camber hasn't gone far enough when it comes to promoting racial diversity. The CEO Pledge explicitly calls out gender but stops short of calling attention to the need to focus on women of color.
Camber most recently faced criticism after it hosted a panel discussion at Outdoor Retailer about the CEO Pledge's successes, which featured only white speakers and largely ignored the topic of race. The outdoor industry as a whole has taken heat for this. Some have said leaders talk a big game about inclusion, but then fail to take sufficient actions to rectify those problems. "I feel like it's more taboo to talk about race than gender," says Marinel de Jesus, CEO of adventure travel company Peak Explorations and founder of the blog Brown Gal Trekker. After attending Outdoor Retailer for the first time in January, de Jesus wrote a blog post about the outdoor industry's need to be more inclusive. "We can't get away from the issue of women so easily, because we all have women in our lives," she says. "Race is an easier thing to avoid. It's easier to render us invisible, because you can easily associate with your same racial group."
"One of the things I think about when I see a women's-specific initiative is that, historically, 'women's-specific' has been code for 'white women.' White, able-bodied, thin, cisgender women."
Even though no one ever calls it the white women's movement, that word has implicitly been there throughout the history of feminism. White women who did not support the Black Lives Matter movement showed up in droves for the Women's March on the day after President Donald Trump's inauguration, drawing criticism for what appeared to be an obvious admission that feminism is not as intersectional as many might like to claim.
"One of the things I think about when I see a women's-specific initiative is that, historically, 'women's-specific' has been code for 'white women,'" says Ava Holliday, founding partner of the Avarna Group, which provides diversity, equity, and inclusion training for the outdoor industry. "White, able-bodied, thin, cisgender women."
Camber will work this year with key stakeholders to explore an evolution of the CEO Pledge that is more inclusive to all, says executive director Deanne Buck, though it's not clear yet what that could entail. Buck says she wants the outdoor industry to become the "paradigm for success for the entire country."
"Because it was co-created with our partners, we will want to ensure that there is a collective vision, engagement, and buy-in from those who have already signed," Buck wrote via email.
A universal commitment to hiring more people of color would be really powerful, says Aparna Rajagopal-Durbin, founding partner of the Avarna Group. After the NFL implemented the Rooney Rule in 2003, requiring teams to interview minority candidates for coaching positions before making a hire, the number of black coaches rose significantly within just a few seasons.
"No one's really playing the long game. [Brands] are hiring very quickly and doing the easiest thing," Rajagopal-Durbin says. Positions of power throughout nearly every industry, including the outdoors, are dominated by white men, she continues, so it's easy and comfortable to continue hiring other white men. "I think that's why things aren't changing as quickly as they could."
---
Brands should take a hard look at step one—recruitment—and then analyze their practices to make sure they're getting more diverse applicant pools right from the start. There are lots of ways companies can reevaluate their entire hiring processes to make women and people of color more likely to apply. The Avarna Group offers a comprehensive guide to doing so. For example, in job postings and during interviews, Rajagopal-Durbin suggests focusing on requiring skills that are less teachable, like communication, teamwork, and leadership, than on specific job content, like familiarity with a certain supply chain. This isn't to downplay the difficulty of a job, but to address the fact that women are historically less likely than men to apply for jobs they don't already feel perfectly qualified for; men are far more willing to assume they can learn many required skills on the job. The group also suggests being open and up front about salary ranges, including stating that they're negotiable.
Posting openings with relevant groups like Camber and the Outdoor Industry Association's job boards; social media pages for Outdoor Afro, Latino Outdoors, Black Girls Ride, and Brown People Camping; and career centers at HBCUs (historically black colleges and universities), for example, will increase visibility of job postings to more diverse groups.
Yes, this all takes more time, and, as an entrepreneur, de Jesus knows all too well that it also requires more money. She watched the legal world painstakingly diversify itself during her 15 years as a lawyer. But de Jesus says brands will have to decide whether it's worth it to them, regardless of the bottom line.
"I think there's been a major shift, and the discomfort everyone is feeling is good," de Jesus says. "I feel like it will get to a point where it's normalized, the idea of diversity, equality, and inclusion, and it will become a part of the industry. I don't doubt that it will go that way eventually. It's just a question of how to get there and how long it will take."
"We have to note that women of color have greater barriers, and, specifically, black women have the greatest barriers of all."
Buck says Camber's goal is to represent and elevate all women, but the organization knows it can do more and has made a strategic goal for this year around "intersectionality of identity." "We have to note that women of color have greater barriers, and, specifically, black women have the greatest barriers of all," Buck says. "If our organization is for all women, we need to really understand and develop competencies around that."
"We make a very concerted effort to understand and to hold ourselves accountable to being relevant to women of color, just like we ask our companies to do for women," Buck continues. "If we open up a Pitch Fest [Camber's startup competition to provide mentors to promising entrepreneurs from companies that are at least one-third women-owned] and women of color aren't applying, it's our problem, because we haven't done a good job of expanding our reach."
At the end of the day, no one is going to pull women out of thin air to take C-suite positions. Worthington, of Heidrick and Struggles, moderated Camber's panel at Outdoor Retailer and told the crowd of brand leaders that she can't "manufacture" female talent. She can't always find a diverse pool of qualified candidates within the outdoor industry every time a brand comes to her. Worthington challenged industry leaders to work harder at raising their own next leaders from within. Brands could create or expand mentorship and training programs, for example, to improve women's leadership and management experience and make them stronger candidates for high-level jobs.
It's the well-established brands that will ultimately make a lasting difference, Rajagopal-Durbin says. Small, newer companies are nimble and often quick to make equity part of their brand's DNA, but we still need those bigger, household name brands to commit as well.
"They sort of define the culture of the industry," Rajagopal-Durbin says. "But they're also slow-moving tanker ships sometimes."
Lead Photo: Courtesy Camber Outdoors