6 Things I Learned the Hard Way While Trying to Survive a Foodie Fondo
Never try to out-drink a chef and other assorted tales of woe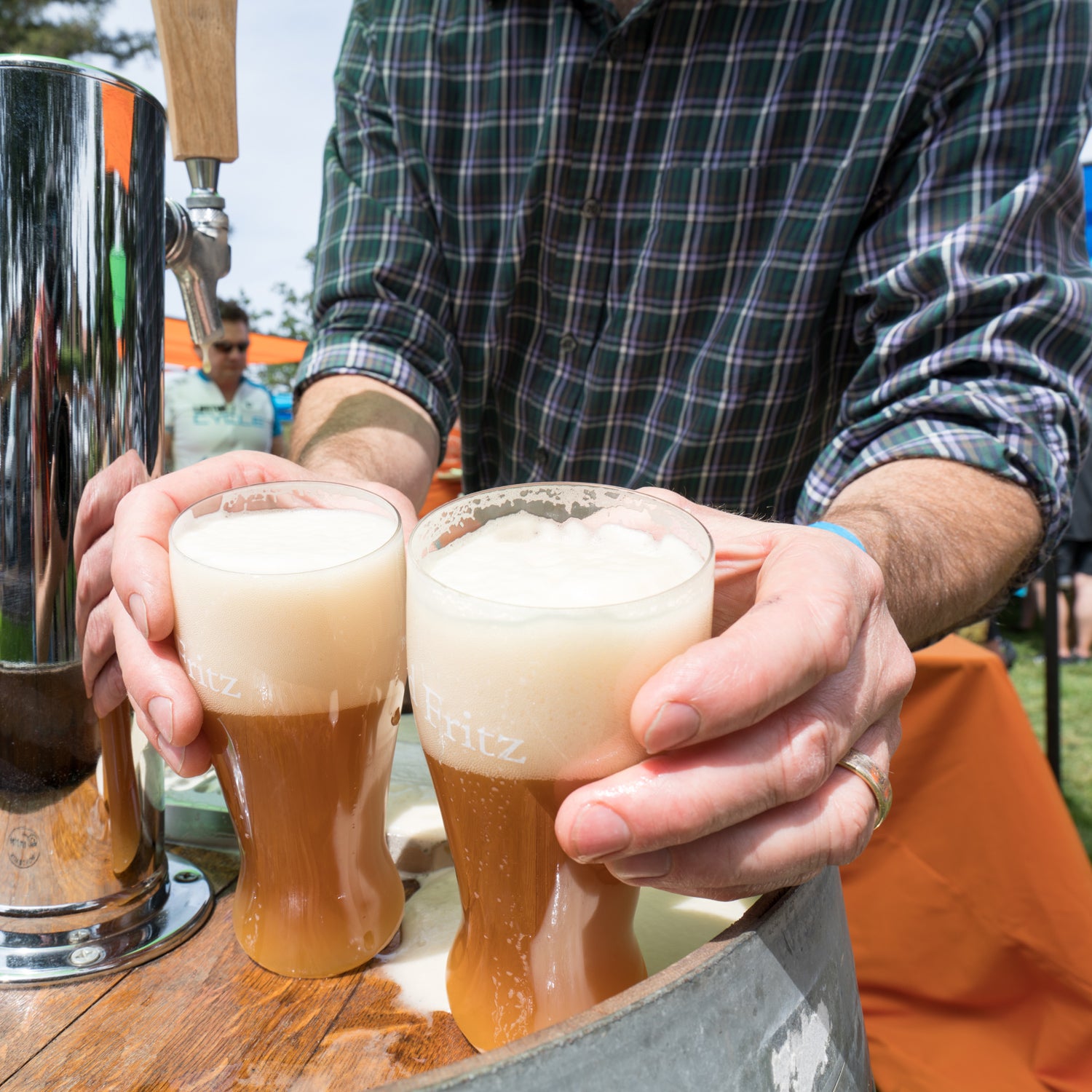 Heading out the door? Read this article on the new Outside+ app available now on iOS devices for members! Download the app.
About a mile up Ink Grade, I began to regret my life choices. I'd lurched myself into a Queen of the Mountain competition spanning the next mile—never mind my abysmal lack of fitness. My stomach had begun protesting that second kale and bacon scone I scarfed at the last rest stop. Meanwhile, I kept getting whiffs of champagne as the sweat pricks on my arms. I didn't drink that much last night, did I?
Apparently I did. Luckily, no one noticed, because they did too. 
A foodie fondo seems like a pretty innocuous event: ride, drink, eat, repeat. But the Bottega Gran Fondo is a "no guts, no glory" ride. Read, "If you don't leave with your gut peeking out from beneath your spandex, you've done it wrong." It's a weekend-long Tour de Gluttony, with the roads of Napa Valley serving as an all-you-can-eat-and-drink buffet. Put on by celebrity chef Michael Chiarello, it's perhaps the most opulent of the growing number of foodie fondos.  
At a traditional Italian Fondo, the focus really is the food—even at aid stations. Expect to find things like ribollito, a traditional bean stew, and hot paninis, plus beer, wine, and good coffee. At American events, your mileage may vary. Some fondos still stick to PB&J and pretzels. But any event that bills itself as a true foodie fondo will have things well beyond gu and sports drinks. For example, in the past, George Hincapie's fondo in Columbia, South Carolina, has served chicken fingers at its final aid station, and the Farm to Fork Fondo series has offered up polenta pound cake, apple turnovers, and bite-sized caprese salads. 
Strategizing for such an event is important. Not so you can win it (winning a foodie fondo is as silly as trying to "win" a day hike—it's simply not the point), but so you can survive without a major cardiac incident or gastrointestinal meltdown. Here's how to do it right. 
1. Don't Try to Go Drink-for-Drink with a Chef
Chiarello flies in many of his favorite cycling chef friends, like Seamus Mullen, Chris Cosentino, and Matt Accarrino. Starting on Friday, these chefs make appearances at VIP events and give guest lectures. If movies stars are the cool kids, famous chefs are the ne'er-do-wells. They're easy to talk to (so long as you're not offended by profanity), and even easier to get drunk with. If you end up at a dinner table with one, do not—under any circumstances—try to outdrink him or her. Chefs' cells seem to be impervious to the effects of alcohol. Remember that you are a mere mortal.
2. It's Never Just an Easy Ride with the Pros
"It will just be chill," was the promise for a Saturday morning warmup ride with retired Pro Tour riders George Hincapie, Lucas Euser, and Ted King. And, for the first few miles, it was. We cruised out along vineyard-lined roads, talking as we went. And then, at the beginning of an incline, Hincapie breezed by with a taunting "Let's go!" Suddenly there was no more talking. If chefs are the bad kids, pro cyclists are the math nerds. They're approachable and love attention, but they don't quite realize that doing calculus in our heads (or holding 450 watts up a mega climb) is not written into a normal person's DNA. By all means, seek out a pro and ride with him or her, but ride within your limits or risk blowing yourself up with miles and miles to go. 
3. This Is Not the Time to Grab a Bottle and Go
Bottega Gran Fondo has "chef stops" instead of "rest stops." Each has two to three menu items (and sometimes more) that have been designed by one of its celebrity chef guests. These are feed zones in the truest sense of the word. Savor them: Get off your bike, stroll around, talk to your fellow riders and try everything. Yes, you'll see some age group weenies trying to gain a few minutes of time by rushing through the stops and skittering up the road. Do not be sucked into this trap. Eat, drink, and ride blissfully at the back of the pack. 
4. It Takes a Ton of Work to Put on a Foodie Fondo 
The bacon and kale scone I chowed down on at the first rest stop was just one of 600 that chef Accarrino made (including gluten-free and vegetarian options). At the next stop, a team of line cooks fired off two types of fresh paninis over an open grill. These events take hundreds of volunteers, thousands of hours of planning, and a literal ton of food. Take a moment to notice all the work going into the event around you—and to thank someone manning a grill or a water cooler. 
5. Drink! Drink! Drink (Water)!
Alcohol is a diuretic, so keeping on top of hydration all weekend is imperative. For every glass of wine or beer that you drink, try to drink at least one glass of water. Drink more water before you go to bed and when you get up in the morning. During the event, make sure you're filling your bottle at each rest stop and taking in an electrolyte-laden drink every so often.
6. You Really Can Sweat Champagne
At least, you really can produce sweat that smells like champagne—I wasn't imagining it. According to Damion Martins, the director of orthopedics and sports medicine at Atlantic Health System in New Jersey, your body breaks down alcohol into acetic acid. Acetic acid is excreted through your urine, breath, or sweat. If you down too many glasses of sparkling wine, then attack a 12 percent grade, you're going to smell like a bar the day after New Year's. Should you find yourself in this predicament, revisit number five.   
Lead Photo: Courtesy of Bottega Gran Fondo