A Skier's Guide to Aspen's Best Restaurants
Aspen's winning combo of four ski mountains (all on one ski pass!) also extends to its restaurant scene. From fine dining to grab-and-go, there's something for everyone.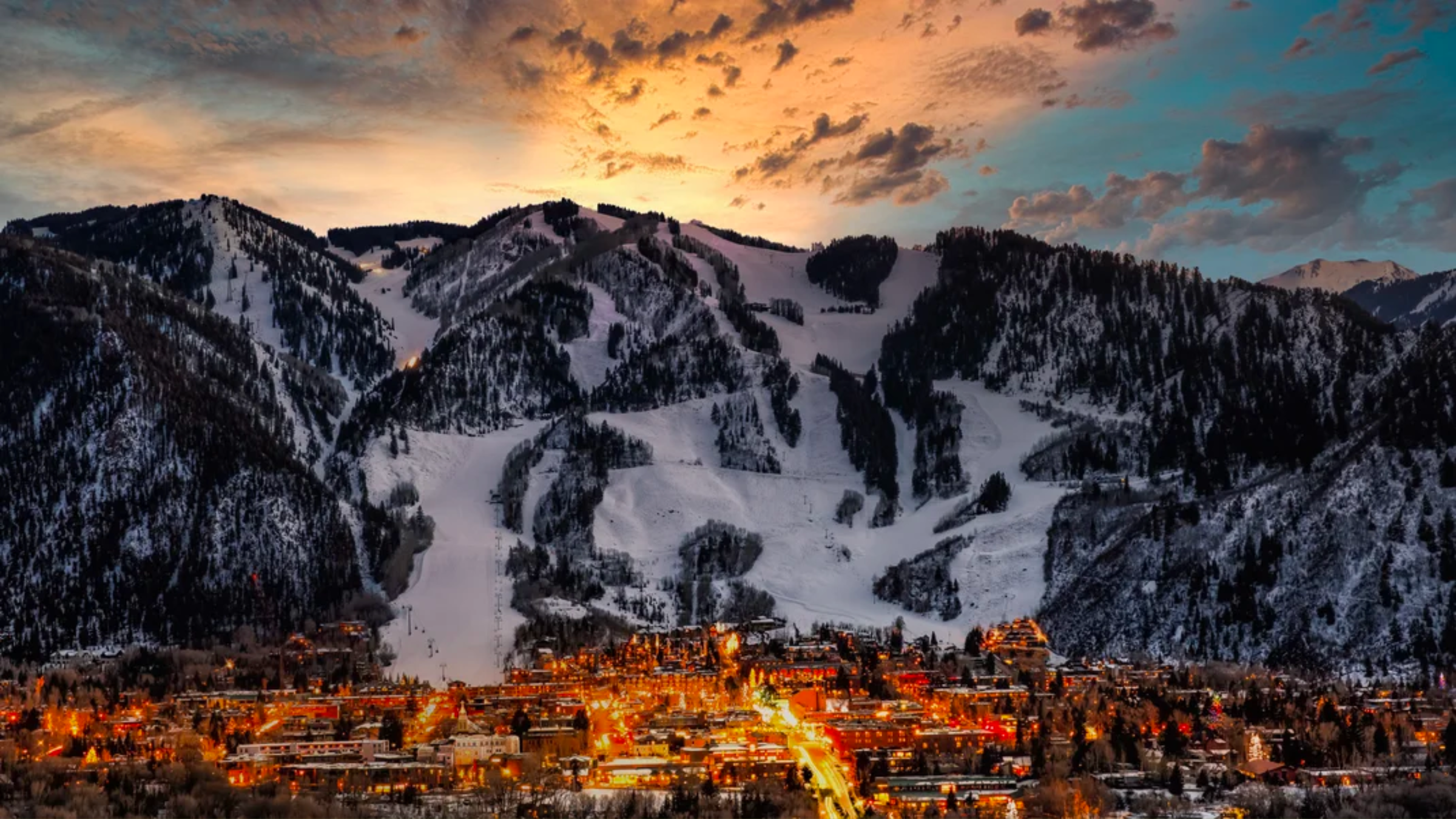 Heading out the door? Read this article on the new Outside+ app available now on iOS devices for members! Download the app.
While Aspen itself isn't very big, per capita there's about one restaurant for every 10 residents. That means answering the inevitable question of "where to eat" can be overwhelming. Our shortcut guide will save you time (better to focus your energy on the slopes anyway) and deliver a bevy of good eats no matter what you're craving. P.S. Reservations are pretty much a must in this town.
DINNER
In recent years, it's gotten more and more difficult to find a reasonably priced meal in Aspen proper. Amid the glut of uber-fancy restaurants, what are the standouts and what about the everyman and everywoman?
During the pandemic, chef-owner C. Barclay Dodge transitioned Bosq's Spanish-inspired à la carte format into a four-, five-, and seven-course chef's tasting menu. The carefully curated multi-course experience is the best way to shine a light on Dodge's immense talent and true dedication to the very best (and often local) ingredients. If you can nab a table here, you won't leave disappointed.
Don't miss: Chef Dodge has a way with duck and several cuts often make their way onto the menu. If you have to choose just one for your tasting, make it the duck liver mousse with buckwheat crisps.
For those nights when you're looking for a place to disappear, Ellina is queen. The grotto-esque space creates the perfect cozy hideout, especially because the menu is as sun-drenched as the Italian countryside. Seek owner and sommelier Jill Carnevale's expertise and you won't leave hungry or thirsty. Plus, locals know that Ellina offers one of the best (and last) good bar menus.
Don't miss: You can make a meal out of the braised artichoke with lemon-thyme aioli, one of the housemade pastas, and a glass of Gérard Boulay Sancerre-Chavignol from the Loire Valley.
If you're willing to leave Aspen's core, make your way to Mawa's Kitchen where James Beard-nominated chef Mawa McQueen envelopes you with her warmth and hospitality. McQueen works her magic breakfast, lunch, and dinner, but it's at dinner that her African heritage shines with dishes like yucca gnocchi, merguez sausage, fonio fried rice, and West African gumbo dot the menu. There's a lot of French influence in McQueen's cooking and sitting at her table is both a global and delicious journey.
Don't miss: Also visit Mawa's for breakfast. If you're in a hurry, choose a slice of banana bread with maple butter, or the Parisienne omelet with Boursin and farm greens if you're not.
There's something about Italian food that invites the party—and that's Campo through and through. The food (rich pastas, tender risottos, long-roasted meats) and extensive wine list never disappoint, and neither does the cacophony of energy swirling through the place.
Don't miss: Never skip past the tricolore salad. This deliciously bitter combo of dressed arugula, radicchio, and Belgian endive is finished with shaved Grana Padano.
While most tourists flock to (the very good) Matsuhisa, those in the know make their way to Keniche. The sushi staple has been going strong since 1991, and recently opened an outpost in Snowmass and an izakaya in Carbondale. It feels extra special to dine in the glossy original (cue the mood lighting) and even better if you can secure a seat at the sushi bar.
Don't miss: You'd be remiss not to order the signature yellowtail sashimi with basil yuzu soy and just a blush of truffle oil.
With locations in Steamboat Springs and Breckenridge, Aurum gets the ski town vibe—and understands what hungry skiers want after (or during) a day on the slopes. When the restaurant opened in Snowmass last winter, it debuted with an all-day menu that's an elevated catchall: French onion burger, Korean fried chicken, honey-glazed shrimp, vegan tomato soup, and more. Plus, the bar shakes and stirs a mean cocktail.
Don't miss: You'll be fighting to the last crumb when you order warm chocolate-chip cookies with milk jam, cookie dough (yes!), and whipped cream.
If you've got kids in tow, Brunelleschi's should be at the very top of your list. The family-friendly spot is right downtown and has a menu of DIY items that'll please even the pickiest eater. The make-your-own pizza, pasta, or mac and cheese options are kid magnets, meanwhile, the adults can order glasses of wine and share a hefty wedge of lasagna.
Don't miss: The roasted veggie panini is often overlooked at dinner but it shouldn't be.
LUNCH
The mid-day meal can be a condo sandwich, but wouldn't you rather go out and explore?
Meat & Cheese's come-as-you-are vibe is all about being a gathering place. The dishes are thoughtful and farm-inspired spins on dishes like biscuits with shaved ham, rotisserie chicken with roasted potatoes, and most definitely the best salads in town. You can dine for lunch or dinner, but the camaraderie of the place during the day will draw you in.
Don't miss: Pop into the farm shop for a selection of specialty items such as cheese, honey, and artisan bread. Take an armful back to the condo for gourmet snacks at the ready.
This beloved lunch spot is so well known it doesn't need a website or an active Facebook page. It started with wraps—and huge ones at that—but over the years has expanded its menu to include salads, tacos, breakfast burritos, soups, and smoothies. Unless you are borderline starving, two of you can share one $10 wrap.
Don't miss: The To Thai For wrap with grilled chicken (or tofu), peanut sauce, rice, black beans, and confetti slaw in a chile tortilla. The beans might sound weird in the mix but leave 'em in there.
This vegetarian and organic food and juice bar feels oh so L.A., oh so NYC, oh so…Aspen. While in truth Spring Cafe recently opened a New York location, the restaurant began in Aspen and was a hit from the get-go. Fresh salads make up a hunk of mid-day lunch menu but there's also a healthy spin on many of your favorite lunch items: avocado tempeh reuben, sweet potato-white bean burger, nachos with cashew cheese, even spinach-mushroom enchiladas.
Don't miss: The chickpea tuna pita sandwich, which comes jammed with all kinds of veggies.
Bear Den's all-day menu means you can lap up a spirulina smoothie bowl, tuck into eggs Benedict with house challah, or bite into a Wagyu burger anytime between 8:30 a.m. and 3:30 p.m. The space is as cute as can be so only dine when you've got time to sink into the experience.
Don't miss: Add smoked feta to the Green Pearl salad—French lentils, arugula, roasted beets, red onion, fresh herbs, and walnuts—and your day is made.
It's been fancied up a bit since Hunter S. Thompson used to hang out at the bar (let's just say ceviche wasn't on the original menu), but the Tavern is still an Aspen valley treasure. Go for the burgers, the margaritas, and the onion rings.
Don't miss: The polaroids, the bumper stickers, the "Thompson for Sheriff" poster are a piece of old Aspen—take a gander.
ON MOUNTAIN
Between the four mountains, there are a number of dining options. These are the best.
Bonnie's (Located on Aspen Mountain, at mid-mountain.)
The word is out on this local's secret, and although we hate to further increase the deluge that already descends upon Bonnie's every morning, the pancakes are that good. To be clear, these are oatmeal pancakes the size of dinner plates and they go down perfectly with a mimosa ordered from the tiny bar.
Don't miss: If you get there so much as one minute past 10:45 a.m., you're out of luck. Moral of the story: Don't be late.
Ajax Tavern (Located at the base of Aspen Mountain.)
There's a lot of lore behind truffle fries' origins but surely, surely, Ajax Tavern was on the front end of the indulgent fry trend. The truth is, the fries pretty much put Ajax Tavern on the map—that and the fact that the restaurant sits at the base of Aspen Mountain and becomes a daily collection point for the see-and-be-seen crowd.
Don't miss: Obviously the truffle fries, along with the mussels.
Home Team BBQ (Located at the base of Buttermilk.)
Although not technically an on-mountain restaurant, Home Team sits just steps from Buttermilk's base (you can see it from the Summit Express lift line) and it's worth your while. The menu is deep with pulled pork, brisket, smoked turkey, ribs, and all the barbecue fixings. Even the salads get special treatment here.
Don't miss: The tots, with harissa mayo and rosemary, are a revelation.
Sam's (Located on Snowmass at the top of the Village Express lift.)
Plain and simple: If we didn't know how to ski, we would learn just to dine at Sam's. The restaurant sits like a snow globe at the top of Sam's Knob with unobstructed views of the Elk Mountains. Enjoy the panorama with slippers on your feet and a Negroni spritz in-hand. The hearty Italian menu (pastas, arancini, eggplant parmesan) will set you right for the rest of the day. The only bummer is putting your ski boots back on post-lunch.
Don't miss: Share a number of items, like the warm ricotta with honey and the beef tartare, from the top of the menu.
BREAKFAST
Fuel up quickly or take your time—whatever your morning speed, there's something for you.
Even if you're in a rush to get to the gondola, there's always time for Jour de Fête's takeout window. This family-run staple is the beating heart of Aspen and it's heavily populated by locals trading good mornings and snow reports. The breakfast burritos and sandwiches are easily wrapped to go but if you've got a few minutes, stay a while and order the huevos rancheros or an omelet.
Don't miss: Go back for lunch and ogle the hot and cold sandwich board. The pan bagnat is a favorite.
When you want something clean and healthy, JUS delivers with the likes of protein balls (try the Snickerdoodle), fresh-pressed juices, and green smoothies. There are also smoothie bowls, sammies, and breakfast quesadillas. The price tag might make you gulp but your energy level will be tip-top.
Don't miss: The Road Runner (almonds, alkaline water, espresso, honey, and pink Himalayan sea salt) revs you up better than the strongest cup of joe. Buy a Ginger Greens juice (kale, cucumber, celery, spinach, romaine, parsley, lemon, and ginger) for later.
Most folks think of Element 47 for dinner (which is magnificent) but we go for breakfast. The polished hospitality makes you feel like royalty, even if you're just ordering coffee and toast. The menu is small but mighty and well-balanced between sweet and savory.
Don't miss: We've firm believers that the lemon soufflé pancakes are the fluffiest, dreamiest breakfast on the planet.
Whether you're headed skiing, shopping, or ice skating in Snowmass, the Crepe Shack delivers the right amount of savory and sweet with its lengthy crepe menu. Eat there or take your treat to go in a walkabout cone.
Don't miss: The High Alpine with prosciutto, potatoes, Gruyere, Swiss, and caramelized onions hits the brunch note just right.
Trending on Outside Online