Asian Fusion
Welcome to Nha Trang, where Vietnam's sophisticated new era and ageless culture meet on a gorgeous beach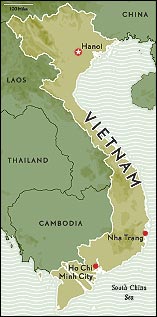 Map by McKibillo
Heading out the door? Read this article on the new Outside+ app available now on iOS devices for members! Download the app.
UNTIL TODAY, I had never been headed anywhere—happily—before 5 a.m. It's an hour and a half before sunrise when chef James Patrick Tawa's cyclo, a bicycle-powered rickshaw, pulls up next to mine on Tran Phu Boulevard. "Yeah, see? The Vietnamese coffee helps," he says, catching me smiling at the hundreds of men and women (mostly women) who are well into their tai chi practice along the shore of the South China Sea, between us and the eastern horizon. "Everyone's up at about four and in bed by ten," explains the ever-jolly New Zealander. Jim is the executive chef for the Ana Mandara Resort, the first luxury beach property to open in Nha Trang, the capital of Khanh Hoa, a south-central coastal province of Vietnam. We're on our way to the markets. I'm already sweaty, and all I'm doing is reclining in the canvas backseat of the country's environmentally kind mode of passenger transport.
Ana Mandara Resort's Hideaway

Age-old tradition meets new-age style: Ana Mandara Resort's "Hideaway"
Vietnam: Nha Trang

Vietnam: Nha Trang

Vietnam: Nha Trang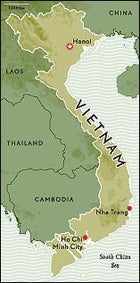 On my right, there are amazingly beautiful women in communal motion. Many are at least in their eighties, their gray hair wrapped in tight buns, and they wear bright-orange, green, and turquoise silks. On my left is some of the typical main-beach-drag tourist commerce—postcards, towels, bathing suits, knockoff Nikes, dive gear. We cross a lovely arc of a bridge, with traditional wooden fishing boats on both sides, and make some sharp lefts inland to more congested streets. Jim has to yell over the noise and bustle that usually signify rush hour. My cyclo driver's white polo shirt stays impressively dry, and when we stop at a corner that smells like warm fruit and sea salt, I figure we're nearing the market.

I ask Jim what brought him to Vietnam. "It's a chef's paradise," he says, showing me a mint stalk destined to be a part of cooking class back at the resort this afternoon. Pointing to the source of the slight durian stink, he says, "All the ingredients are local and organic, and the flavors are real." (Indeed, one afternoon at Ana Mandara's poolside restaurant, I heard an American woman so blown away by the greens she was wrapping around her banh xeo—the street-food staple of crispy rice-flour pancakes with seafood and pork—that she stopped the chef to ask what they were. "Lettuce," Jim replied.)

We pass attractive piles of baguettes, mangosteens, and mangoes. "It's the only place I've seen where they care about produce and display it like this," Jim says. The market aisles are narrow, and the Vietnamese too polite to ask you to move, so he warns me not to block anyone's passage. He says he made that mistake early on and discovered that he had single-handedly redirected the flow of traffic to the circumference of the market. By about 6 a.m., we're eating steaming bowls of pho, the Vietnamese national dish of noodles, pork broth, and strips of meat, along with coffee and tea from a market stand run by three sisters—one handles the pho, one the tofu, and one the sweets. The pho sister's formula is perfect; I can taste the lemongrass and mint over quite a lot of chile in the hot broth, on a hot day. Our meal comes to less than a dollar, and I'm extremely happy to be in one of the few markets in the world where I can feel like a novelty—a Westerner slurping the local specialty. "And besides all the chef business," says Jim, "there's a thrill to getting in first. Vietnam is a hot destination."
THAT ON-THE-VERGE FEELING is pretty much what brings anyone to Vietnam—and especially to Nha Trang. For years this beachy retreat has been an eight-bucks-a-night draw for international backpackers and Vietnamese families seeking relief from the urban heat of Hanoi or Ho Chi Minh City. And now, since the opening of Ana Mandara Resort, it's becoming something else. Protected from the notorious Vietnamese rain by the coastal Truong Son mountains, Nha Trang is often called Vietnam's Mediterranean, because it has the country's best weather (an estimated 250 days a year of sunshine and an average temperature of 73 degrees) and four miles of white-sand beaches with palm trees, which Vietnam's tourism board has recently invested some $400,000 in beautifying.

There's mountain biking in the foothills, plus scuba diving and every conceivable watersport on a sea that's one of the most pristine and has some of the most consistent wind patterns in Southeast Asia. In fact, the South China Sea might be the nicest body of water I've ever swum in—it's a warm, soothing light green in front of the resort, and about six feet deep for an ideal distance out. From the Nha Trang shore, you can see lush, green Yen island, where salanganes, a kind of swiftlet, build the tiny nests that are harvested for precious bird's nest soup and tonic; they sell for as much as $900 a pound on the international market.

Six Senses Resorts & Spas, which manages seven other high-end properties elsewhere in Asia, including the Maldives and Thailand, was attracted to the Nha Trang coast and opened the Ana Mandara Resort in 1997 on six acres of tropical gardens. "Vietnam," Ana Mandara general manager T. J. Grundl-Hong told me, "is one of the last frontiers among Asian destinations. If you compare it with Thailand or Singapore or Malaysia, it's in its infancy, like 20 years ago in those places. The country is extremely safe, mostly untouched, and has lots of potential."

According to Vietnam Tourism, as of July 2004 the number of international visitors was up 35 percent from last year, when the country saw almost 2.5 million tourists. It's a small flock compared with, say, Thailand's ten million, but Vietnam has recently become the fifth-most-visited country among the ten members of the Association of Southeast Asian Nations—trailing only Malaysia, Thailand, Singapore, and Indonesia. It now receives about three times the guests of Cambodia and four times those of Laos. For the American traveler, Vietnam has a complicated mystique. In 2003, the nation had almost 220,000 American visitors—the second-largest segment of international arrivals to Vietnam (after more than 690,000 from China). Must-see destinations on the itinerary often include Ho Chi Minh City (formerly Saigon, and home to the popular but grisly War Crimes Museum), Hanoi, the ancient city of Hoi An, and coastal areas such as Nha Trang and, in the north, Halong Bay, with its thousands of limestone and dolomite islands and rock formations protruding from turquoise waters.

Barry Hayes, a Brit who brought his ten-year-old Singapore-based watersport business, Mana Mana, into Nha Trang last November, says that his pre-expansion feasibility study found 33 major projects that, together, would transform the area over the next six years. One of them is the Cam Ranh airport, which opened in May and is an easy, breathtaking 30-minute coastal drive from Nha Trang. He hopes it will deliver a booming business to Nha Trang's shores; windsurfing, sailing, diving, snorkeling, kiteboarding, and surfing are the main draws. "The waters are clean most of the year—with good monsoonal winds—there's a bit of surf, and you get a fantastic view from wherever you look," says Hayes, who's already seeing more European and American clients. Most from the U.S., he says, are "war vets, returning for nostalgic reasons, and others think they'll find the country fascinating and would like to experience Vietnam before it changes."
IN MY DELUX VILLA at Ana Mandara, I have remote controls for practically everything: the air conditioning, ceiling fan, and satellite TV with HBO. I can order anything from pho to fish-and-chips to my pick of 46 homemade ice creams (try the "trio of peanut") at 3 a.m., if the desire strikes. When I arrived, there was a brew of jet-lag-minimizing herbs to put in my bath, and little clay pots filled with Six Senses Spa's tropically scented beauty concoctions—body wash, lotion, and oils. There were sticks of the only incense I've ever liked enough to burn and continue to share a room with. But even in the haze of all the incense in every backpack to pass through Nha Trang in the past dozen years, you couldn't mistake the amenity-centric Ana Mandara for any other type of accommodations the area has seen before. The resort's 68 villas, furnished with native woods and rattan, rest harmoniously in gardens of mountain rose and sealing wax palm, and many rooms have private terraces. Ana Mandara translates to "Beautiful Home for the Guests."

Resort staff greet you everywhere with jasmine- and lemongrass-scented towels. In the spa, I have a 50-minute Soul to Sole treatment—a Vietnamese foot-and-back massage—for $45, and it ends with tea and fresh fruit on cushions in a tent overlooking the sea. The whole property is designed to be reminiscent of a traditional Vietnamese village, and early some mornings I roll out of my exquisite white, mosquito-netted king-size bed, put on a bathing suit, and walk right out into the sea. Outings include the morning market tour with Jim, sunset fishing trips, diving and snorkeling excursions, half-day kayak trips with island picnics, and fairly rigorous bike rides in the mountains—on loops ranging from 15 to 50 miles and following trails along riverbanks and through farms and villages that are home to mat weavers and brick makers. You see pagodas, water buffalo, and rice fields—agricultural communities so organized they have stands selling local mineral water and homegrown food. (For recovery day, there's also a napkin-folding course back at Ana Mandara, where you can transform linens into lotus flowers.)
ONE MORNING, SWIMMING AND coffee and lots of fruit already behind me by 9:30, I'm on a boat with some resort managers and other guests to check out the island site of what will introduce an even more rarefied escapist concept to Vietnam: Ana Mandara's Evason Hideaway, set to open in November. When I visit, it's a construction site in Ninh Van Bay, accessible via a 30-minute speedboat ride from the mainland. Only about a dozen of the 54 planned bungalows are recognizable—and covetable. The resort calls it an "all-pool villa development," and the bungalows have dreamy, locally crafted details like deep, freestanding wooden bathtubs, outdoor showerheads, and private pools and wine cellars hidden among the stonework. There will be 24-hour room service, and guests can have barbecues and picnics catered. The two-story bungalow I'm standing in is tucked into a cove, where couples will be hidden from all but the salanganes. "It's still green, still pure here," says Maria Grueter, Ana Mandara's resident manager. "The people haven't been spoiled by tourism. Hopefully, it will stay like this a few more years."

As we climb back toward the shore, looking at the future site of the free-form swimming pool, where water will meander down through rocks, I remember the customs form I had to fill out upon my arrival here. It asked, among many other SARS-detecting questions—from "Ho" ("Name?") to "Ho" ("Cough?")—if I suffered from "malaise" or "oblivious." Malaise is hard to imagine in a place where each villa will have a private plunge pool.

Over my last breakfast at Ana Mandara, I ask Jim, "You've been giving me coffee with vodka and butter?!" He's just told me, with a big grin, that the beans he uses for café sua da are roasted in a barrel, then covered with vodka and butter. It may explain a lot about my newfound interest in the early hours of the day, but I'd rather leave the credit for curing morning malaise and oblivious with this special stretch of Vietnamese beach.
Access & Resources

GETTING THERE: Malaysia Airlines (800-552-9264, www.malaysiaairlinesusa.com) flies to Ho Chi Minh City round-trip from Los Angeles ($1,025–$1,310) and Newark ($1,140–$1,430). From there, hop on a Vietnam Airlines flight to Cam Ranh ($36; 415-677-0888, www.vietnamairlines.com). PRIME TIME: To avoid the rainy season, don't plan a trip to Nha Trang between mid-November and mid-January; also be aware of hot temps throughout the summer. WHERE TO STAY: Rates in one of Ana Mandara's 68 villas range from $216 to $407. The Evason Hideaway at Ana Mandara, set to open in November, will feature 54 villas ($550–$1,250, including meals). For reservations, contact Six Senses (949-487-0522, www.sixsenses.com). EXPLORING: For mountain-biking trips ($10 per hour), two-tank dives ($200, including lunch), and other outings, contact the Ana Mandara Resort excursion center. For 15 kinds of watersports, such as windsurfing, catamaran sailing, and surfing, contact Barry Hayes at Mana Mana (www.manamana.com). RESOURCES: Americans need a visa to visit Vietnam. For information, go to www.vietnamembassy-usa.org or www.vietnamtourism.com.