Is Bacon Really Reebok's Newest Product for Fall?
Less pearls, more swine in Reebok's product line.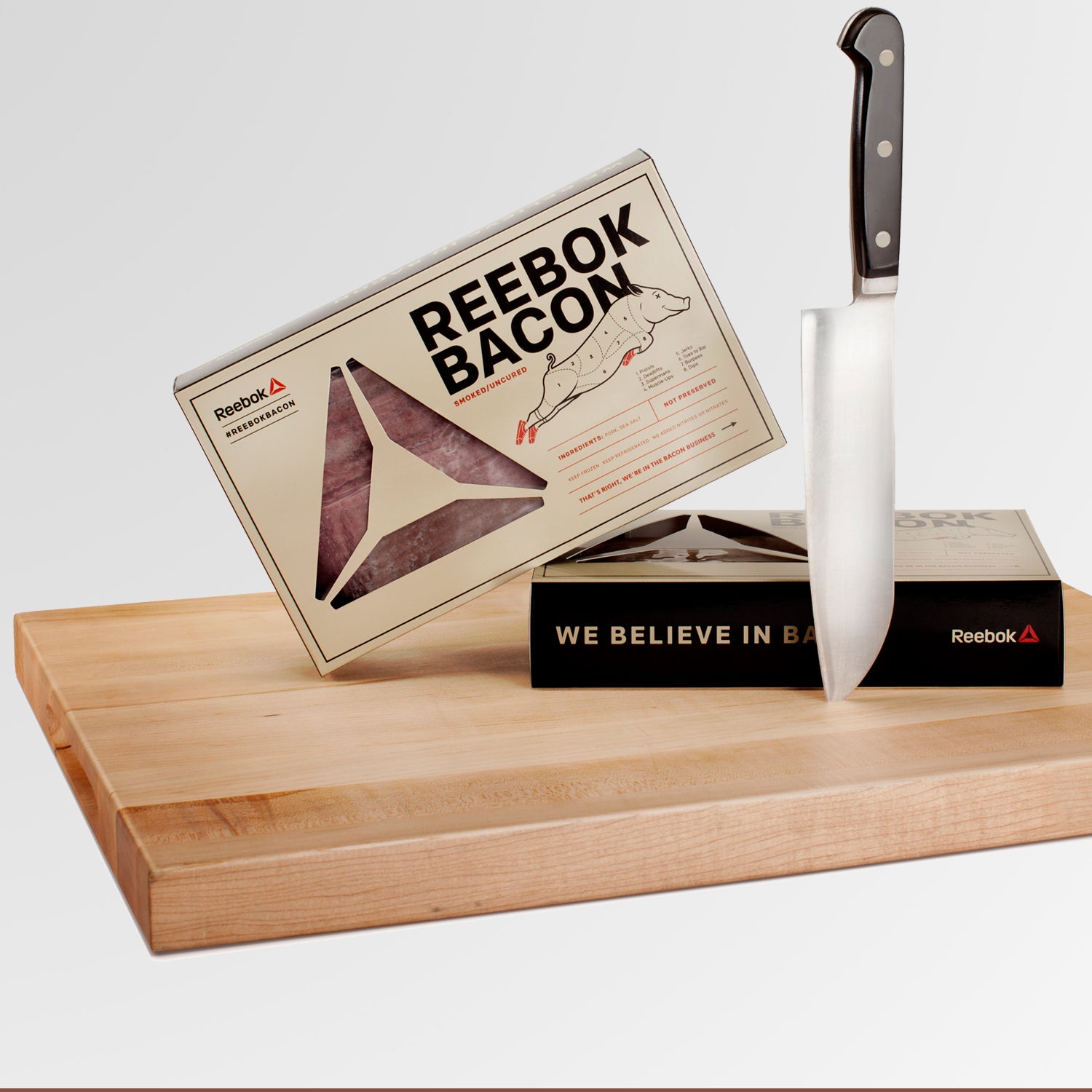 Courtesy of Reebok(Photo)
Heading out the door? Read this article on the new Outside+ app available now on iOS devices for members! Download the app.
This little piggy went into marketing.
In the weeks preceding the 2014 CrossFit Games, red Reebok-branded boxes started showing up on the doorsteps of well-known CrossFit athletes, who follow Paleo dietary prescriptions. At first glance, the parcels looked just like one of the brand's iconic shoeboxes. The sides however, emblazoned with: "We Believe in Bacon" and "perishable, open immediately," hinted that there might be something meatier inside.
"No, we're not officially in the bacon business," says Yan Martin, Reebok's vice president of Brand Communications, aka the man who crushed our dreams of seeing porcine models as part of the brand's fall lineup.
The whole thing was simply a PR stunt—but an exquisitely well executed one. And one that feels surprisingly authentic—like Reebok actually understands the athletes it's trying to design for. That's something that big apparel manufacturers haven't actually been doing all that well these past few years between Lululemon's founder blaming hefty thighs for its fabric mishaps and blowback to Nike for signing monopolistic deals with USA Track and Field. Reebok passing out free fried pork to CrossFit athletes is like a breath of fresh, bacon-scent-infused air.
"It was just kind of a wink at the CrossFit community which we're part of," says Martin. It's important to note that Reebok didn't send just any bacon. Wrapped up in the boxes was a pound of all-natural, nitrate-free bacon from Wellness Meats, a popular Paleo manufacturer.
While the packs of bacon went to social media influencers and prominent athletes, Reebok also brought bacon to the masses with an on-site food truck at the CrossFit games. Called the Reebok Bacon Box—a nod to the traditional name for a CrossFit gym—the truck handed out a different bacon-themed snack each day.
If all of this seems like an awful lot of work to court just a few customers, consider this: When Reebok signed a contract with CrossFit in 2010, there were around 1,000 boxes in the United States. Today, there are 18,000 boxes. And Rebook's bottom line has clearly grown with CrossFit's success. "I think it's safe to say we'll sell over a million pairs of Nanos [Reebok's CrossFit specific shoe] in 2014," says Chris Froio, Reebok's Vice President of Training. A communications official for the company also confirmed that since 2010, sales of Reebok's Training line of apparel have nearly doubled.
Thanks to this clever marketing stunt, Reebok execs may just be crying wee-wee-wee all the way to the (piggy) bank.
Lead Photo: Courtesy of Reebok
Trending on Outside Online