The Bike That Beer Built
New Belgium's new five-seater swing bicycle is the ultimate cruising and drinking machine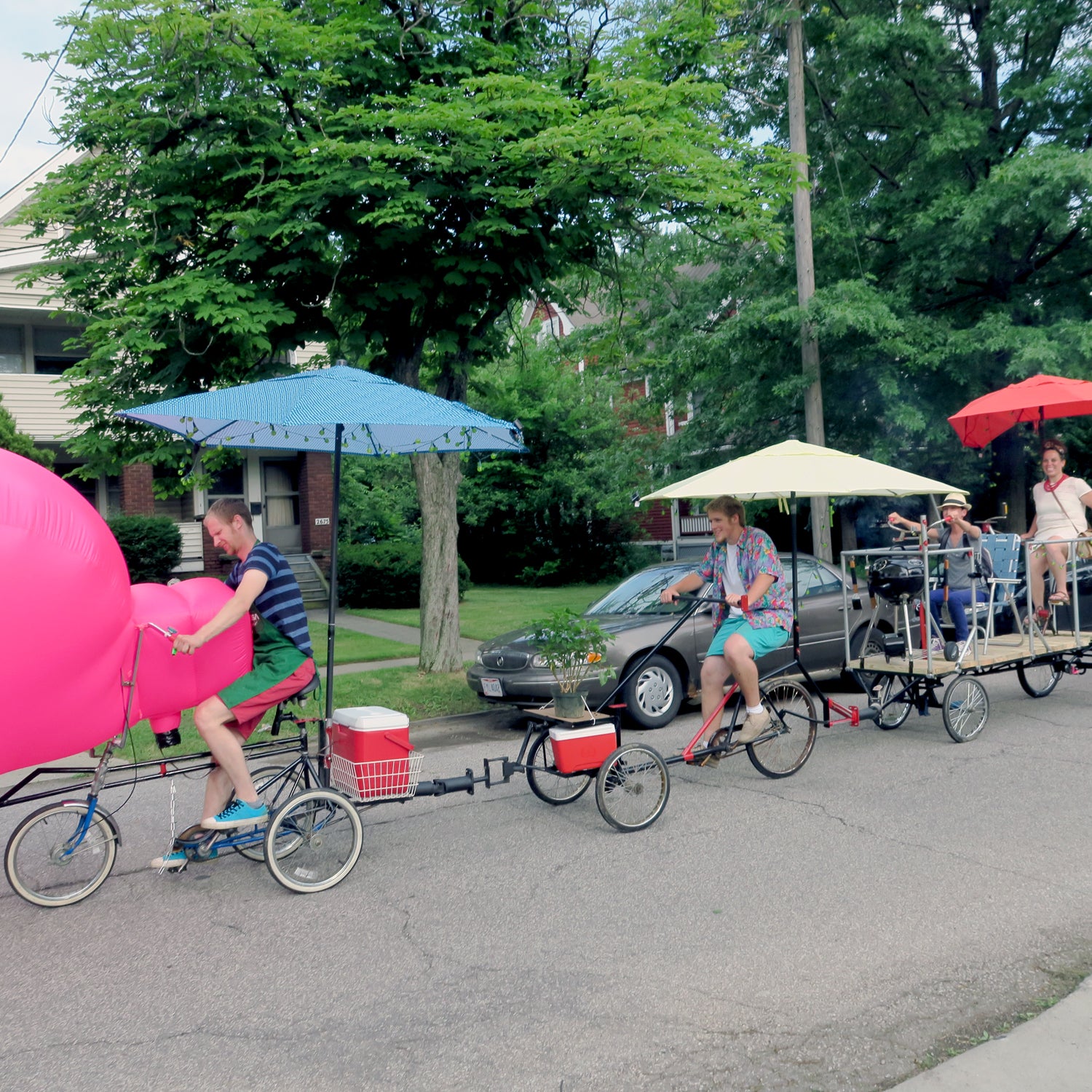 Heading out the door? Read this article on the new Outside+ app available now on iOS devices for members! Download the app.
Tandem bikes—a.k.a. divorce mobiles—suffer from a crucial design flaw: a lack of cup holders designed for beer bottles.
Luckily New Belgium Brewing is on it. For the Fort Collins company's summer "Zag On" promotion, New Belgium has commissioned a multi-person swing bike complete with grills, space for coolers of beer and even an umbrella and a few folding chairs for those who would rather chill than pedal. 
"New Belgium has always kind of zagged," says Melyssa Mead, the brand's creative director. "For this promotion we were looking for people who were actively doing that in the real world. When we found Jimmy [Kuehnle, the sculpture artist building the bike], we were like, this is perfect!" 
Kuehnle is a Cleveland artist whose work spans from custom inflatable suits to concept bicycles to performance art projects. His most popular piece of work (as judged in the digital age by the number of times the photo has been reposted on websites without his permission, naturally) is a bike he built from bulletproof glass, called "Invisible Bike."
"I've always loved bikes," Kuehnle says. "In college my buddy and I each found old bikes and we had a bet who could keep them running longer without spending any money." He happened to be taking a college welding course at the time, and soon basic bike maintenance turned into full-fledged design work. Over the years he's made all kinds of unique bike-mobiles including one that draws as you ride and one (called "Danger Bike"), which has no seat and is covered in spikes. "You really have to commit when you ride that one," he says.
Originally New Belgium commissioned a bicycle built for ten, but Kuehnle is going to start with building it for five and then add on to it from there. And it's a swing bike, which means that it has "extra" joints. Essentially the front of the bike pivots independently of the rear. You could ride it down a line of cones with your front wheel on one side of the cones and your back wheel on the other.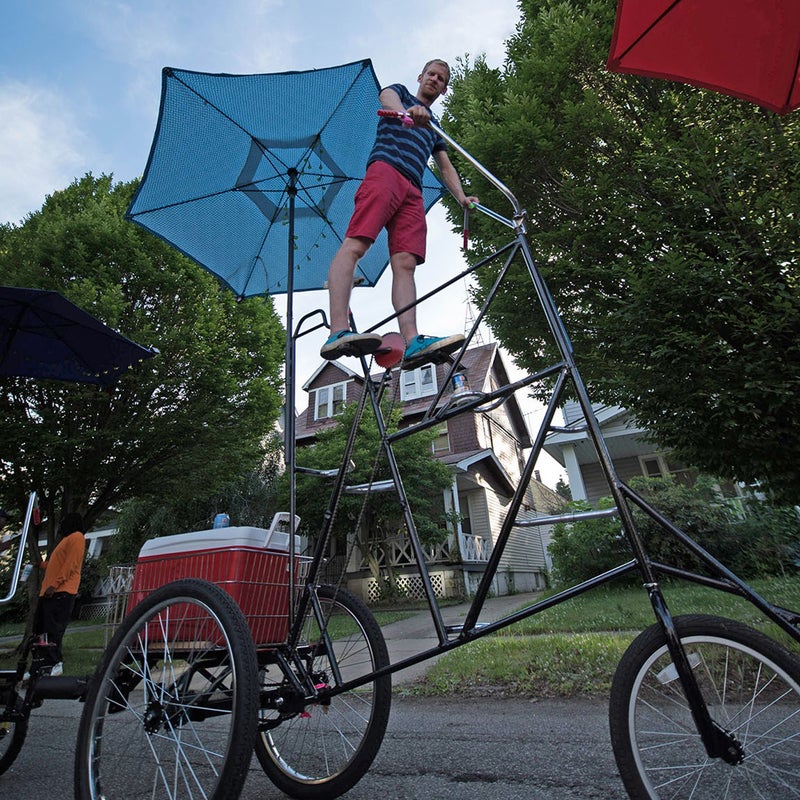 The swing bike will ultimately serve as a hub onto which other bike elements can be added. For example, Kuehnle already has in mind to weld onto it a couple of tall bikes, which would boost the carrying capacity of the bike beast to at least seven. When complete, the brewery will have a hodgepodge of old bicycles welded together with some heavy-duty car parts. Kuehnle's estimate of the weight of the finished swing bike: "a lot."
If you're having trouble imagining what this is going to look like, Kuehnle describes it like this: "A bike centipede." The whole thing was unveiled June 20 at a Cleveland music festival called Porch Fest. Kuehnle hopes to ride the bike from his studio to the festival. "The dream is for it to be ride-able by one person," he says, adding, "but if it's not, some of the New Belgium guys will be there and I think they'll be willing to help me."
With coolers of beer, a grill and 'lots of steaks" on board, there will likely be no shortage of people willing to take a turn on the pedals—and not a single utterance of "God you always do that," unless, of course, it's in regards to yet another perfectly grilled steak. 
Lead Photo: Courtesy of New Belgium