The Blind Man Making the World's Best Glacial Vodka
In the quest to make—and sell—the perfect drink, no one is going further than Scott Lindquist of Alaska Distillery. To concoct his premium vodkas, he hunts down 300-pound icebergs on Prince William Sound, then taps their ancient waters to power mysterious blends that keep winning awards. David Kushner heads north to sail and sip with the intrepid craftsman.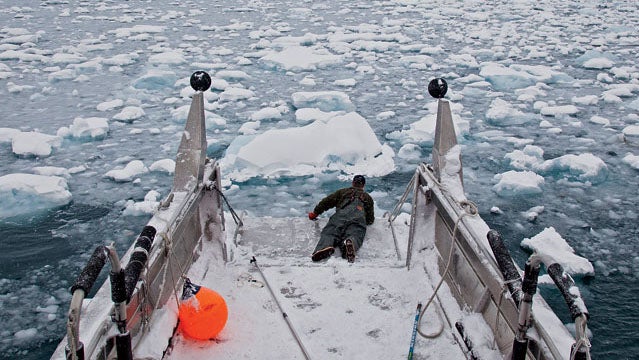 Michael Hanson
Heading out the door? Read this article on the new Outside+ app available now on iOS devices for members! Download the app.
Smoked-salmon vodka is best served the Alaskan way. Take a houseful of drunken St. Patrick's Day revelers. Add a woman in a black dress dancing in a bearskin and a couple of ruddy guys back from a paragliding trip. Then drop a sliver of ruby red fish in your glass.

Captain Mike Bender at the helm of the Qayaq Chief.

Lindquist wrangling a captured berg.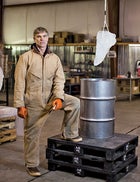 Melting the batch back at the Alaska Distillery.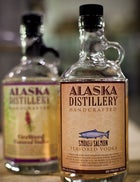 The end product.
That's how I'm served my first shot of the stuff one wintry March night after landing in Anchorage. A couple dozen locals are partying inside a ranch house strung with holiday lights near the frontier bars downtown. Jet-lagged and hungry, snow caked up my jeans, I have been whisked into the kitchenette, where the effervescent hostess, wearing a green beaded necklace, pours me a jigger. "It's better with this," she says, tossing in the salmon with a tiny splash.
The hostess and some others here are from the Alaska Distillery, based in nearby Wasilla. The small company has made a name for itself in the booming flavored-vodka sector—now 20 percent of the overall market—with a range of innovative blends, including the smoked-salmon vodka, introduced in 2010, and the first commercially available vodka distilled with hemp seeds, dubbed Purgatory and released in February 2012. (It contains no THC, the active ingredient in marijuana.) These concoctions, as well as a half-dozen fruit-infused vodkas, have the unique distinction of being made partly with meltwater from icebergs harvested in Prince William Sound.
When it comes to the quality of liquor, "water is very important," says Jeff Cioletti, editor in chief of Beverage World, the industry's trade magazine. "People with sharper palettes can discern it." It's also the ingredient most likely to be hyped in marketing materials. Think of Scotch made with Highlands spring water, or the legendary limestone aquifers that keep Kentucky bourbon pure. Even Coors boasts "Rocky Mountain spring water" as its source. The pitch is always about purity and authenticity. Here, glacier water is hard to beat, which is why glacier branding is so ubiquitous in the beverage industry. One of the largest vendors of water and ice machines in the U.S. is Glacier Water, a $100 million company that uses no actual glaciers. (Its headquarters are in Southern California.) Glacier Mountain, based in New Jersey, fills plastic bottles for office watercoolers from underground springs in Appalachia.
Look around, though, and you can find a number of products sourced from authentic Ice Age relics. There's 10 Thousand BC, meltwater that's collected from a granite basin at the foot of British Columbia's coastal Hat Mountain Glacier and has been stocked in the VIP suites of Las Vegas hotels for $10 a bottle. Serac "genuine Glacial Milk," a cloudy white beverage from Nevada aquaceuticals brand Glacia Nova, is harvested from Mount Rainier's Carbon Glacier during a brief summer window, when minerals below the shifting ice mix with the melt. According to Glacia Nova, the stuff is "linked to extraordinary long life, health and virility among indigenous peoples throughout the world." In trendy clubs from New York to Tokyo to Santiago, cocktails are mixed with glacier ice cubes and sold to patrons for $50 a glass. Last February, Chilean officials busted an ice harvester who carved out almost six tons from a glacier in a national park in Patagonia. The man had loaded his haul into a refrigerated truck and was driving to Santiago to sell it by the pound to upscale bars and restaurants.
Because glacier harvesting is done in insignificant quantities, there's little regulation of it around the world. There are no federal guidelines in the United States. In Alaska, the only state that requires permits, there has been only one permit holder for most of the past 15 years—Scott Lindquist, head distiller of Alaska Distillery. A salt-and-pepper-haired 51-year-old, he takes to the water several times each year during the September-to-May tourism off-season to collect some 10,000 to 20,000 pounds of icebergs from Prince William Sound. He hauls in blocks weighing 300 to 8,000 pounds so he can tap their ancient water, which he insists is the best in the world. "It's the quality of something so special and so old," he says.
The challenges and risks inherent to Lindquist's work are heightened by the fact that he suffers from optic atrophy, a degenerative eye condition that blurs his vision so much that he is considered legally blind. Though he's not able to drive a car or navigate a boat, the beauty of the pristine glaciers lures him onto the water.
"I'm blind," he says, "but I have vision."
TWO DAYS AFTER THE house party, Lindquist and I are knee-deep in snow on the docks of Whittier, a tiny fishing town about 60 miles southeast of Anchorage. Dressed in jeans, a thick pine-colored wool sweater, and a blue baseball cap, Lindquist squints into the haze over the choppy waves. "Yes! It's snowing!" he says enthusiastically. "I wanted something dramatic."
In the summer, Whittier teems with tourists who pay big bucks for day cruises to ogle the Blackstone Glacier. But 2012's record snowfall has left this a deserted wonderland, burying the hot-dog stands and bait shops and making my drive from Anchorage a 90-minute ice slide in a whiteout.
We climb aboard the Qayaq Chief, a 40-foot fishing boat that Lindquist has chartered for the day, joining the captain and two crew members, along with Toby Foster, the 39-year-old owner of Alaska Distillery, and a couple of other distillery employees. By the time we approach the Blackstone Glacier an hour later, the deck is powdered in white. Half a mile from the jagged 200-foot-tall wall of blue-hued ice, the captain throttles back, and we slowly make our way through a narrow bay that's a soup of glacial detritus, from the size of buses to the size of beanbags.
Despite Lindquist's poor eyesight, he can still make out the larger chunks floating in the water around us. And like any seasoned hunter, he's picky about his prey. We pass by some errant bergs that are no good, he tells me, because they've been exposed to the sun too long, becoming so porous that the oldest and tastiest inner crystals evaporate away. Lindquist prefers clean, round pieces that roll in the water from their own weight, shedding debris from their edges as they go. When he captures one, he'll take it back to the distillery and cut the rind off with a chainsaw, getting down to the inner core, roughly two feet in diameter—pure, dense ice preserved for eons.
We angle toward an ottoman-size iceberg, and Lindquist leans over the bow, giddy. "That one would be great for Vegas!" he exclaims, referring to an upcoming liquor-industry trade show in Sin City where he wants to display a hunk of glacier. He pokes at the berg with a six-foot pike pole. "That's a nice piece of ice," he tells me, as water splashes his scruffy face. "It has color. I don't see any debris. I can see striation. There's some opaque and very compressed ice, so you got a lot of good crystals in that."
Lindquist snaps into action. After years of false starts, he arrived at a proven method for landing icebergs. First he douses a pair of inch-and-a-quarter-long ice-climbing screws with hydrogen peroxide, disinfecting them as he runs his orange rubber gloves over them. The plan is to get close enough to the berg so he can hand-twist the screws into it and thread a rope through the eyelets. The rest of us will then help him tug-of-war the beast onto the deck.
Quickly, Lindquist grabs his most important tool: his son Hank's old hockey stick, which he uses partly for good luck and partly because it works well for hooking ice. "Ease it back," he shouts at the captain, who idles the boat. Lindquist lies on his belly at the bow, extending his torso over the water, and starts pulling on the berg. The wind has just picked up, and Lindquist's target is bobbing around like a giant candy apple dusted with powdered sugar. The boat rises and falls on the waves, the water slapping Lindquist. When he finally pulls the berg within arm's reach, one of the crew scurries up and tries to steady the ice with the pike pole as Lindquist attempts to twist in the ice screws. But with each motion, the berg bobs away stubbornly. After more than an hour of failed attempts, Lindquist says it's time to move to calmer waters. "I like hanging out in front of a glacier," he tells me, wiping the water from his face, "but sometimes you gotta go where the getting is good."
THE FIRST SURGE OF interest in Alaskan glacier ice began in the late 1980s. Japan's economy was the envy of the world, and entrepreneurial bar owners there, looking for another way into the wallets of flush businessmen, started pitching a unique up-sell that tapped into the country's fascination with the American wild: authentic Alaskan glacier ice cubes. Cocktails went for $50.
When fishermen in Alaska eagerly took to harvesting icebergs, the state's Department of Natural Resources scrambled to come up with guidelines, which still stand today. No ice can be taken inside a national park. If a seal has hauled itself out on a berg, you can't collect within a mile of it. Anyone taking more than 40,000 pounds of ice from a single source needs a permit, which now costs $500. Permit applicants at the time estimated that the market for glacier ice in Japan alone would amount to 16 million pounds per year, with another four million sold in California.
Lindquist got in a few years after the initial rush. Raised in a suburb of Portland, Oregon, he struggled with his eye condition, repeating several grades and missing plays as a high school tackle. When he was 19, he moved to Cordova, Alaska, to take a job on a commercial seafood-processing boat, a notoriously brutal gig. But he ended up on a beautifully refurbished wooden vessel and fell in love with life on the water. "Once I put my foot on that boat, I knew I was never coming back," he says. Because of his poor sight, being a fisherman was not an option, but after a year in Alaska he trained to be a herring-roe diver. (The mask magnified his vision.) He'd spend just three months a year diving—the roe was selling for $1,500 a ton—and the rest of his time hanging out in Hawaii. Eventually, he married and settled in Cordova, raising two kids.
Like many Alaskans, Lindquist saw icebergs as a convenient resource, ideal for packing coolers for fish or beer. But he started hearing about guys who were earning money selling the stuff to make fancy ice cubes and wondered if there might be an opportunity there. Before we went out on the boat, he recalled a day in the mid-'80s when he was on Prince William Sound with some friends, contemplating his future. At one point, he looked down into the dark blue waves and saw a sparkling shard of whitish-blue glacier. "I took a piece in my hand," he tells me, "and I said, 'OK, this is going to be the next thing in my life, this piece of ice.'"
Several years after that, Lindquist would daydream about making that change. Then, suddenly, he was forced to. On March 24, 1989, Lindquist and his crew were getting ready to set off from the dock when a fisherman told him there'd been an oil spill on Bligh Reef, right in the heart of the herring grounds. Lindquist was assigned to the first reconnaissance boat to investigate the damage from the Exxon Valdez. His stomach dropped the moment he arrived at the site. "It looked like rubber waves: big and thick, no sea or foam, just unbelievable black goo, seabirds covered and sea otters dying," he remembers. "Then it settled in just what the heck actually happened here."
The herring were wiped out along with Lindquist's livelihood, and, soon after, his marriage. "It was a major deal," he says. "And I never recovered."
AFTER GIVING UP ON the berg by Blackstone, we motor about a half-hour away to a quieter inlet. Spying a large block, Lindquist once again reaches for his hockey stick.
When I ask him how he arrived at his methods, Lindquist tells me with a laugh that there's "no textbook on this." As he's learned through trial and error, traditional mariner tools just don't work very well. Lifting the massive ice chunks out of the water is especially challenging. Chains get pinned under a slab once it's on the deck. Fishing nets are prone to breaking. He started using the ice screws at the suggestion of a climber friend.
Lindquist snares the block with his stick, twists in his screws, and quickly feeds the rope through the eyelets. It takes five of us to haul it on deck, where it slides to a halt accompanied by a round of cheers. For the next couple of hours, Lindquist is on fire, hockey-sticking, ice-screwing, and heave-ho'ing berg after berg on board. By the end we're exhausted, having hauled in roughly 1,200 frozen pounds of Prince William Sound's finest.
The difficulty of all this is one reason Lindquist has been the only remaining holder of an Alaska ice-harvesting permit, down from the 12 that have been issued over the years. Another is that initial estimates had wildly overestimated the demand for glacier ice. Outside Alaska, ice harvesting has always been a tiny business supported by boutique operations. Since 1995, the Iceberg Vodka Corporation, based in Newfoundland, has been pulling growlers from the North Atlantic; in recent years, the label has added iceberg-fueled gin, rum, and water to its offerings. There has been a cluster of activity in Greenland of late: Greenland Brewhouse made ice beer until the brand went bankrupt in 2008, and outfits in Nuuk and Ilulissat brew with glacial meltwater. Premium Glacier, a Canadian company, harvests ice from a glacier in Greenland and mixes it directly with corn alcohol to produce Siku Ice vodka (tagline: "Siku Is Ice").
Some of the companies making real money from glacier products are a bit more removed from the ice than they let on. One day in Anchorage, I hitch a ride with Gil Serrano, director of marketing and cofounder of Alaska Glacier Products, as well as the self-described "grandfather of glacial water." A real estate entrepreneur, Serrano launched his company in 1992 and now produces some 60,000 bottles a week, ranging from eight-ounce plastic miniatures that sell for a dollar or two in grocery stores to illuminated glass carafes that garner $10 a pop at nightclubs. After he walks me through his massive bottling plant in Anchorage, we climb into his extra-large red SUV and drive the unplowed roads an hour north to his source—a seven-mile-wide lake nestled in a valley carved by the 25,000-year-old Eklutna Glacier. Serrano doesn't get the water straight from the ice, which would be technically difficult and prohibitively expensive. Instead, he cut a deal to buy raw, untreated water from a nearby municipal water plant. "It's first-use virgin water from a living glacier," he explains.
Lindquist, however, won't settle for less than the glaciers themselves. "It's a joke," he tells me on the boat. "It's not hard to go turn a valve and fill up a tank. There's no excitement in that. Where's the sexy?"
Lindquist developed his appreciation for sexy through years of hocking glacial ice. He secured his first collecting permit in 1991 and began harvesting small amounts to supply vendors servicing the ice-cube market. He also took some business classes at the University of Alaska Anchorage and started doing sales for a bottled-water company that provided filtered municipal water to homes and businesses. In 1998, he landed his first commercial ice contract, shipping to a catering company in Munich. A few years later, he filled a couple of orders for the State of Alaska, one for 2,500 pounds of ice sent to South Korea for a trade summit. He started shipping to Japanese clients in 2003, heeding to their preference for "white ice," the opaque stuff that cracks and pops in your glass when its ancient gases are released.
In the spring of 2010, the owner of a high-end liquor store in Anchorage who'd been buying ice from Lindquist introduced him to Toby Foster. A medevac pilot who'd gone into the booze business after breaking his back in a crash, Foster had opened the Alaska Distillery, the first commercial distillery in the state, in 2008. That year he introduced a vodka called Permafrost, which earned a "superlative" rating from Chicago's Beverage Testing Institute, besting some 500 other brands, including Ketel One and Grey Goose. When Lindquist pitched him on using iceberg melt in his spirits, Foster didn't hesitate. He liked both the novelty and the purity of bottling a bit of the state's wild beauty. "Using glacier ice just seemed natural," he says.
The two reintroduced Permafrost with glacier water—then, several months later, brought out the smoked-salmon vodka. (The latter required an intensive taste-formulation period. Says Lindquist: "The first batches were awful.") Lindquist, who'd picked up moonshine crafting from locals in Cordova in the '80s, had to learn legal distilling on the job. His quirky tastes have produced a series of surprising vodkas in the past couple of years: rhubarb, birch syrup, Alaskan fireweed. The hemp-seed blend, Purgatory, won the gold medal in the spirits category in the 2012 Beverage World BevStar Awards, which recognizes product innovation. Meanwhile, Alaska Distillery revenues have jumped from a meager $4,500 in 2008 to well over $1 million last year. The company sells single bottles for the top-shelf price of $30 and distributes to liquor stores and bars in several states and Canada, in addition to online sales.
The fact that Lindquist has had so much success with such a broad range of flavors suggests that drinkers are as attracted to the very idea of sipping glaciers as they are to any particular taste they might impart. "It's the notion that it's kind of untouched by human hands," says Beverage World editor Cioletti. "You can't get water purer than that."
BACK AT THE DOCK in Whittier, the guys use a forklift to move the ice into the bed of a pickup truck. The next morning, I meet Lindquist and Foster at Alaska Distillery's headquarters to melt the harvest. The 7,000-square-foot space sits inside a converted airplane hangar at the end of a country road. In 2011, Lindquist moved into an apartment within walking distance. A couple of giant moose are milling around in the snow outside, and I'm warned not to get too close or I'll risk being trampled. Inside, where the temperature is kept between 60 and 70 degrees, it looks at first like any other small distillery—crates of bottles, rolls of labels, plastic tubs of malted grain and barley.
But then I notice the giant chunks of ice situated around the room. Rather than heating glacier ice, Lindquist prefers to let it melt naturally, a process that takes from two to five days. In the middle of the warehouse, a translucent slab hangs by a chain from the ceiling, like the gizzard of a monster yeti. It drips into a 350-gallon stainless-steel drum, making a beautiful plunky metal droplet echo, which Lindquist urges me to listen to up close. "This is one of my favorite noises," he says as he leans his ear over the barrel. "I believe the way this drips, you can get the rhythm of a song."
He hangs smaller chunks from chains, while larger pieces are set right on top of the barrel. Once they're fully melted, Lindquist goes into mad-scientist mode, blending roughly one part glacier water to two parts local spring water. The mix saves Alaska Distillery money, but Lindquist insists he does it to achieve a superior flavor. "You cannot get a smooth taste with 100 percent pure glacier water," he says. "The combination makes a more full-bodied water."
"The guy is an artist," Foster tells me with a laugh. "When we first started working together, he'd piss me off to no end, because he'd spend all day making a batch of water. My theory on Scott is that, because he's blind, all his other senses—including his sense of taste—are heightened."
The water is then added to the 190-proof alcohol, which is made from wheat and potatoes grown in the nearby Matanuska-Susitna Valley. The salmon and berry flavors are infused from reductions, and some of the edgier product concepts haven't worked out. "We were going to try a nicotine vodka," Lindquist says with a grimace, "and there's just no way."
Over in the corner, Lindquist shows me a few rows of giant mason jars filled with freshly distilled corn whiskey, the result of a partnership with Regina Sutton Chennault, daughter of a famed, late Appalachian bootlegger named Popcorn Sutton, to try and produce an edition of her dad's original moonshine using glacier melt. "My family always had to find a very clean water," Chennault told me when she greeted us at the distillery. "Glacier water tastes better, and there's no contamination." (The project ultimately fell through.)
But sometimes, I discover, glaciers can be dangerous, even when they're in custody. Lindquist is showing me his flavor-infusion lab when suddenly I hear a crash behind me, followed by a yelp. I turn to find Outside photographer Michael Hanson sprawled on the floor, blood gushing from his brow. He had been crouching down and photographing a berg perched on a stack of wooden pallets when it slid off—right into his face. Fortunately, Chennault works as a trauma surgeon by day. She quickly stops the bleeding, then rushes him off to get patched up, leaving him with perhaps the strangest scar story of all time. (Hanson returned later that afternoon, dizzy and black-eyed, to finish shooting.)
Maybe this is just what happens when you go around harvesting glaciers in Alaska. Or maybe there's some kind of magical elixir lurking inside the ancient ice, some timeless essence that draws beauty and blood. That's what I wonder as I belly up to the offending berg for a taste test. Lindquist pours me a shot of glacier water in a small glass beaker, then grabs an ice pick. As I hold the beaker against the block, he swiftly chips away at it, raining down sparkly shards into my drink.
As I raise my glass, I'm caught up in the drama of it all. I've traveled thousands of miles and witnessed the face-crushing might of the glaciers firsthand. So what do I taste when the slivers of frozen history slide down my throat?
I taste water. Honestly, I can't tell the difference between this and the stuff in my fridge at home.
But then again, I realize, that's not the point. What I'm really tasting is power—the awesomeness of water that was frozen 10,000 years ago and melted just for my pleasure. And that tastes great.
David Kushner is the author of four books, including Jacked: The Outlaw Story of Grand Theft Auto.
Trending on Outside Online