Chef Mallmann Wants You to Play with Fire
Where there's smoke, there's delicious grilled meat.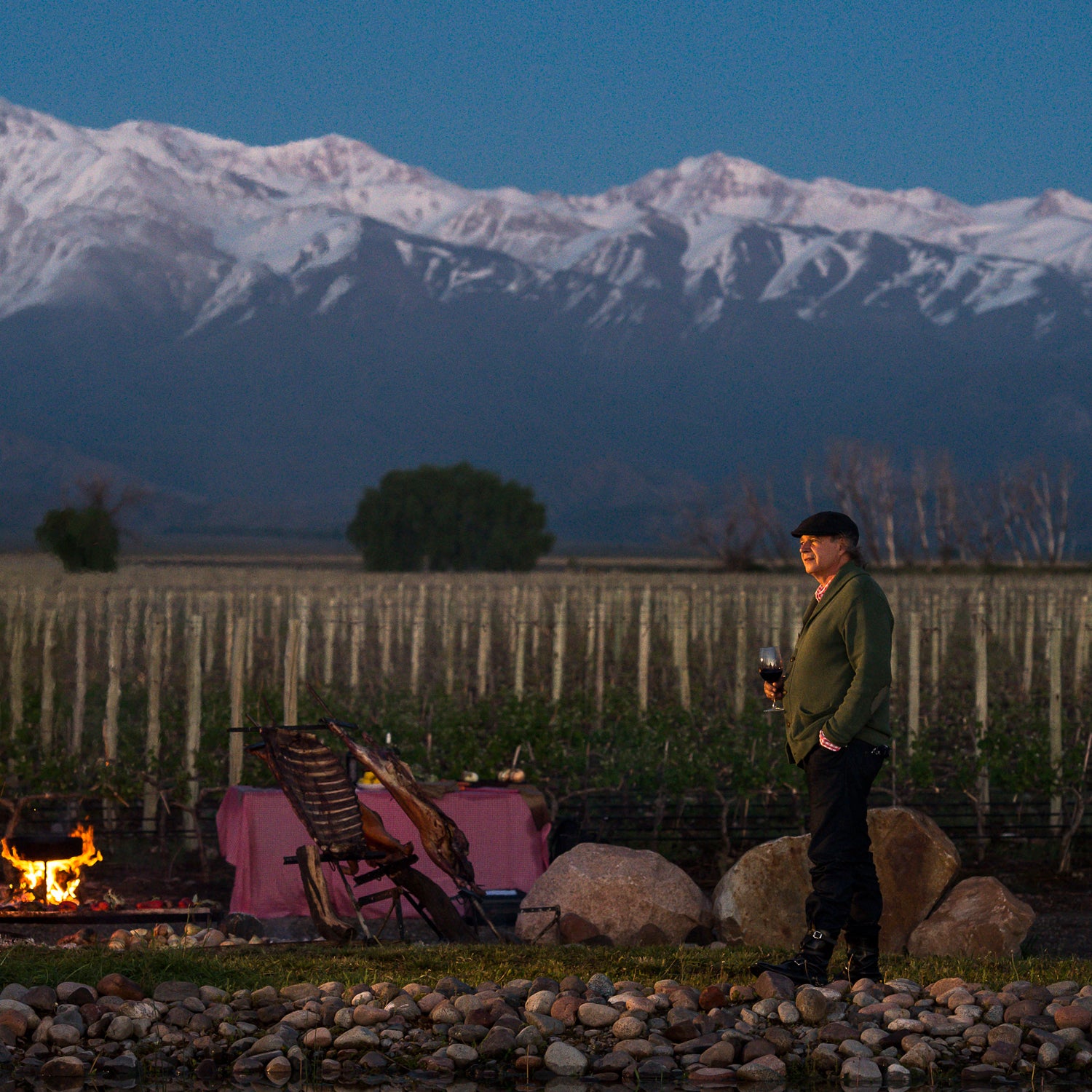 Heading out the door? Read this article on the new Outside+ app available now on iOS devices for members! Download the app.
Argentine celebrity chef Francis Mallmann can stand the heat—in fact, he loves it. But he wants to get the hell out of the kitchen. And he thinks you should, too.
"My least favorite place to cook is inside four walls," he says. Next time you head out on a hike, Mallmann recommends taking along ingredients—a few eggs, a potato, an onion, a sprig of parsley, and some olive oil—for an impromptu, al fresco meal."Go into the mountains and find a nice stream. Look for a stone with a wedged-out center. Place it over two flat stones and make a fire underneath it," he says.  
Once you've cooked in the woods (and no, coffee in a Jetboil doesn't count), Mallmann swears you'll never go back to those mush-in-a-pouch meals that many of us resort to in the backcountry.
Mallmann recently released Mallmann on Fire, a 100-recipe cookbook with the heft and richness of one of the seared sides of beef that made him famous in South America. The word cookbook feels somewhat inadequate to describe Mallmann on Fire. From the opening spread—a landscape portrait of Mallmann cooking fireside beneath the Andes—it's clear the book is as much about travel, adventure, and a sense of place as it is about making food.
"What are you doing sitting in your chairs at home? How come you don't know what frostbite is?" he asks rhetorically when I question him about cooking in the snow. "I try and tempt people that they can have a better life if they go out of their routine," he says. "I find young people especially are becoming so boring. They don't want to go to the edge of uncertainty." 
Uncertainty is a place where Mallmann thrives. Every time he'd set up streetside in Paris and light a fire, the local authorities would arrive, unimpressed with his permits. Flying by the seat of his pants is Mallmann's specialty, and he does it with vigor.
Despite this, Mallman on Fire is well organized and offers more than just recipes. The book is peppered with the chef's essays, which are as fun to read as his recipes are to cook. And the photos, shot by James Beard Award-winning photographer Santiago Soto Monillor, will have you setting airfare alerts. Between shots of roasted eggplant and head-on fish are full-page images of Mallmann cooking in New York, Paris, Uruguay and, of course, Patagonia.
The book opens with instructions on how to build your cooking setup, but don't expect to become a fire master overnight. "It takes maybe 10 years to be good at," Mallmann says. "People think cooking with fire is a very manly thing, but it's not. It's extremely fragile and tender. It takes a very long time to learn."
2 Essential Cooking Tips
1. Stop fussing over the meat. "I was in Austin cooking with some guys and they were constantly going into the meat with thermometers," he said. "Stop doing that! Stop punching him! You don't have to spank the poor beast with your thermometer constantly!"
2. Sit back—preferably with a glass of Malbec—and watch your meat as it transforms into a meal. To get the full effect, follow the lead from Argentine gauchos, who sample whatever they're grilling a bit at a time. "They never sit down to eat. They have a knife in their back pocket and they take it and cut a little piece. As they eat it, they're looking at what piece to cut next. It's quite beautiful the way they eat."
Lead Photo: Excerpted from Mallmann On Fire