Sponsor Content: Athletic Brewing Company
3 Harvest-Inspired Drinks Made with Non-Alcoholic Beer
These festive drinks are fit for every occasion this holiday season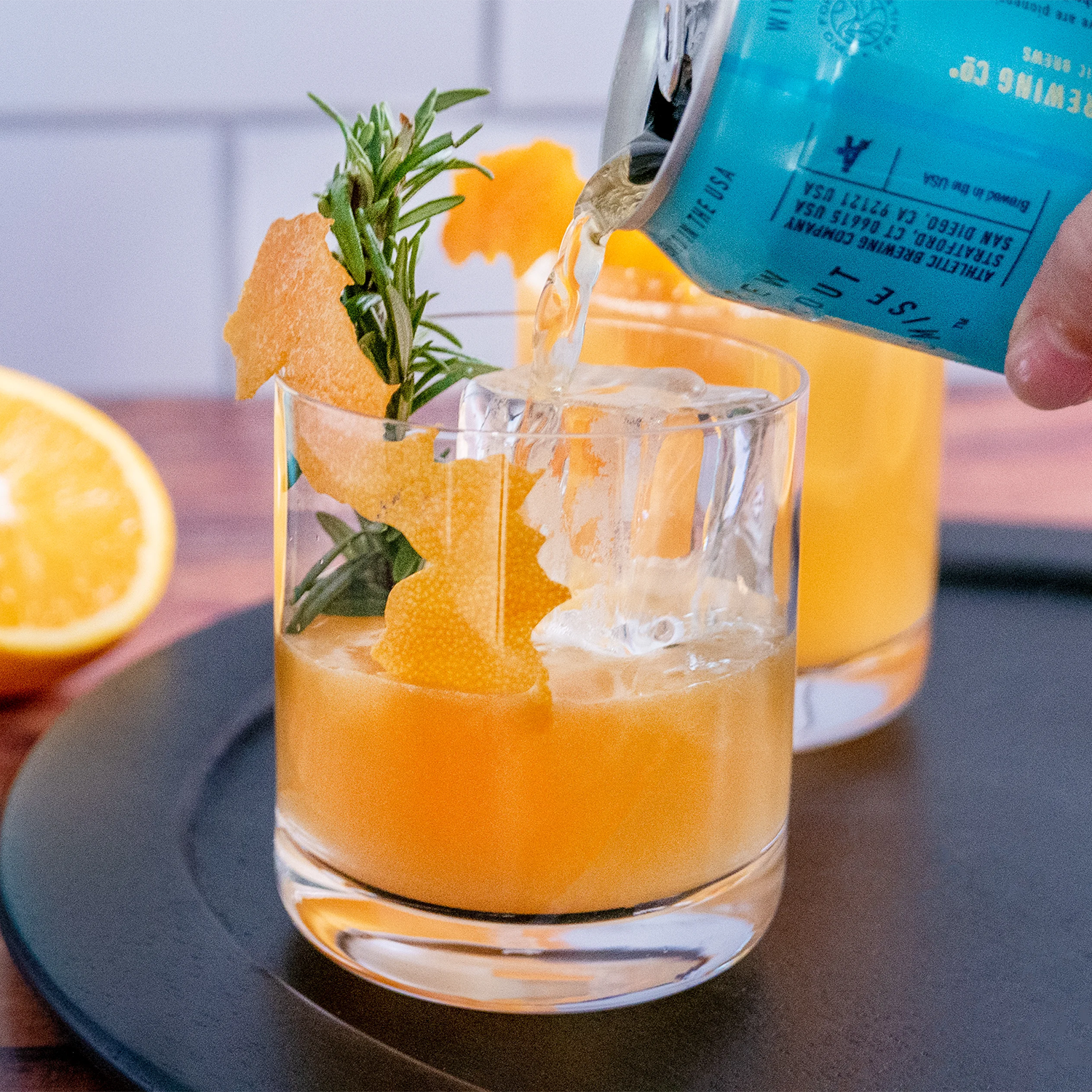 This holiday season, there's one ingredient that will make any event more festive—delicious non-alcoholic beverage options. At the top: Athletic Brewing Company, which continues to surprise and delight with classic and seasonal brews and a variety of hoppy, fruit-essenced sparkling waters that are all non-alcoholic. The cans themselves are great to have on hand for any gatherings. But when cracking open a cold one doesn't quite feel festive enough, these non-alcoholic drink recipes using Athletic's brews or sparkling waters as mixers are a great way to add a special touch.
Harvest Sangria 
Once you take a sip of this autumn-flavored non-alcoholic beer sangria, you'll want to serve it all year round. Harvest Sangria combines the light-bodied Upside Dawn Golden with the bold and bubbly Black Cherry DayPack Sparkling Water. The brew and sparkling hop water give the fall-fruit bounty a floral earthiness and bright bitterness to balance the sweet apple, pear, orange, and pomegranate molasses.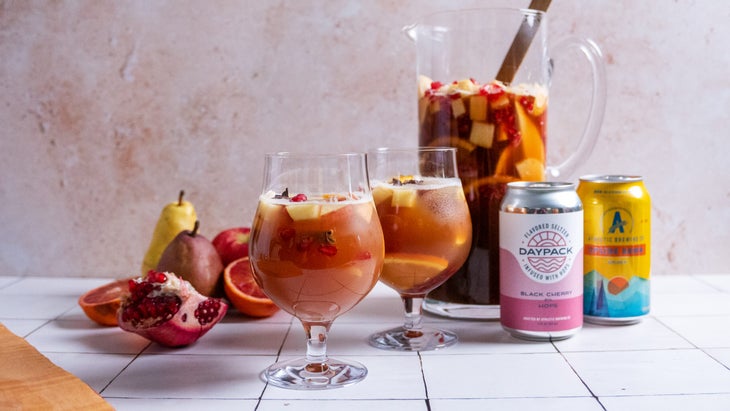 Serves 12
Ingredients
24 ounces (2 cans) Athletic Brewing Co. Upside Dawn Golden
24 ounces (2 cans) Athletic Brewing Co. Black Cherry DayPack Sparkling Water
3 cups apple cider
½ cup pomegranate molasses
1 Bartlett or Anjou pear, cored and thinly sliced
1 navel orange or blood orange, thinly sliced into half-moons
1 apple, cored and roughly chopped
1 cup pomegranate seeds (or the yield of 1 pomegranate)
3 cinnamon sticks
2 whole star anise
Directions
1. Dissolve pomegranate molasses in the apple cider. Chill that mixture and all other ingredients in the fridge for at least 30 minutes. In a large pitcher (at least 95 ounces), stir to combine the cider mixture, Upside Dawn, and Black Cherry DayPack.
2. Add pear, orange, apple, pomegranate seeds, cinnamon sticks, and star anise.
3. Pour into ice-filled balloon or rocks glasses.
Note: You can find pomegranate molasses online and at Mediterranean and Middle Eastern grocery stores. In a pinch, substitute ⅓ to ½ cup honey, which misses out on the flavor complexity but gives a similar sweetness.
Wild Ginger Cider Punch
Heavily hopped Run Wild IPA is loaded with lots of different flavors, most notably citrus and pine. Its nuance and full body make it ideal for adding flavor to a no-spirits cocktail. Run Wild's hoppiness pairs beautifully with bright, fragrant orange and earthy apple cider, while homemade ginger syrup turns it into a punchy drink with festive flair.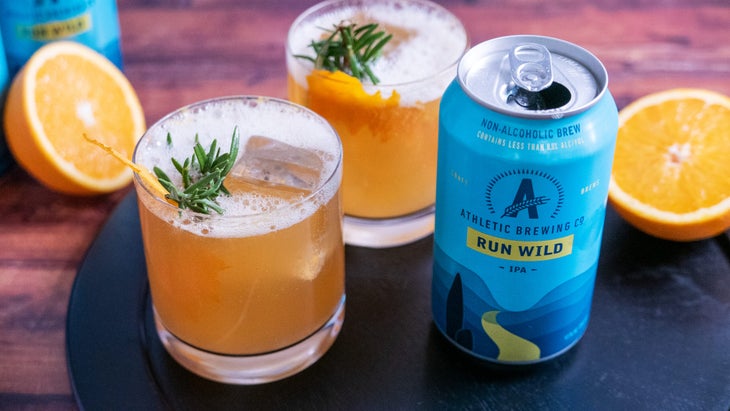 Serves 2
Ingredients
3 ounces fresh ginger (about 4 inches)
1 cup granulated sugar
1 cup water
1 navel orange
4 ounces apple cider
12 ounces (1 can) Athletic Brewing Co. Run Wild IPA
2 fresh rosemary sprigs, for garnish
Directions
1. Make the ginger syrup: Peel and roughly chop ginger and place in a blender with the sugar and water. Blend until ginger is puréed and sugar is completely dissolved.
2. Strain the syrup through a fine sieve into a bowl or container. Press on the solids to extract as much syrup as possible before discarding them. The recipe makes about 1½ cups of syrup, which will keep covered in the fridge for up to two weeks.
3. Use a paring knife or vegetable peeler to make two three-by-one-inch strips of orange peel. Slice the orange in half and juice 2 ounces (1/4 cup) from it.
4. Place ice cubes in two rocks glasses. Divide apple cider, orange juice, and 1 ounce of ginger syrup between the glasses, stir, and top them off with Run Wild.
5. Rub an orange-peel strip around the rim of each glass and then drop it into the drink. Garnish with rosemary sprigs.
All Out Float
Part drink, part dessert, this float is the perfect nightcap. Instead of sickly-sweet root beer, pour a bold, smooth, and complex All Out Extra Dark over a glass of rich and creamy ice cream (non-dairy versions work too) for an ice-cream float with a bite. For fall flavors, go with pumpkin-spice ice cream. This recipe also works well with salted caramel ice cream or coffee ice cream, which lends the vibe of an affogato—an Italian dessert of coffee served over ice cream. Top the ice cream with a drizzle of chocolate syrup that plays off of All Out's chocolatey notes and malt aroma and mellows out some of the bitterness.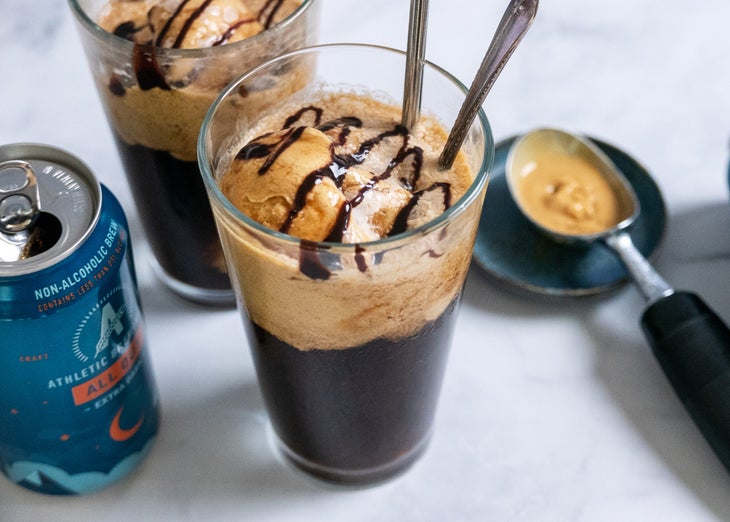 Serves 2
Ingredients
1 pint pumpkin-spice, coffee, or salted caramel ice cream
1 ounce (2 tablespoons) chocolate syrup
24 ounces (2 cans) Athletic Brewing Co. All Out Extra Dark
Directions
1. Scoop ice cream into two chilled pint glasses and drizzle with the chocolate syrup
2. Slowly pour 1 can of All Out into each glass, stopping as needed to let the foam subside before adding more.
3. Serve with straws and long spoons.
---
Named as TIME's "100 Most Influential Companies of 2022" as well as Fast Company's "Brands That Matter" in 2021, Athletic Brewing Company is reimagining beer for the modern, active adult. Their great-tasting craft brews provide a refreshing taste of craft beer, without the alcohol or the hangover. As of 2022, Athletic Brewing is proudly B Corp certified. Learn more about Athletic Brewing and how their non-alcoholic brews are fit for all times.