Sponsor Content: Athletic Brewing Company
5 Tips for Upleveling Tailgate Season
Sports fans, the most wonderful time of the year is upon us. Make this season's tailgates something to write home about with these tips.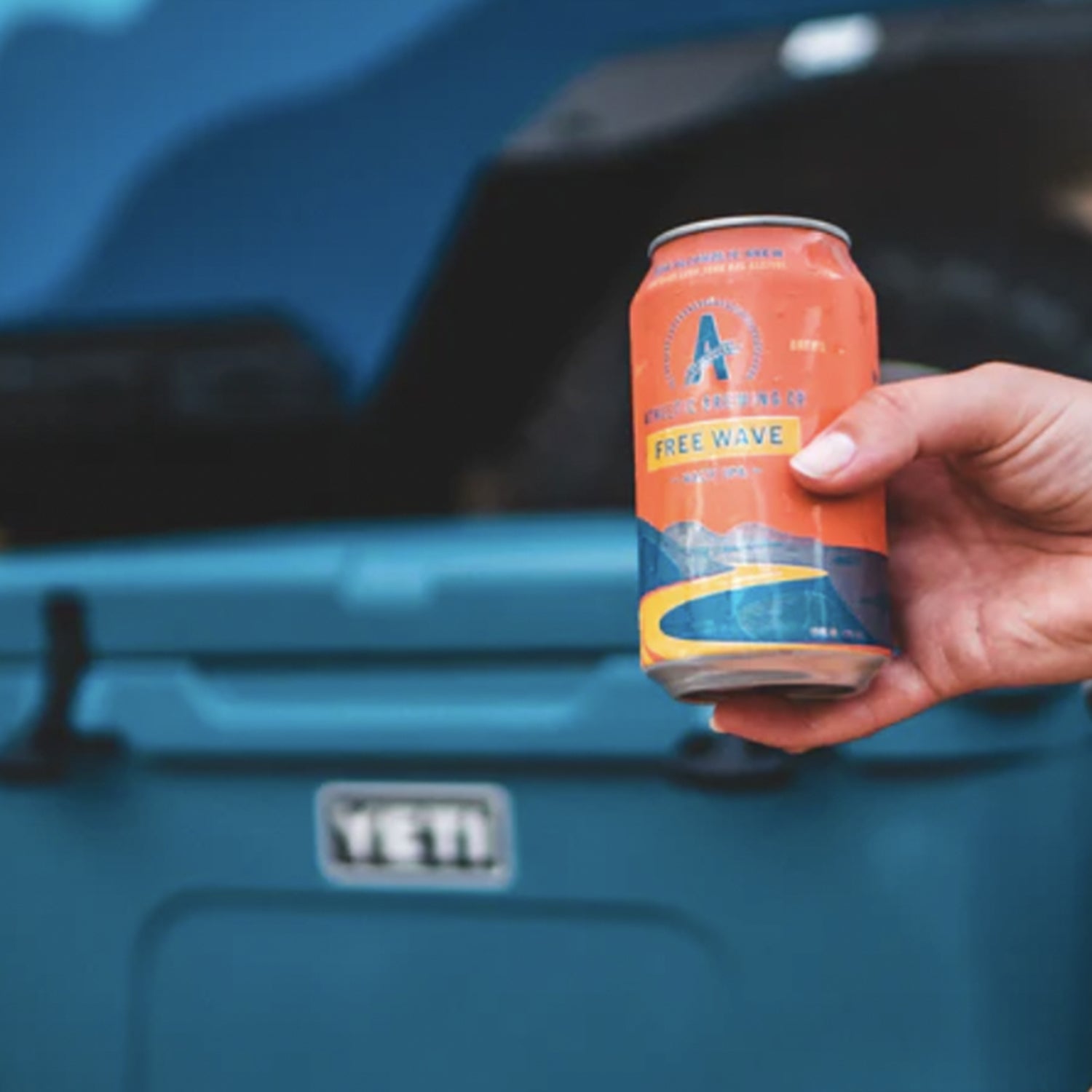 Athletic Brewing Company
We've all seen those tailgates—the ones with the big-screen TVs and satellite dishes ratchet-strapped to the roof rack of a car and tent cities so big one setup blurs into the next. While we love a rowdy pregame bash as much as the next superfan, our measure of a truly great tailgate values quality over quantity. From amazing eats and the ultimate beverage selection to unique games and actually enjoying the sport we all came to watch, here's how to take your tailgate from the five-yard line to touchdown. 
Prep Snacks in Advance
Food is one of the mainstays of the American tailgate. Sure, you could throw a bunch of hot dogs and burgers on the grill, crack open a vat of grocery-store macaroni salad, and call it a day. Or you could plan the ultimate tailgate feast with a little prep work and help from the whole crew. Ask your guests to bring appetizers or sides. This takes the pressure off you as the host and ensures everyone has something that fits their dietary restrictions.
As the host, plan to be in charge of the main dish. Whip up some marinades that work with a wide variety of foods so there is something for everyone. Athletic Brewing non-alcoholic beers amp up the flavor of any simple marinade. The Run Wild IPA pairs well with end-of-summer flavors, while All Out Extra Dark brings out the essence of fall—just make sure your meat is thawed the evening before and marinate it overnight. For veggies or mushrooms, you only need a quick soak in marinade, so pop these in while you're packing up the car and they'll be ready to grill when you arrive. In the fall, a huge batch of chili—easily made the night before—will satisfy a crowd. Try a beer-infused chili and cheesy cornbread made with non-alcoholic beers from Athletic Brewing Company for a unique take on a classic tailgate dish.
Get the Party Started
You've got an appetizer spread to rival an all-you-care-to-eat buffet, the grill is fired up, and everyone has a drink in hand. Nice work. Now it's time to break out the pregame games! Cornhole and Kan Jam are always crowd pleasers, but don't shy away from mixing it up. Grab a set of giant wooden yard dice to keep the family Farkle feud going, or, if you have the space, set up a net for a little volleyball action. If the drinking games come out, Athletic Brewing non-alcoholic beers are the best way to make things more inclusive.
It's not a tailgate party without a hype-up playlist and a portable speaker. Set the energy with a personalized mix of music, and throw in some game-day classics like "The Final Countdown" and "All I Do Is Win." You know the drill. 
Spice Up Your Cooler Selections
A well-stocked cooler is a sign of a fun gathering. But again, a great tailgate is about quality, not just quantity. Pack your cooler with a variety of craft beverages so all of your guests have something they love—seltzers, teas, and local and seasonal beers both hard and non-alcoholic (check out Athletic Brewing's lineup). Don't forget to save some cooler space and have plenty of ice ready in case friends and family decide to bring extra drinks to share.
Then get creative with a signature drink. For early games, try a spicy michelada made with Athletic Brewing's Free Wave Hazy IPA. Or mix up a beergarita using Athletic Brewing's Cerveza Atletica. Adding a signature drink to the tailgate not only takes the bar cart up a notch but also makes for a fun theme you can tie your whole menu into.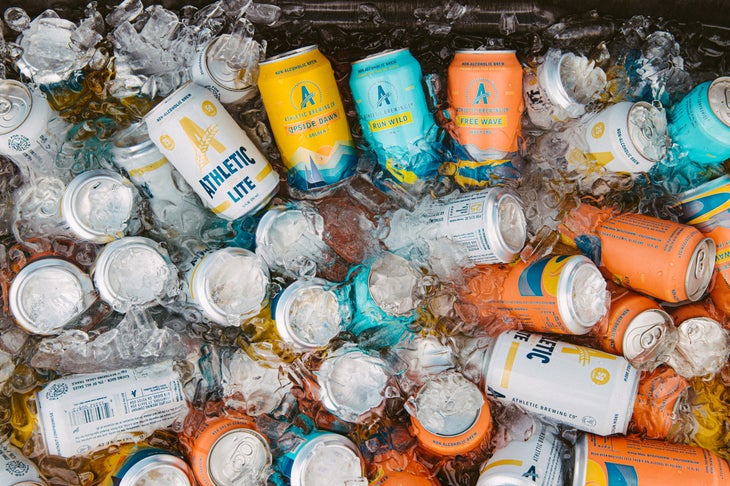 Dial Your Setup
Tailgating has been around since before tailgates or cars even existed. Some accounts of the American Civil War mention rowdy spectators toting baskets of food to the Battle of Bull Run in 1861 to watch the action. Modern tailgating—popularized around college football games in the eighties and nineties—is largely a more civilized affair, with yard lines instead of front lines and the convenience of just popping your trunk to get the party started.
To expand upon the convenience of the tailgate, add a trailer to the mix as the ultimate tailgate rig. Imagine the spread you can set up with a tow-behind kitchen as well as extra space for gear, additional seating, and other game-day fun. Plus, if you're arriving early to stake out a prime tailgate spot, a space to lounge or catnap before the fun begins sounds pretty nice, right?
Don't have a trailer? Athletic Brewing can help. The brewery is giving away a custom-wrapped Taxa Trailer and other essentials, including a Yeti cooler and Solo stove, to one lucky winner. Enter for a chance to win the ultimate upgrade to your tailgating setup this season.
Enjoy the Game
All the parking-lot hullabaloo is great, but cheering on your favorite team is still the main event. Make sure you actually get to enjoy the game by pacing yourself throughout the day and staying hydrated. Athletic's brews and DayPack sparkling waters are game changers (no pun intended) when it comes to going all out without going overboard on game day. Mix and match non-alcoholic beverages with alcoholic drinks throughout the day or stick to your favorite Athletic Brewing styles for the whole tailgate. Either way, you'll be able to spend the whole day enjoying friends, family, and your favorite team without crashing or missing out on that epic play fans will be talking about the entire season.
---
Named one of Time's "100 Most Influential Companies of 2022" as well as one of Fast Company's "Brands That Matter" in 2021, Athletic Brewing Company is reimagining beer for the modern, active adult. Its great-tasting craft brews provide the refreshing taste of craft beers, without the alcohol or the hangover. As of 2022, Athletic Brewing is proudly B Corp certified. Learn more about Athletic Brewing and how its non-alcoholic brews are fit for all times.
Lead Photo: Athletic Brewing Company
Trending on Outside Online