The Tradition of Drinking Sake in the Winter
Tradition says sake is best brewed in winter's cold temperatures for better fermentation and a tastier end result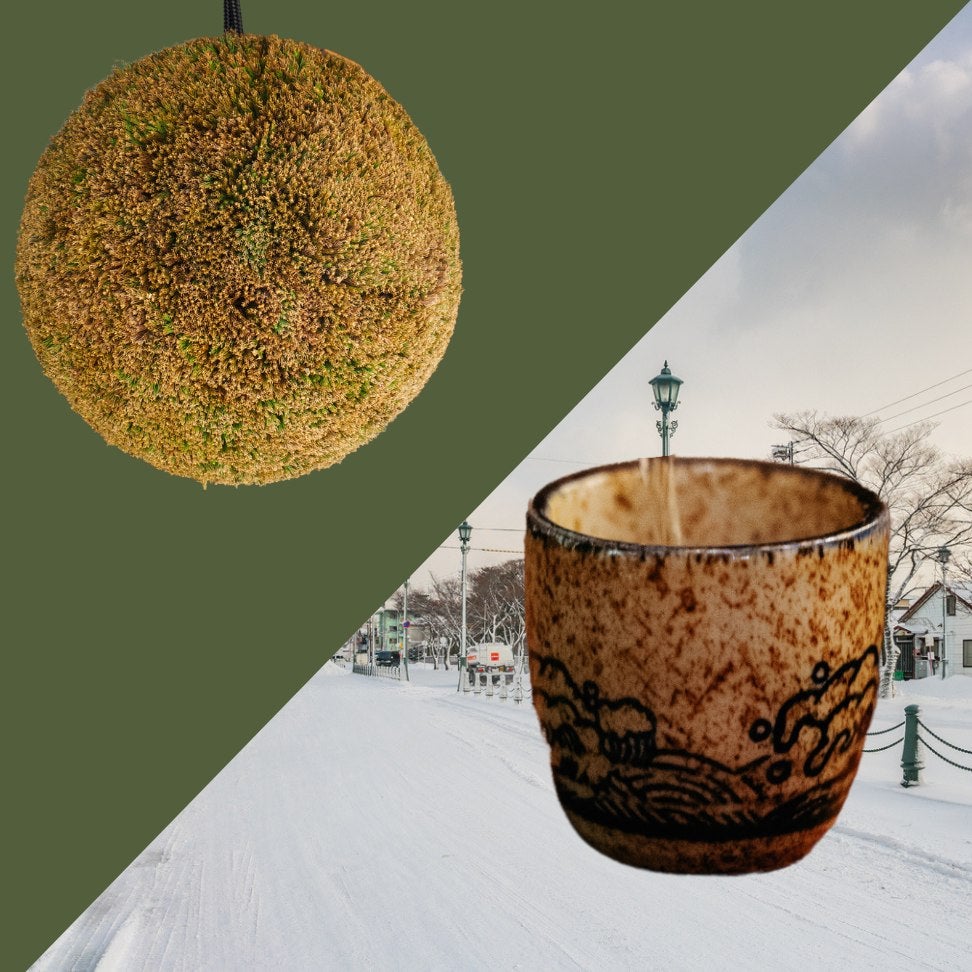 Heading out the door? Read this article on the new Outside+ app available now on iOS devices for members! Download the app.
When strolling down the street during winter in a Japanese town, you'll  notice green, fuzzy globes suspended outside doors.  Made of cedar branch tips, these beachball-sized decorations are  called sugidama.  are presented to  convey a joyous message: Come inside for  freshly brewed sake.  Traditionally hung by sake breweries during brewing season, sugidama announce to customers the arrival of the year's new sake.
Sake is the national beverage of Japan, an alcoholic liquid made from fermented rice and thus sometimes referred to as "rice wine." It's usually colorless (although some styles are unfiltered and thus cloudy), between 15 to 17 percent percent alcohol, and has a mild, subtly sweet flavor suggestive of various fruits (apple, banana, and pear are common notes). Most styles are served chilled, though there is a tradition of warmed sake. It's very difficult not to like.
Why Is Sake a Winter Drink?
Historically, sake was only brewed during the cold months because  the rice, which was  harvested in autumn, required  rest before being polished down. Winter's cold temperatures also contributed to the brewing process. The open fermentation of rice generates a lot of heat, and a cold environment helps keep temperatures under control,  which is important for the preservation of certain flavors and aromas. Frigid air is also cleaner air, helping to prevent airborne yeast and bacteria from compromising the hygiene of the fermentation. And, finally, some brewers prefer the purity and cleanliness of winter water and even utilized ice caves to safely age the just-brewed sake.
Today, the advent of brewing technology—temperature control, air and water purification, microbiology labs—has made seasonality less important than it once was, but Japanese sake brewers remain steadfastly attuned to history and tradition. Indeed, some brewers still revel in the connection between winter and sake by celebrating it in the brewing process.
Snow Sake
For instance, the Hakkaisan brewery—located in the mountains of Niigata prefecture on the west coast of the main island of Honshu and Japan's second snowiest region (yes, there is skiing)—produces a famous sake called "Yukimuro" ("snow room"). This snow-aged sake matures for three years in an insulated cellar cooled by massive mounds of collected mountain snow. The bottle's barren, white color reflects this unique method and the sake itself, a junmai daiginjo, is impossibly creamy and rich with flavor. 
Not very far away, the Tsunan brewery announced this year the creation of new limited edition sake "Yukikamoshi"  ("snow brewing"), which is actually brewed with melted Niigata snow. When the snow eventually melts in spring and summer, its water becomes the growing environment for the local rice, which is used in the sake. So, essentially, from seed to sake, "Yukikamoshi" is a celebration of the resource of the local snow, which measures up to 13 feet in a typical winter here (some areas of Niigata get twice this). "Yukikamoshi" has yet to be released, but will be well worth tasting when it arrives. 
One quality of snow is its fleeting existence, a fact emphasized to me when I learned while writing this that the most famous winter sake—and one of my favorites—"Divine Droplets," is no longer being made in its original fashion. The special sake used to be brewed through viaa drip filtration in an igloo on the far northern island of Hokkaido. An  ice chamber was painstakingly rebuilt every year for  sake to drip  slowly from burlap bags. Evidently, climate change has made the necessary conditions too inconsistent to continue making the sake this way. Divine Droplets still exist  and is still wonderfully silky textured and richbut it is no longer made in Hokkaido nor in an igloo. The original brewers passed the brand to the Ginga Shizuku brewery, a specialist in drip fermentation.
The most classic winter style you can get at any good sake store is called shiboritate, which means "freshly squeezed" and refers to the first pressing of the newly brewed sake. In addition, most of the shiboritate is released without pasteurization, meaning you get a complete and unadulterated taste of the new sake. (Pasteurization is necessary for the stability and durability of sake during shipping and storage, but does indeed suppress some of the native flavors and aromas.)
Japanese culture is ever attuned to nature and the endless passing of seasons, and sake is a piece of that. Today, whether the sake is made in or with snow is less important as recognizing in it the spirit of winter and relishing it as such. Its chill and purity  mirrors the crystalline cleanliness of a snowy day. The quiet delicacy of flavors resonate with the way winter throws details into relief:  ice crystals on frozen leaves, the crunch of frost under our heels, the muted colors of a winter landscape. So after your next wintry hike or ski or snowboard run, consider unwinding with a glass of winter. And when in Japan, keep your eyes out for those hanging green spheres.