Eat Like a Winter Olympian (and Win!)
At the Olympic Training Center, these ingenious Russian-themed recipes have been turned into gold-medal performance grub.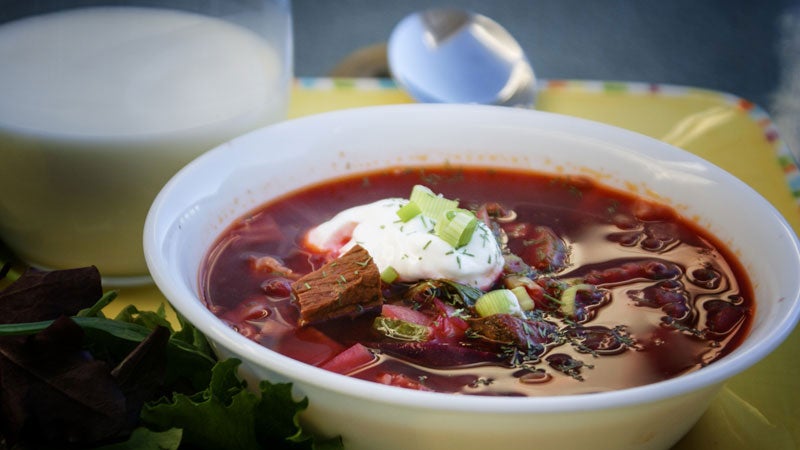 Heading out the door? Read this article on the new Outside+ app available now on iOS devices for members! Download the app.
Behind the Olympic-caliber athletes scarfing down 5,000-plus daily calories at the Olympic Training Center in Colorado Springs is a hardworking chef creating the food that fuels peak performance. And with 350 weary, ravenous athletes walking into the dining hall each day, you get a pretty good idea of executive chef Jacque Hamilton's job.
&nbsp
"We're proud of our Russian cuisine. The coaches from Russia say our Borscht is better than in Russia."
—OTC senior executive chef Jacque Hamilton
 
 

Besides making sure there's enough milk—OTC athletes gulp down about 15,000 gallons of the stuff annually—she keeps meals fresh and nutritious by varying menu items. Recently, that's meant a variety of Russian-themed cuisine in preparation for the February games in Sochi. Popular items include wild-mushroom stroganoff, a delicious meatless alternative for vegetarian athletes. Other big hits include eggplant caviar served on blini, a Russian-style pancake. Perhaps the most popular dish is Borscht. Hamilton's take on the traditional beet-based soup includes more beets for extra antioxidants and more meat for a little more muscle-fueling protein.

"You can't cook one thing for all athletes. Each person has different dietary needs," Hamilton says. "We just try to stick to clean labels, with only a few ingredients, to give athletes the right kind of fuel for performance and recovery."

Below, Hamilton's most popular Winter Games-inspired meals, which can easily be whipped up at home.
---
Borscht
6 cups water
1 pound boneless beef round
2 Yukon potatoes, cubed
1 cup shredded green cabbage
2 roasted red beets, cut into strips
1 freshly grated carrot
1/4 cup finely diced onion
1 tablespoon tomato paste
1 tablespoon white wine vinegar
1 tablespoon minced garlic
1 teaspoon salt
1 teaspoon pepper
1 tablespoon canola oil, divided
For garnish:
Green onions
Dill weed
Sour cream
The day before serving:
Wrap beets in foil and roast at 350 degrees for 1 to 1.5 hours. Once completely cool, cut into julienne strips.
Bring four cups of water to a boil, reduce heat, and add the beef round. Allow to simmer for at least three hours, flipping the beef round halfway. After cooking, remove the beef and save the water. Cut the cooked beef into ½ inch cubes and chill overnight.
The day of serving:
Skim off any fat from the beef stock. Bring the beef stock to a boil, add the beef and potato cubes, and then allow to simmer on medium heat.
Heat a skillet with oil, add beets, allowing them to become coated with oil. Add in the tomato paste and vinegar gently stirring over medium heat until everything is well distributed and becomes fragrant. Remove the skillet and allow to rest for about 10 minutes.
Heat a second skillet and sauté the onions and garlic until lightly brown. Add in the carrots and cabbage and continue sautéing until they have begun to soften.
Add content from both skillets to the hot beef broth mixture. Allow to continue simmering for about an hour. The soup should reduce slightly to a hearty consistency and have a bright red color.
---
Wild Mushroom Stroganoff
4 tablespoons butter, divided
1 cup shallots, chopped
1 quart chopped mushrooms
2.5 cups vegetable broth
1/4 teaspoon salt
1/4 teaspoon pepper
1/2 cup white wine
2 teaspoons freshly chopped thyme
1/4 cup all-purpose flour
1/2 cup half and half
1/2 cup grated parmesan cheese
2 teaspoon freshly chopped parsley
Serve over egg noodles
Melt the butter over medium heat and add the shallot, cook until tender. Add the mushrooms to the pot and cook until tender. Add the water, base, thyme, wine, salt, and pepper. Bring to a boil and then turn down the heat. Simmer for about ten minutes. While the sauce is simmering, in a separate pot melt butter over medium heat. Stir the flour into the butter until absorbed to make a roux. Pour the mushroom mixture into the roux and bring to a boil, turn down the heat and stir until thickened. Stir in the cream and parmesan cheese, and parsley. Serve with egg noodles.
---
Eggplant Caviar
1 fresh, whole eggplant
1 cup finely chopped onion
1/2 cup finely chopped tomato
1/2 tsp garlic cloves, peeled and minced
1 tbsp extra virgin olive oil
2 tbsp Red wine vinegar
1/8 tsp salt
1/8 tsp ground black pepper
Preheat the oven to 375 degrees. Pierce the eggplant in several places with a knife and bake on a baking sheet, until soft, about 50 minutes, turning midway through the baking time. Remove from the oven and cool. Cut the eggplant, lengthwise, in half. Scoop out the pulp and chop until very fine. In a large bowl, combine the pulp with the onion, tomato, garlic, oil, and vinegar. Blend thoroughly and season with salt and pepper. Cover and refrigerate for several hours. Place in a serving dish and garnish with the parsley.
---
Pickled Beets
12-3/4 oz fresh red beets
1 cup apple cider vinegar
10-1/4 tbsp water
1-1/4 cup granulated sugar
1-1/2 tsp salt
1/2 tsp black peppercorn
1/8 tsp crushed red pepper
1/8 each bay leaves
1/8 each cinnamon stick
1/2 tsp whole clove
1 tsp ground all spice
Boil beets until they are easy to pierce with tip of knife. Combine the vinegar and water in a flat-bottomed pot and dissolve the sugar and salt in over medium-high heat. Stir constantly until sugar and salt completely dissolve, leaving the solution clear. Add remaining ingredients and bring to a boil. Place beets in glass jar and pour hot brining liquid, including spices, into jar. Cool to room temperature and then refrigerate. Pickled beets will be ready in 24 hours, but will continue to get a more infused flavor the longer they sit in brine.
---
Russian Tea Cakes
1 cup softened butter
1 cup powdered sugar
1 tsp vanilla extract, imitation
2-1/4 cup all-purpose flour
1/4 tsp salt
3/4 cup finely chopped Pecans
Preheat oven 400 degrees. Mix cream, butter, ½ cup powdered sugar and vanilla in large bowl on medium speed. Stir in flour and salt. Stir in nuts. Add the flour mixture to the butter mixture. Shape the dough into one inch balls using #40 dipper, and place on a ungreased cookie sheet. Bake for 8-9 minutes or until they are set, but not brown. Immediately remove from cookie sheet; roll in more powdered sugar. Cool completely on wire rack. Roll in powdered sugar again.
---
Russian Tea
1 qt water
1 bag of black tea
1/2 tsp clove
8 tbsp granulated sugar
8 tbsp pineapple juice canned unsweetened
2 tbsp lemon juice
Bring water to a boil and turn off heat. Add tea bags and spices. Cover and leave for five minutes. Remove tea bags and spices from water. Add sugar and juices. Mix well and reheat.
Lead Photo: Shalaya Kipp