One-Mile Challenge
A Family-Friendly Camp Meal That Everyone Can Help With
The perfect DIY activity for car camping or even an evening in your own backyard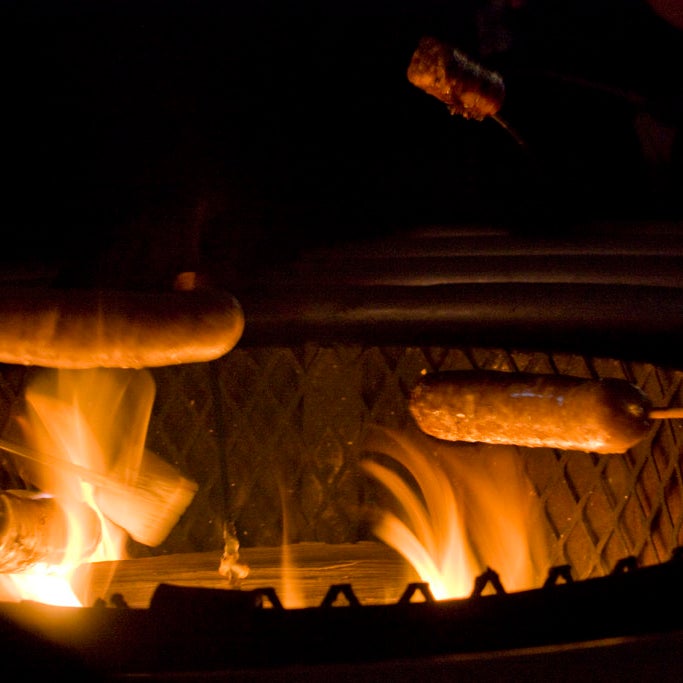 Heading out the door? Read this article on the new Outside+ app available now on iOS devices for members! Download the app.
The key to getting new people—kids and adults alike—excited about going camping is to have them participate as much as possible. One surefire way to ensure that everyone plays a role is to incorporate each person into the meal prep and cooking. Here's an easy, affordable, tasty dinner that combines cooking over the fire with good food safety and plenty of hands-on experience.
Supplies You'll Need
A pot with a lid
Water
Tongs
A camp stove and fuel
A lighter
Fire starters
Firewood
A wood-processing tool you know how to use (an ax, a saw, a large knife, or something similar)
Some sticks
A pocketknife
The highest-quality sausages you can find (this recipe is perfect for hot Italian pork sausages, but any variety will work)
A few bell peppers
An onion
Buns (I prefer pretzel)
Mustard (I love a quality Dijon or whole-grain mustard)
Paper towels
A shovel
Getting Started
Task a member of your group with building a fire inside an existing fire ring. If they don't know how, show them, but let them go through the entire process themselves. Ask them to be responsible for feeding the fire to keep it going.
Fill your pot with water until it's nearly half full, and bring it to a boil. Once there, add your sausages, cover, reduce heat to low, and simmer for ten minutes. (This step ensures the sausages are safely cooked through, and it helps make them a little less greasy.) Remove the sausages to a plate, cutting board, or tray. Pour out the water.
Note that you should never prick or slice open quality sausages before cooking them. You want that skin to remain intact so their moisture stays inside.
Slice the peppers and onion, and set them aside.
If your campers are of an appropriate age, have them harvest a few sticks that are mostly straight, as thick as a pencil, and two to three feet long. Green (live) sticks work best, because they won't burn as easily, but if you're on public land, damaging live trees is inappropriate, so either get them from dead trees, or bring along some sticks from home. Instruct your minions to remove any extraneous branches, and sharpen one end of each stick with a pocketknife.
Carefully insert the sharpened end of a stick into one end of a sausage until it is securely impaled. Hand one to each person, so they can cook their own sausage themselves.
Cooking Over the Fire
Because the sausages were already safely cooked through in the pot, all you're looking for is a browned, crispy exterior. There's room for different approaches to this, so no need to closely supervise anyone's work. Just point them toward the fire, and try to make sure no one burns their sausage entirely to ash. (Bring some extras, in case they do.)
Meanwhile, add a splash of olive oil to your pot, set it over medium heat, and sauté the peppers and onions until they just start to soften.
You can toast your buns over the fire if you'd like, but it's not necessary.
Serving Dinner
As the sausages start to come off the fire, hand each camper a bun, and have them use it to pull their sausage off their stick.
Top with the peppers and onions, add some mustard, and enjoy.
Cleaning Up
Use your cooking sticks for s'mores, or go ahead and throw them in the fire. Bring some water to boil in the same pot you've been using. Wipe any excess food off your tongs, cutting board, and knife, then dunk them in the boiling water for a minute or two to sterilize them. When the pot has cooled, wipe out any remaining grease with a paper towel and burn that. Camp dishes really can be that simple.
Before it's time for bed, show your campers how to properly extinguish the fire, and have them perform the work themselves. Just double-check to make sure it's fully out before turning in yourself.
Trending on Outside Online