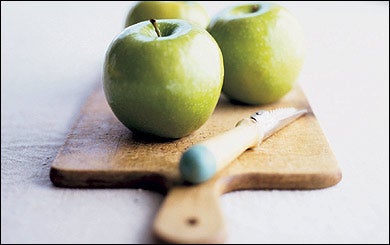 Heading out the door? Read this article on the new Outside+ app available now on iOS devices for members! Download the app.
We're not talking fries and fat, with fresh nowhere in sight. We're talking about smart nutrition to help you charge up, trim down, and get the most out of mealtime. We picked the brains of top athletes for their favorite full-flavored quick-and-easy recipes. Prep time is less than ten minutes; benefits are lifelong.
nutrition, nutrional recipes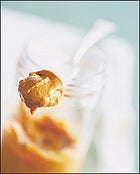 (1) START SMART

U.S. Postal Service team rider Michael Barry's
Performance Porridge


2 cups oats
1/3 cup millet
6 cups water, milk, or soy milk
1/4 cup raisins or currants
4 eggs
Pinch of salt


Put all ingredients except eggs in a pan and bring to a boil. Add eggs. Reduce heat to a simmer, then stir well for five minutes, or until the oats have absorbed the liquid. Garnish with honey and fruit.


(2) HANDY SNACKAGE

High-Energy Trail Bars from the members of adventure racing's Team Epinephrine


1 cup rolled oats
4 oz unsweetened chocolate
1 cup peanut butter
1 1/3 cups brown-rice syrup
1/4 cup unsweetened cocoa powder
1 1/3 cups vanilla-flavored soy protein powder
2 tsp ground espresso


Preheat oven to 350, spread oats on cookie sheet, and toast until brown (about eight minutes). Mix all ingredients except oats in a microwave-safe bowl, then microwave on high for one minute. Stir and repeat until chocolate is melted. Mix oats in, spread onto a lightly greased glass baking dish, and refrigerate. When cooled, cut into bars. Makes 20.


(3) SUPER-REHYDRATING SMOOTHIE

Off-road triathlete Jamie Whitmore's Orange Energy


1/2 cup orange juice
1/2 cup vanilla soy milk
1 1/2 bananas
1–2 scoops orange sherbet
1 tbsp protein powder
1/2 cup mixed berries
1–2 cups ice


Mix ingredients in a blender and enjoy.


(4) LAUNCHPAD LUNCH

Olympic runner Jenny Adams's Primo Pollo Salad


1 cup cooked, chopped chicken
1/2 cup plain nonfat yogurt
1 apple, diced
1 celery stick, diced
1/2 cup red grapes, cut in half
1 tbsp fresh chives
Salt and pepper to taste


Mix ingredients in a bowl, then chill in the refrigerator. Garnish with fresh herbs before eating.


(5) MIDWORKOUT WONDER

Off-road triathlete Jamie Whitmore's Burrito de Whitmore


1 tortilla
1–2 tbsp natural peanut butter
1 tbsp fruit spread or 1 packet Sonic Strawberry Clif Shot energy gel


Spread fillings over tortilla, roll up, and cut into small bites.
(6) LIQUID POWER

Adventure racer Paul Romero's Epi Goop


1 packet Met-Rx Extreme Chocolate drink mix
2 tbsp chunky peanut butter
5 marshmallows or 15 mini-marshmallows
1 egg
2 cups water
1 cup soy milk
2 cups ice


Mix ingredients in a blender and enjoy.

(7) THREE O'CLOCK HIGH

Ultrarunner Darcy Piceu's Piceu Burrito
1 tortilla
2 tbsp natural peanut butter
1/2 green apple, thinly sliced
1 tsp honey


Spread peanut butter and honey over tortilla, top with apple slices, and roll up.


(8) POSTWORKOUT DECADENCE

Adventure racer Karen Lundgren's Peanut Butter Pleasure
1 cup softened butter
1 cup white sugar
1 cup brown sugar, packed down
2 eggs
1 egg yolk
2 tsp vanilla extract
18 oz peanut butter
2 cups all-purpose flour
1 tsp baking soda
1/2 tsp salt
1 cup chopped peanuts


In a large bowl, mix butter and sugars until smooth. Add eggs, yolk, and vanilla and mix until fluffy. Stir in peanut butter. Sift flour, baking soda, and salt together, and stir into mix. Stir in peanuts. Refrigerate for at least two hours. Preheat oven to 350. Lightly grease a cookie sheet. Roll dough into walnut-size balls. Place on cookie sheet and slightly flatten with fork. Bake for 12 to 15 minutes. Makes eight dozen.


(9) WINNER DINNER

Olympic high jumper Amy Acuff's My Thai Chicken
1 cup basmati rice
1/4 cup sesame oil
1/4 cup soy sauce
1 tsp chili oil
1/4 cup balsalmic vinegar
3 chicken breasts, chopped
2 tbsp grated ginger
2 cloves garlic, chopped
1 bunch cilantro, chopped
1 can water chestnuts, drained
1 cup bean sprouts
1 cup peanut butter


Boil rice. In another pan, heat sesame oil, soy sauce, chili oil, and vinegar, then add chicken, ginger, garlic, and cilantro. Cook on medium heat for five minutes, or until chicken is done. Add water chestnuts and bean sprouts, which should soften within two minutes. Remove pan from heat and add peanut butter and rice, mixing thoroughly.


(10) RECOVERY TIME

Marathon runner Deena Kastor's Black Beauty Soup


1 tbsp olive oil
1 yellow onion, diced
4 cans black beans, drained and rinsed
1/2 tsp cumin
1/2 tsp oregano
1 tsp red-wine vinegar
1 bottle of beer
Water or chicken broth (optional)
Cayenne pepper, salt, and pepper to taste


In a pot, sauté onions in olive oil until browned. Stir in other ingredients and bring to a rapid boil, then mix in a blender, adding water or chicken broth if needed for consistency. Garnish with chopped cilantro, tomatoes, and avocado. Serve with tortillas.