The Fight to Legalize the Brilliant Pub-on-a-Bike
California just approved the roving bars—here's why your state should go for them too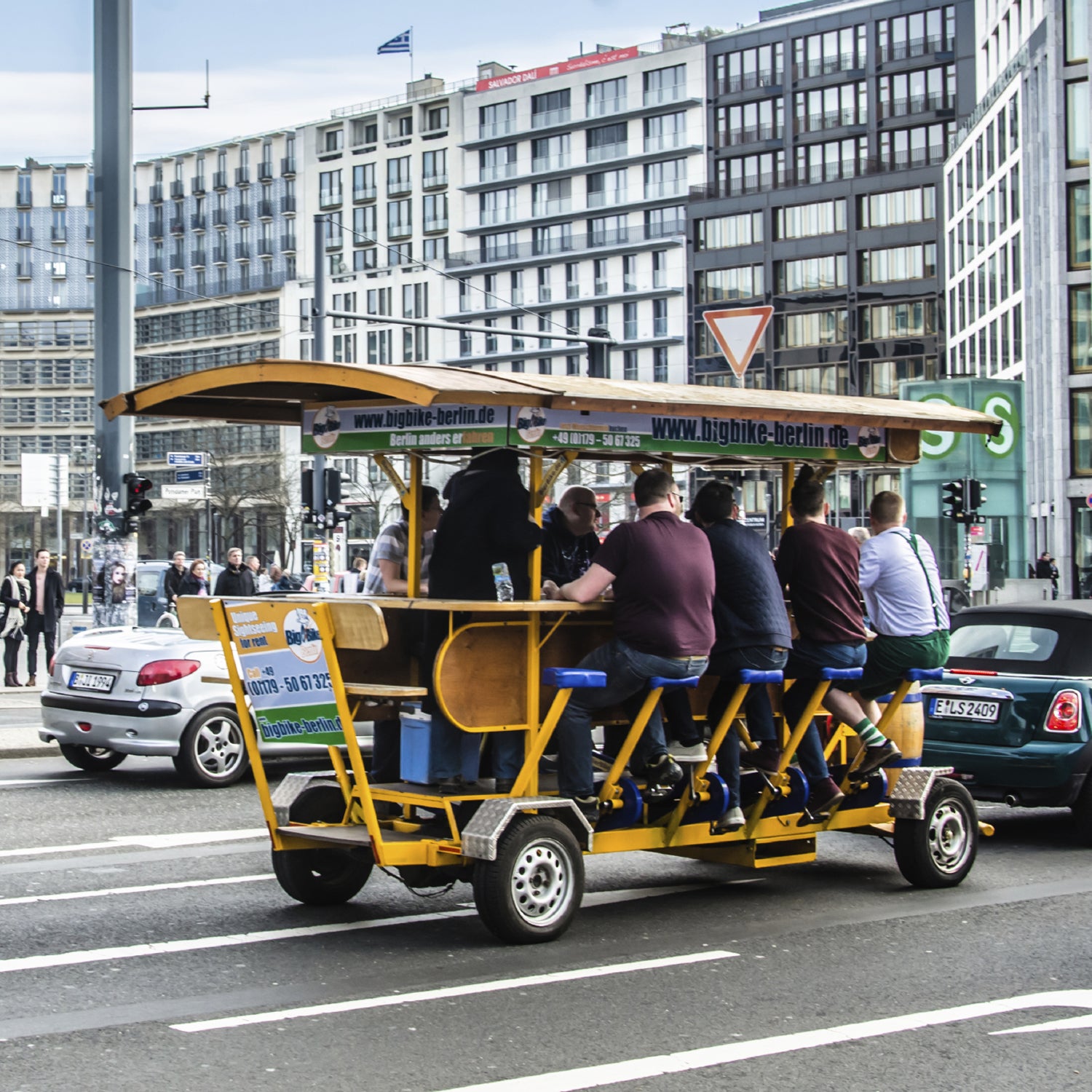 Heading out the door? Read this article on the new Outside+ app available now on iOS devices for members! Download the app.
Leave it to the Dutch to come up with a contraption that combines drinking, mass transit, and bikes. The beer bike, a pub on wheels seating as many as 16, first showed up in the Netherlands in 1997 when Zwier van Laar and his brother built the contraption for a parade. Van Laar has since produced more than 200 of the bikes for public drinkers all over the world.
Two decades later, the party bikes are finally taking over America—albeit slowly. The nation's notoriously bike-unfriendly cities are even less welcoming to giant, roving, beer-serving machines. But the bikes may finally be gaining momentum. Last month California passed a resolution making the bars-on-wheels legal throughout the state, and other locales may soon follow. 
"We've imported over 100 beer bikes to the U.S.," says Al Boyce, managing partner for PedalPub LLC, a Minneapolis-based business that imports beer bikes and helps cities launch beer bike businesses. The company has 35 licensees  from San Diego to Ann Arbor to Knoxville, although getting the legal go-ahead in each city has been a challenge. "Usually the bigger the city, the more hoops to jump through," says Boyce. Chicago, for example, has been unwilling to grant Boyce a permit, but wouldn't provide a definitive explanation for why. 
Enter California State Senator Richard Pan (D-Sacramento), who introduced a bill that proposed to legalize beer bikes statewide to help his district's already thriving brewery scene. Governor Jerry Brown signed off on it in October, making California the first state to say yes to party bikes, starting in 2016. Pan says he's neither a bike nor a craft beer enthusiast, but admits having "a lot of fun" when he was invited to ride a beer bike.
After introducing the legislation in February, Pan spent seven months on the not-so-fun task of establishing ground rules for the rolling pubs, working with state law enforcement and the California Highway Patrol and convincing his fellow legislators to approve the measure. "There obviously was some concern when it came to the alcohol part," he says. But he points out that there's already a precedent for vehicles allowing alcohol onboard: "Just look at limousines." 
California's new beer bike law stipulates that if alcohol is to be served on the vehicle, there must be a specified driver and a monitor, neither of whom can imbibe. But the law lets individual cities decide on the legality of serving alcohol onboard. Once Pan's beer bike ordinance takes effect, cities will need to consider how they want to handle it.
Boyce says he doesn't know of any other states that plan to follow California's lead—yet. In the meantime, if you want your city to be added to the list of beer bike-friendly locales, you may need to do some lobbying. Sometimes city officials worry about snarling traffic or safety. But it's common beer-bike etiquette to pull over as soon as a car approaches from behind, allowing traffic to pass. And the bikes always have a sober driver—which is significantly safer than people doing bar crawls on their own bikes. It's hard to see a downside to these carbon-neutral, rolling parties. Here's hoping the rest of the country follows California's lead.  
Lead Photo: titoslack/iStock