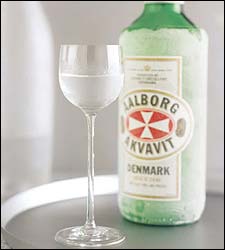 Heading out the door? Read this article on the new Outside+ app available now on iOS devices for members! Download the app.
Over here in Scandinavia—where I recently moved to edit Outside Sweden—the dark winters can get you down. Enter aquavit: From the Latin aqua vitae, or "water of life," this missing link between vodka and gin is the favored spirit of Thor's ski-hard descendants. A tasty, caraway-flavored libation, it's chilled and served as starter fluid at meals—always straight up. You'll never see an aquavit cocktail in Stockholm, Oslo, or Copenhagen, but that's not to say it doesn't make a great base for mixed drinks. New York City's finest Scandinavian restaurant, aptly named Aquavit, is well aware of the possibilities. Outside tapped "bar chef" Christian Post to design a trio of cocktails around three classic brands. Grab some ice and shake one up after a powder day, then strain into a martini glass. Guaranteed to melt the frost in your braids.
aquavit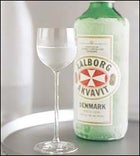 AALBORG is clean and lean, perfect for a Dane in the Bronx: 2 oz aquavit, 1 oz sweet vermouth, 1 oz dry vermouth, 3 oz fresh-squeezed orange juice, 2 dashes bitters. Garnish with a flaming orange twist. » Spicy and barrel-aged, LINIE makes a great Purple Viking: 1 1/2 oz aquavit, 3 oz fresh blueberry puree, 1/2 oz each fresh-squeezed lemon juice and lime juice, 1 oz simple syrup. Garnish with ten blueberries on a bamboo skewer. » Use the robust HERRGARDS for an Erik the Red: 3 oz aquavit, 2 oz Dubonnet Red aperitif, 1 splash cherry juice. Garnish with a dash of bitters and three cherries on one of those little plastic swords.