Baker's Dozen: The Best Mountain Town Bakeries
There's a delicious thrill in chasing down the best of the best. In this case, we've rounded up the sweetest mountain town bakeries. Get your checklist ready, because you'll want to sample something at each of these treasures.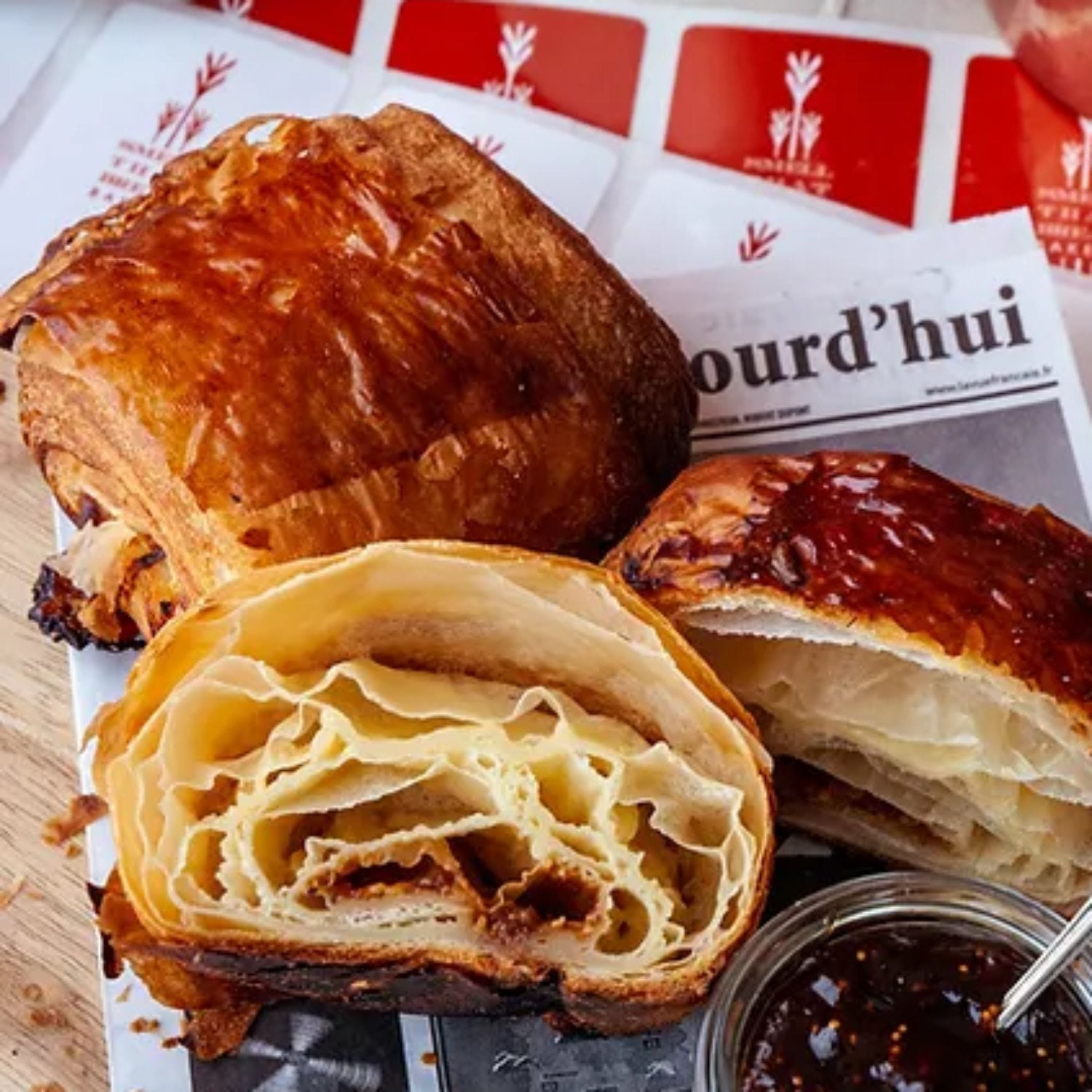 Heading out the door? Read this article on the new Outside+ app available now on iOS devices for members! Download the app.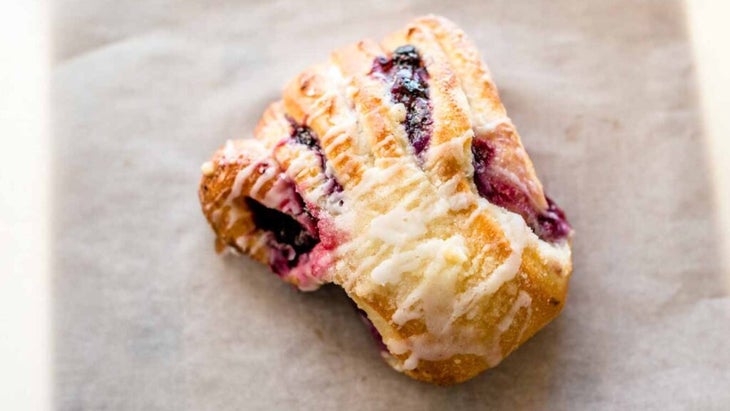 You've likely eaten a bear claw in your day, but have you ever bitten into one laced with huckleberries? At the Polebridge Merc, a trading post perched on the northwest edge of Glacier National Park, said treats beckon. Even if Polebridge is out of your way, and it almost assuredly is, it's still worth a visit for the iconic claw (you're in bear country after all). What to expect: Sweet crackly, glazed puff pastry with a doughy interior cut through with jammy, tart huckleberries.
Must order: huckleberry bear claw (obviously)
If the name Between the Trees conjures up a teensy tiny space, well, you're half right. This micro-bakery, which specializes in naturally leavened and long, cold fermented breads, pops up at Boone-area farmers' markets and local businesses all year long. The rustic loaves are hand shaped, made from local and regional grains, and are a true labor of love. Owners Dalen Gray and Eliana Rodriguez also turn out golden, flaky croissants, chewy sourdough pretzels, and even (if you're lucky) guava and queso pastelitos.
Must order: Carolina polenta and pepita loaf
Located in the high-alpine village of Argentière in Chamonix, locals and visitors alike queue up for Boulangerie L'Al'Pain's gorgeous selection of French baked goods. The classics—croissants and pan au chocolate—are no brainers, but there's also a healthy selection of sandwiches and flatbreads for those looking for a little more sustenance.
Must order: pain aux raisins (unless you're a raisin hater, in which case, go for the almond croissant)
Kanemitsu Bakery, Kaunakakai (on Moloka'i), Hawaii
Not all mountain towns are rough and rugged, nope, not at all. Kaunakakai, in fact, is located on the sandy beaches of the Hawiian island of Moloka'i. But with mountains and volcanoes populating the background, we're including Kaunakakai because Kanemitsu Bakery is worthy of your discovery. The bakery is known for one thing: hot bread. Sold nightly from a window in a dark alley, hot breads are enormous round rolls sliced in half like hamburger buns and slathered with a thick layer of spreads—strawberry jam, blueberry jam, ube, cream cheese, cinnamon-sugar, and butter. Try one and you'll plan your next vacation around the island sweet.
Must order: strawberry and cream cheese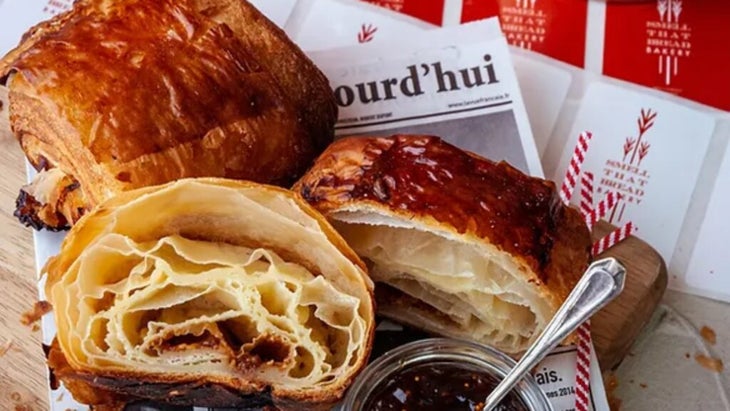 Tucked away on the edge of this ski town sits a bakery you won't want to miss. Descend the stone steps and follow your nose to the Smell That Bread. Inside you'll find more than expertly made loaves of sourdough rye, seeded multigrain, and perfectly skinny baguettes, there's also a regular rotation of croissants, kouign-amann, monkey bread, cinnamon rolls, and more. (Praise be if you stop by on a day when the almondy bostock is on offer.) As if there was any doubt, owners Juli and Sam Gordon know what they're doing: They made their way through the San Francisco Baking Institute before hanging a shingle in Steamboat.
Must order: fig and gruyere croissant
The tiny Panadería Rosetta is sister to the very popular Rosetta restaurant in Mexico City's Polanco neighborhood. While the conchas (traditional Mexican sweet bread rolls with crackly crusts) deservedly get a lot of attention, be sure to also sample the rest of the baked goods, including the guava and ricotta Danish, the tamal de chocolate, and the cardamom buns.
Must order: chocolate concha
Purebread, Whistler, British Columbia
Yes, there are multiple locations of purebread, which technically makes it some degree of a chain, but the artisan treats are so beloved that we simply had to include it on this list. The bakery began in Whistler in 2009, an endeavor by the Lamming family that grew out of selling their homemade breads at the farmers' market. Bread gave way to a vast array of treats—apricot-vanilla scones, lemon sugar buns, toffee almond mini cakes, fruit galettes, apple streusel loaves, bar cookies, egg and bacon brioche sandwiches…you get the picture. Should you go, plan to stand in line.
Must order: Any muffin on offer. Ask for it griddled and slathered with butter.
Operating out of a renovated mid-1900s barn, the husband-and-wife team of Tim and Crystal Decker turn out artisan baked goods and wood-fired pizzas in the middle of the Smokies. Crystal is an award-winning pastry chef while Tim is internationally-recognized for his skill in European breadmaking—and no matter which treat you choose, you can taste their expertise. The massive wood-fired brick oven serves as a hearth from which the rustic breads and pizzas emerge.
Must order: peaches and cream danish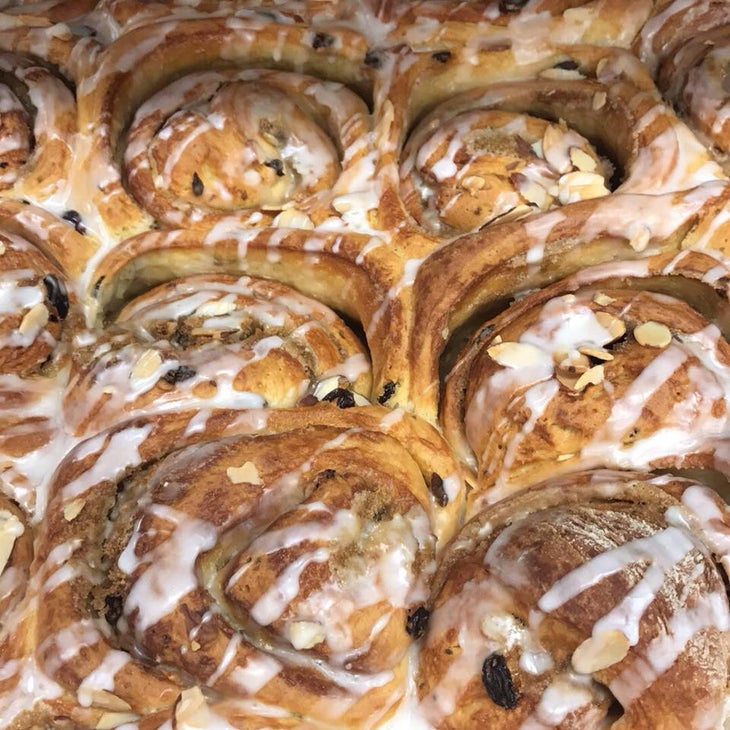 The sign reads "Home of Alyeska sourdough bread" and here's all you really need to know is: 1. "Alyeska," which originated with the Aleut, is a native spelling of Alaska, and 2. The Bake Shop's sourdough starter dates back to 1963, ten years before the bakery opened its doors. Today, residents and visitors alike flock for the breads, lemon-glazed sweet rolls, and legendary sourdough pancakes.
Must order: sweet rolls or the breakfast special—three pancakes, one egg, and one slice of bacon—which was first created in 1976 to celebrate the United States' bicentennial.
Don't let the name of this New England establishment fool you. Nestled in the heart of Vermont, this cafe is the ideal stopping spot before or after a day on the mountain. It offers breakfast (and lunch) sandwiches, quiches, and a variety of coffee drinks, proving that this spot's expertise goes well beyond its name. However, the pies are the true showstoppers. You simply can't leave this quintessential spot without picking up a piece—or three.
Must order: any pie, but especially lemon chess
At this bakery in a tucked-away town in northern Spain, bollos preñao ("pregnant rolls") stuffed with chorizo are a destination unto themselves. In addition to being delicious, the hearty, yeasted breads speak to the region's hard-cider culture: Whenever a new barrel of cider is opened, it calls for a gathering, and bollos preñaos provide necessary sustenance for the revelry.
Must order: you guessed it: bollos preñao
The only way to experience Lake Agnes Tea House is to hike the two-plus miles to the hanging valley in which it sits. The location is so remote that supplies are either packed in or dropped (once a season) by helicopter—and everything is baked in propane-powered ovens. Reward your efforts with a pot of tea paired with date squares, lemon-poppyseed loaf, or other treats.
Must order: tea biscuits slathered with jam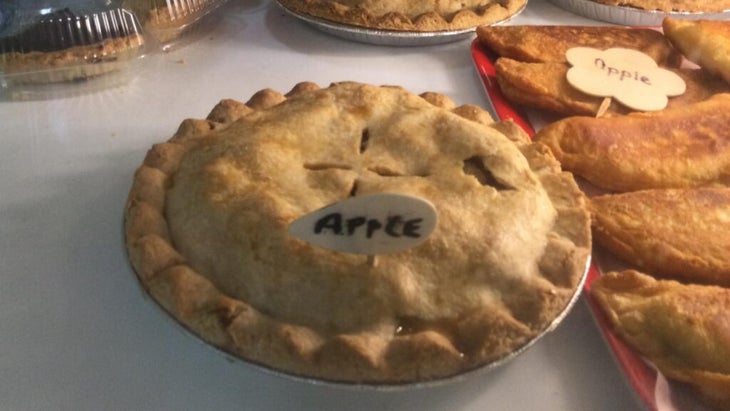 This bake shop's pies (and local history) are well worth the 25-minute detour off the Blue Ridge Parkway. Opened as a country store in 1952, Woodruff's was built by hand by James and Mary Fannie Woodruff on land named for James's father, a freed slave who was the first to own his own business in Amherst County. If you were passing through, it's where you could get a tank of gas, a cold drink, and, of course, a slice of pie. The couple ran the store–and raised their five children above it—until 1983. In 1998, their youngest child, Angela, revived the spot with a focus on pies of all kinds. In addition to classic (and news-making) apple and sweet potato varieties, you'll also find seasonal offerings including buttermilk, blackberry, pecan, lemon icebox, chocolate chess, coconut meringue, and chocolate peanut butter. It's still a family affair with Angela's siblings working the kitchen and serving customers. Mary Fannie held court at Woodruff's—folding pie boxes and charming guests—until she died at the age of 104 in 2021.
Must order: The apple pie, which Today Show's Al Roker called "perfect."
READ MORE: Mountain Town Bakers Tackle the Art of Bread and Pastry at Elevation 
Lead Photo: Smell That Bread Bakery