Don't Tell the Kids, But Reindeer is Delicious
We explore one tasty reindeer game Rudolph doesn't want to be part of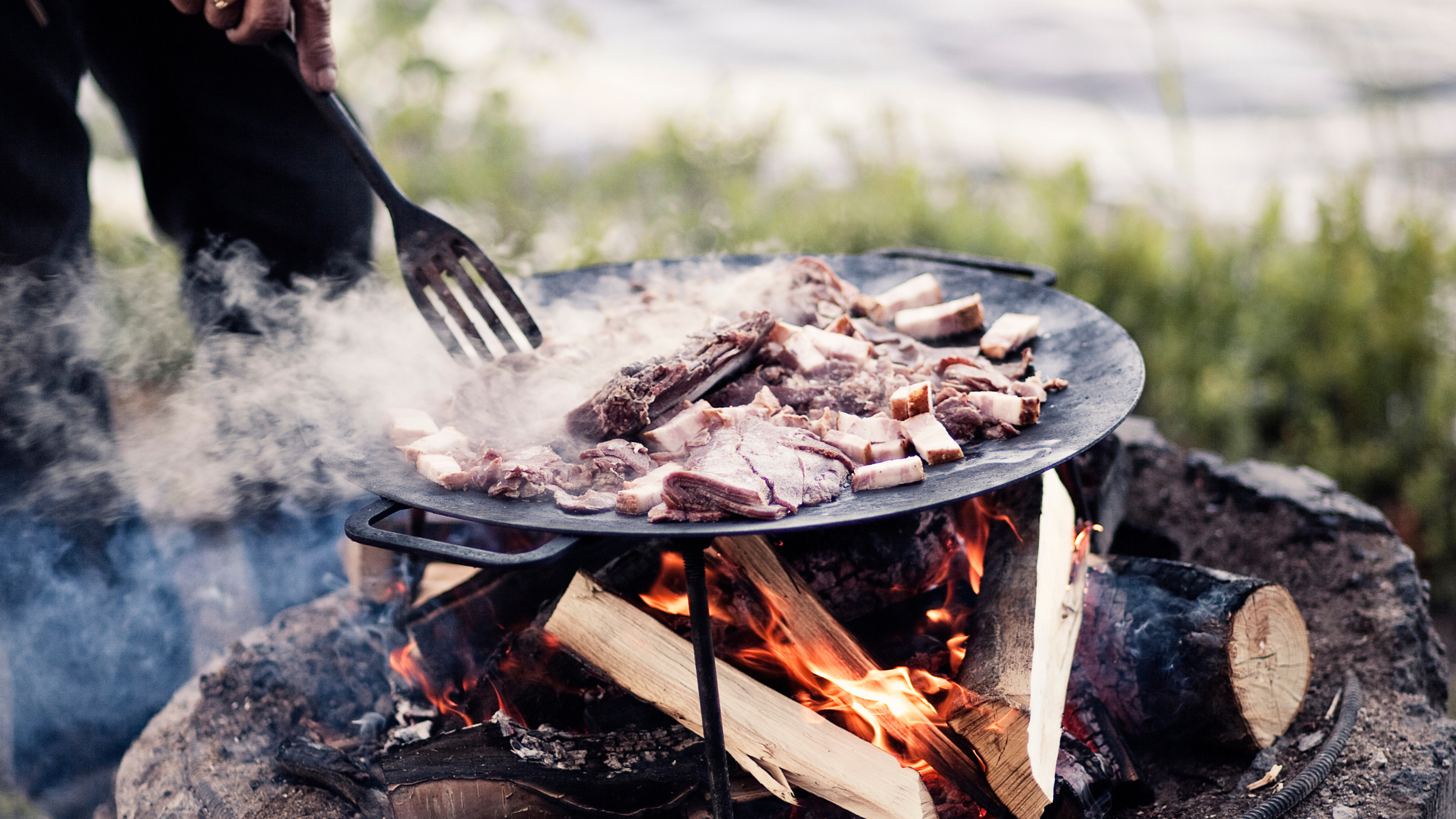 Getty Images/David Trood
Heading out the door? Read this article on the new Outside+ app available now on iOS devices for members! Download the app.
We're all familiar with Rudolph being left out of the reindeer games, right? Well, we're more interested in a different sort of reindeer game – the kind Rudolph definitely shouldn't feel bad about being excluded from. We're doing a deep dive into reindeer as a type of game that's hunted, prepared, eaten and celebrated in the coldest corners of the world in Norway, Sweden, Denmark and Finland.
Reindeer Recipes and Restaurants 
It's nearly impossible to talk about reindeer without first mentioning the Sami people. The Sami are traditional reindeer herders who practice a nose-to-tail method when hunting the animal. 
For instance, they dry and tan reindeer skins for clothes and invert the stomach to use as a kind of storage pouch. The animal's blood is used in pancakes and served with cloudberry jam, and the heart is dried and incorporated into a ​​Rømmegrøt, a porridge often made with sour cream, butter and plum vinegar. Even the hooves are utilized as tools for digging lichen, a white moss that can be eaten after boiled.
Nevada Berg, author of "North Wild Kitchen," says, "Reindeer is a very elegant meat. For the Sami, it's an everyday meal. But for us in the city, it's sort of a special meal."
Speaking of special, Noma, the three Michelin starred restaurant in Denmark, highlights reindeer in unique, surprising and seasonal dishes. Currently, the menu features reindeer brain custard served inside a reindeer skull and topped with pheasant broth and braised seaweed bits. Noma also serves reindeer brain and penis ragout, presented to the table on a bright green leaf. For dessert, reindeer marrow is caramelized, plated in a reindeer bone and sprinkled with freeze dried blueberries and edible flowers. 
Noma chef and co-owner Rene Redzepi highlighted a new December dessert on Instagram, describing it as, "Reindeer blood caramel fudge – the wick is sliced walnut and lights up perfectly."
He shows a matchstick stuck inside the fudge, explaining that it acts as a sort of candle to warm the dessert until it's perfectly tempered and slightly smoked. 
Jamie Oliver said it best in his comment pinned to the top of the Instagram post: 👏👏
Reindeer is always served as artistically as Noma's menu, but tastes just as delicious in simple, comforting dishes. For example, Bryggeloftet & Stuene, in Bergen Norway, has been serving traditional Norwegian cuisine for over 100 years and is known for its warm ambiance, paintings of Bergen and hanging viking ships on display. Its grilled reindeer filet is a signature dish served with roasted Brussels sprouts, mushrooms and lingonberries on a creamy game sauce. 
Restaurant Saaga, a casual, cozy restaurant in Helsinki, Finland, prepares an annual Christmas feast including reindeer rille seasoned with port wine and cognac mayonnaise, reindeer liver pate and apricot puree and stewed reindeer jerky with pot butter and lingonberry soup.
Cooking Reindeer at Home
Most recipes involving reindeer don't include a ton of spices, as the natural flavor profiles shine through on their own. Norwegian food columnist and chef Andreas Viestad says popular reindeer cuts include the brain, blood, heart and shoulder.
"Roasted shoulder is wonderfully flavorful and juicy," Viestad says. "If you have access to reindeer meat, my best advice is to not limit yourself to one preparation mode."
Norwegian cuisine as a whole is based on cooking with nature's flavors and reaping the benefits of what their environment offers. So reindeer is often paired with wild edibles such as nettles, berries and chanterelles. 
Berg cures reindeer for the holidays, drying and salting it carefully, as reindeer is such a lean meat that it can easily over dry. If she's not curing it, Berg sears the filet or uses reindeer shavings in a creamy stew with mushrooms and juniper berries. 
A stew called bidos is one of the most traditional reindeer recipes, often eaten on Feb. 6, Sami National Day. Bidos is made with slow-cooked reindeer meat (often including the heart), potatoes, carrots, onions and butter.
Berg warns that because reindeer is such a lean meat, she's always cautious with how she cooks it and makes sure to incorporate enough fats into its preparation.
So… What's It Taste Like?
Reindeer has a rich earthy flavor that isn't super gamey or tough like other venison. Viestad says reindeer is incomparable to animals like moose or elk, as its taste is too unique.
"Moose is lean and mild and, to be honest, not that interesting to me," he says. "Reindeer has a rich, intense gamey, sweet and super complex flavor."
However, how the meat tastes is generally dependent upon how the animal is fed. Wild reindeer that graze on natural or managed pastures might have a more gamey flavor, while those that feed on grains will have a milder taste. 
"When you eat it, you really get to taste the flavors in the meat compared to beef, which might blend into your meal," Berg says. "I love a good finbeef (reindeer stew) – it's so creamy and goes with juniper berries. It's like a 'foresty' flavor."
Although reindeer aren't as common in the U.S., if you do happen to stumble upon a menu including the game, we suggest you take a chance and try it. Much like Rudolph, it's pretty magical.
Lead Photo: Getty Images/David Trood