The Great British Baking Show's S'mores Are a Crime and We Need to Talk About It
As defenders of all things outdoors, we can't let Paul Hollywood's weird marshmallow hockey pucks stand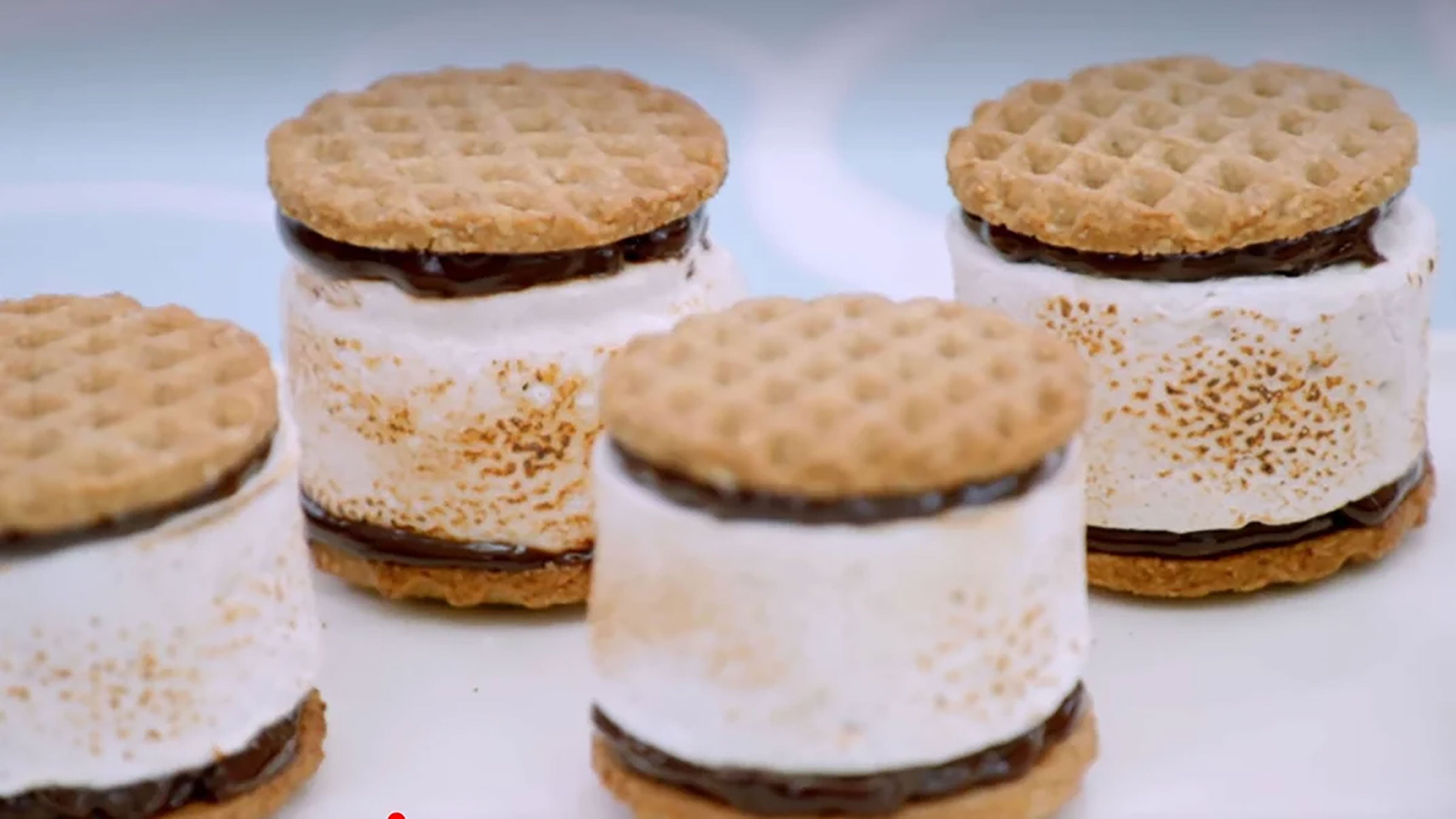 Heading out the door? Read this article on the new Outside+ app available now on iOS devices for members! Download the app.
Picture this: We are camping, you and I. The stars are out, the fire is crackling, fireflies flicker in the deep dark. An owl hoots somewhere. Suddenly, I lean in close and whisper those three words that make every person's heart race: Want a s'more?
Yes, you reply breathlessly. Oh, yes.
"Great!" I say, producing a mixing bowl, a whisk, and a full set of measuring cups out of my backpack. "They will be ready in two hours. Also I'm not going to toast them, like, at all."
This is the future The Great British Baking Show wants for America. On last week's Halloween-themed episode of the long-running cooking competition, the GBBS's judges Paul Hollywood and Prue Leith decided to feature the United States' favorite campfire snack, asking the bakers to make gourmet s'mores. Unfortunately, the version of it they created was so monstrous that we at Backpacker, as lovers of everything outdoors, have to say something.
I'm a dedicated fan of Bake Off, as it's called in countries where the Pillsbury Doughboy doesn't own the rights to that name, but it's had some spectacular misses in the past few years. Usually, its biggest fails have happened when the show attempted to build a theme around any non-European cuisine. Viewers got a prime example of that just two episodes ago during the show's first-ever Mexican Week, which featured contestants making bizarre (and occasionally kind of racist) tres leches cakes and Paul absolutely butchering the pronunciation of "pico de gallo." 
Pico de choose your own adventure pic.twitter.com/u92qUcLWLm

— Scare-ald and Maude (@andyheriaud) October 5, 2022
This week, it was the United States' turn, as the judges asked the bakers to create a bizarre take on s'mores that looked like the love child of an ice cream sandwich, a hockey puck, and the Devil. After we finished watching, my wife suggested that maybe the show's producers had decided to make everyone in North America mad and they were just working their way up. (I can't say for sure that she's right, but if I were Canadian, I would be nervous right now.)
Listen: I'm not a s'mores purist. I once made a bunch of s'mores with cheese and wandered around our office, making my coworkers try them on camera because I thought it would be funny to tweet about it. (I was right, and they were better than they sounded.) So when you've lost me, you know you've gone well and truly off the rails. Even I have lines I won't cross, and whatever was sitting on the judges' table hurdled them.
So buckle up, Paul Hollywood: Unlike the marshmallows in your s'mores, you're about to get properly roasted. 
First of all, the size: Paul's s'mores were enormous. They were roughly the size and shape of a tin can, with a massive filet of homemade marshmallow dominating the tiniest smear of chocolate, all sandwiched between two digestive biscuits. Prue visibly struggled to bite into it—understandably, because she's a human being with a human mouth, not a snake that can unhinge its jaw. 
Let's talk about those marshmallows. My friend: There is a reason why marshmallows are the size they are. It's so they smash perfectly between two crackers, oozing out the sides just a little bit. No one has ever wanted or needed the kind of footstool-size gelatin abomination on display here. Adding insult to injury, they were barely toasted, just freckled with a purely cosmetic hint of color.
Then, there was the chocolate, which they replaced with ganache. Why? Because it's still technically a baking show, I guess, and ganache is a baking thing, and words have lost all of their meaning and nothing matters anymore. This country invented the Cadbury Dairy Milk bar—probably a better s'mores chocolate than Hershey's!—but sure, put a pile of wet frosting on there instead.
Topping it off literally and figuratively was the digestive. I will give them this: Graham crackers and digestives are kind of similar, in that they're both boring whole-wheat cookies invented by 19th-century health-food boosters with a questionable grasp of human physiology. But that's where the similarities end: Graham crackers have a rougher crumb and crumble more easily, a great quality when you're trying to bite through them without squishing the toasted marshmallow underneath. It would have been just as easy to bake that.
Was not ready for the horror that is the Great British Baking Show's interpretation of s'mores pic.twitter.com/XdtKmRKB2C

— mattgetmeasoda (@mattgetmeasoda) October 21, 2022
Gallingly, it seemed like the more authentic of a s'more the bakers made, the more criticism they got. Marshmallow soft or browned? Chocolate gently dripping down the sides? The whole thing squishing into a melty, gooey, mouthwatering morsel? No good. 
Here at Backpacker, we're all for creative s'mores—swap out the graham crackers for Samoas, the chocolate for Andes Mints, whatever. But in the end, they're a simple pleasure. Whether you char the marshmallow, crush the graham cracker, or leave the chocolate too close to the fire until it turns runny inside its wrapper, it's almost impossible to mess them up. So I have to hand it to The Great British Baking Show: It takes real skill to make s'mores look that bad.
Lead Photo: Netflix