I Tried the Veggie Shack and Here Are My Thoughts
Fast-food veggie burgers are hit-or-miss, but Shake Shack's might be a winner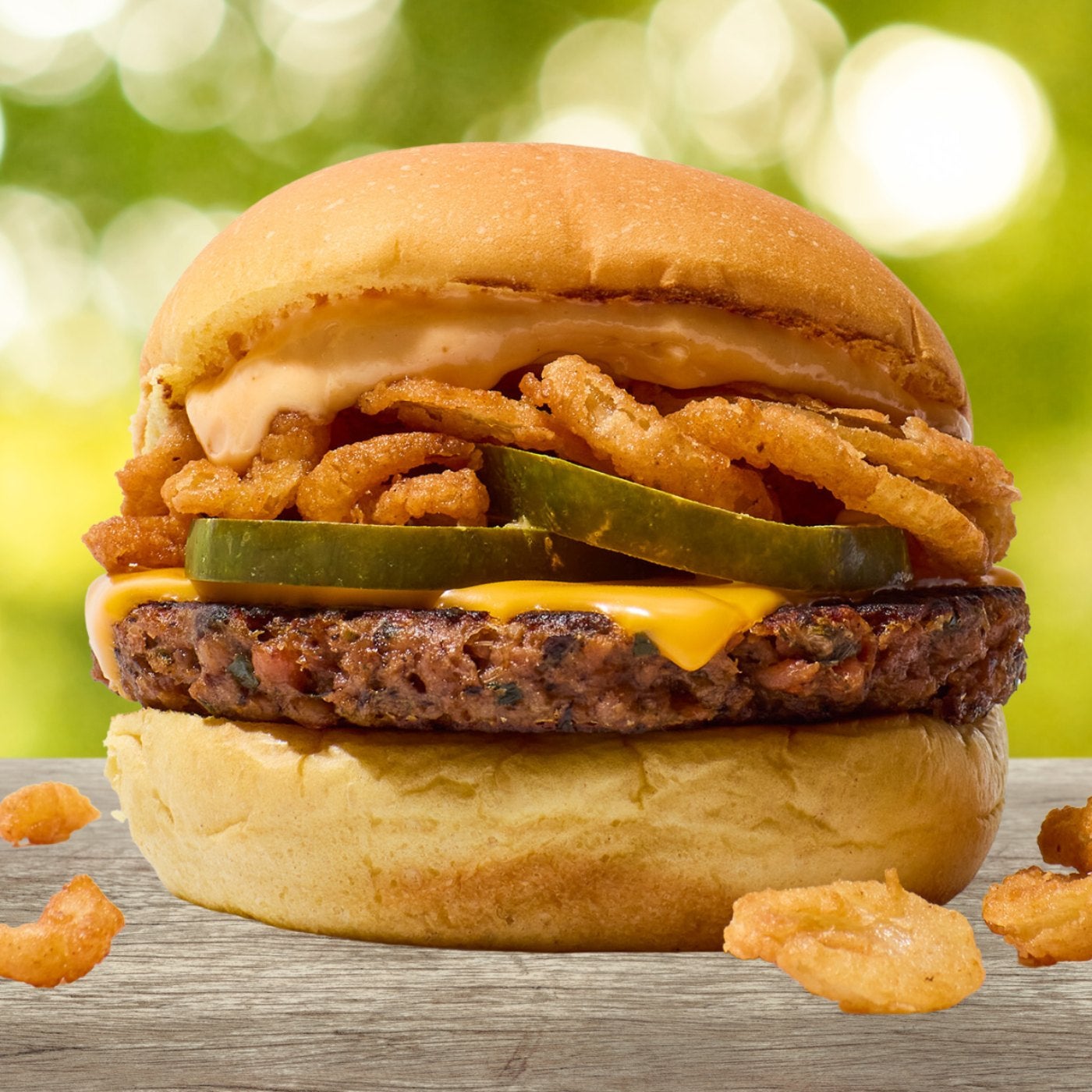 Heading out the door? Read this article on the new Outside+ app available now on iOS devices for members! Download the app.
Veggie burgers, once only found in the frozen-food section of the local health food store or at the bottom of casual restaurant menus, are making their way into fast food. When sales of McDonald's plant-based burger—aptly named the McPlant—drooped, it was taken off the menu. Meanwhile, Burger King fans apparently liked The Impossible Whopper so much that the chain has added another plant-based burger, the Impossible King. Earlier this year, Chick-fil-A tested a cauliflower sandwich that mimics its classic chicken sandwich. Now Shake Shack has added the new Veggie Shack to the menu. I wanted to try it.
Should a Veggie Burger Taste Like Meat?
Vegetarian burgers have been around since the '70s. These days you can find a wide range of options–grain-forward, bean-based, soy-centric, and, lately, manufactured pseudo-meats that seem to replicate beef flavor so well, you might believe there was a cow involved.
One of my original favorites, Garden Burger, is made of oats, rice, mushrooms, and vegetables.  Its only resemblance to a beef burger is the patty shape, but it's well seasoned and—dressed with lettuce, tomato, and all the fixings—it makes a really good sandwich. The Garden Burger isn't going to fool anybody into thinking it's meat. I don't think it's really trying to.
Soy-based burgers like those from Boca and Impossible, and Beyond Meat's pea-protein burger have more of the color, texture, and bite of a burger. But you wouldn't compare them with a Garden Burger or, say, a black-bean burger, because they are entirely different meal experiences.
These days, the burger race seems to be between food engineers at companies such as Impossible and Beyond Meat. These brands are pressing for a plant-based burger experience that mimics meat so closely that it's hard to distinguish from ground chuck.
What Does the Veggie Shack Taste Like?
We don't have a Shake Shack where I live, but I was picking up my daughter from college in a city that has three. She's a culinary student at Johnson & Wales so I brought her along for an extra set of taste buds and an "expert" opinion. She's half-vegan on her father's side so she likes barbecued jackfruit as much as she enjoys a good Angus hot dog. I knew she'd have the palate for this mission.
The Veggie Shack burger is difficult to distinguish from Shake Shack's beef patty, but visible bits of carrot and greenery (chives, we think) indicate we are in plant-based territory. The ingredients also include mushrooms, sweet potatoes, quinoa, and farro, a variety of wheat.
This blend gives the burger a texture and a bite I'll call al dente. The mouthfeel and chew are not quite as textured as a turkey burger, but it's not as soft as a bean- or grain-based substitute.
When you don't have the natural umami of meat, you have to make up for it in flavor.
"It's seasoned well," my daughter said between bites. "It doesn't taste like meat, but I guess that's not the point. The point is for it to be good." She took another bite.
Her verdict: "It's good."
The sandwich comes dressed with American cheese, pickles, crisp-fried onions, and the signature "ShackSauce." I would have added bacon and avocado, but I wanted to taste it the way it was designed to be eaten.
"Anything with crispy onions on it will win my heart," my daughter continued. And based on how quickly she downed the burger, I imagine she'll be a repeat customer.
Is the Veggie Shack a Better Plant-Based Option?
Initially, I wondered why Shake Shack would invest in a new vegetarian option when they already had the 'Shroom Burger on the menu. But one bite of the portobello-based sandwich gave me my answer. Let's just say it's not very tasty. This "burger" is two thin slices of mushroom with melted muenster and cheddar in between, breaded and fried. After the initial breadcrumb crunch, you're met with rubbery mushrooms and an unattractive ooze of cheese. The flavor is somehow both strong and bland. My daughter's review was pretty simple: "No."
Full disclosure: Neither of us are mushroom girls, so the 'Shroom wouldn't be our choice anyway. But I can confidently say that, for flavor, the veggie burger runs rings around its mushroom-based counterpart. There's no question as to which plant-based option I'd choose.
But how does the Veggie Shack stack up against the basic Shack Burger? I ordered one for comparison and found the beef patty kind of tough, pretty bland, and just sort of boring. With no discernible seasoning of any kind, it appears to rely on ShakeSauce to carry it. However, the sauce isn't up to the task.
How Vegetarian is it?
Any veggie burger can expect the inevitable question: Does it taste like meat? For that reason, a plant-based meat substitute has to work harder to prove itself appealing, savory, and toothsome. The Shake Shack veggie burger was actually better seasoned than the signature beef burger. It was tender without being mushy, and substantial enough to hold up under the soft potato roll even with the addition of sauce, pickles, and cheese.
The other question about vegetarian fast food is, how vegetarian is the Veggie Shack? Of course, this one's not vegan. It comes topped with cheese and sauce (which contains milk and eggs), and we can only assume it's cooked on a grill with the beef patties and hot dogs. If you, like me, are an omnivore who leans heavily into a plant-based diet, a little residual burger grease probably won't bother you. If you're a purist vegetarian, you're probably not coming to Shake Shake anyway.
And, finally, is the Veggie Shack a healthy option? That will depend on your health goals. If you're counting calories, the Veggie Shack weighs in at 630, the 'Shroom is 510, and the Shack Burger is 500. The three are neck and neck on fat content—30, 27, and 27 grams respectively—though the beef burger is highest in saturated fat. Sodium content is lowest with 'Shroom (650), while the beef and veggie burgers both have 1,250 grams. Both plant-based sandwiches have twice the carbs of the ShackBurger. If you're watching cholesterol, the new veggie is significantly lower than anything on Shake Shack's menu.
Would I Eat the Veggie Shack Again?
Honestly, my all-time favorite burger can be found at a local place called Cafe Europa in Greensboro, NC, where they will cook Angus beef to my preferred temperature, melt blue cheese on it, and give me a cone of crisp pomme frites and a glass of chilled wine to go with it. If I wanted to blow $20 on a fast-food burger meal, I'd go to Five Guys. If I wanted a burger just as good as Five Guys, but at half the price, I'd go to Cook Out, a southern favorite. But if I'm in the mood for a veggie burger, Shake Shack can have my money.
Lead Photo: Shake Shack