Mountain Town Bakers Tackle the Art of Bread and Pastry at Elevation
High-altitude baking is one part science and one part feel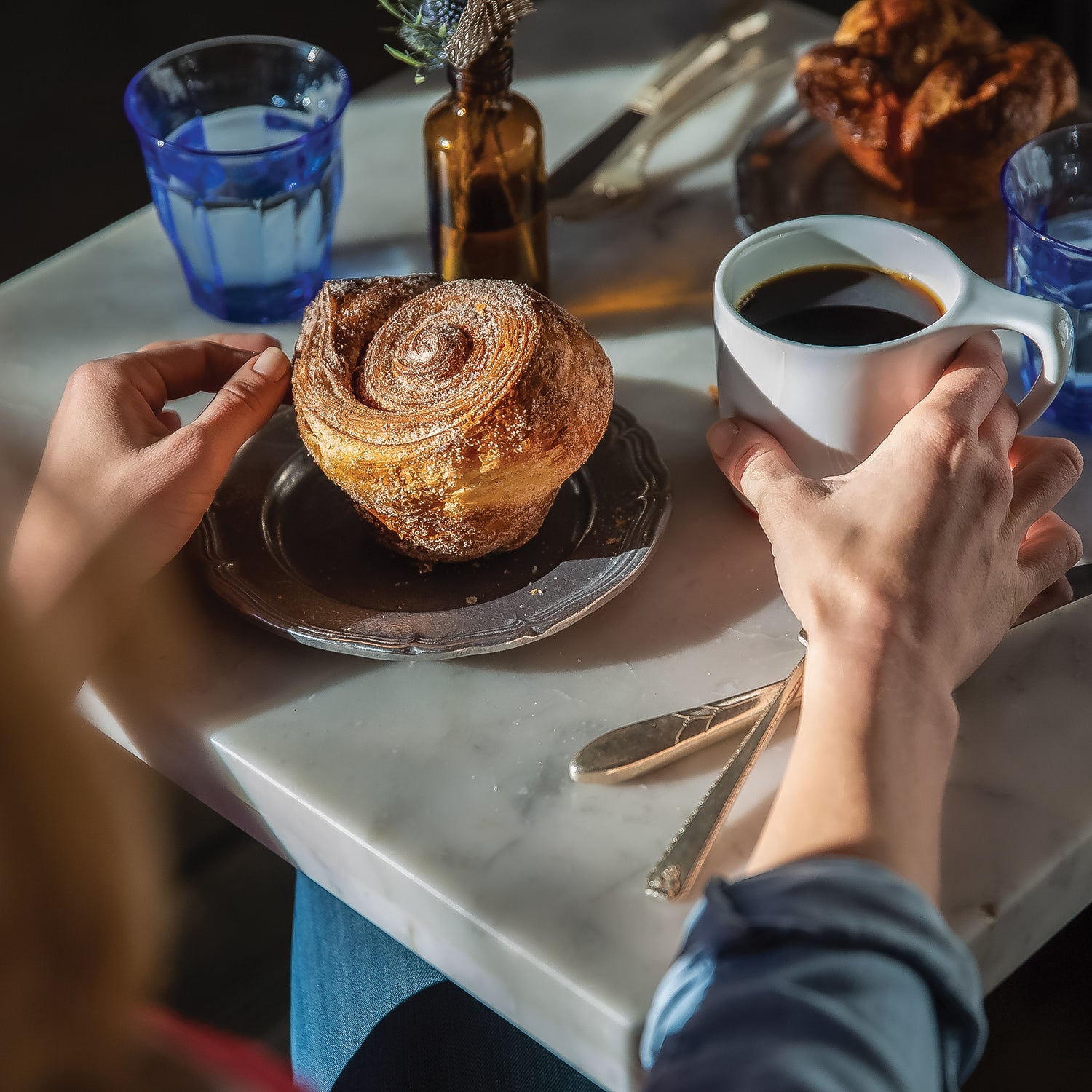 Lindley Rust Photo/Persephone Bakery
Heading out the door? Read this article on the new Outside+ app available now on iOS devices for members! Download the app.
By any measure, Diana Bush is a seasoned pastry chef. She earned her degree from the Institute of Culinary Education in New York City, and went on to intern at Eleven Madison Park and to work at NoMad, two Michelin-starred restaurants in Manhattan. After that she headed up ­pastry programs in Paris for more than four years. Then she moved to Kremmling, Colorado, a town situated 7,313 feet above sea level, and came face-to-face with the realities of baking at elevation.
Bush's first attempt at a cake (for her sister's wedding, no less) collapsed. She fiddled with the recipe until it came out right, but for the first time in her career she was made to realize, Ohhh, this high-altitude thing is real. And it's true: the higher you go, the lower the atmospheric pressure becomes. At 3,500 feet, bakers begin to notice the impact. Doughs rise faster; often the air is drier. And water, which boils at 212 degrees at sea level, boils at lower temperatures as elevation increases. Since launching her brand Lumi Baking Co. more than two years ago, Bush has fine-tuned her technique by reducing leavening (baking powder, baking soda, yeast) and increasing hydration (milk, water, butter). "There are so many variables that there isn't one rule to fit everything," she says. "But I do everything precisely. I measure in grams, and I make a record of it if I change anything." The result: Lumi's delivery boxes are replete with chewy ginger rye cookies, exquisite sticky buns, flaky kouign-amann complete with sugary air pockets, and an array of other treats.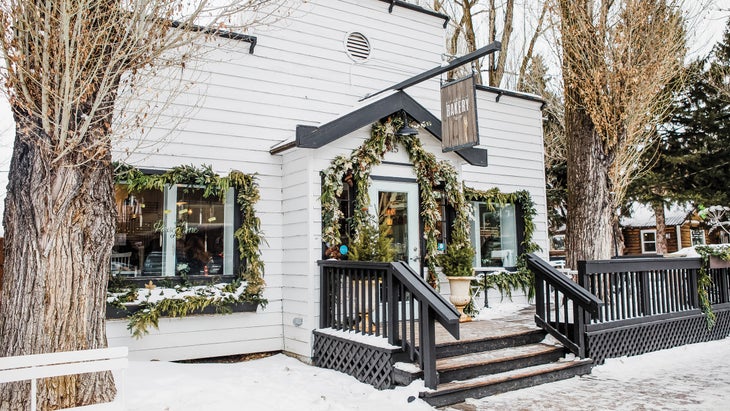 In Jackson, Wyoming (elevation 6,237 feet), Kevin Cohane, of James Beard–­nominated Persephone Bakery, laughs when asked about baking calamities. "We have failures all the time. Macarons were the worst, so much so that we gave up on them," he says. As for the rest of Persephone's goods (which include croissant-dough cinnamon rolls, banana bread swirled with Nutella, and ­cheddar scallion biscuits), Cohane, who trained at Le Cordon Bleu in Paris and has been baking at altitude for well over a decade, can look at just about any recipe and know what needs tweaking. "On the pastry front, we don't make any adjustments in terms of liquid, but I halve the leavening," he explains. For bread, he increases the water or milk to compensate for dryness.
Two states to the south in New Mexico, Andre and Jessica Kempton of Wild Leaven Bakery, which has locations in Taos and Santa Fe, know baking at 7,000 feet. "Things up here have less air pressure pushing down on them," explains Andre, the head baker. "If you're dealing with breads, doughs, batters, cakes—those will rise quicker, and there might not be enough structure in the gluten to hold it up, so it collapses." Andre, who bakes a few hundred long-fermented loaves each day, underscores the importance of knowing the alt­itude you're baking at—and calculating whether modifications need to be made. Case in point: compare the atmospheric pressure at sea level (14,000 PSIA, or pounds per square inch absolute) with your location and you can figure how long it takes for dough to rise. For example, in Taos, Andre contends with a PSIA of 10,000 (or about 30 percent less air pressure than at sea level), which is equivalent to "a 30 percent reduction in rise time," he explains, pleased to have an equation at the ready. Ultimately, he concedes, baking at any altitude is an art, one that's ultimately about experience, feel, and flexibility.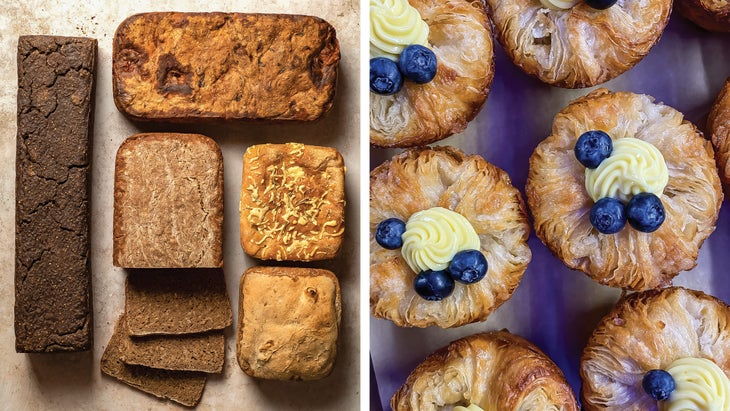 Tip Sheet
Intimidated by baking in thin air? You've got this—just tie on that apron and heed these experts' advice.
On practice: "It's trial and error. There's no specific technique, so don't go wild googling the perfect recipe [for your elevation]. Just bake. If you burn something, it's fine." —Agostina Alvarez, Tina's Bakery, Park City, Utah (7,000 feet)
On combating dryness: "Banana or pumpkin bread—things that have a fruit puree—release moisture as they bake. Another thing: I brush my cinnamon rolls with a sugar glaze right when they come out of the oven to lock in moisture." —Diana Bush, Lumi Baking Co., Kremmling, Colorado (7,313 feet)
On consistency: "If you don't have a scale, buy one and use it on the metric setting. Everything is easier in metric." —Kevin Cohane, Persephone Bakery, Jackson, Wyoming (6,237 feet)
On slowing the rise: "A cool rise [placing unbaked loaves in the fridge or other cold place] will slow the process, and time won't be as much of a factor." —Andre ­Kempton, Wild Leaven Bakery, Taos and Santa Fe, New Mexico (6,969 feet in Taos)
On asking questions: "If you're nervous and don't want to screw things up, don't be afraid to talk to a local baker. Email or volunteer at a bakery where they know what they're doing. Most bakers are happy to share." —Daniella Luchian, Sierra Bakehouse, Truckee, California (5,817 feet)
On going small: "I do a lot of mini loaves and Bundt cakes, because they're smaller and they rise, set, and bake a lot faster, so there's less chance of them collapsing or drying out." —Bush of Lumi Baking Co.
On temperature swings: "If it's summer, we use way less sourdough starter. In winter we use more. It's nerve-racking, but follow the swings and adjust as you go." —Kempton of Wild Leaven Bakery