Testing the Viral TikTok S'mores Cookie
With more than six million views on TikTok, this cookie recipe might just be the dessert of the summer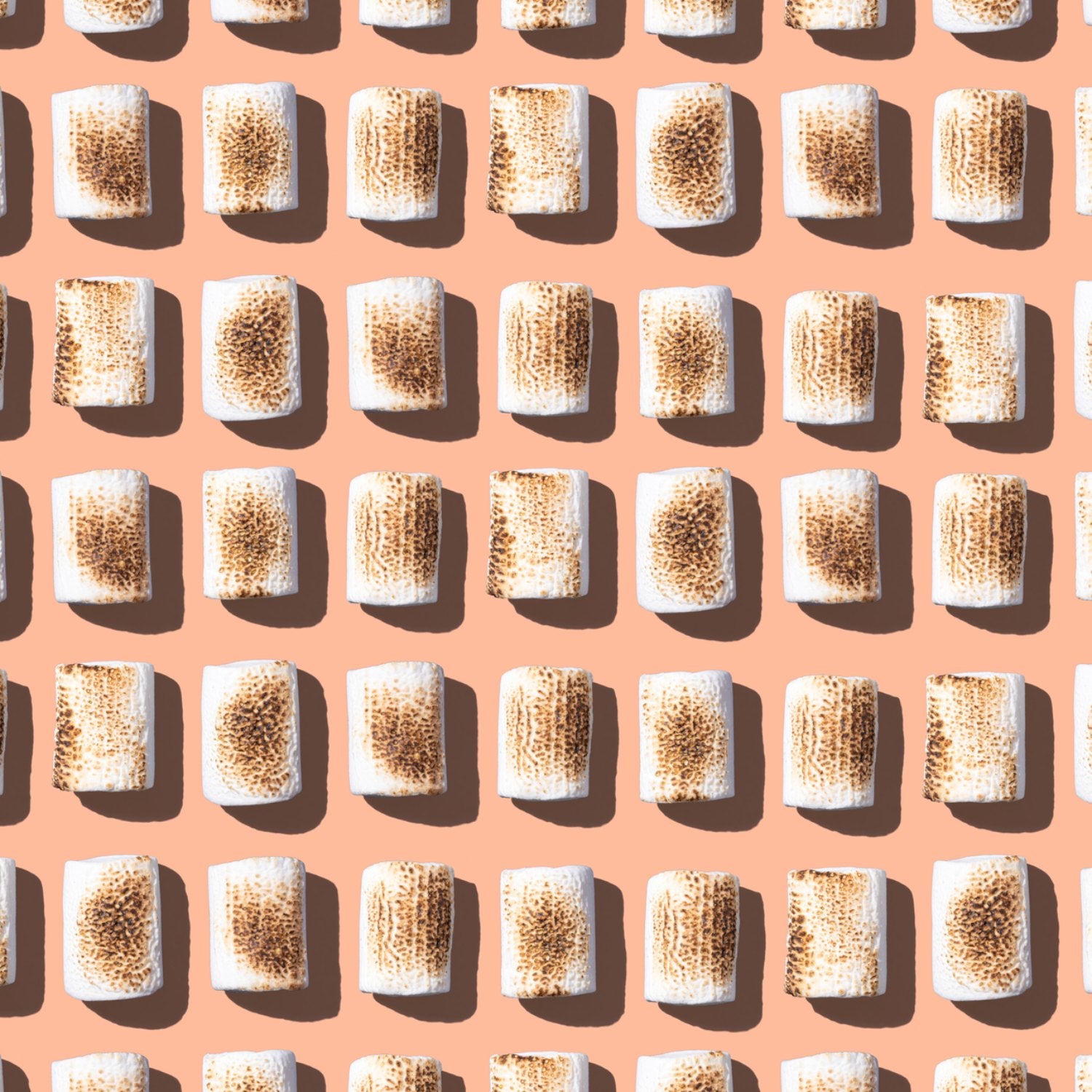 Nea Arentzen
Heading out the door? Read this article on the new Outside+ app available now on iOS devices for members! Download the app.
It seems like everyday I scroll through TikTok and happen upon another 'viral' recipe that's making people go bonkers. First, it was Emily Mariko's salmon bowl, then it was the green goddess salad, and who could forget Bella Hadid's prosciutto pasta?
This summer, a cookie recipe has us in a chokehold. Still lacking a catchy name, we're calling this the s'mores cookie with a layer of graham cracker. Developed by food writer Nea Arentzen, these cookies have the classic s'mores ingredients like marshmallows and chocolate with a graham cracker base that peeks through the bottom when fully cooked.
"I saw someone else make s'mores cookies and thought I'd make my own version," Arentzen says. "When the video started going viral, I was definitely surprised."
Viral indeed. The cookie recipe hit 6 million views on TikTok, which is surprising traction for such a simple recipe. I tried it myself, my interest piqued after seeing it reposted over and over again on my feed. These cookies are easy to put together, but the assembly is what makes them stand out. It starts with a graham cracker stacked with a marshmallow of choice. This is what makes the cracker peek out on the bottom. I worried this would bake it to a crisp, but Arentzen assured me that wouldn't happen.
"It doesn't burn," she says. "The heat isn't high enough and the cookies aren't in the oven for that long. As long as you use parchment paper, the graham cracker shouldn't darken too much."
After making the cookie dough (which, full transparency, I haven't made cookie dough from scratch in a long time), you're meant to wrap it around the marshmallow and create a tiny dough mountain. This was the toughest part for me – it's not as easy as it looks to mold dough around a fluffy marshmallow.
"Don't flatten it out too much," Arentzen advises. "Spread it just so that it mostly covers the marshmallows and leave it as a small dome. If you flatten it too much, the cookie with flatten and spread out more than the desired amount."
Get the full Graham Cracker Base S'mores Cookie HERE.
The Best Marshmallows for S'mores
We could argue about the most important part of the s'more all day, but for now we're focusing on the marshmallow. Below, we've collected our favorite marshmallows for summer snacking.
Jet-Puffed S'more Vanilla Marshmallows, $2.48
While original Jet-Puffs have always been our steadfast go-to, the brand's S'more Vanilla Marshmallows are quite literally made for the treat. These delicious mallows are square shaped and fit perfectly between two graham crackers. Plus, the subtle hint of vanilla gives any s'more extra oomph.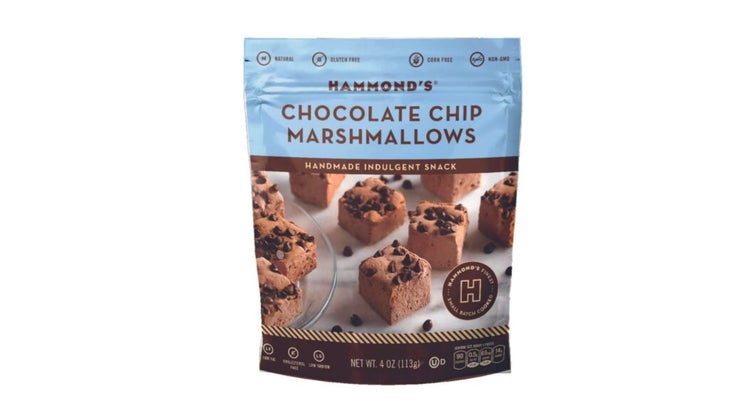 Hammond's Chocolate Chip Marshmallows, $12.50 (two bags)
For more indulgent marshmallow roasters, Hammond's Chocolate Chip Marshmallows are made with cocoa and mini chocolate chips. With these treats, an extra layer of chocolate may not be necessary—unless you're a chocolate fanatic.
ALDI's Baker's Corner Giant Marshmallows, $1.90
These massive, fluffy marshmallows make the list not only because they're as plump and sweet as Jet-Puffed, but because they also cost less.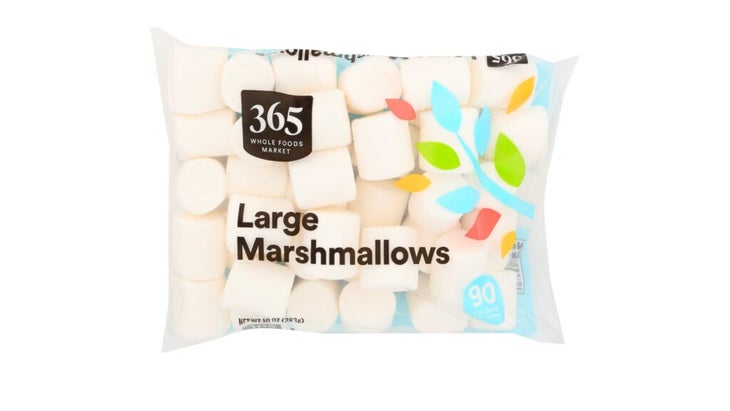 365 by Whole Foods Market Large Marshmallows, $2.29
Whole Foods is known for producing some of our favorite top-tier snacks, and these marshmallows also hit the mark. They're a good size—not too big, but not too small—and make the neatest s'mores out of the bunch. With less sugar, these mallows are a little less sweet and therefore don't totally overwhelm the other s'mores ingredients.
Stuffed Puffs Cookies 'n Creme $4.24
These marshmallows allow s'more connoisseurs to get creative with flavors. Take the dessert to the next level with mallows stuffed with white creme and chocolate cookie crunch. The best part of these sweets is the crunchy cookie texture when you bite down.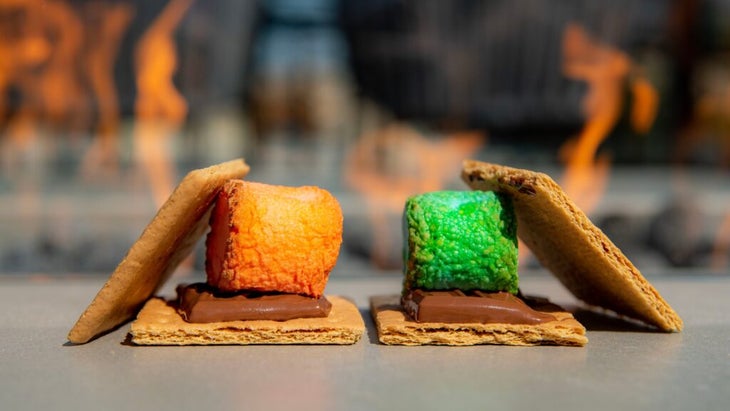 Honorable Mention: Jet-Puffed Color-Changing Marshmallows, $2.99
It's tough to imagine anything could make s'mores better than they already are, but Jet-Puffed managed to do just that with new Color-Changing Marshmallows. These mallows may feel and taste like the classics, but once skewered and held over a crackling fire, they turn different bright, vivid colors. Color-Changing Marshmallow bags are filled with light blue and pink marshmallows, but when touched by heat, the blue turns to a bright green and the pink turns a shocking orange. Prepare for the kids to go wild.
For more ways to vamp up your s'mores game, check out 9 Ultimate S'mores Recipes.
Lead Photo: Nea Arentzen