What Professional Slackliner Jaan Roose Eats in a Day
Three-time world champion holder Jaan Roose is an expert at balance on the slackline and in the kitchen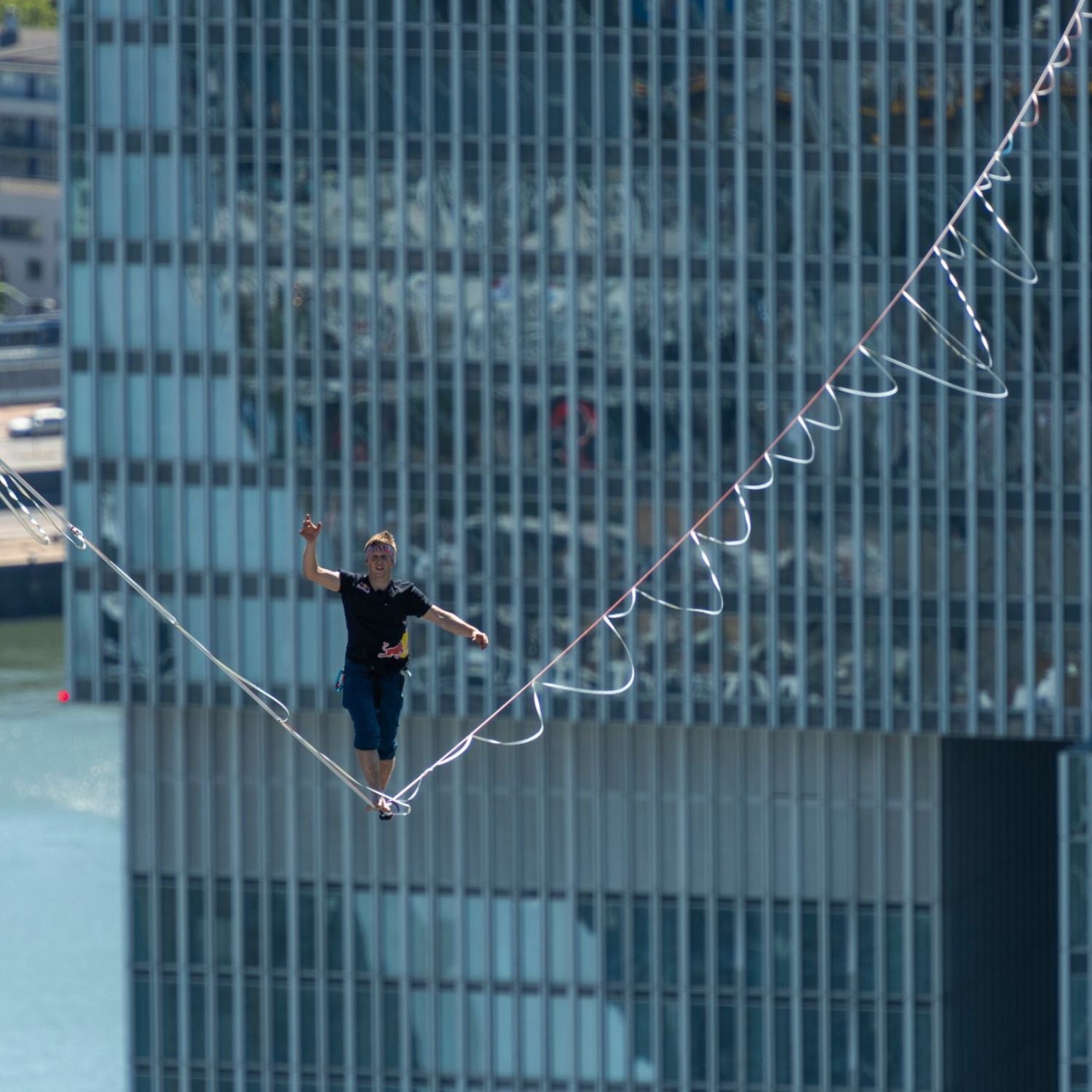 ATTACHMENT DETAILS Jarno Schurgers/Red-Bull
Heading out the door? Read this article on the new Outside+ app available now on iOS devices for members! Download the app.
For 31-year-old Estonian slackliner Jaan Roose, balance is everything. How else was he supposed to juggle performing as a sponsored Red Bull athlete, touring with Madonna and slacklining across the river Maas in Rotterdam at 616 feet high in the air?
After watching him walk, flip and twist on a slackline as wide as a postage stamp, it's hard to believe Roose didn't always have impeccable balance. When he started slacklining at eighteen years-old in his small village of Matsuri, Estonia, Roose admits he wasn't very good.
"When I first started, I failed miserably," he says. "It feels impossible in the beginning. But I thought if I did two steps, then I'd try again and get three. That's how I progressed step by step."
In his first year of slacklining, Roose entered the King of Slackline 2010 competition. He submitted videos of himself performing tricks and progressed in the competition winning second place overall.
"I started with zero skill, so winning second was proof for myself that I could start from nothing, really," Roose says. "And still make it to compete with people from around the world, like against guys in Japan. It was crazy."
His career snowballed from there as Roose continued to win competitions and was invited to be part of Madonna's MDNA Tour in 2012 as a performer. Roose, as well as two other slackline athletes, did tricks during the song "Hung Up" while Madonna balanced on a line. The four trained together everyday before the show for two hours.
In 2022, Roose edged his way over the busiest river in The Netherlands, the Maas River, between the De Rotterdam building and the De Zalmhaven building. He spent 49 minutes suspended at 616 feet in the air until he accomplished one of the steepest and longest urban slackline walks ever attempted.
As if that wasn't enough accomplishment for 2022, Roose then became the first person to slackline across the "Fangs" of Ancient Ocean Kazakhstan – two limestone pillars that make up the Bozzhyra tract. He crossed 1640.42 feet while suspended 656 feet in the air with strong winds threatening to knock him over. Roose says the endeavor was one of the most difficult and yet beautiful challenges he'd ever undertaken.
"It's always mentally quite challenging to pull out such a project," Roose says. "Not only for me, but for the whole team responsible. And knowing there are a lot of people helping realize this project in some way puts more pressure on the situation."
We wondered what kind of fuel it took to conquer such terrifying and wonderful slacklining feats. Between doing highline backflips between the Swissotel towers and competing in Munich's Slackline WorldCup Battle, what does Roose eat in a day?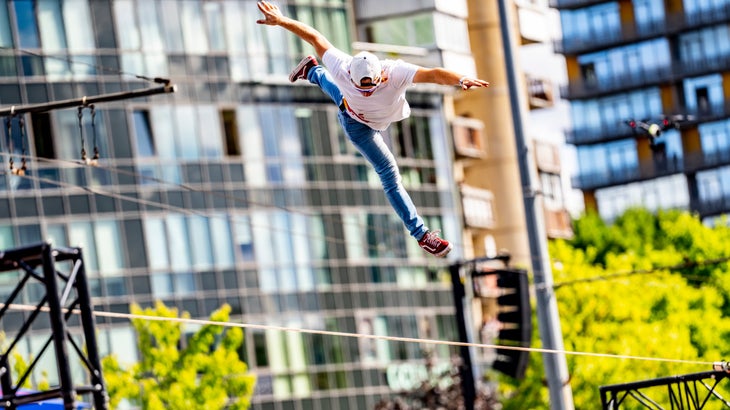 A Balancing Act: What does Roose eat in a day?
Breakfast
The first thing Roose does when he wakes up is drink a mug of warm boiled water for digestion. Then it's on to either black coffee or a double espresso.
"I buy whole beans for grinding and bring different kinds home as souvenirs for myself when I'm traveling," Roose says. "Some recent beans I got from Columbia and Kenya."
He will usually have a three-egg omelet cooked with paprika, cucumber and tomatoes. Because he lives in the countryside, he has access to fresh produce and regularly incorporates them in his meals. His parents, who live nearby, have a greenhouse where he picks fresh carrots, cabbage, cucumbers and more.
"You know, it's always about the quality of the food," Roose says. "When I'm not traveling and am able to cook at home, I know where everything comes from."
Lunch
Lunch is often plain or salted buckwheat porridge, a highly nutritious whole grain and popular staple in Estonia, coupled with an arugula salad drizzled in pumpkin seed oil. Pumpkin seed oil, popular throughout Eastern Europe is dark green in color and a rich, nutty flavor. It boasts of free-radical fighting phytonutrients and unsaturated fats, and it is delicious. Roose is a big fan of finishing oils because of their healthy fats and subtle flavors. He drizzles coconut oil, pumpkin oil, avocado oil and olive oil on most of his meals. Roose has an entire shelf dedicated to his favorite oils.
Snacks
One of Roose's favorite snacks is nuts, although he winces at how expensive they can be. Almonds, cashews and especially peanuts are his go-tos because they pack a punch of protein and healthy fats without being super heavy on his digestion. He'll also add an apple or banana for on the go – Roose notes that the fresh apples grown in Estonia are especially sweet and delicious.
"Sometimes I grab leftover baked potatoes as a snack," he says.
He says he'd much rather eat these whole food snacks than a protein bar, if he has the options. But when he's traveling, he admits he's prone to grabbing what he can on the road (that includes whatever kind of chips he can get his hands on!)
Dinner
Dinner is Roose's heaviest meal of the day, focusing on meat and potatoes. His wife Daria (who Roose credits as the chef in the couple) grills chicken breast marinated in garlic oil and tomato sauce.
"In the summertime tomatoes are cheap," he says. "And we make our own tomato sauce."
Roose says he prefers efficiency, so loves putting both chopped potatoes and chantelles or leccinum on a baking sheet and roasting them at the same time.
"I love mushrooms," he says. "We often make champignon in a pot boiled with herbs, onion and carrot. Mushroom picking in the forest is common in Estonia, so I'm familiar with most popular mushrooms and some of them actually grow right next to the house."
How Does Nutrition Impact a Slackliner's Performance?
Roose must be light on his toes when performing impressive feats of slacklining, so it's important that he eats food he knows for sure won't mess with his body.
"I love spicy food, but I can't eat it before a performance," Roose says. "It makes my body anxious and it's not the best feeling."
On days when he's slacklining, he avoids foods that make him feel tired, like bread and pasta, and only has coffee in the early morning – never in the afternoon. Caffeine jitters— or any twitching or anxiety—can make or break a performance for someone suspended on a thin slackline.
"If I have coffee too close to slacklining, my body will overreact," he says.
While Roose says there's no checklist or guide to what a slackliner's nutrition should look like, he eats well so that he can stay consistent. He likes to be familiar with how his body responds to foods so when he's up on the slackline he doesn't experience any surprise bloating or stomach aches, which would be detrimental to his focus and balance.
He's also always thinking about vitamins and nutrients that will promote healthy joints. For example, the cruciferous vegetables he eats like broccoli, cauliflower and Brussels sprouts contain a compound that blocks enzymes that cause joint pain and inflammation.
"It's important to be agile for the acrobatics tricks on the  line," Roose says. "And because of all the jumps I do on the line, more weight adds pressure on my joints."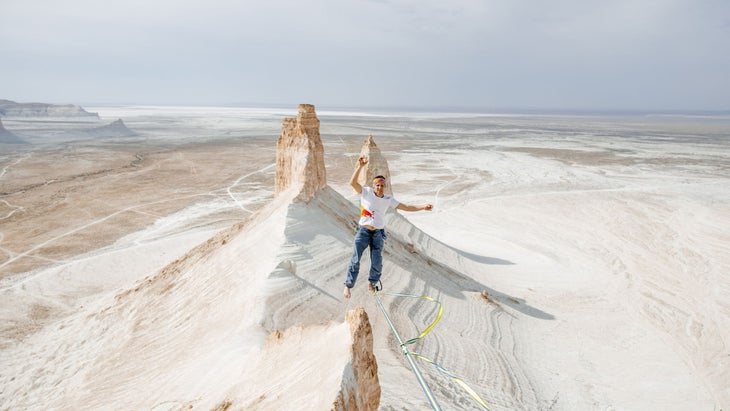 Does Roose Cross Train for Slacklining?
A few years ago, Roose would weight train several times a week to stay active and upkeep muscle. Nowadays, he's doing so many performances in the week that the task of setting up the actual slacklining materials is hard enough workout.
"Setting up takes a lot of effort physically," Roose says. "Most of the shows I'm doing are high lines at about six seven meters above people. I have to climb up and down to rig things – the whole time my arms are pumped."
He could hire help to rig before shows, but Roose likes to take responsibility for his own lines so he has all the confidence in the world when he's balancing on the line.
"Being up there, I like to trust the system," he says. "And I trust the system if I know if I'm part of the rigging." 
Lead Photo: ATTACHMENT DETAILS Jarno Schurgers/Red-Bull
Trending on Outside Online