Which is Better: Grilled Clams vs. Grilled Oysters?
Where do you fall on the grilled clams vs. grilled oysters debate? To settle which bivalve is better over the coals (or direct flame) and why, one seafood-loving writer asked the pros.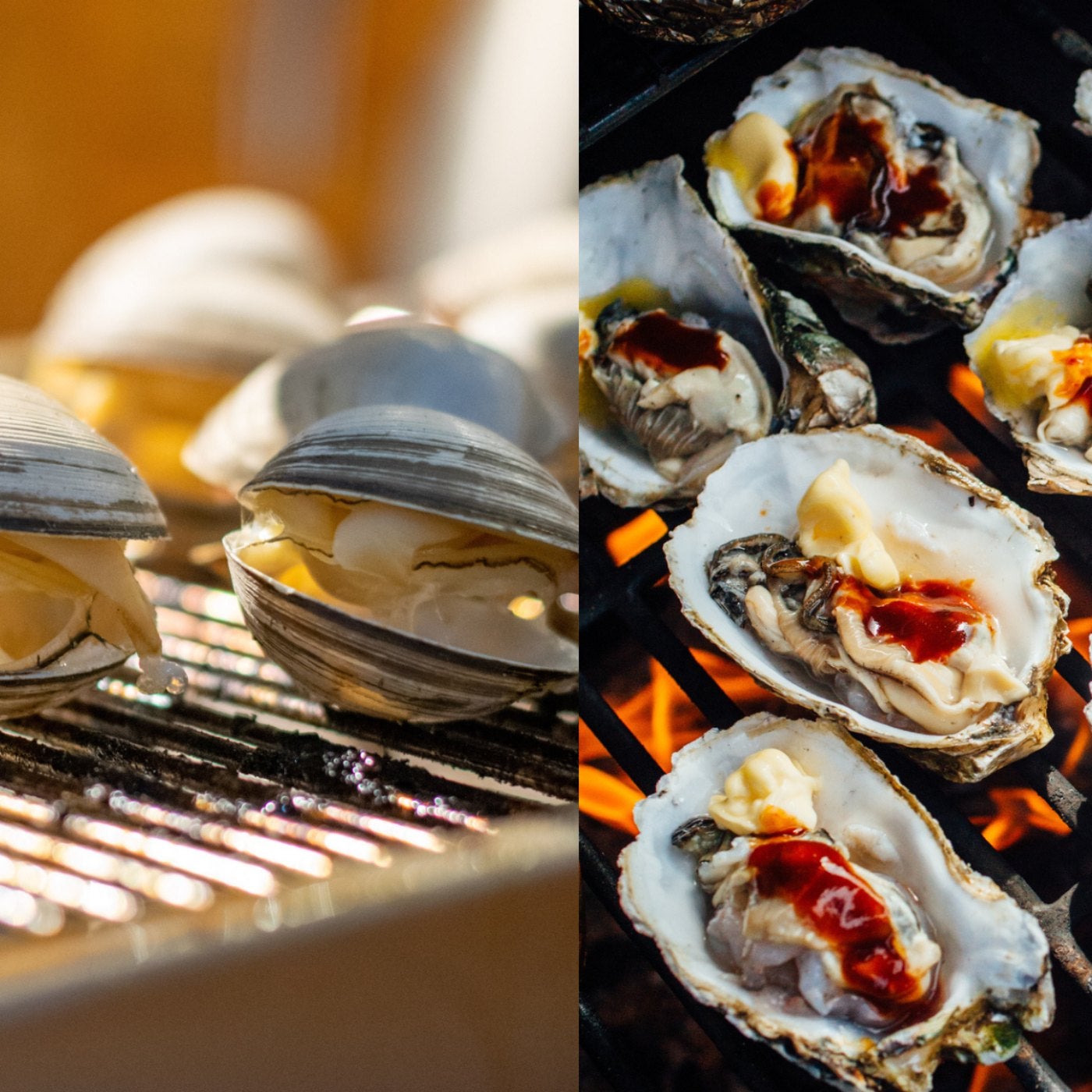 Getty, X Tian , Cavan Images
Heading out the door? Read this article on the new Outside+ app available now on iOS devices for members! Download the app.
It's a topic too taboo, too controversial for dinnertime, though debating it might make you hungry for seafood. Grilled clams vs. grilled oysters – which is better?
"A raw oyster is one of the best things a human on planet Earth can consume," says Christopher Sherman, CEO of Island Creek Oysters in Duxbury, Massachusetts. "Why grill it once it is shucked?"
Island Creek grows both oysters and clams, so Sherman is quick to claim he doesn't "have a dog in this fight." But the CEO does confess a certain preference for raw oysters over raw clams, and generally he only grills oysters as a last resort. "I really only find myself grilling oysters when I have a lot of them (which, given my line of work, I often do) and grow tired of shucking," he says.
Sherman explains that grilling oysters requires a bit of finesse. Sure, he admits, you can place them onto the grill whole and allow them to pop open the same way you would clams (one point for clams here, it seems), but oysters fare better when they're shucked first and adorned with extras. This allows them to "parboil in their own liquor, taking on the smoke of the grill," he explains. Oysters cooked this way are best served with breadcrumbs, bacon, "or whatever else you can come up with."
And what of clams? Hard-shell clams are best for grilling, which means quahogs and littlenecks on the east coast, and manilas on the west. Clam shells, Sherman cautions, can break when brought up to too high a temperature, while oysters are heartier and can withstand more time over the grates. (As an aside, Sherman highly recommends clams on pizza: "If you are lucky enough to have a pizza oven in your outdoor grilling setup, clams make a better pizza topping [than oysters].") To help avoid issues of temperature, says Eric Bartle, the culinary director at Durant at Red Ridge Farms, a Willamette Valley winery and the Pacific Northwest's premier producer of olive oil, it's often best to cook clams in a pot. "You can use a cast-iron pot and get the smokiness and have fun with a grill, but they just need to be quickly steamed until the shells pop open," he says.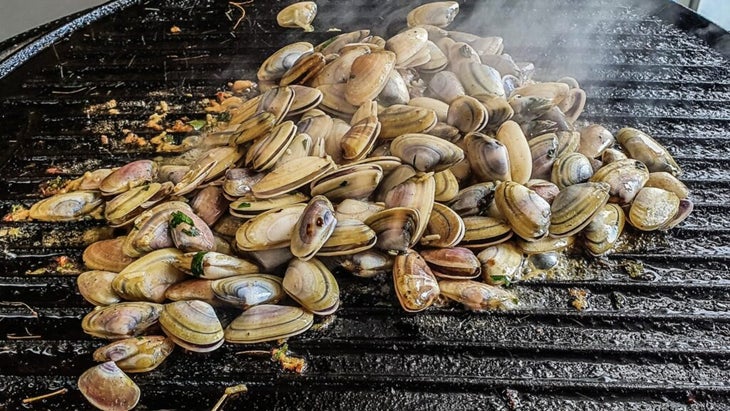 Bartle, though, is partial to oysters when it comes to this battle. "Clams are amazing," he says. "I love them, and they're great for a clambake, but you don't get the nuance of the grill, even in cast-iron. And there's something magical about putting that oyster right over the fire." The best oysters for grilling, he says, are larger ones, which are often referred to as barbecue oysters. The summer months, Bartle says, is when the larger, more succulent, more grillable oysters are available, since oysters continue to grow. "They aren't as firm or tight [as younger, smaller oysters], and are more suited for the barbecue, especially with a knob of your favorite compound butter."
Butter—any kind of fat, really—can help absorb the smoke from the grill, and will pair well with the oysters' natural salinity, Bartle says. "Olive oil would be delicious, with a squeeze of lemon and some herbs," he says. "It's endless. That's the fun thing about grilled oysters."
Whether your heart lands on oysters or clams, Sherman has some wisdom to impart to those thinking of grilling. "Some people think a clam or an oyster isn't cooked until its shell opens," he says. "This is erroneous." Both bivalves can be eaten raw, and so there is, he says, "little risk in underdoing them and all downside in overcooking." He suggests pulling shellfish off the grill as soon as the first few pop open.
So, grilled oysters or clams? Oysters seem to win slightly in this debate, although the best way to find out may be to fire up the grill and taste for yourself.
Lead Photo: Getty, X Tian , Cavan Images