The Gumbo Chronicles
Just months after the Deepwater Horizon oil spill, British Petroleum declared the recovery a success, and the Gulf of Mexico's fisheries were opened for business. To celebrate, seafood freak ROWAN JACOBSEN packed his bib and went south to cook up a locally sourced gumbo. But when he got there, something didn't taste right.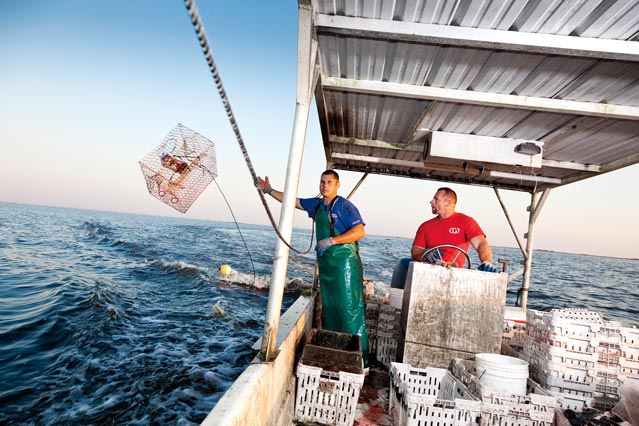 Andrew Hetherington
Heading out the door? Read this article on the new Outside+ app available now on iOS devices for members! Download the app.
IN THE PREDAWN STEAM of a Louisiana night, I stood in a yard surrounded by catfish heads. The headlights of dualies towing fiberglass crabbing boats swept into the yard and illuminated wooden pallets stacked six feet high, holding tens of thousands of fish heads: eyes, whiskers, stringy stuff coming out the back. Men in baseball caps stepped out of the trucks, loaded pallets into their boats, and pulled away.
Oil spill map

Map of Deepwater Horizon spill
Nick Collins

Oysterman Nick Collins with a thin haul last January. His company closed just months later.
Collins Oyster Company
The sign in front of Collins Oyster Co. refers to Governor Jindal's decision to open seven of Louisiana's floodgates, which turned the marshes fresh and decimated some of the state's richest oyster grounds.
Atchafalaya Swamp

Atchafalaya Swamp
Catfish heads

Crab bait: catfish heads
It was 4:30 A.M., and I was in the yard of Vincent Comardelle, 67, who supplies bait to the crabbers in Larose, a small Cajun town abutting Bayou Lafourche (pronounced la-foosh), a 109-mile, shellfish-heavy waterway that peels off from the Mississippi River above New Orleans and winds through the marshes of southern Louisiana to the Gulf of Mexico. I was waiting to meet Ryan Comardelle, Vincent's son and one of the top crabbers in the area, who had promised to take me out on the marshes. Finally, a white pickup pulled up. Ryan stepped out and peered at me. He was wearing a tight red T-shirt over a massive chest and Popeye biceps. Buzz cut, goatee, merciless blue eyes. 
"You bring any food?" he asked. I hadn't. He shot me an unimpressed look. "We gonna be out there all day," he said. "I don't like to share my food." 
Vincent shambled into the house—he has a limp from an old boating accident that ended with an outboard propeller buried in his back—and returned with a package of peanut butter crackers. We launched Ryan's boat from a nearby dock and motored through a series of shallow, brackish marshes—crab heaven—until we reached Little Lake, which is no longer little, thanks to erosion and land subsidence. Southern Louisiana is sinking, and every year the salty Gulf of Mexico covers more of it, killing the grasses and trees that hold the land together. This is a problem for native shellfish, which rely on a delicate, finely tuned balance of fresh inland water and salty tidal flow.
A full moon hung in the west, silhouetting the rocket-ship spires of gas rigs and the bones of dead oak trees, killed by encroaching water. Ryan, who has crabbed for most of his 40 years, steered while his friend Reggie, an athletic guy sporting a Bud Light cap and a bewildered expression, handled the traps. Reggie was a little off, which Ryan kept pointing out. 
"He ain't exactly stupid," Ryan said. "He just got no sense." 
"Oh yeah?" Reggie said. 
"Yeah."
Reggie tried to think of a comeback, failed, and went back to the traps. We could just make out ghostly foam floats bobbing on the water. Attached to the side of Ryan's boat was a metal rake, its teeth combing the surface and snatching the line dangling beneath each passing float. When the rake hooked a float, a wire trap came up, dragging near the back of the boat. Reggie opened each trap, shook the captured crabs into a plastic crate, and removed the rotting catfish heads, tossing them overboard. Then he added two new heads and dropped the trap back into the water. For eight hours this is what we did. The boat never stopped. Reggie never stopped. The crabs piled up: olive shells, turquoise legs, orange claws reaching for Reggie when he got close. Every time they pinched him, he'd yelp, "Oh mercy!" 
Most traps held just two or three crabs and the occasional flounder. "I used to run 400 cages," Ryan said. "Now I'm running 700 and making less money."
"Bad season?" I asked. 
Ryan glared. "Today might be my worst day ever," he said. "Normally I fill 20 pans. Last time I filled 13. I'm hoping to catch half that today. That don't even cover my expenses." 
Ryan was going to give up for the year if things didn't change in a week or two, and he wasn't alone. When I was in Bayou Lafourche, in September 2011, many crabbers didn't even bother to go out. Apparently, they hadn't got the memo that everything in the Gulf was fine. A year and a half after BP's April 2010 Deepwater Horizon oil spill, virtually the entire fishery was open for business, and federal and state officials were happily trumpeting the health of the Gulf's marine life. Ryan had nothing but contempt for those officials.
"Dey tellin' everybody everything's OK," he said, in the region's ubiquitous Cajun accent, which features a lot of dis and dat. "And it's not. The crabs are not getting fat. A lot of dem are dying right when dey shed. The biologists say everything's normal. Well, shit. We out here on the water almost every day of our lives. We know what changes from one day to the next. Where the little crabs? Before BP hit, they'd be all over this boat. Where dey at? We screwed." 
Ryan was much happier talking about arm wrestling. He was ranked number one in Louisiana for his weight division. "No guy around here can put my arm down. You want to see why?" 
"Sure," I said.
Ryan grabbed the next float from the rake and curled it tightly against his chest as the boat churned along. The cage dragged in the water, half-submerged and spraying a wake. "That's how I won my biggest match!" Ryan said, veins popping. "Other guys use weights. I just come out here and work. Wanna try?"
I did. The cage jerked me to the back of the boat, and mercifully, the float ripped out of my hand before I was dragged overboard. Ryan smiled and went back to crabbing. We struggled to fill six crates. I counted time in catfish heads. Around noon, I broke out the crackers. 
IN THE IMMEDIATE aftermath of the Deepwater Horizon spill, many observers—myself included—anticipated an unthinkable disaster: the death of the Gulf Coast fishery and the final ruination of the Gulf's beleaguered estuary system. Nearly 206 million gallons of oil leaked from the Macondo well. More than 88,000 square miles of fishing grounds—37 percent of all federal Gulf of Mexico waters—were closed, along with most affected Louisiana waters, including Bayou Lafourche. Oil filled the estuaries and worked its way into the bayou marshes. Destruction appeared imminent.
And then the oil just seemed to fade like disappearing ink. This happened, we were told, thanks to naturally occurring hydrocarbon-eating bacteria, aided by beneficial ocean currents at the site of the leaking well. By October 2010, most Louisiana state fisheries were reopened, including Bayou Lafourche. Since then thousands of seafood samples have been tested for the carcinogens found in hydrocarbons and deemed safe. On April 12, 2011, with the one-year anniversary of the spill approaching, Eric Schwaab, assistant administrator for fisheries at the National Oceanic and Atmospheric Administration (NOAA), proudly declared that "not one piece of tainted seafood has entered the market." Meanwhile, BP has mitigated the damage to its image with a $20 billion fund to pay the claims of affected businesses, plus a slick TV ad campaign to lure tourists to the region. In January, The New York Times ran an editorial lauding the recovery effort as a shining example for future industrial cleanups. These days the consensus from state and local governments, BP, and pundits alike is that everything is pretty much fine. We dodged a bullet, they tell us.
All of which seemed incredible to me. I reported from the Gulf during the spill, and I watched the Vessels of Opportunity (local boats hired by BP to lay boom and corral oil) and saw how ineffective they were. I worried about what polycyclic aromatic hydrocarbons—the mutagens and carcinogens found in crude oil—might do to the generation of shrimp and crab larvae that were getting soaked in gunk. I wondered about the effects of the 1.8 million gallons of chemical dispersants that BP sprayed to prevent the oil from accumulating on the ocean's surface. And I thought about the scientists who said it would take years before we could comprehend the effect of the spill, much less make grand diagnoses about the Gulf's health.
These were guys I quoted in my 2010 book on the spill, Shadows on the Gulf, among them Florida State University oceanographer Ian MacDonald, who said, "I expect the hydrocarbon imprint of the BP discharge will be detectable in the marine environment for the rest of my life." And University of South Florida oceanographer John Paul, who said, "The impact on commercially important larvae that are bathed in this stuff is hard to say. We might see grouper with tumors three years from now." 
I wanted to believe in the recovery—who doesn't like miracles?—but the spin was hard to cut through. So I decided to do some personal recon to see if the facts on the ground jibed with the reports being fed to the public. In my mind, there was no better way to assess the Gulf's health than by traveling around and sourcing one of my favorite meals—seafood gumbo—in the heart of bayou country. 
I've written a lot about food traditions, and I've always had a thing for gumbo, a delicious stew that came about after a bunch of poor people from elsewhere were stuck in a marginal environment, handed a cooking pot, and told to fend for themselves. The poor people were Acadians, French Catholic farmers who got booted out of Nova Scotia by the British in 1755, arrived in Louisiana, looked around at the soupy, unpromising environment, and thought, How do you make dinner out of this? Not only did they succeed, but they designed a culinary miracle, a spontaneous dish born of the holy trinity of crab, shrimp, and oyster that's as American as anything we've got. 
It's no exaggeration to say that Bayou Lafourche has traditionally been the finest place in the world to find ingredients for gumbo. Route 1, which hugs Lafourche, is often called "the longest Main Street in the world" because of the way one linear town eases into the next. There are few significant side streets; the only solid land is the two parallel strips of high ground built up on either side of the bayou by millennia of flood sediment. As soon as you get away from that, you sink into the marshes. Those marshes are some of the most fabled crab, shrimp, and oyster grounds on the planet. And they were directly in the crosshairs of the spill. The way I figured it, if I could still make an all-Lafourche gumbo, then America's seafood soul was intact. So I bought a plane ticket and called my buddy Jim.
JIM GOSSEN IS THE CEO of Louisiana Foods Global Seafood Service, a major Gulf Coast supplier. We first met a few years ago, at the International Boston Seafood Show, and bonded over our enthusiasm for all things oyster. Gossen, who is 64, grew up in bayou country and has been buying from its fishermen since the 1970s. Not incidentally, he has a beach house on Grand Isle, a long barrier island that sits where Bayou Lafourche meets the Gulf of Mexico. When I told him about my plan to toast the non-death of the Gulf with gumbo, he offered to guide me to local fishermen and host the celebratory cook-off. "I just need to cancel a week's worth of appointments," he said.
Gossen, who has slicked-back, thinning hair and a gourmand's earthmover-size spare tire, picked me up from the airport in his white SUV on a warm September afternoon, air conditioning blasting. We rolled down Route 1, past moored shrimp boats and ramshackle stores advertising bait and boudin, a Cajun sausage. Our destination was the house of Wilbert Collins, a legendary septuagenarian oysterman. "There's something about oysters," Gossen said. "I always loved them. My dad loved them. My grandfather loved them. We'd buy sacks in the wintertime and sit in the backyard and shuck." 
Louisiana oysters tend to grow faster than other kinds, thanks to the warm waters of the lower Mississippi River and an extraordinary abundance of phytoplankton. Collins's specimens were particularly fat. I'd eaten them with Gossen before. They were too large to fit in any human mouth, which stymied me until I watched Gossen take the edge of one in his lips and slurp it like a massive linguine. 
At one time, 16 family-run oyster businesses plied the waters of Lafourche Parish. Gossen used to send a tractor-trailer down Bayou Lafourche and load the entire thing with oysters. But Lafourche's marshes have been under assault for years, long before oil started fouling its beaches. Those marshes, along with the rest of the lower Mississippi, constitute the fastest-disappearing landmass on earth. There are two reasons for this: the leveeing of the Mississippi River by the Army Corps of Engineers, and the digging of canals through the marshes by the oil-and-gas industry in search of new reserves. The levees prevented natural flooding, which over time had deposited enough sediment in the marshes to compensate for natural subsidence. The new canals allowed pure saltwater to intrude inland and kill the marsh grass that held the mud in place. The result: sinking, disintegrating land as the Gulf of Mexico chewed its way farther north every year.
Oysters do best in brackish water. Fresh water kills them outright, and while they can grow just fine in salt water, the ocean brings with it numerous critters that relish young oysters, especially snails and drumfish. As the salt water has encroached, many traditional oyster reefs have succumbed to predation and hurricanes. By the early nineties, the reefs near Bayou Lafourche had declined so much that Gossen stopped sending the truck. By the time Deepwater Horizon blew, only the Collins Oyster Company was still in operation. When we arrived, we discovered that it, too, had gone under. 
"Collins Oyster Co. Out of Business After 90 Yrs.," read the sign in the yard, "Because of BP's Oil & Governor Jindals Fresh Water." In May 2010, as the oil crept closer to the Louisiana wetlands, Governor Bobby Jindal and local officials tried to push it back by fully opening seven of Louisiana's floodgates on the Mississippi for the first time in history. River water poured through the brackish marshes, turning them fresh. After being threatened for years by overly salty water, most of the reefs in the Barataria and Lake Pontchartrain basins—some of the state's richest oyster grounds—were decimated. 
Gossen and I stared at Collins's boat, dry-docked beside the bayou. "Whenever I drove down to my beach house," Gossen said, "I used to stop at Wilbert's and say, 'Please pick me out some good ones! A couple of sacks—make sure they're real nice.' " He shook his head. "I don't want to see this die." 
Louisiana harvested some seven million pounds of oysters in 2010, down from 15 million the year before. Crabs aren't faring much better. The state's crabbers pulled in 53 million pounds of crustaceans in 2009 and 31 million in 2010, when some areas were closed because of the spill. With the fishery reopened in 2011, everyone expected a rebound, but that didn't happen. In the normally plentiful month of May, crab landings for the region that includes Bayou Lafourche were 460,068 pounds, down from 953,503 in May 2010 and 1,471,987 in May 2009. There were so many reports of crabs dying with mysterious infections that the state launched an investigation. Normally, when landings plummet, prices rise, but not when consumers suspect your product is contaminated. Prices had plunged from $1.42 per pound in 2009 to between 35 and 55 cents at the time of my visit. 
Gossen and I continued down to Grand Isle. As we drove, he told me about another program he'd started at Louisiana Foods, to buy and promote forgotten fish like drum, almaco jack, and wild catfish. "The goal is to cultivate new fishermen," Gossen said. "As I get older, I've seen less and less fishermen. We losin' 'em, one by one. If there's no way for a young guy to get into it and make a living, he's going to go into gas or oil."
LUCKILY, WE HAD A PLAN B: farmed oysters. Last year, Gossen teamed up with an oysterman named Jules Melancon and a professor from Louisiana State University, John "Soup" Supan, to build a nursery on Grand Isle. They wanted to grow oysters in wire cages, as is done in most of the world. This had never been attempted in Louisiana, thanks to the abundance of wild reefs. But after watching saltwater-loving predators deplete Bayou Lafourche for years, Gossen decided that farming was Louisiana's future. 
In June 2011, Soup seeded the waters of Barataria Bay, which borders Grand Isle, with 100 million oyster larvae and supplied 250,000 baby oysters the size of match heads to Gossen and Melancon's project. The idea was to grow the oysters on land, in barrels of water, until they were large enough to be transferred to the bay, where they would live in submerged cages that would protect them from predators. Melancon, a fourth-generation oysterman with underwater leases in Barataria Bay, provided the real estate, the boat, and the labor. Gossen provided the startup cash. The oysters weren't very big yet, according to Gossen, but I just wanted enough to fill out our gumbo.
When we pulled up to the docks at Grand Isle, Melancon, 54, was scrubbing algae from plastic barrels filled with seawater and oysters the size of fingernails. He has huge shoulders and hands that seem to be made of petrified wood, the result of spending his teenage summers hauling 100-pound sacks of oysters from his grandfather's 400 acres of reefs, which were located in a marsh a couple of miles from where we stood. Now those reefs were entirely under saltwater, thanks to erosion, and surrounded by predators. The only option was cages. 
Melancon had no oysters for us. He took us out to his leases in his 23-foot flat-bottomed boat to show us why. For an hour we motored gently through the calm, flat water, passing flocks of ibises and pelicans, until we moored the boat and Melancon winched up a cage. It surfaced dripping black slime. The oysters were coated in shiny goop. Melancon plunged his tongs into the water and pulled up a jiggling mound of black pudding. 
"What the hell is that?" I asked. 
Melancon scooped some up with his hand. It held like shaving cream. "I think it's oil," he said. "Look how it stains your hand. Dat's carbon." Grand Isle is the sandiest spot in Louisiana. Its reefs are normally a pleasing jumble of shell and grit. But when Melancon checked this one on August 26, two weeks before I arrived, it was buried under a foot of black gunk. "Dis land was clean," he said. "Just shells and sand. Not all dis fuckin' bullshit." 
Upon discovering the gunk, Melancon called the mayor of Grand Isle. The next day, the Coast Guard and a state fisheries employee turned up to collect samples, which they delivered to the Gulf Coast Claims Facility—the organization run by "claims czar" Kenneth Feinberg that adjudicates damage payments for BP. At the time, Feinberg had distributed about $5 billion of BP's $20 billion fund to 200,000 victims of the spill, who were granted payments of twice their documented 2010 losses in exchange for waiving the right to future compensation. (The exception was oystermen, who were granted up to four times their 2010 losses.) But an estimated 100,000 claimants have refused to settle, instead filing a monstrous class action. Now BP is arguing that future payments should be curtailed, since the Gulf's tourism and fishing industries have rebounded.
Since the samples were submitted, Melancon had heard nothing. Now we scooped more samples into ziplock bags to send to an independent researcher at the University of Georgia.
According to some scientists, the presence of oil near shore is a distinct possibility, though tracing it to Deepwater Horizon could be tough. "It would not necessarily be surprising that there is some residual oil in these wetlands," said Don Boesch, professor of marine science at the University of Maryland Center for Environmental Sciences, who served on the National Commission on the BP Deepwater Horizon Oil Spill in 2010. "However, that area is one of intense development by oil-and-gas companies. After a year and a half, the natural process would change the chemical composition of the oil from Deepwater Horizon. It becomes more difficult over time to identify oil with a specific well."
Such statements are of little comfort to Melancon. He dropped the mess over the side and motored back in. We drove the samples up Route 1, looking for a place to FedEx them. As we rode, Melancon told me how, after the spill, he had worked for BP skippering a Vessel of Opportunity, hauling boom on his boat. He was paid $3,300 a day. By my calculations, he earned half a million dollars, an amount that takes some of the sting out of losing your life's work. Many other "spillionaires" on Grand Isle saw similar paydays. The island is crawling with antique roadsters. But a lot of the spillionaires, like fishermen everywhere, have only a passing familiarity with the Internal Revenue Service. They had no idea a tax bill was coming and saved no money for it.
Melancon, on the other hand, bought nothing. As a well-known boat operator with a 500-ton hauling license and no oysters to harvest, he was in high demand. As we drove, he took a call from a guy who offered him a job in Texas working as a barge captain for a chemical company. One hundred and thirty grand per year, plus benefits. 
"Can't do it right now," Melancon said. "I'm tied up with Jim on dis seed business." 
He hung up, and then his phone rang again. It was a state official with the test results. "Uh-huh," he said. "But it's carbon. Smear it on your finger. You can tell. It's contamination." He hung up. "Dey say it ain't oil," he told us. "Dey say it's sludge. What's dat mean?" 
"Could mean a lot of things," I said. "Maybe it's stuff that washed down the Mississippi." 
"Never did before." Melancon Googled "sludge" on his phone. "Semisolid material left from industrial wastewater," he read aloud.
"Maybe somebody opened up their holding tank over your reef," Gossen offered.
"I'm worried about my gumbo," I said. 
"There's a place up here called Bob's Seafood," Melancon said. "Maybe he's got oysters." He kept poking at his phone, eyebrows knit. "Sludge. Sounds like contamination to me." 
Bob's shop looked pretty barren: the stainless steel oyster-shucking station was gleaming and clean, and a nearby walk-in fridge was just about empty. "Got any oysters?" Melancon asked. 
"I got one half-gallon tub from Chauvin," Bob said. Chauvin had dodged both the oil and the fresh water. "Why?" 
"We gonna make gumbo," Melancon said. 
Bob marveled at Melancon. "Oysterman wants to buy oysters?"
IT WAS LOOKING LIKE our gumbo might be skimpy on crabs and oysters, so we decided to go heavy on the shrimp. Grand Isle, after all, is America's unofficial shrimp capital, complete with its own shrimp king. Actually, don might be a better word. 
Dean Blanchard, 53, is the only guy I know who's done time in prison for illegally transporting red snapper across state lines. He once drove to New York City's Fulton Fish Market in a Corvette and threatened a deadbeat seafood buyer with an Uzi. He fits in well on Grand Isle, a place that's proud of its pirate heritage, which dates to 1810, when the buccaneer Jean Lafitte set up camp nearby, smuggling slaves and rum into New Orleans by poling them up Bayou Lafourche.
Blanchard is the top shrimp broker in the country, single-handedly responsible for 7 percent of the shrimp bought and sold in the U.S. At least he was. Since the oil spill, Grand Isle shrimp have been few and far between. Chances are you haven't noticed. While the Gulf Coast is still America's top shellfish producer, 90 percent of the shrimp you see in stores is imported from Asian farms. Louisiana shrimpers can't compete; three-quarters of them have disappeared in the past 25 years, a result primarily of competition from the East. When the last Gulf fisherman hangs up his hip waders, Red Lobster will not be fazed. Blanchard is not only the biggest shrimp buyer in Grand Isle; he's the last.
When Gossen and I pulled up to Blanchard's house—a newly renovated, Sopranos-esque affair on an island of beach camps, built with internal steel beams to withstand hurricanes—there were four men, one on a forklift, polishing his massive motor home, which he had just driven to and from the Saints-Packers game in Green Bay, Wisconsin. Next to it was a Hummer with decorative Saints plates. Dean was inside watching football in his recliner, wearing shorts and a sleeveless T-shirt.
"How are your shrimp?" I asked. 
"I wouldn't eat dat shit," he said, rubbing his spiky gray hair. 
"Really?" 
"Dat water's poison. Every day, dey haulin' dead porpoises in front of my place. Wildlife says dey was dying before the oil spill. I say, Yeah? I musta been sleepin'. Cause I ain't never seen y'all haul one in front of my place before. Now I see y'all haul a hundred of these motherfuckers!"
It should be noted that Dean is one of the claimants in the class action angling for a massive settlement with BP. He therefore may not be the most objective source. But his story more or less checks out. NOAA reported some 80 abnormal dolphin deaths between January and April 2010. Since the spill, more than 450 dead dolphins have washed up on Gulf Coast beaches. Many were newborns or stillborns, leading some biologists to hypothesize that ingested oil had contributed to a wave of miscarriages. NOAA has declared the situation an "unusual mortality event." 
If none of the seafood tested by NOAA showed oil contamination, how could the Gulf's marine life be so affected? A recent paper by LSU biologist Andrew Whitehead provides a clue. Whitehead examined Gulf killifish—minnows that live in the marshes and are an important food source for many species—before, during, and after the oil hit. He found that even tiny amounts of oil caused genetic abnormalities and tissue damage in the fish, enough to impair their reproductive abilities. And you wouldn't have known this simply by testing them for contamination.
"Though the fish may be safe to eat," Whitehead said, summarizing the report, "that doesn't mean they are capable of reproducing normally." This problem may extend to other marine life. And many fishermen blame low yields on BP's dispersants, though the scientific jury is still out.
"The dispersant is biodegradable," said Ralph Portier, professor of environmental science and oceanography at LSU. "The oil is biodegradable. So we're not worried about their presence over a long period. The real issue is whether the mixture of dispersant  and oil made it to the marsh and had a catastrophic effect on key organisms. There are literally hundreds of scientists working on these problems, but right now there are too many variables and not enough data."
Perched on his dock at the very edge of the Gulf, Blanchard has a unique vantage point to speculate on such things. And what he wanted to tell me was that the white shrimp season was a bust. "White shrimp are born on the beach," he said. "Dey ain't got a chance to go nowhere. Dey layin' in polluted fuckin' water. Dey dead! Unless dey like Jesus and can raise from the dead, dey ain't comin' back. Usually, I buy about 250,000 pounds opening day. This year I didn't buy one. First time in my life."
Again, Blanchard's not lying. According to Clint Guidry, president of the Louisiana Shrimp Association, the white shrimp haul was down 80 percent across Louisiana in 2011. On November 30, in the face of overwhelming evidence of the poor season, Feinberg, the claims czar, announced that commercial crab and shrimp harvesters would be entitled to four times their documented 2010 losses, instead of two times, in exchange for waiving their right to sue. This was good news for the 1,000 or so shrimpers and crabbers still holding out but an affront to the 4,000 who had already accepted a settlement and were told that there would be no retroactive payments.
I asked Blanchard whom he blamed for the disaster. "The French media came and asked me whose fault it was. I told 'em Napoleon. He should've killed all the British at Waterloo. The German media came. I told 'em Hitler. He should've bombed 'em with the fuckin' Luftwaffe. The American media came. I told 'em it was George Washington's fuckin' fault. We been fightin' the British on this island since 1673."
We decided not to buy our shrimp from Blanchard. Instead, we bought it back up the bayou, in areas less affected by oil, from an old guy on a boat called the Tootsie. I paid for five pounds, and he shoveled about 20 into our cooler. As he handed it over, he said, "Hey, lemme show you dis shit we found on the west side of the bayou." From the cabin of his boat he produced a tar ball and a big chunk of hard, black crude. "Never seen nothin' like this in my life," he said.
On the way back to Grand Isle, we tuned in the local talk-radio station. A caller had hijacked the show and was on a full-blown BP rant. "I blame Napoleon!" he yelled.
MAKING GUMBO is a social affair. That's the point. People gather, work side by side, drink beer, celebrate the bounty of the sea. Against all odds, that's what we did. Word spread around Grand Isle: gumbo at Jim's house. Melancon showed up with his wife, Melanie. Vincent and Ryan Comardelle didn't make it, but a guy who ran the port commission did, having heard the news. So did "Soup" Supan from LSU. He stared in mute horror at the photos we'd taken of Melancon's reef. "Jules," he said, "get those cages out of there."
Gossen boiled the shrimp to make a stock. I peeled off the tails. Gossen made the roux—flour and oil simmered and stirred until it turns mahogany brown. Then he threw in onions, celery, and bell peppers. Gumbo is an African word for okra, a mucilaginous vegetable that came over with the slave trade. Around New Orleans, okra is the standard thickener for gumbo. But down in bayou country, where there were no plantations, the gumbo has always been thin, heavy on the seafood.
Melanie pulled a box of live crabs from the fridge. The chill had slowed them considerably. "We down here at the end of the world," said Melanie, who has lived on Grand Isle all of her 50 years. "Nobody knows what goes on here." Then she ripped a live crab in half. I'd never seen a woman do that before. Every now and then, a crab would warm up enough to sink a claw into her, eliciting a giggle. "Oooh, he ticklin' me!" she'd say. "Stop dat, now." Then, with a twist, she'd pop his top shell off, pull out his lungs, snap off his mouth, wrap a meaty hand around each half of his body, and snap it in two. That put an end to the tickling.
The crabs went into the pot, guts and all. Once the crabs and veggies were cooked, we threw in the shrimp and oysters and turned off the heat. I'd never made a gumbo with live crabs and shrimp right off the boat. It was sweet as all get-out. I dipped my spoon in and fished up some shrimp and oysters. A crab claw protruded from my bowl.
"Nice job, Jim," I said, raising my beer. 
His eyes got big. "I just want to see it come back!" he said. 
Me, too. But I wonder. Complex systems do complicated things. The night after Hurricane Katrina passed through southern Louisiana, everyone breathed a sigh of relief. We dodged a bullet, they said. And then the river came pouring through the levees. Since the spill cleanup ended, the government, the media, and the oil industry have been only too happy to announce that we got lucky. Wait and see, though. You can still hustle up a meal from the marshes of Bayou Lafourche. But a way of life is ending along the lengths of the longest Main Street in the world.