High Cuisine Will Be Your New Favorite Après Tradition
Chefs are infusing more than just sweets into cannabis. High-end cannabis dining is coming to a ski town near you.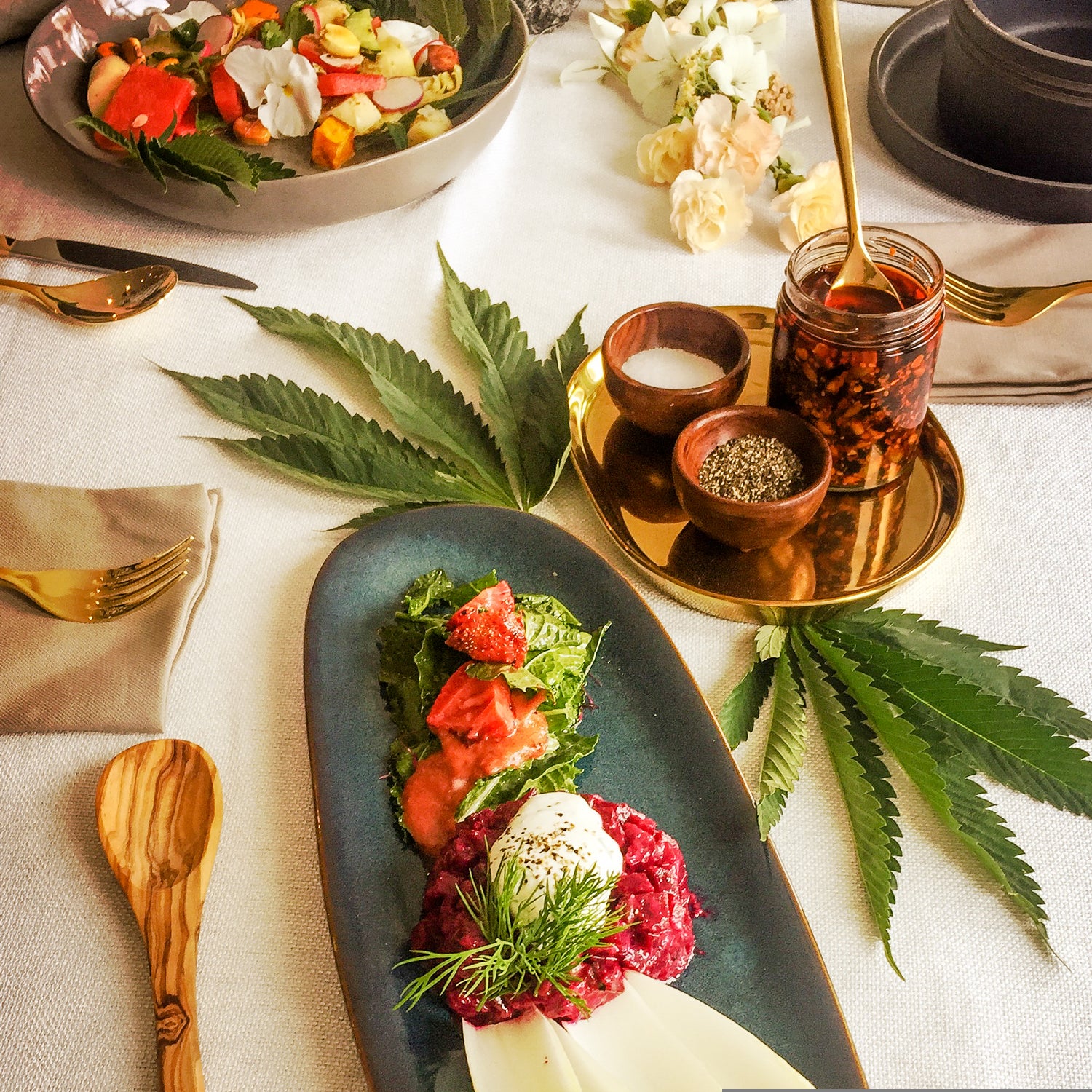 Heading out the door? Read this article on the new Outside+ app available now on iOS devices for members! Download the app.
Your cannabis-related food associations probably aren't great. There were the terrible weed brownies you made in college, with bits of plant fiber in every bite. Then there's all the garbage food you've eaten while stoned. High cuisine, for many of us, has never really been anything close to haute cuisine.
But in places where cannabis is legal, chefs are working to change weed's junk food reputation. Fine dining pop-ups and cooking classes, where marijuana is either cooked into dishes or served in some sort of complementary pairing with each course, are selling out, with everyone from first-time boomer users to veteran stoners wanting a seat at the table.
The movement is a personal one for many chefs. Take, for example, Jaime Lewis, chef and CEO of Mountain Medicine, a Colorado-based edibles company. Lewis entered the world of edibles on a quest to help her father find relief for his PTSD. "It makes sense if you think about it. Chefs like to take care of people," she says. As she experimented with recipes, Lewis found she could both help her dad and actually make food that tasted amazing. She firmly believes that just the right amount of weed can enhance our perception of taste. Not only that, but there's also the fact that marijuana actually can function as an, ahem, herb.
"I'm a chef. Using flavors is what I do. So I don't just use extracts in my classes," says Denver-based Scott Durrah, who runs the high-end edible company Simply Pure and teaches private cooking classes. While extracts can be handy when you just want quick delivery of THC or CBD, Durrah loves to juice the leaves or use the sugar stored in the roots to sweeten desserts. Different varietals can bring in notes of lemon or anise—flavors way beyond the skunk tones you might expect.
"We can do so much more than just make the pot brownies you remember from years ago," says Payton Curry, a Culinary Institute of America–trained chef who started Flourish Cannabis and regularly hosts cannabis pop-up dinners.
Organizers are working hard to make sure newbies don't get too stoned. Mason Jar Event Group, a Colorado company that produces seasonal cannabis-pairing dinners, uses a range of delivery systems to get their diners to their ideal high. Each is far more sophisticated than anything most of us have ever dreamed of. For example, your salad may come accompanied by a vape pen, which delivers a strain with notes of black pepper, and you savor the combo like you would a fine wine. "Once, for dessert, each guest got an infused chocolate bar, which we had them shave over their plates," like brandy over a flambé, says Kendal Norris, one of the company's co-founders.
To be clear, we should point at that as of this moment, there are no permanent cannabis restaurants in the country. A tangle of federal and state regulations prohibit chefs from opening venues that do cannabis-laced cuisine on a nightly basis, so most entrepreneurs are getting creative and using private facilities to host pop-ups or cooking classes. But people like Durrah are watching the rules closely. He says the moment he can legally open a cannabis café, he will.
Lead Photo: Courtesy Flourish Edibles