Hometown Spirits
Some of the greats in local liquor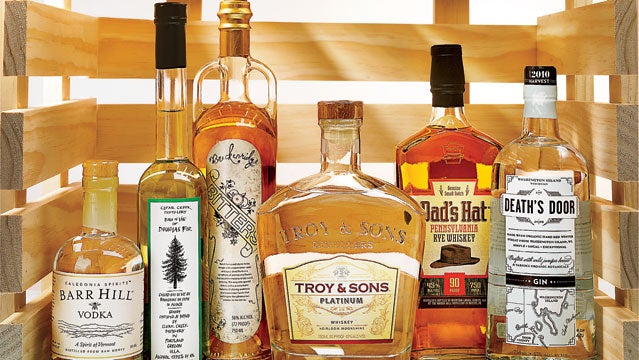 Heading out the door? Read this article on the new Outside+ app available now on iOS devices for members! Download the app.
"Local" liquor is often anything but. It starts as ethanol made by industrial manufacturers, then is aged, flavored, or filtered locally to make booze that only then has any claim to native status. But as craft distilleries proliferate—up fivefold in the past five years alone—producers are sourcing their wheat, rye, and sugar from nearby fields to capture regional terroir, as vintners do with wine. Result: flavors as distinctive as the ingredients.
Caledonia Spirits Barr Hill Vodka, $32, 375ml
Produced by a beekeeper in Vermont, the honey in this vodka is cold fermented and then added to the still for a richer, less astringent spirit.
Clear Creek Douglas Fir Eaux de Vie, $50, 375ml
This 95-proof liquor begins as brandy made from Oregon grapes, then the distillers add tips of springtime Douglas fir, enhancing the familiar juniper notes.
Breckenridge Distillery Bitters, $29, 750ml
Among the new variations of potable bitters, this sipper is an ideal aperitif to settle your stomach before a big dinner, layered with complex flavors of roots, spices, and a hand-harvested alpine herb called genepi, similar to the wormwood in absinthe.
Troy and Sons Platinum Moonshine, $30, 750ml
This smooth moonshine comes from heirloom white corn thought to be extinct—until it turned up on a farm outside Asheville, North Carolina, in 2010.
Dad's Hat Pennsylvania Rye Whiskey, $40, 750ml
Made with Pennsylvania grain, this rye is aged seven to nine months in 15-gallon casks, then bottled at 90 proof.
Death's Door Gin, $30, 750ml
Starting with organic wheat from Wisconsin's Washington Island, Death's Door adds handpicked juniper berries to impart a distinct North Woods twang.