4 Hot Cocktail Recipes to Save Your Winter Social Life
Fill your thermos and bring these warm mixed drinks along for après-ski, socially distanced happy hours, and cold-weather tailgates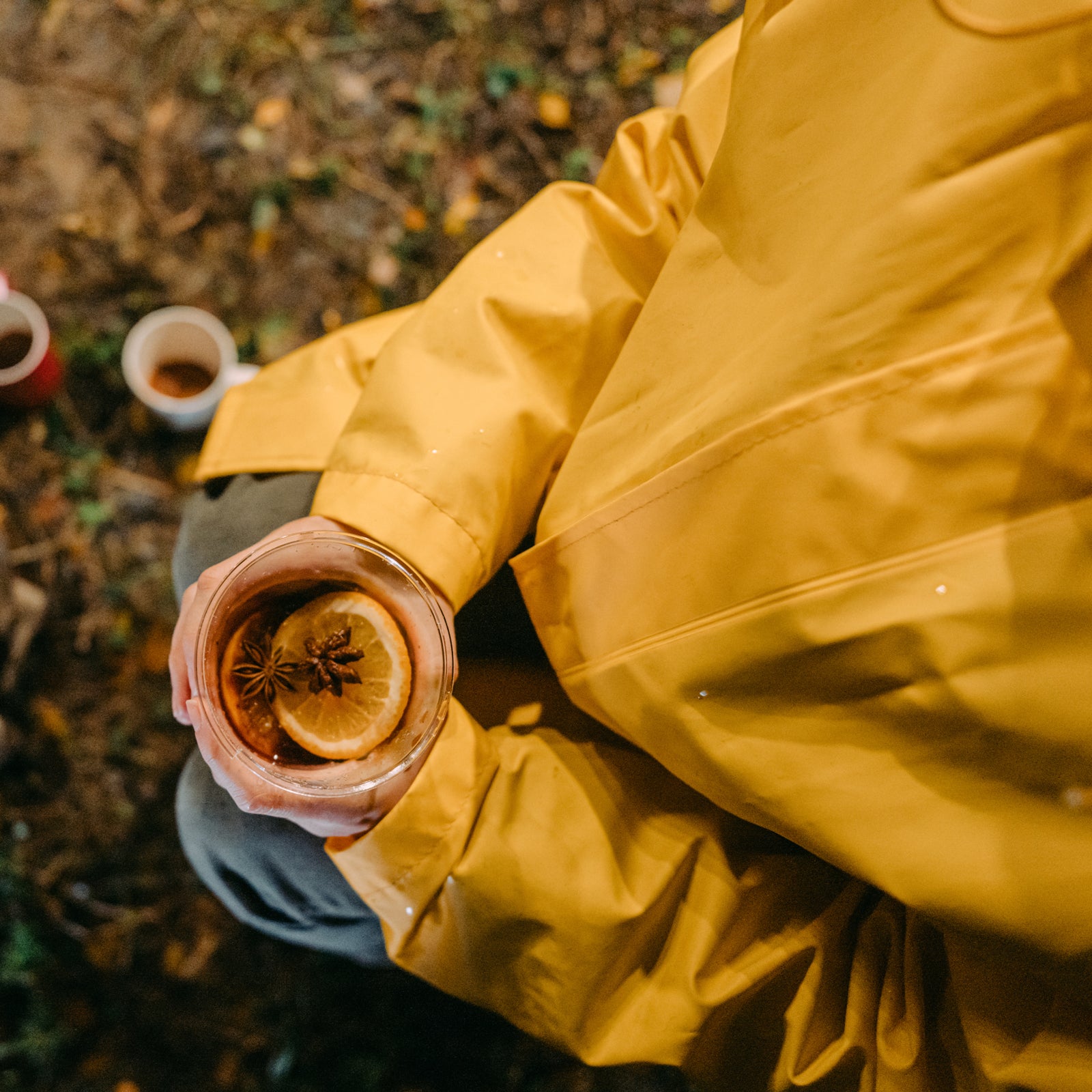 Heading out the door? Read this article on the new Outside+ app available now on iOS devices for members! Download the app.
This has been the year of the to-go cocktail, and there's no reason for that to end now. Spiking your thermos with a nip of the good stuff is how we're going to survive this socially distanced winter. But before dumping out the lukewarm coffee currently in your thermos for something punchier, promise us two things: 
One: You're either drinking these at home or have a designated driver. 
Two: You know that alcohol is not a warming strategy, even if it feels that way. (Alcohol is a vasodilator and does the opposite of warming you. Drunkenness has been an accomplice in many hypothermia deaths.) Bundle up and keep your drinking reasonable so you don't make poor choices in the cold. 
If you haven't yet read our guide to getting the most out of your thermos, start here. Then, pick your potion from the recipes below and load that puppy up. 
Campfire Cider
If you're in charge of cocktails for a crew, pack a 32-ounce thermos with this spiced, bourbon-spiked cider. This is the creation of Darlin Kulla, a mixologist at Succotash in Washington, D.C. It's on the sweeter side, but the warm spices and bourbon provide that burn in the back of your throat. This makes more spiced syrup than you need, but don't worry, you'll find other ways to use it. Kulla suggests swirling a spoonful into your morning coffee.
Ingredients
6 ounces bourbon of choice (Kulla recommends Redemption Bourbon.)
3 ounces spiced syrup 
22 ounces local unfiltered apple cider
Spiced Syrup 
4 cinnamon sticks
6 whole cloves
4 whole star anise
2 cardamom pods
1 cup water
1 cup sugar
Directions
Toast all the spices in a two-quart pot set on the stove. Shake them until you smell the spices, but don't let them go from toasty to burned. When the spices are fragrant, add the water and bring the mixture to a simmer. Let it simmer for 10 minutes. Finally, add the sugar and stir until it's fully dissolved. Strain and refrigerate whatever you're not putting into your thermos.
To make the cocktail, stir together the spiced syrup and the cider. You can heat your mixture on the stove or in the microwave (in 30-second increments) until it's the perfect temp. Finally, add the bourbon and pour everything into your thermos. 
High West's Quit'n Time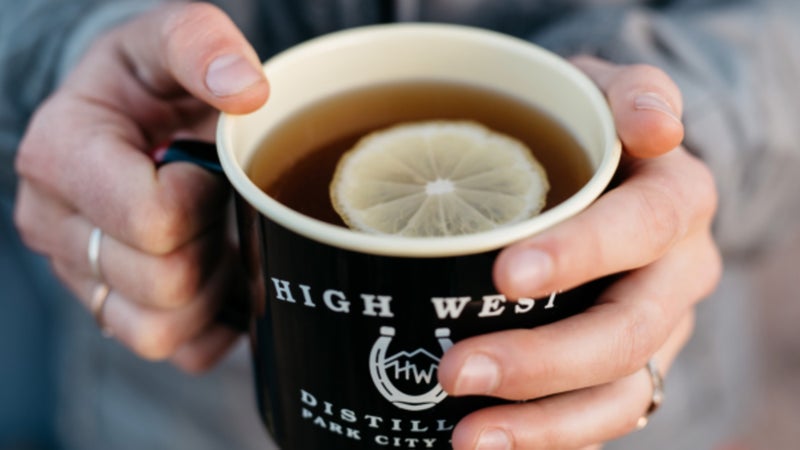 At High West Distillery in Park City, Utah, quitting time is almost always "put on your puffy and head out into the Wasatch Mountains" time. In other words: we trust their judgment on what to pack in a thermos. Even when their suggestion is hot lemonade. Yes, lemonade is usually a kid-friendly summer drink, but hear us out: spiced lemonade is a whole different beast. Add a splash of rye, and lemonade quickly becomes very adult. This recipe makes a large batch—three quarts of just the spiced lemonade, which you can then dole out into individual cocktails. It should keep for about two weeks in the fridge. We think you'll go through it before then. 
Ingredients
Spiced Lemonade
5 cups sugar
4 cups water
2 lemons, cut in half
18 to 20 cloves
4 cinnamon sticks
1 vanilla bean
1 whole nutmeg
Approximately 5 cups lemon juice, fresh or bottled
To Make the Lemonade 
Add all ingredients except the lemon juice to a saucepan and bring to a boil over high heat, stirring frequently. Reduce the heat to low and simmer for 45 minutes, stirring occasionally. Remove from heat and strain. Measure the volume of the spiced syrup mixture. For each cup of syrup, add one cup of lemon juice and 1 1/2 cups of water. Stir to combine.
To Make the Cocktail 
You can scale up this recipe in any quantity you like using a 3:2 ratio for the spiced lemonade and rye. Heat up your thermos, then add three ounces of warm lemonade and two ounces of rye. Throw in a cinnamon stick or a fresh lemon wedge for good measure. 
Tequila Tea
Believe it or not, Texas does get cold enough to warrant hot drinks. When the mercury drops, Frank Vallas, beverage manager at Dallas-based Tacos and Tequila, brews this mix of hot tea and tequila. His go-to tea is chai, but you can sub in Earl Grey if that's more your style. If you can't get Blue Nectar's Reposado Extra Blend tequila, look for something with a bit of age to it and ideally some vanilla notes, Vallas says. This recipe makes a 12-ounce cocktail.
Ingredients
8 ounces hot Stash Chai Spice Black Tea. (You can also use Stash's Cinnamon Vanilla tea or Earl Grey. Use two bags of Earl Grey for a strong cup; for the others, a single tea bag will do.) 
1 1/4 ounces Blue Nectar Reposado Extra Blend Tequila
3/4 ounce of Licor 43
3 demerara sugar cubes (or 3 teaspoons sugar)
2 dashes Angostura orange bitters
3/4 ounce half and half, almond creamer, or almond milk
Small pinch of salt
Directions
Pour eight ounces of hot water into a prewarmed thermos. Add one chai tea bag, a small pinch of salt, and three demerara sugar cubes. Cover and steep for five to eight minutes. Then add the bitters, cream, Blue Nectar tequila, and Licor 43. Stir gently before putting on the lid. 
Glühwein To-Go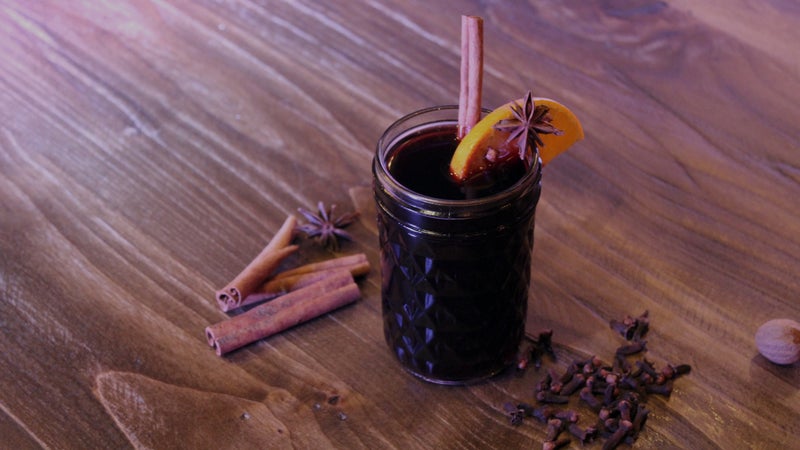 What's a thermos cocktail recipe roundup without a good mulled wine? This one is courtesy of San Francisco restaurant Curio, where they make it in big batches to warm outdoor diners from the inside out. This makes six servings (or four, if you're being truly honest with yourself). 
Ingredients
3/4 cup water
3/4 cup sugar
1 orange
1 cinnamon stick
10 cloves
1 bottle red wine
4 to 6 ounces gin or whiskey (optional)
Directions
Combine water, sugar, and spices in a large pot. Bring the mixture to a boil, then reduce to a simmer and cook until the sugar dissolves. Add in the zest and juice of the orange and simmer the mixture for 30 minutes or until thick and syrupy. 
Strain syrup and remove solids. Add the syrup back to the pot and combine with the bottle of wine. Heat gently until it's at a simmer. You can fill your thermos with this or further gild the lily by adding a four-to-six-ounce pour of gin or whiskey to the top.
Lead Photo: AleksandarNakic/iStock