How to Become a Modern-Day Seaweed Farmer
Two Swedish librarians traded the stacks for kayaks to become sustainable harvesters, lead seaweed safaris, and sell their fare to Sweden's fine-dining restaurants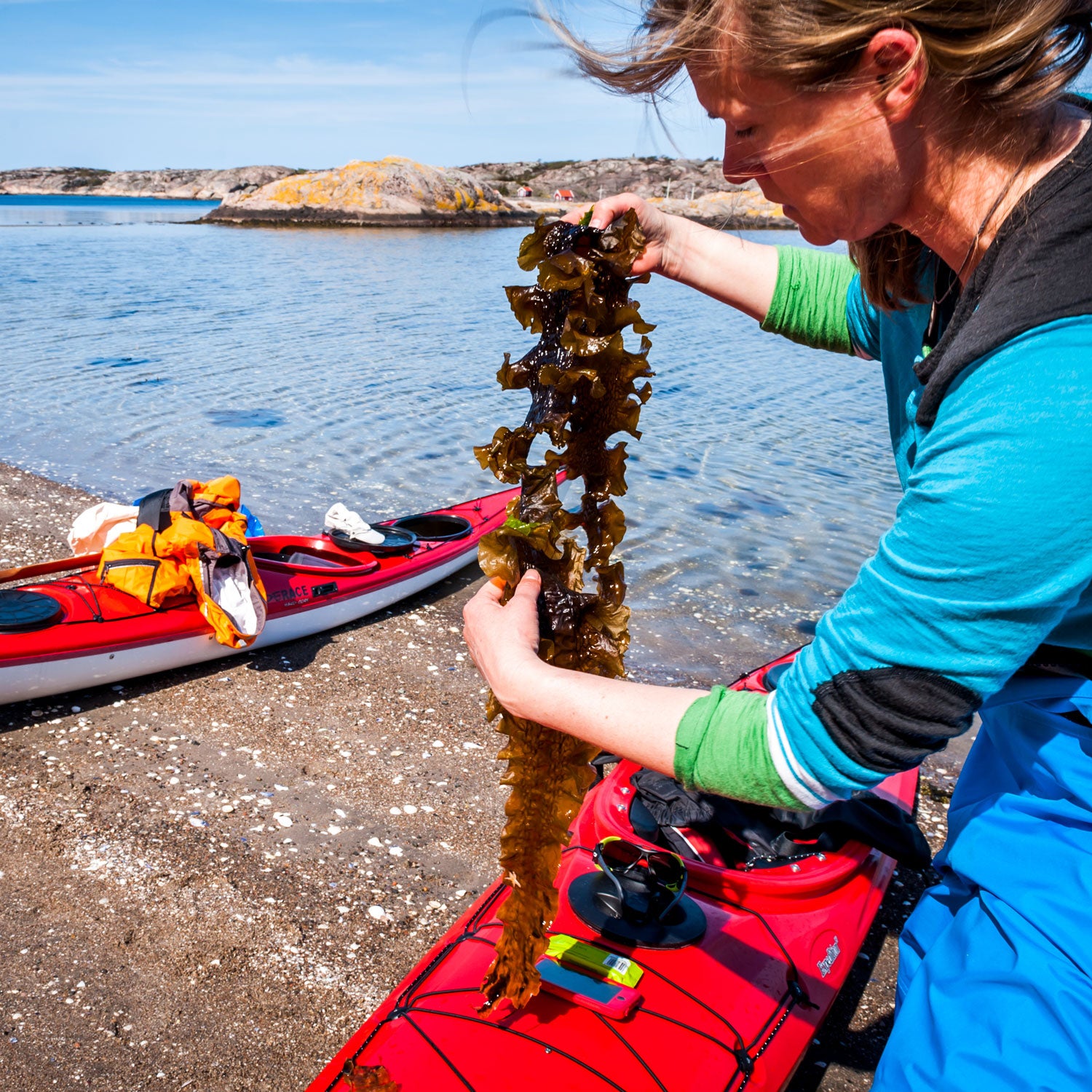 Heading out the door? Read this article on the new Outside+ app available now on iOS devices for members! Download the app.
Our kayaks bobbed in place at low tide as waves lapped against the sheer rock face along Otterön, an island and nature reserve in the Grebbestad archipelago along western Sweden's Bohuslän Coast. Linnéa Sjögren had spotted large stalks of sugar kelp and sea lettuce growing along that steep rock. So Jonas Pettersson and I waited in our kayaks while she paddled over to harvest them. 
How to Eat More Seaweed

Eight genius ways to add more kelp goodness to your diet.
Sjögren grabbed long, translucent stalks of brown and olive green kelp, which wrapped around her hands and kayak like feathered party boas. They felt rubbery and slimy to the touch when she paddled back to show us her bounty, and I wasn't sure I was ready to sample them.  
We were barely ten minutes into our seaweed safari, and the cold, mineral-rich waters were already offering up some of their very best.
Since 2014, Sjögren and Pettersson have been regularly paddling and diving the waters of Grebbestad and the Bohuslän Coast to forage for edible seaweed. They're sustainable harvesters, which means they're familiar with the growth patterns of the ten seaweed types they work with, picking only as much as needed and taking extra care for slower-growing species like rockweed.
"We want to make it as natural for us to pick and eat seaweed as we do with berries and wild mushrooms," Sjögren says.
Before this, both Sjögren and Pettersson worked as librarians for more than a decade at the University of Gothenburg. For Sjögren, who grew up in the nearby fishing village of Hamburgsunda, spending too much time indoors behind a computer finally took its toll. Her father, a commercial fisherman who also took a sustainable approach, instilled in her a love of the outdoors and environmentally friendly foods.
In 2008, surrounded by books, newspapers, and magazines while working at the library, Sjögren came across an article about algae in Gourmet, and her interested was piqued.
By 2013, she and Pettersson had started experimenting with various forms of algae in their kitchen. They wondered if the same seaweed they ate with sushi was the same they saw while paddling around Grebbestad and West Sweden. They started developing their small brand of edible algae products under the name Catxalot (pronounced "catch-a-lot"). They wanted to reconnect with the sea they grew up around, and they wanted to teach others not to be afraid of finding and eating uncommon items from the sea. 
In the spring of 2014, while competing in the prestigious Bocuse d'Or international gastronomic competition in Stockholm, renowned Swedish chef Tommy Myllymäki was looking for a unique ingredient to elevate his dish. He reached out to Sjögren and Pettersson to learn about and source Swedish seaweed. Myllymäki would later go on to win gold for Europe in 2014 and bronze globally in 2015, which instantly made Sjögren and Pettersson experts on Swedish seaweed in the Nordic region.
Through Catxalot, they run seaweed safaris for travelers in the region, and they commercially dry, package, and sell seaweed to ecological retailers and fine-dining restaurants. Their popular cooking classes teach people who initially cringe at the thought of eating elastic brown stalks of seaweed to use it in breads, soups, and even chocolate cakes.
I had the same initial reaction to the large slimy boas of sugar kelp Sjögren had harvested for us. We paddled another ten minutes to reach a sandy beach, where we docked our kayaks. Sjögren hand-washed the kelp and sea lettuce and cut them into bite-sized pieces with scissors before handing them off to Pettersson, who fried the pieces in olive oil over a small portable stove. Within minutes, the rubbery kelp had morphed into light, salty crisps—healthy snacks I could munch on all day.  
"Swedes are generally reluctant to try something new," Sjögren told me as I popped more fried seaweed into my mouth. "We want to make it as natural for us to pick and eat seaweed as we do with berries and wild mushrooms," she says, hinting at the Swedish law called Allemansrätten, which allows public access to freely use land and forage for berries, mushrooms, and other edibles. 
For both Sjögren and Pettersson, their new life extends beyond discovering and selling a new food. It's about teaching people to take care of the environment by bringing them a personal experience of the sea as food source. As Sjögren puts it, "If you eat from the sea, you won't want to throw plastic and rubbish into it."