Grill Secrets From the Best
North America's top chefs share their tips and tricks for grilling burgers, fish, chicken, and more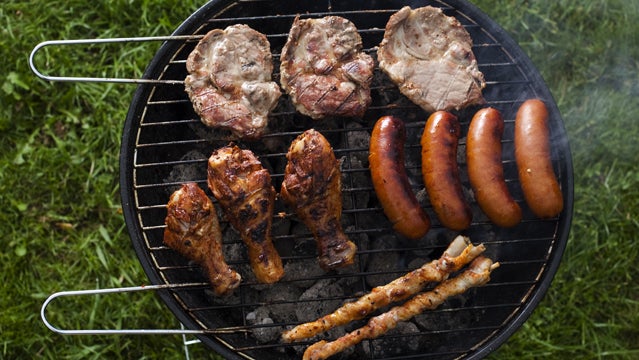 Sebastian Duda/Shutterstock.com(Photo)
Heading out the door? Read this article on the new Outside+ app available now on iOS devices for members! Download the app.
How to Grill Anything
We're entering grilling season, a time to revel in the primal melange of fire, meat, and barbecue sauce.
If your grill skills leave you with parched pork or charred chicken, step away from the Weber and take in the following hot tips from fire masters across North America. We've got advice from preparing the juiciest burgers to roasted oysters on the half shell. Your inner caveman is about to be inspired.
Burgers
Pork
Grilled Oysters
Chicken
Fish
Steak
Lamb
Master the Grill: Burgers
North America's top grilling chefs share their secrets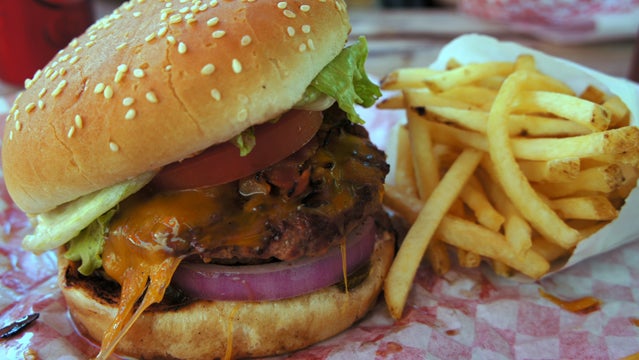 Nominated as America's Manliest Restaurant by Men's Health and topping the Denver A-list for best burger, Cherry Cricket is the place where Mile-High citizens reach for anything but a basic bite.
"It's important to first pick a good grade of beef," says Kathy Huddleston, General Manager of Cherry Cricket. "We proudly use certified angus beef, ground, packed, and delivered fresh daily from Lombardi Meats here in Denver." She stresses that the 80/20 blend they use is never frozen.
Why this particular cut and blend? Kathy explains, "Chuck comes from the shoulder of the animal and is a better cut. Using an 80/20 blend will give that juiciness most people desire in their burgers."
For the most part, Cherry Cricket chefs keep it simple with salt and pepper. However, there are additions that will make your burger shine: Kathy suggests adding wood chips or lava rocks to the grill to enhance the flavor of the beef.
And the key to a juicy bite? "Never smash down on a burger," Kathy stresses. Doing so will squeeze out the juices, resulting in a burger that is dry and flavorless. "Our cooks aren't allowed to 'play with their food'," she explains. "Just flip it once for good grill marks."
Master the Grill: Pork
North America's top grilling chefs share their secrets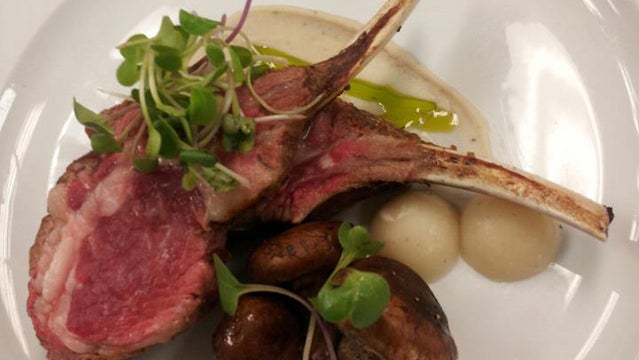 When it comes to rustic refinement, The Tree Room at Sundance Resort delivers. Its hearty meals, prepared by Executive Chef Chris Park, burst with flavor, earning the restaurant Zagat's "extraordinary" rating for food. No stranger to the grill, Chef Chris Park shares his tips for the house favorite, the Roasted Boar Rack.
Describing boar rack as "a simple but flavorful cut," Chef Park digs into the prep details. "You're going to cut a small amount of the fat cap from the front side of the rack." Like they do at Cherry Cricket, Chef Park recommends using only salt and pepper on the rack, which he blends with oil. The difference is in the amount. "We season aggressively to achieve a crust," he says, adding that it's a technique they utilize on all their proteins at the Tree Room.  
Moving to the grill, he advises on perfect placement. "Find the hot spot and sear it with the fat cap you just trimmed [face]down. It will flame," he warns. "Try to control that as your searing it." Once the seared side takes on a golden brown color, the flip side is ready for the same treatment.
Golden-browned to perfection, it's time for slow roasting. Chef Park moves the rack to a cooler spot on the grill for this process. "Keep the lid on," he says, taking it off only to occasionally flip side to side. "Depending on how thick the rack is —most average 2 to 3 inches thick—it should take 15 to 20 minutes for rare to medium rare. When it's done, let it rest for at least 10 minutes before cutting into it."
Want more flavor? Chef Park recommends adding apple wood off to the side of the grill during the roasting process. "Or," he says, "some herbs, such as fresh thyme and rosemary, on the rack itself." Simplicity is key.  
Master the Grill: Grilled Oysters
North America's top grilling chefs share their secrets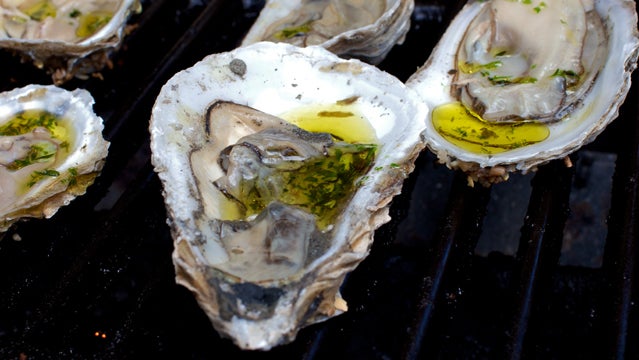 To say Chef Tim Byers knows his way around the grill would be an understatement. Named Best New Chef in 2012 by Food & Wine magazine, Byers is perfecting the Dallas restaurant he co-owns, SMOKE, famous for—what else—its slow-smoked dishes. His attention to flavor and care in using sustainably raised meats and local produce also landed SMOKE with the magazine's distinction of having one of the top ten dishes in America. For an unexpectedly easy appetizer from the grill, he enjoys oysters on the half-shell.  
Chef Tim Byers starts with a dozen oysters, sized about 2 to 3 inches in length. After shucking them, he advises to "keep the larger cupped side of the shell for cooking and serving."
Next, he moves on to ingredients, whipping butter with garlic, salt and chili in a food processor. "Add a tablespoon of flavored butter to each shell and top with a pinch of bread crumbs," he says, then places the loaded oyster shell directly on the grill. "The fire is going to bubble and simmer the oyster meat in the butter," a process, he explains, that should last for just less than five minutes. "[The oyster will] take on the salty sea flavor of the shell, the bread crumbs will start to toast, and the butter will brown a bit." 
At that stage, it's time to take the oysters off the grill. He serves them right in their shell, mentioning that it "will continue to keep them warm." Right before serving, he adds a final touch, sending the flavor of grilled shellfish over the edge. "Make an acidic relish with fresh herbs, a mignonette with honey, or anything light and fresh on top—you will have a hot, cold, buttery, cool, crisp, sweet, acidic bite." It's just that kind of tip that makes this grilled dish a hit.
Master the Grill: Chicken
North America's top grilling chefs share their secrets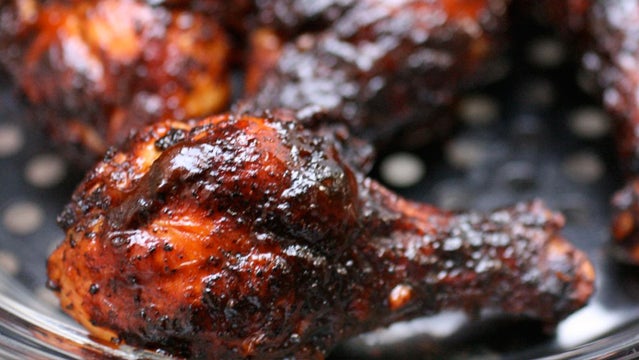 When a northerner beats the south in a nationwide poll for best barbecue, you know it's gotta be good. Enter New York's Dinosaur Bar-B-Que, which not only grabbed top spot in a "Good Morning America" nationwide poll, but has also been featured on the Travel Channel and Food Network. John Stage, founder and pitmaster of the restaurant, shares his tips:
"There's no reason to parboil chicken before putting it on the grill, and you should never slather on sugar-laced BBQ sauce at the beginning of cooking," says John. "Parboiling tosses all the chicken flavor out the window, while slathering on the sauce too soon leaves you with chicken that's raw in the middle and charred on the outside."
"Instead," he says, "you'll get great barbecued chicken by doing the following: First, rub your chicken with a spice mixture the morning before cooking for deep flavor penetration." After it's soaked up the flavor, it's time to move to the grill. Get the grill going with a medium fire—325 to 350 degrees for charcoal, 325 degrees for gas. This temperature helps minimize flare-ups as fat in the chicken begins to render out.
On to placement. "Position the grill rack as high above the heat source as possible to minimize charring before the chicken is cooked through. Then cook with the lid of your grill down, which makes for good convection heat."
What about that sauce? John saves it for a final step. "Glaze the chicken with BBQ sauce only in the last 15 minutes of cooking," he stresses. "Slathering on too early will cause the sugars in the sauce to burn."
Master the Grill: Fish
North America's top grilling chefs share their secrets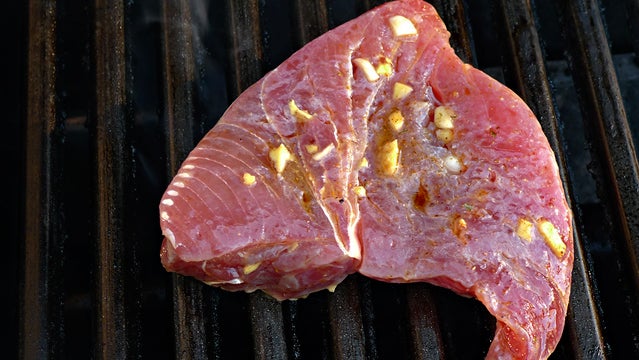 Celebrity chef Tim Love wants to talk fish. With appearances on the Today Show, Good Morning America, The Food Network and features in the New York Times and Southern Living, he has a willing audience fired up along with the grill. Noting that fish is often tricky because of its delicacy, he offers up what he terms his "simple solution to the fishermens' cookin' blues."
Chef Tim Love begins with heat. "Make sure you have a very hot grill as this is going to form the flavorful crust that will separate your fish from anyone else's. Use peanut oil or, if it is a very delicate fish, grapeseed oil," which he explains will not overtake the subtle flavor of the fish. 
Preparing fish is a lesson in patience. "Remember it takes time for the crust on fish to form, so once you place a well-seasoned fish on the grill, do not move it for at least two minutes."  
"One last thing," he adds. "Always scoop with your spatula from behind, not from the front. This will eliminate 90 percent of your fish-falling-apart problems."
Master the Grill: Steak
North America's top grilling chefs share their secrets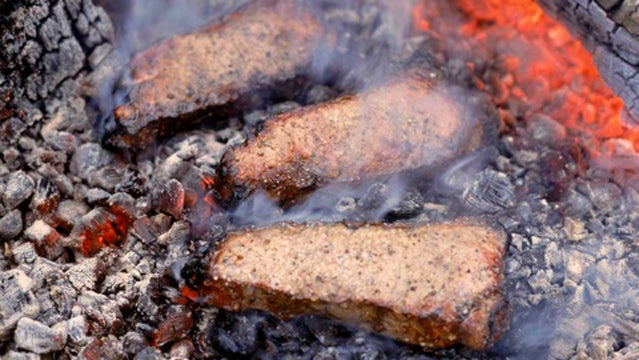 David Joachim is an award-winning author of four grilling books, including his latest Fire It Up. He mentions that his favorite grilling tool is a leaf blower—to stoke the fire and blow off ashes for cooking directly on hot coals. This method is precisely how he prepares the perfect steak. Leaf blower in hand, he graciously gives us a few clues into the "pyromaniac" method to his madness.
"Heat the grill to high, preferably with wood or charcoal," David begins. "These burn drier than gas and give steak a crispier crust." Cooking out at a campfire? "Put the steak right on the hot coals for awesome smoky flavor," he says.
David suggests rib eye or porterhouse for full grilling flavor. However, if calories are a concern, go with a strip steak. After selecting your cut it's time to get grilling. First things first: "Warm it up," he advises. "Warm meat sears better than cold. Let the steak sit at room temperature for 20 minutes before grilling. You'll get a better sear, crispier crust, and more browning," all of which, he says, leads to better flavor.
As tempting as it is to dig right in to that perfectly grilled steak, David cautions against it. "After cooking, give it a rest," he says. "Let the steak rest 5 to 10 minutes so the juices can redistribute." He promises that by doing so, every bite will taste that much juicier.
Master the Grill: Lamb
North America's top grilling chefs share their secrets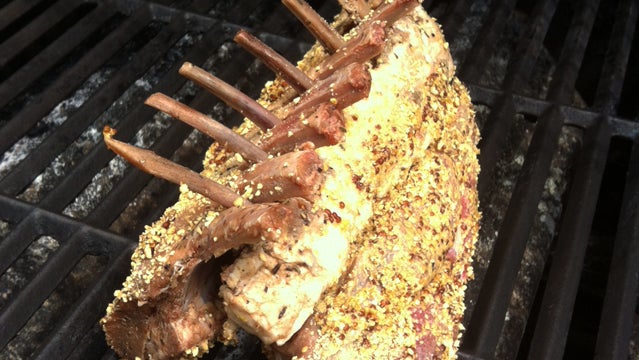 Executive Chef at both the Southern Cross Grill in downtown Ottawa and of Smokie Ridge Vineyard in South Mountain, Chef Phil Morneault receives rave reviews from those who sample his grilled fare. He's a master of pairing wines with food, not only as an accompaniment, but also in grilling.
Chef Phil Morneault recognizes that there's a fine line between a great lamb dish and one that leaves the diner wishing they had ordered something else. "There are a few key things to remember to make it great," he says. First on his list: marinating. "Marinate, marinate, marinate," he reiterates. "Use a rich alcohol like cognac or calvados, then add some fresh peppercorns." He warns not to soak the lamb rack but instead place it in a container and "let the alcohol vapors do the marinating for at least 24 hours in the fridge."
Once the lamb has done its time in the marinade, its ready to sizzle. "Use your barbecue as an oven, heating it to 450 degrees." If your grill comes equipped with it, he suggests turning the middle burner down and placing the lamb there.
The perfect rack of lamb is grilled until it's medium rare, a tip Chef Morneault gives with the following word of warning: "Never cook a rack of lamb past medium unless you enjoy inedible food."
When you've reached the mark of medium rare, remove the rack of lamb from the heat. Chef Morneault gives the final cooking tip: "Allow the lamb to rest for 15 minutes, tented with tinfoil [before cutting in]." He wraps things up with an enthusiastic, "Bon appetite!"
Lead Photo: Sebastian Duda/Shutterstock.com