Your Guide to Throwing an Outdoor Thanksgiving
Have a feast, dine alfresco, and minimize your risk. Win-win-win.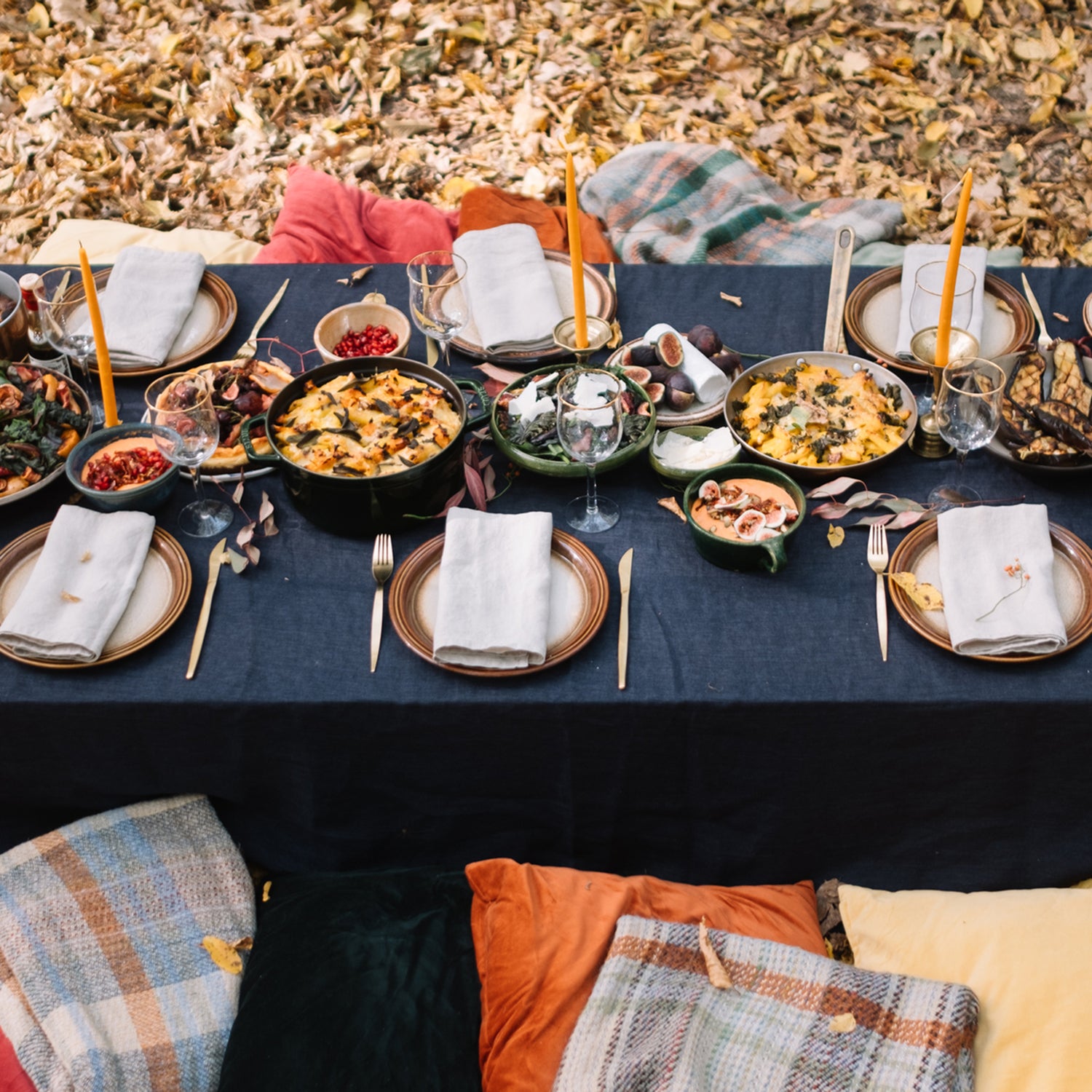 Heading out the door? Read this article on the new Outside+ app available now on iOS devices for members! Download the app.
For years, we've been preaching the gospel of having Thanksgiving in the setting we're most grateful for: the outdoors. We told you how to cook a turkey over a fire and picked out the best dehydrated options for cobbling together a Thanksgiving in the backcountry. Apparently we were training for this year, when, amid a surge in COVID-19 cases nationwide, the best option is to take your feast outside.
To be clear, even dining alfresco carries risk, says Leo Nissola, a physician who is part of the team behind the COVID-19 tracking site CovidActNow. In fact, Nissola and his partner will be doing Thanksgiving at home on their own. For him, getting together with family or friends is just too risky—especially as small family gatherings are turning out to be the source of many new infections. But he understands people crave connection with loved ones on the holidays.
So, if you're in a place where COVID-19 isn't spiking, and you decide to host a small Thanksgiving, you can easily make your meal while social distancing if you have a grill or a backyard fire ring. Here's your guide to moving the whole day outside.
Wear Your Mask and Spread People Out
Even outside, you should be sporting a face covering if you're around folks you don't live with, says Bill Haseltine, former professor at the Harvard School of Public Health and author of the forthcoming book The COVID Commentaries: A Chronicle of a Plague. We know that time, proximity, and ventilation are all factors that contribute to how likely you are to spread COVID-19 in a group setting. If you'll be cooking and eating with your family all day, a mask—plus staying at least six feet apart—is a must.
You'll also want to think about seating arrangements and cooking stations. Surface transmission of the virus doesn't seem to be as problematic as respiratory droplets, but that doesn't mean you don't need to think about communal touch items, like tongs and serving spoons. One option is to have everyone bring their own. Also, place hand sanitizer by any outdoor workstations or high-touch surfaces and at the end of the buffet line. Haseltine recommends seating only the guests who live together next to each other. Because your guests will take off their masks to eat, everyone else should be at least six feet away from anyone not in their immediate household. Multiple small tables, therefore, are probably the safest way to go.
Do Some Precooking
Some dishes—like yeasted dinner rolls and pies with delicate crusts—are just not going to cook as well on a grill or fire. Make these the day before. The good news is they'll reheat beautifully if you wrap them in foil and place them next to your bonfire a few hours before dinnertime, says Dan Souza, editor in chief at Cook's Illustrated.
Grill or Smoke Your Turkey
Grilling a turkey is actually not that hard. Souza and his team have long perfected the recipe. "In the Before Times, you wanted to free up your oven as much as possible," he says. They've tried a few turkey grilling techniques, including spatchcocking (removing the backbone and laying the turkey out flat on the grill), as well as parting the bird into breast, thighs, and drumsticks. Ultimately, they settled on keeping it whole. To make it work, you'll essentially treat your grill like an oven, keeping the lid on and the heat low. There is one caveat to this method: It won't work all that well with a big bird, because some parts will begin drying out before the interior is fully done. For best results, use a 12-to-14-pounder.
Another option is to smoke your turkey. That's what Chris Morgan would do. Morgan is the former co-executive chef of Maydan, a Michelin-starred restaurant in Washington, D.C., that focuses on open-fire cooking. "I'd brine my turkey for a couple of days and then throw it in a smoker," he says. American white oak is his go-to smoking wood for turkey, because it won't completely overwhelm the delicate white-meat flavor. And keep that temp low. "As soon as you increase the heat, the fat leaches out," Morgan says, and the bird doesn't have much fat to begin with. "Keep it in the 200-degree range, and you're going to have a beautiful, succulent turkey."
Don't have a smoker? You can sometimes rent them locally.
Cook Your Veggies on the Fire
If you are going to have a bonfire to keep guests warm, use it to cook some of the sides, too. Root veggies are especially delicious when roasted on hot coals, Morgan says. The secret, he says, is to par-cook them first just to about al dente before putting them on. Morgan finds that veggies cooked from raw over a fire take on too much smoky flavor, but finishing them in embers will give them just a hint of campfire goodness.
Recipe: Fire-Roasted Sweet Potatoes
Start with one medium-sized sweet potato for everyone (more if you want leftovers).
Scrub them well, then chop them into chunks or leave them whole. Wrap the sweet potato in foil with a drizzle of olive oil, a sprig of rosemary, a few sage leaves, and a head of garlic halved width-wise, leaving the skins on.
Roast your packet of taters in an oven at 400 degrees Fahrenheit for 20 minutes or until they're starting to get soft.
Start heating your cast-iron grate over some hot embers. "Open fire" cooking is a misnomer, Morgan says. You don't want the flames licking your food—it'll taste like ash. Instead, wait until your fire has burned down a bit before putting your potatoes on.
Unwrap the potatoes, disposing of the herbs but keeping the roasted garlic to squeeze out onto bread. If your potatoes are whole, dispose of the foil and place them (and your garlic, if you want) on the cast-iron grate for 15 or so minutes to finish. If they're chopped, just dispose of the herbs and rewrap the potatoes before placing them on the grate. If you don't have a grate, that's fine. Leave the potatoes in the foil and tuck them into hot coals. They're done when they yield slightly to a gentle squeeze.
You can do this same process with carrots, beets, or regular potatoes. Change up the herbs as desired.
Skip the Pie and Make a Cobbler Instead
A fussy pie is best made in the well-regulated heat of an oven. But a cobbler or a crisp? That's totally doable over hot coals, Morgan says. And because fruit cooks fast, it will take on just the faintest hint of smokiness without being overwhelmed.
To start, dig out your favorite crisp or crumble recipe. You can use any fruit you want, but apples are hard to beat.
Then choose your method. There's the tamer method that requires two cast-iron pans. Then there's the wild method, which requires a bit of playing with fire.
Prep the fruit filling and topping in two separate bowls so they're ready before you start cooking.
Heat one cast-iron pan over hot embers. Add the fruit, butter, spices, and sugar. Let the mixture get bubbly, stirring every now and then to keep the bottom from scorching.
Place a second skillet over another cache of embers. Let it heat up, then add your crumbled topping. You're essentially just going to toast the topping, Morgan says. Shake the pan every few minutes to make sure the topping is toasting evenly. When it looks golden brown and smells like warm sugar, shake the topping onto your cooked fruit.
Or try the pyromaniac method of browning your topping: crumble it directly onto the cooked fruit, then use a pair of tongs to pick up a medium-sized ember and hold it an inch or two above your cobbler to brown the topping. "Get it really close. It's pretty fun," Morgan says. You'll see the sugary bits caramelizing before your eyes. How long you'll need to hold it there will depend on how hot your embers are, but you should see the sugars start to brown within a minute or two.
Keep Everyone Comfortable
This may be the hardest part of the whole day, especially if it's cold. Chef Timothy Wastell, who manages outdoor pop-up events for Antica Terra, a winery in Dundee, Oregon, gave us his tips for keeping guests warm while eating outside. First, make sure it's clear to everyone that this is an outdoor event. "It's OK to ask your guests to dress in 'fancy arctic,'" he says—think your favorite cocktail dress with thick tights and a puffy on top. "And ask them to bring their own blanket." (You can also send them the guide we recently put together on layering for outdoor dining.)
But while you can ask your family to come prepared, you are still the host. Pull out whatever blankets you have and offer them up for laps. Have an old sleeping bag or two you don't really use? Pull that out and leave it on a chair, just in case someone wants to wriggle in for a full-body snuggle.
Hands and feet tend to get cold first. For the first, offer up warm mugs of cider, tea, or hot toddies—since holding a fork with mittens on is an exercise in frustration. For the second, purchase a bulk pack of boot warmers.
Finally, if you think you'll do a lot of wintertime outdoor entertaining, consider investing in a patio heater. Chef Wastell says that after years of trying different types, he's decided the infrared heaters do the best job at keeping everyone toasty. "They heat the objects"—being you and your guests—"not the air," he says. However, which one you get may come down to what the store has in stock—patio heaters have become one of this fall's hottest (literally) buys.
If the weather is just too awful to have your meal outside, you may end up sending folks home with to-go containers and eating Thanksgiving by yourself. But at least you had someone to invite over and hot food to serve them, even if it didn't quite work out as planned. Those things alone are something to be thankful for.
Lead Photo: Adrian Cotiga/Stocksy