How to Eat Delmarvelously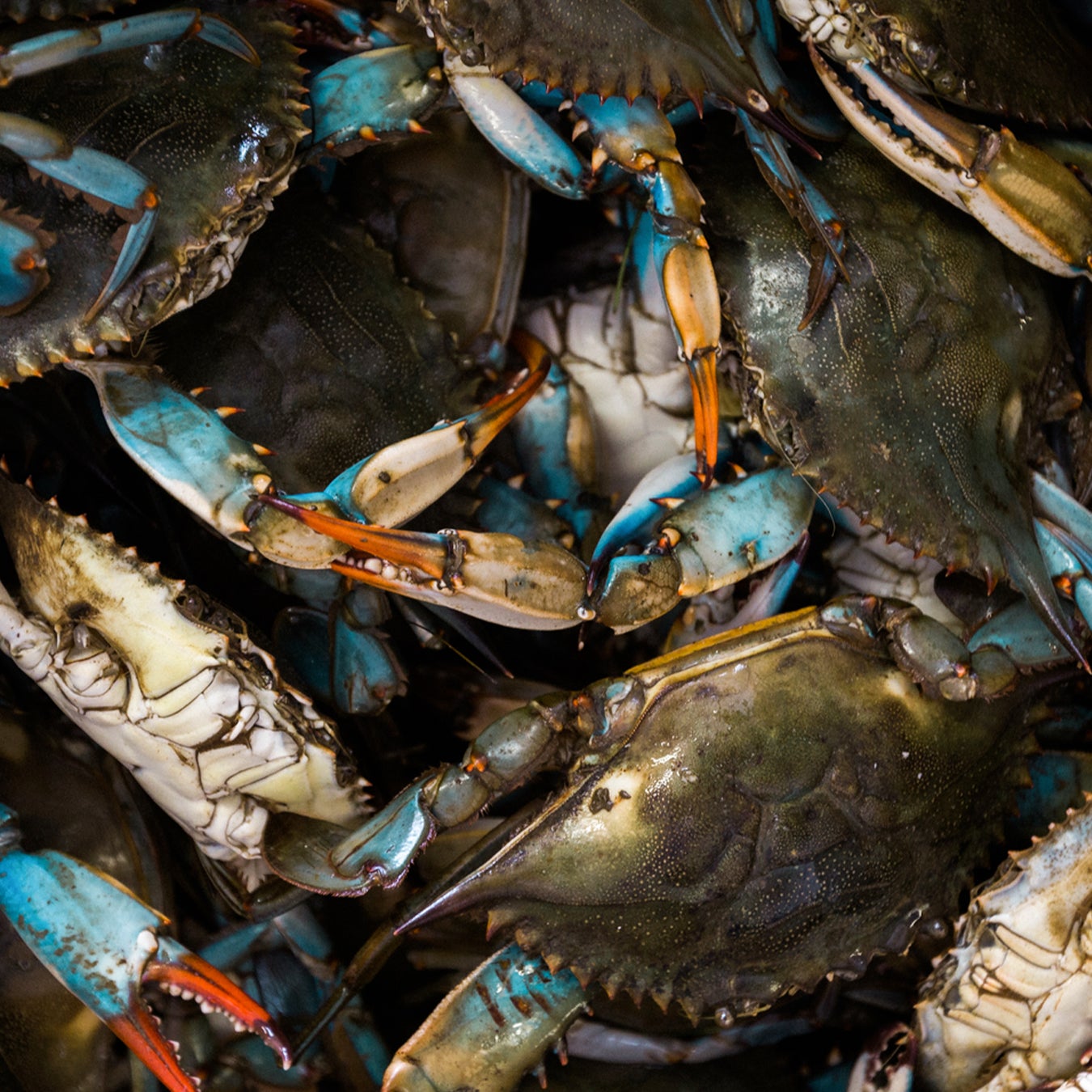 Heading out the door? Read this article on the new Outside+ app available now on iOS devices for members! Download the app.
Blessed with rich soil, abundant rain, and a long growing season, the Delmarva peninsula—a tri-state area sandwiched between the Atlantic Ocean and Chesapeake Bay—was known as the breadbasket of the American Revolution. Later it rapidly grew into one of the wealthiest agricultural areas in the country, as farmers and watermen discovered that they could not ship their goods fast enough to cities like Baltimore, Washington, Philadelphia, and New York. Modern refrigeration and transportation have greatly extended that range, and you can now get fresh Chesapeake Bay soft-shell crabs in Nevada if you want. Here are a few favorite dishes from longtime Delmarva families.
Mom-Mom Lena's Wet Corn Bread
It took 30 years for Cindy Beauchamp to get the details of her in-laws' corn bread recipe, a Delmarva staple that draws on northern, southern, and Algonquin traditions and is denser and sweeter than most southern corn breads. The original formula, which was handed down through the generations to Mom-Mom Lena—the mother of Cindy's husband, Gilbert—included a measurement based on the size of a so-called banty egg. "I laughed and said I did not know what that was," Cindy recalls. Bantam is a term used for many kinds of small fowl; a banty egg weighs roughly an ounce.
2 cups white cornmeal
3 cups cold water
3/4 cup sugar
2 eggs, beaten
1 teaspoon salt
1 teaspoon baking powder
2 tablespoons flour
1 cup milk
1/2 cup butter
Whisk the cornmeal and water in a pot and cook over medium-high heat until thick. Let cool. Mix the sugar, eggs, salt, baking powder, flour, and milk, and add this to the cooled cornmeal mixture. Stir until smooth. Place a stick of butter in a 9-by-13-inch baking dish, then put the dish in a 400-degree oven. Coat the pan's bottom and sides; pour off and save any excess butter. Pour the cornmeal mixture into the pan, and bake for 45 minutes. Drip the remaining melted butter over the top and finish baking until brown, about five to ten minutes.
Carrie Samis's Crab Cakes
Delmarva is an unusual and endearing place, and few have embraced its quirks the way Carrie Samis has. A lifelong resident who works in Princess Anne, Maryland, she once persuaded the chef at the Washington Inn and Tavern—a famous old restaurant in town—to make muskrat stew, a humble dish served at plenty of church dinners but not many fine-dining establishments. Here Carrie offers a Chesapeake Bay classic: crab cakes. If you'd like to buy premade crab cakes, Smith Island's Drum Point Market ships anywhere in the country.
1 pound blue crab meat
1 egg
1 tablespoon mayonnaise
1 squirt tangy mustard
2 dashes Worcestershire sauce
Dashes of red-pepper flakes, salt, pepper, and Old Bay seasoning
4 teaspoons chopped parsley
Panko breadcrumbs or crushed saltines—just enough to bind the other ingredients
Mix everything in a bowl. Pat the crab mixture into cakes, and toss them into a frying pan that contains a small amount of hot olive oil. Sauté until they're crispy around the edges. Best served with no condiments—although a spicy tartar sauce is OK—and a Bloody Mary rimmed with Old Bay.
Karen Brimer's Duck and Dumplings
Karen's husband, Eddie, spent his life as a commercial waterman and hunter who prowled the areas around Chesapeake Bay's Deal Island and beyond looking for wild game. The trick is to brine the duck for 24 hours before cooking, swapping out the water every three to four hours, and never lifting the lid while the dumplings are cooking, which causes them to collapse. "Eddie did that once," Karen says, "and he was sorry."
1 duck, wild or farm raised, about two pounds
Brine: 1/2 cup salt mixed with 1/2 gallon water
2 to 3 tablespoons bacon grease
1 apple, chopped
1 onion, chopped
3 or 4 potatoes, peeled and chopped
1 rutabaga, peeled and chopped
Splash of white wine
For the dumplings:
1 cup all-purpose flour
1 teaspoon baking powder
1/2 teaspoon salt
1 tablespoon vegetable shortening
Place your duck in a pot, then cover it with brine, changing it every three to four hours for 24 hours. Rinse the duck, pat it dry, and sprinkle it with salt and pepper. Melt a dollop of bacon grease in a large, heavy pot, cooking over medium-high heat. Brown each side of the duck until the skin has a dark caramel color. Discard the grease, then deglaze the pot with a cup of water or chicken broth—scraping up and saving any brown bits. Stuff the duck's body cavity with the apples and onions. Put it in the pot, along with the chopped potatoes and rutabaga, and add broth or water until the duck is submerged. Cover with a lid, bring to a boil, reduce heat, and simmer on low for two to three hours until the broth is reduced by half.
To make the dumplings, mix the dry ingredients, and work in the shortening with a fork until pea-size balls of floury dough start to form. Add between a third cup and a half cup of ice-cold water, and gently bring the dough together. It should not be tacky.
On a floured surface, shape the dough into a rectangle that's a half-inch thick. Cut it into eight pieces, each about two square inches. When the broth is ready, remove the pot from the heat and lay the dumplings atop the duck and vegetables. Cover, bring to a medium boil, and cook for about 15 minutes. Do not lift the lid. Your dumplings should be puffy when done.
To make a gravy for all this, put salt, pepper, and 2 to 3 tablespoons of flour in a Ball jar with a lid. Adding water one tablespoon at a time, shake the jar until the flour is dissolved and no lumps remain. Gradually add this to the juices in the pot and bring to a boil, stirring constantly. Pour over duck, dumplings, and vegetables.
English's Sweet Potato Biscuits
With so many chicken farms around, Delmarvans got very good at frying the birds, and many people say that a small local chain called English's did it best. The last of its restaurants closed in 2015, but Don Herman, who ran English's for 23 years, publicly shared the eatery's beloved recipe for sweet potato biscuits. Wendy Robertson of Somerset County sent me a copy of an old newspaper clipping that explains it all.
3 1/2 cups mashed sweet potatoes
1 1/2 cups sugar
1 1/4 cups margarine at room temperature
2 cups cake flour
1 1/4 cups all-purpose flour
3 tablespoons baking powder
1/2 teaspoon baking soda
Cook the sweet potatoes, rinse with cold water, peel, and drain. Refrigerate until cold. Mash with a fork. Combine the potatoes with the sugar and margarine in a mixer set on low. Add the cake flour, all-purpose flour, baking powder, and baking soda, then mix well. Knead the dough by hand in a large bowl, then chill. Roll on a floured surface to a thickness of a quarter-inch; cut with a biscuit tool. Coat a cookie sheet with cooking spray, and bake at 350 degrees for 15 to 18 minutes.
Smith Island Cake
Ten miles offshore, Smith Island was settled by the British in the early 17th century, when Captain John Smith explored Chesapeake Bay. Today it remains Maryland's only inhabited island with no bridge to the mainland. Stories say island women would bake cakes to send off with husbands who worked the oyster beds, and over the years the cakes took on more and more layers. Anywhere from seven to ten is considered right. "More than that and it don't look like a cake—it looks like the Leaning Tower of Pisa," says Mary Ada Marshall, whose family arrived on Smith in 1608. Here's her recipe for the multilayered wonder that's now the state dessert. Use a boxed cake mix or your favorite sponge recipe, and bake the layers in batches.
For the cake:
4 eggs
1/2 cup evaporated milk
1 cup water
1/3 cup vegetable oil
1/2 stick butter
1 box Duncan Hines classic yellow cake mix
Mix ingredients in a bowl. Use the back of a spoon to gently and evenly spread the batter to cover the bottom of each cake pan. (If you don't have multiple pans, do this in stages.) Bake at 350 degrees for eight to ten minutes. The batter should yield seven layers.
For the icing:
1 pound powdered sugar
3 heaping tablespoons cocoa
1/2 cup evaporated milk
1 stick cold butter
Put the powdered sugar, cocoa, and evaporated milk in a saucepan and mix. Add the cold butter. Place over high heat, stirring constantly, until the ingredients are combined and the butter melts. Remove from heat, and whip the icing a few times. It should have a glossy appearance.
Assembling the cake:
Add a dollop of icing in the middle of a cake plate, and put the first layer in place. Add a large spoonful of icing to the top of the layer, then spread the icing to the edges of the cake. Place the second layer, and repeat the process until you've done seven layers. Once you add the top layer, spread icing on the sides first, then frost the top of the cake.