DIY
I Missed Bars. So I Built One in My Own Backyard.
During a hot and lonely summer, I grabbed my tools and created an outdoor watering hole to entertain friends—at a safe distance, of course! This may be the best idea I've ever had.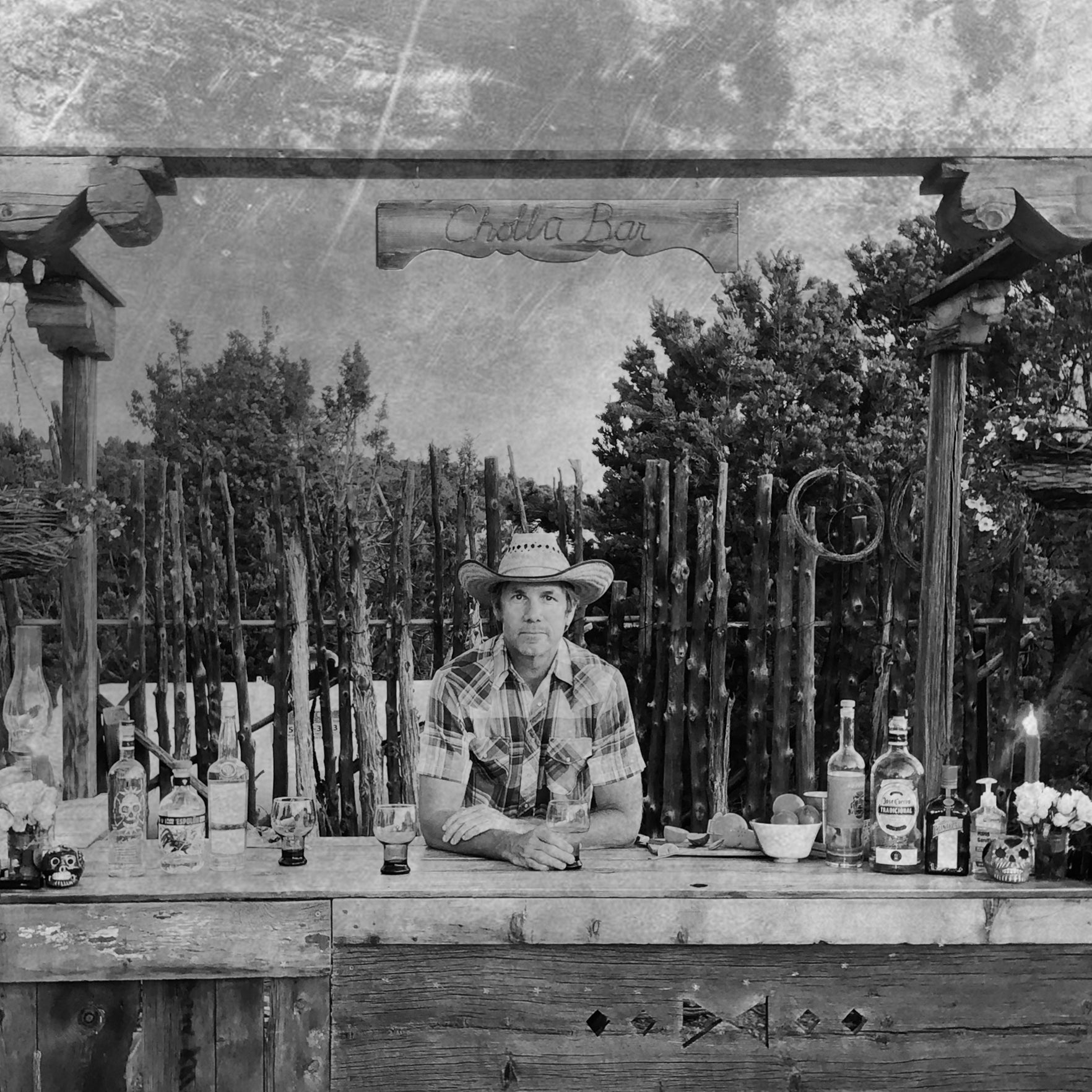 Heading out the door? Read this article on the new Outside+ app available now on iOS devices for members! Download the app.
One day in May, feeling bored and bummed out by the pandemic, I launched into a home-improvement project that I hoped might ease my unease: building a bar.
Bars are good places for bad times—or at least they used to be, before they were canceled along with everything else. My last public drink was consumed on March 6: a Bud Light at the Hogs and Heifers Saloon in Las Vegas, possibly the least socially distanced place on earth, where the all-female staff wear Daisy Duke shorts and dance on the bar top. I was in town for the Mint 400, the desert off-road race immortalized by Hunter S. Thompson in Fear and Loathing in Las Vegas, and Hogs and Heifers was hosting an event for teams and sponsors. Across the counter, a bartender held a bottle of vodka in one hand and a megaphone in the other, which she aimed where I sat on a stool a few feet away, blaring: "You going to do a shot, or what?"
I miss bars. Less the rowdy ones, where it feels like a fight is going to break out at any moment, than the quiet local establishments where you can talk to the person next to you. Such places have long been woven into the writing life. In the nineties, when I was in grad school at the University of Montana, no one in the writing program would take you seriously until you'd made at least one trip—and better yet, many—to the now closed Milltown Union Bar, which was located a few miles east of Missoula and was the legendary haunt of the school's late poet laureate, Richard Hugo. The wood-paneled watering hole was known for its blue-collar clientele and quirky decor, like the goat and sheep heads mounted on the wall and encased in clear plastic. "You need never leave," Hugo wrote about the joint in one of his most famous poems. "Money or a story brings you booze."
When I'm not writing, I like to build things. Construction is therapeutic in many ways: the hard labor, the feel of wood and metal, the cuts and calluses, the heft and roar of power tools. In Santa Fe, where I've lived for more than 20 years, I've renovated three old houses—"dumpitos," a realtor friend called them—in a historic neighborhood. The most recent, in 2015, was a 900-square-foot adobe cottage that I dubbed the CrackShack, because I'd purchased it from a notorious local drug dealer who inherited the place along with his five siblings and couldn't quite handle maintaining it.
My latest project emerged from piles of scavenged lumber that had been left around the property—an unfinished two-bedroom adobe on three acres in the Santa Fe foothills—by the previous owner, an artist and anarchist who was also something of a hoarder. But one person's junk is another person's building-supply store, and soon I was sawing and hammering away, becoming the latest participant in a long tradition of bros creating backyard dream spots. I figured I'd be done by five.
At one point, my girlfriend and the property's co-owner, Madeleine, who goes by the nickname Maddawg, walked up and assessed the progress with folded arms. I'd hoped she would approve of my rustic addition to our home. I was in luck.
"Wow," she said. "I'm impressed. When do we start drinking?"
"Soon!" I said, optimistically.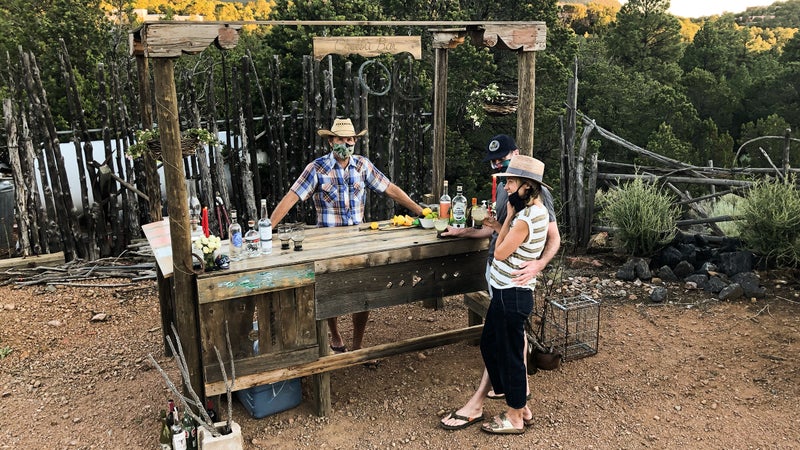 A week later, I'd constructed a ten-by-six-foot L-shaped structure, bracketed by three posts crowned with old wood corbels—decorative supports—that I found in the junk pile. I finished the counter using four one-by-eight fir planks that I sanded and sealed with two coats of marine-grade spar varnish and then buffed to a glossy shine. When I started, the wood looked gray and sad, but after it absorbed the polyurethane, the color deepened into a rich caramel, bringing the structure to life.
I splurged on a dremel ($60) to make a sign, the only money I spent except for the purchase of a few six-inch lag screws to secure the posts. The dremel, a rotary power tool used for grinding and engraving, was awkward to handle, like drawing with a dentist's drill, and it took me a few practice attempts on some scrap before I wrote, in my best looping cursive: Cholla Bar. I hung the sign from two hooks twisted into a crosspiece above the bar counter.
Cholla (pronounced "choy-yah") are shrubby cacti common to New Mexico. Undisturbed, they can reach eight feet tall. Until I moved to the foothills, where they grow in abundance, I'd never really taken notice of them. But they soon became some of my favorite flora. In early summer, bright-purple flowers burst joyfully from the ends of their tentacles. When chollas die, they leave behind twisted honeycomb-like skeletons that are nearly as haunting and beautiful as the living plant.
Another bonus about construction projects: they're a great workout. Gyms around Santa Fe were closed, and the idea of doing burpees in my living room made my eyes cross. So I kicked it old-school: working shirtless and alone in the searing New Mexico sun, dredged in a fine coat of sweat and sawdust, my shoulders turning a startling crimson. I imagined that I looked like Brad Pitt in Fight Club, until I saw the pictures Maddawg took on her phone. Alas, my Brad bod was more like a dad bod.
No matter; I wasn't doing it for the 'gram. I was doing it because I hoped a cool al fresco space might lure friends to hang out. I had barely seen another human for months, and those were mostly fellow face-masked shoppers on furtive grocery missions. Every excursion from my home was a new kind of masquerade ball, where the guests were afraid to get too close, or even make eye contact, as if an errant glance might blast you with COVID-19. The tension and anxiety were palpable. I thought we could really use one big, collective drink, maybe a toast to human connection, in real life.
It worked! I strung up decorative lights, some friends showed up, and we sat around in a carefully spaced circle drinking blueberry-basil margaritas. (Don't @ me; they are good, and they will flatten you.) One pal brought two whole chickens from his home smoker, and we shredded the tender meat, added coleslaw, and piled everything between slider buns. Someone else made guacamole that we shoveled into our faces with tortilla chips. We swapped stories of the old days, when people gathered in large groups, without a single piece of PPE, to listen to concerts, watch sports, or frolic on a beach.
Was our gathering safe? There are always risks, of course, but in this situation they seemed pretty low. Was it necessary? An emphatic yes. After my friends went home, I lingered in a lounge chair, staring at the Milky Way, which arced brightly above the Cholla Bar, and pondered the Big Questions: What if Trump gets reelected? Was the pandemic a kind of cosmic reckoning for years of profligate and uncharitable behavior? How much had I had to drink?
By the end of June, many bars around the country reopened—and then promptly closed again, in the wake of surging infections. In Florida, you could go to a bar, but you couldn't buy a drink. In Texas, angry citizens descended on the state capitol, brandishing ill-advised signage: "Bar Lives Matter." Was drinking a right or a privilege? It wasn't clear. What was clear is that bars were dangerous grounds for COVID-19 transmission.
"Bars," remarked Anthony Fauci, the embattled infectious-disease expert, during an interview on CNN. "Really not good."
As July crackled away, the understanding that our grim new reality wasn't going to change anytime soon took on renewed weight. An older woman in my neighborhood was verbally assaulted for not wearing her mask correctly while walking her dog, and she felt threatened enough to call the police. Entire industries—retail, restaurant, and travel among them—were imploding. Parents were frayed, strung out, and staring at the prospect of home-based school indefinitely. Kids were going stir-crazy. And still it appeared that things would get worse before they got better. In mid-July, Robert Redfield, the director of the Centers for Disease Control and Prevention, said that the impending fall and winter could be "one of the most difficult times that we have experienced in American public health." Zoiks. I was going to need cases of tequila.
A week or so later, I sat outside in a chair by the Cholla Bar on a cool morning, reviewing my handiwork and trying hard not to doomscroll on my phone. A vicious heat wave had finally broken with the arrival of an afternoon monsoon pattern. I sipped coffee, enjoying the birdsong and blue sky, and admiring a silver-lace vine that had coiled around a nearby bentwood fence and frosted over with tiny white flowers. "Nature, man," I Lebowskied.
That morning brought the first whiff of changing seasons. I knew I'd need to put a roof over the bar by fall, to protect it from the rough weather ahead. Where we live, at 7,500 feet, conditions can get intense. I found some paper and sketched out a crude design—shed style, a simple two-by-four frame, with a top layer of corrugated tin. If I started now, I was sure I could be done by five.
Trending on Outside Online