Is it Safe to Eat Snow?
Yellow snow is a no-go. But that's not all you need to know.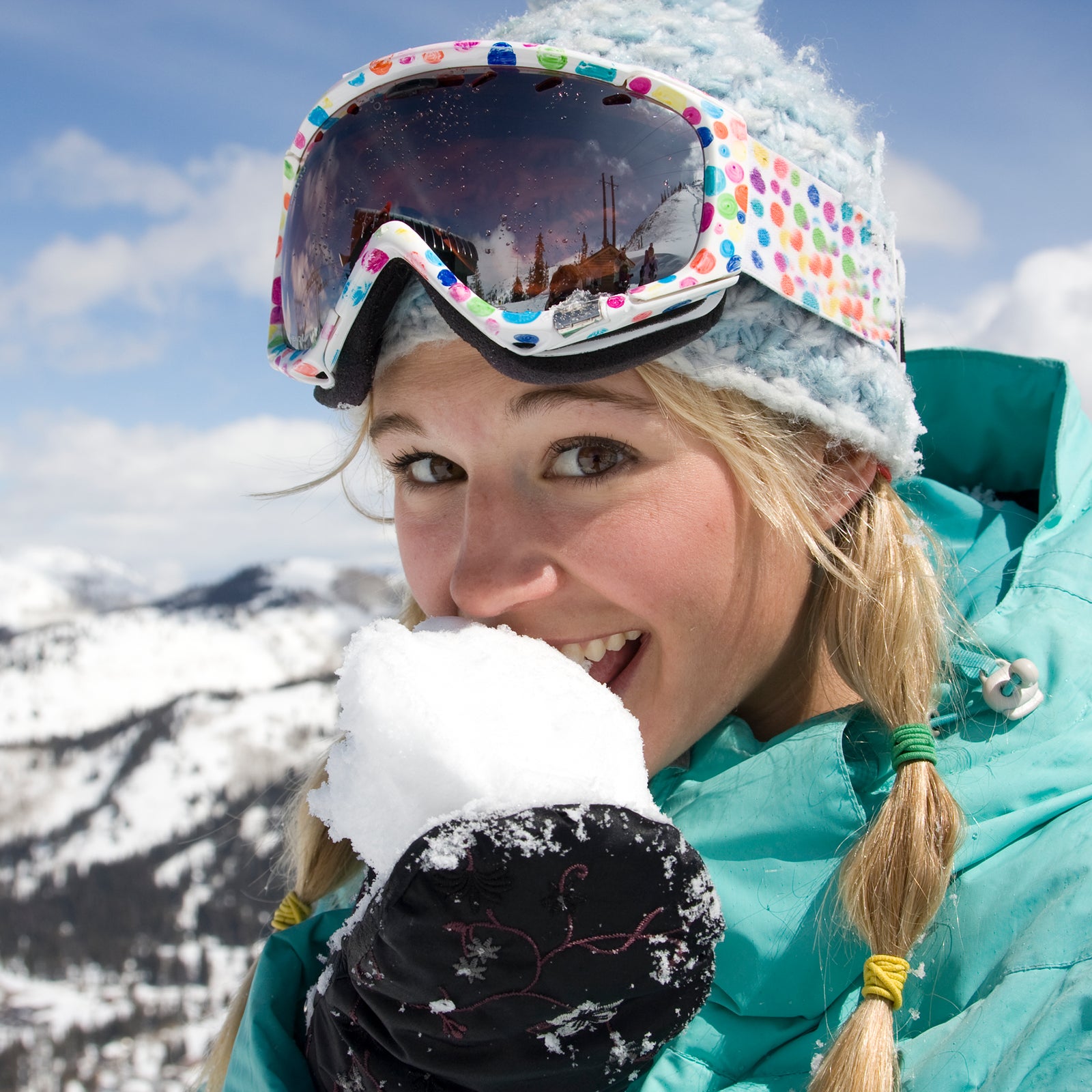 Johannes Kroemer/Getty(Photo)
Heading out the door? Read this article on the new Outside+ app available now on iOS devices for members! Download the app.
Taking in a mouthful of snow as you yard-sale down a double black diamond is one way to eat it. But more purposeful approaches are popular, too, like turning it into a base for ice cream, eating mouthfuls of it for hydration, or using it to chill a cocktail. Still, most of us wouldn't drink rainwater without running it through a filtration system. So is there anything different about snow?
Before bellying up to the snow buffet, you need to know a few things about its safety.
Snow's pristine looks can be deceiving. Most of us have heard of acid rain, but we talk less about acid snow. Because of how snow is formed, it should, in theory, be cleaner than rain, says Fengjing Liu, a hydrologist and biogeochemist at Michigan Tech. "During the formation of ice crystals, few impurities fit into the crystal," he says, adding that the process of water being supercooled by low temperatures can almost act as a filtration system, pushing impurities out.
But then there's that whole falling-to-earth problem. "In some studies, snow appears to maybe even be a better collector of heavy metals and other pollutants in the atmosphere than rainfall, because it has a larger surface area and slower velocity," explains Jordy Hendrikx, director of the Snow and Avalanche Laboratory at Montana State University.
Both Liu and Hendrikx say that it's more or less safe to eat fresh snow in small quantities. Hendrikx adds that he lets his kids chow down on it while skiing in the Rockies. There are some caveats, though. "I do want to emphasize that for snow staying on the ground for some time—usually called snowpack—its chemical concentrations will increase significantly because of accepting the dry deposition," says Liu. Dry deposition means that dry particles of dust and pollution in the air will settle in the snow over time. The longer it sits, the more the chemicals accumulate. Week-old snow isn't a great snack.
Snow's pristine looks can be deceiving.
Location matters, too. Snow in urban areas is more likely to be polluted than fresh powder in untouched mountains, says Hendrikx. But that doesn't mean the mountain snow is entirely pristine, either. "The thing you do need to think about is: the air masses that are moving around [bringing in weather and snow] are coming from a long way away," says Hendrikx. So while the air over your ski chalet may be cleaner than the air in L.A., don't assume the storm headed your way hasn't passed through L.A. on its way to your doorstep.
You may also think that snow at high altitudes is more pristine, but that's not necessarily the case. "There was a study on Everest that started at Base Camp, and the researchers went up to 7,800 meters, taking snow samples every few hundred meters," says Hendrikx. They measured concentrations of heavy metals and found that those concentrations weren't necessarily lower at higher elevations.
Liu warns that drinking fresh snowmelt runoff is not safe. He blames something called an "iconic pulse" for this. As snow begins to melt, a natural phenomenon occurs in which it sheds the chemicals mixed into the snow very rapidly. This makes the initial snowmelt much more concentrated in harmful chemicals than a mouthful of fresh powder. If you're in a bind and need hydration, it's best to take a bucket full of snow and melt it rather than drink the water trickling off the mountainside.
Finally, and this may seem like a duh, but colored snow is always a firm nope. Sure, most of us know how yellow snow got that way (spoiler: it's pee), but Liu has seen red snow, too. "Snow could have color if it is contaminated by bacteria," he warns.
Now that you know the rules, what can you do with some fluffy, fresh powder begging to be consumed? Here are my favorite recipes.
Snow Cream
We don't get much snow in the part of Tennessee where I live, but when we do, we freak out and make ice cream out of it. "In my experience, snow cream is entirely unknown up north," says Angela Warner Mayfield, a Georgia-based writer and southern foodways advocate who is currently working on a book about church and community cookbooks.
Traditionally, snow cream is made with canned evaporated milk, vanilla, sugar, and a bowl full of snow. "Honestly, that method is shit," Mayfield says. "It's too crunchy and sticky." The trick is to use a mix of regular and liquefied sugar, like maple syrup, corn syrup, or agave nectar. "The liquid sugar prevents the formation of great big ice crystals, which helps keep it from being too crunchy and aids in distributing the milky goodness throughout the snow." And use real cream, because life is short and evaporated milk is not super delicious.  
Here is Mayfield's recipe:
Ingredients
¼ cup sugar
12 ounces (1½ cups) heavy cream
¼ cup liquid sweetener like corn syrup or maple syrup
1 teaspoon vanilla
1 large bowl fresh snow (about 5 to 6 cups). Mayfield says it's best to put your bowl out to collect snow as it falls from the sky. This keeps you from compressing the fluff out of it as you scoop it.  
Directions
Over low heat on the stove, dissolve the sugar in the cream. Then add the liquid sweetener of your choice and the vanilla. Remove the mixture from the heat and chill until very cold.
Gently mix the cream into your snow. Pro tip: the amount of cream you need is relative to the volume and fluffiness of the snow you use. Stir in the cream in batches, giving the snow cream a taste at various intervals. When you reach the consistency you like, stop. Scoop into bowls, and be happy.
Snow Cocktails
If you're looking to soothe the sting of sidewalk shoveling, we've got your remedy. While pretty much any cocktail can be poured over snow, we think snow cocktails work best when they're sweet and boozy. Montanya Distiller's Jamaican rum-cream cocktail is perfect poured on a fresh glass of powder.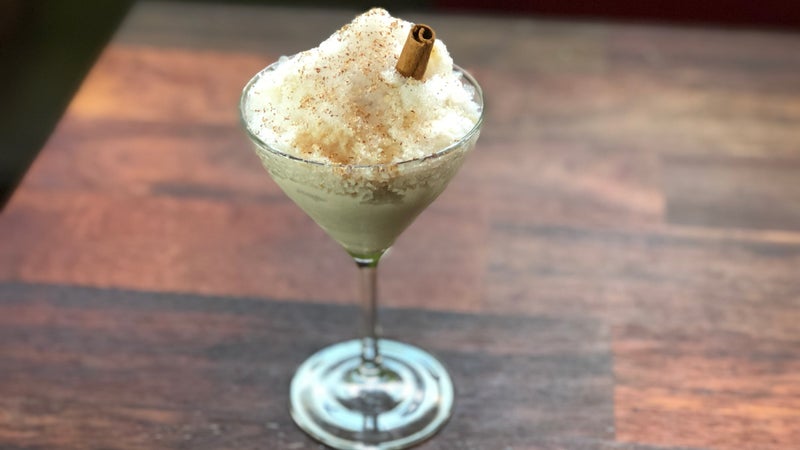 This recipe makes a large batch, so it's perfect for a party, or you can stick it in the fridge, where it will keep for about a week.
Ingredients
2 cups heavy cream
4 ounces organic chocolate chips
2 teaspoons ground cinnamon
2 cans (12 ounces each) organic evaporated milk
8 ounces organic caramel sauce
2 tablespoons strong, locally roasted coffee
2 teaspoons vanilla extract
3 cups Montanya Oro rum
Directions 
In a heavy saucepan, simmer the cream, chocolate chips, and cinnamon on low heat until the chocolate has melted; set aside. Put the evaporated milk, caramel, coffee, vanilla extract, and rum in a blender and mix. Stir both mixtures together, then pour over glasses of fresh snow.
Sugar on Snow (with Sour Pickles)
Every spring at Vermont's Sterling College, students tap 200 maple trees in a nearby grove. Once the taps are flowing and the syrup is boiled down, the dining hall serves up "sugar on snow" or "maple on snow." What sugar on snow means to you depends on where, exactly, you're from, says Elizabeth Chadwick, an alum who is now a chef in the school's dining hall. "It's one of those regional things like, say, barbecue, or gravy, or biscuits," says Chadwick. "It can have a lot of different takes and opinions. Around here a lot of people just pour the warm maple syrup on packed snow, but a lot of other folks cook the maple syrup to a caramel." If you cook your syrup to the caramel stage and pour it over cold snow, it will cool to a taffy consistency.
Vermonters, in their endless quest to pair strange foods (looking at you, cheddar cheese with apple pie), eat sour pickles and unsweetened doughnuts with maple on snow. We had to fact-check that this is, indeed, a thing, and, well, Chadwick was not lying. In this video, Food Network host Alton Brown says maple on snow with pickles and doughnuts is the best food he's ever eaten.
There are two ways to prepare it:
Snow-Cone Version
Warm a quarter cup of maple syrup. Pour it over soft snow in a glass. Taste it. If you want more syrup, go for it.
Taffy Version
In a small saucepan, bring one cup of maple syrup up to 234 degrees (no less, but it's OK if you go slightly over). Immediately pour the syrup in ribbons onto fresh snow in a glass. As it hits the snow, the syrup will firm up, making a chewy, candylike treat.
Lead Photo: Johannes Kroemer/Getty