Can Kelp Be Trendy? Farmers Are Betting on It.
Salty, snackable, environmentally friendly, and nutritionally dense, kelp could be appearing in a CSA near you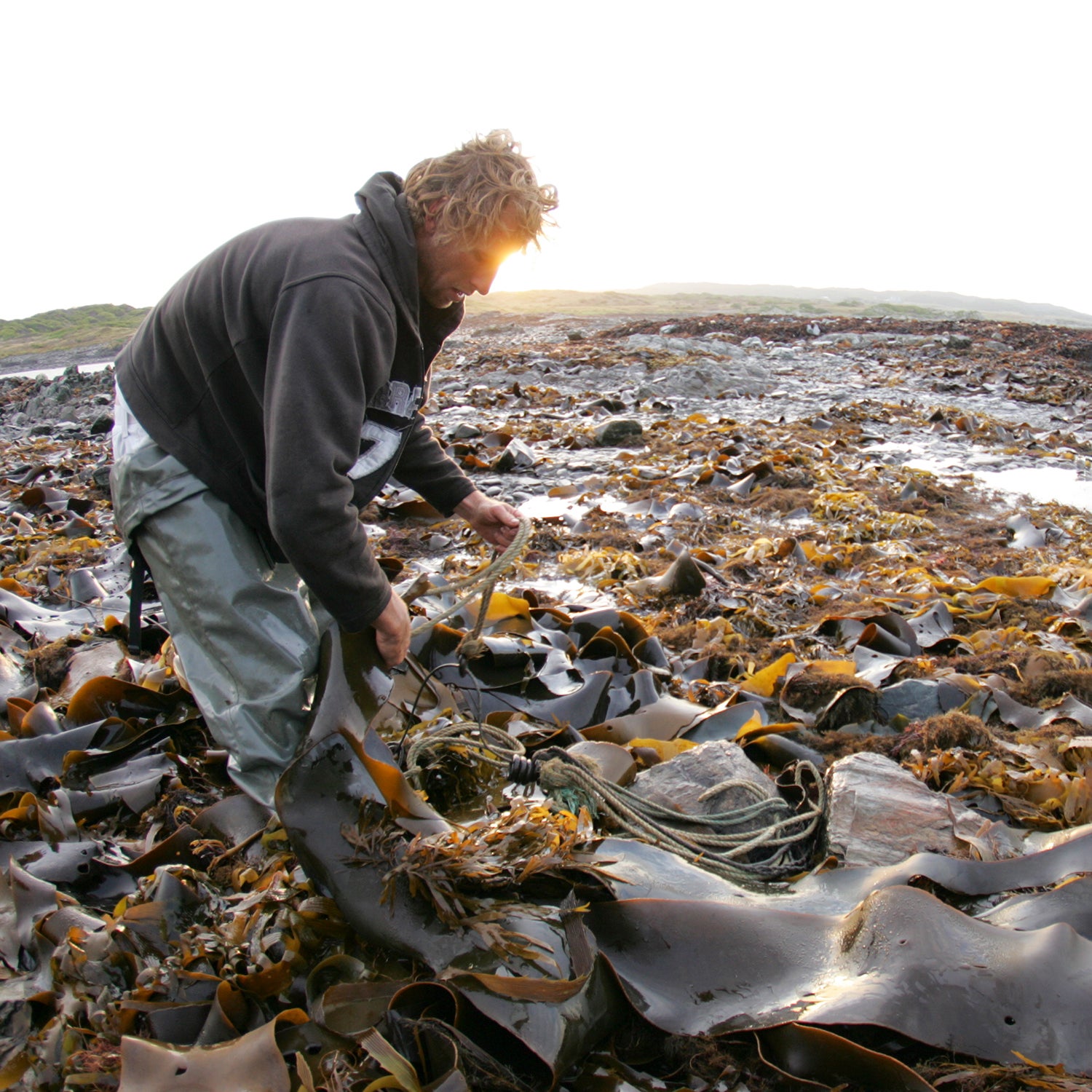 Sean Davey/Cavan(Photo)
Heading out the door? Read this article on the new Outside+ app available now on iOS devices for members! Download the app.
You may not often encounter "burgeoning" and "kelp" in the same sentence, but the seaweed is truly having a moment. With its high levels of B vitamins, potassium, magnesium, iodine, and more, kelp has developed a reputation among nutritionists—but it's more than good for the body. Growing kelp soaks up excess nitrogen and carbon in the water, which can protect the ecosystem from disastrous imbalances. Kelp farms can even protect against shoreline erosion by creating a barrier between land and sea.
Last year, New York fisherman Sean Barrett pivoted from fishing to kelp, with the idea of operating a kelp CSA. The plan for his nascent company, Eat More Kelp, was essentially to sell shares of seaweed in the same way that a farm sells shares of fruits and vegetables."We signed up probably close to 75 or 80 people," he says. Barrett, who cofounded the decade-old community-supported fishery program Dock to Dish, says that the idea for the company lay in generating enthusiasm for an ingredient with which many remain unfamiliar. The response was enthusiastic: "I've never seen more eager and excited exclamation points: 'I can't wait. Let us know ASAP!'" Barrett says.
Kelp farming is a growing industry in the Pacific Northwest, Alaska, and New England. The crop, which can be eaten raw, blanched and cooked like pasta, dried and powdered, or even flash-frozen, has many applications, from salads to umami-amplifying butter. Chefs like Jacob Harth, who helms the kitchen at Erizo in Portland, Oregon, are integrating it into their menus—Harth has served a roasted kelp ice cream and regularly experiments with the ingredient's texture and flavor. In 2019, food writer and cookbook author Melissa Clark published recipes for roast chicken with crunchy seaweed and potatoes; lemony pasta with kelp, chile, and anchovies; and creamy white bean and seaweed stew with Parmesan in the New York Times. And Alaska's Barnacle Foods has converted bull kelp into a popular line of pickles and hot sauces.
Eat More Kelp was designed as a way to allow consumers to own the success of the product. Organized like a traditional CSA, wherein customers pay up-front for a set delivery of produce, its goal is to get raw seaweed into more homes. Strategically, Barrett says, the project depended on moving kelp from the outskirts of food culture. "People have been fired up, and that is a crucially important element," he says. Kelp has a particularly short harvesting window, and once "landed," it has to be kept cold or it will turn slimy. A unified front of farmers can prevent the loss of the crop.
The company launched early in the pandemic, but its CSA element has since been put on hold. A recent report on the Long Island waterway system unearthed devastating 2021 data for Eat More Kelp: an influx of people to the Hamptons last year created an increase in septic usage and fertilizer runoff. Both of these elements returned too much nitrogen to the ecosystem, which depleted the local waterways of oxygen, killing off seagrass and fish. The stress to Long Island's infrastructure, Barrett says, has created a tipping point. In the meantime, he has started a tangential kelp-related business, the Montauk Seaweed Supply Co., which produces fertilizer from kelp that he says can be used on gardens, vineyards, farms, and lawns.
Long Island's problems notwithstanding, the idea of kelp shares still holds up. In Stonington, Connecticut, Suzie Flores and her husband, Jay Douglas, started the Stonington Kelp Co. in 2016 and have watched their pet project grow and achieve national attention in the intervening years. To protect kelp crops and guarantee consumers the product when they want it, Flores and other farmers have formed a cooperative to help stabilize the supply. "If there's an issue with my farm, or if there's an issue with weather and I need to get at, you know, 40, 50, 60 pounds of seaweed by a certain time frame, this kind of partnership with other farmers has allowed us to mitigate those potential issues," she says.
With CSA shares, customers pay for their farm share up-front, guaranteeing a farm with a set income and volume of product for which they're accountable. Kelp cooperatives navigate the same concept: farmers band together to guarantee that harvesting is consistent and fruitful so that customers can rely on availability.
To increase access—and to encourage the community to participate in bolstering kelp farming—Stonington Kelp Co. is partnering with Mike's Organic, a 12-year-old company based in Stamford, Connecticut, that curates CSA boxes with the help of small-scale producers. With about 250 subscribing members, Mike's Organic services New York's Westchester and Connecticut's Fairfield counties. Mike Geller, the company's owner, believes CSA enthusiasm can apply to kelp, too. His company, which began with four purveyors in Connecticut and the Hudson Valley, now represents 250 farmers, artisans, and fishermen. 
What he has learned over the course of the past 12 years, Geller says, is that customers want more diversity. "We had to adjust accordingly," he says. Geller has added more and more food products to his CSA boxes, and kelp will be one of his curated deliveries' newest additions. He became inspired by kelp after a recent trip out on the water to help with harvest. Standing on Flores' boat, Geller says, he had an epiphany: "I was pulling this stuff out of the water, and I was eating the top off the kelp," he says. "I'm eating those things just like they're little gherkin pickles." These parts of the kelp plant, called stipes, were delicious; Geller wondered why he hadn't been including them in his CSA boxes before.
Flores offers online kelp recipes—kelp-dusted chicken wings, kelp chocolate chip cookies, cucumber-kelp salad—and believes that the future of this ingredient relies on multiple tactics. Kelp farmers, like all other farmers, she says, will survive by having different revenue streams, like direct-to-customer and direct-to-business. As for the CSA, she believes that it functions as a necessary tool in broadening the understanding of what she grows. It's "great for educational reasons," she says. And education is one of the fundamental elements of increasing product awareness.
Right now, although Eat More Kelp's CSA is on hold, the road is paved for future CSA projects that either focus on kelp entirely or that incorporate kelp shares into their programs. But ultimately, kelp's success, Barrett says, will rely on the palate: "Flavor and taste and freshness always have to lead this parade," he says, before "the ecological goodness, the sustainability of it, the newness and hiddenness of a new ingredient." Luckily, briny, toothsome kelp—hopefully included in a CSA near you—can depend on its good taste.
Lead Photo: Sean Davey/Cavan