How This Chef Continues Cooking Large in Tight Quarters
Anna Miller's meals at sea include fresh crudités, duck pastrami, homemade Reubens—and a turducken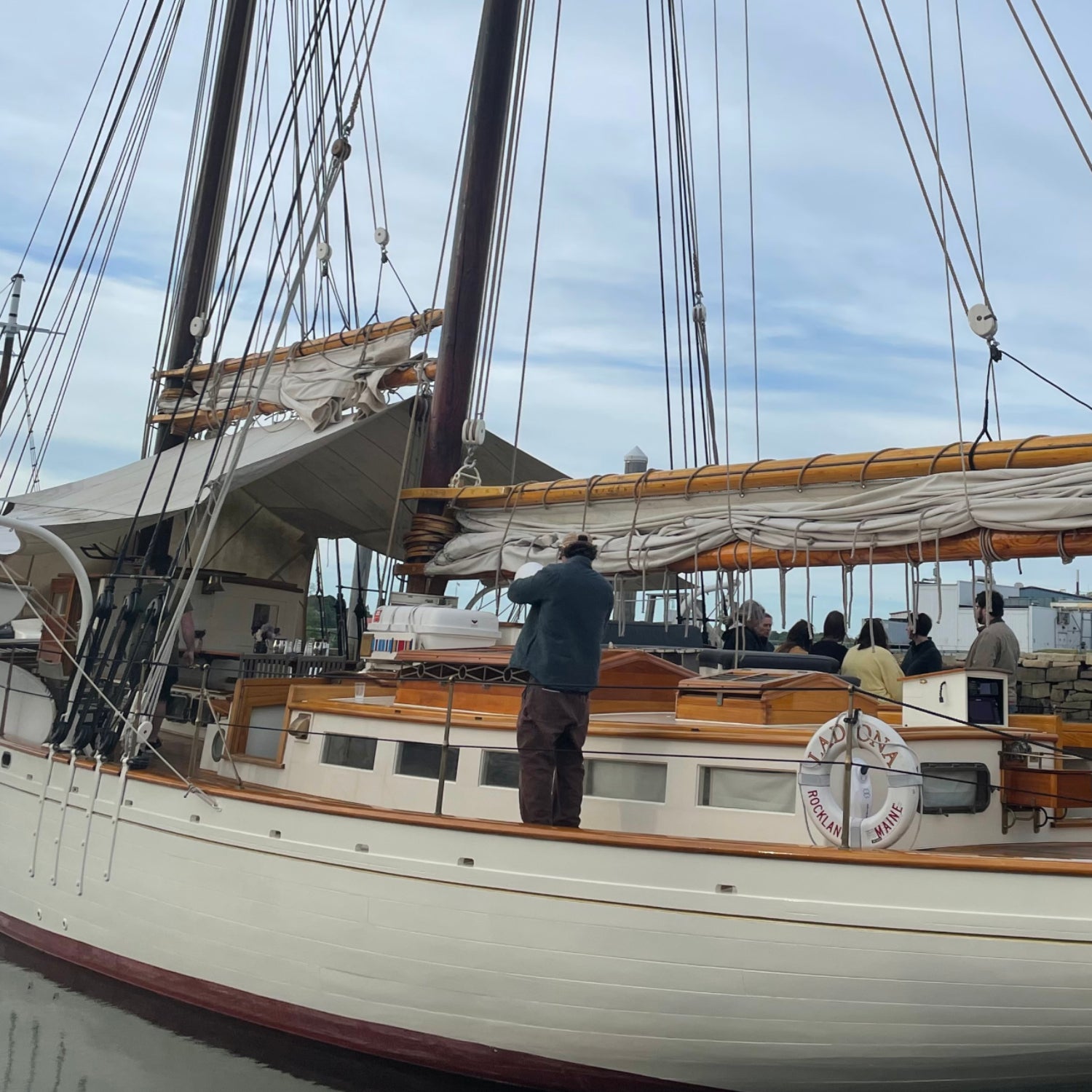 Hannah Selinger
Heading out the door? Read this article on the new Outside+ app available now on iOS devices for members! Download the app.
We are a few hours into the inaugural sail of the 2022 season aboard the Schooner Ladona, which traces the rocky coast of Maine for twenty-odd weekends a year, seeking adventure in the mist, fog, and harbors of Vacationland. On land, it may be a fine June morning, but at sea, we've encountered the truest of Maine awakenings: some wind (good for the sails), quite a bit of rain; the kind of weather that Mainers describe as "typical."
My shipmates and I huddle in the galley as chef Anna Miller unearths from storage a trio of different birds, spatchcocked. Laying them out on the galley's simple island, she seasons each bird and layers them on top of each other—turkey first: 18 pounds, followed by a layer of stuffing, followed by a four-pound duck, more stuffing, then a chicken roaster—ties them together into a round bundle, slicks the bundle with oil, and presents it for us to see, her masterpiece, the butt of a Thanksgiving joke come to life: the famous Schooner Ladona Turducken (find the recipe here).
Miller only serves the turducken on the first and last trips of the Maine Windjammer Association's season. "It's kind of like word-of-mouth," she says. "There are guests that call up and they're like, 'We want to come on the first or the last trip.'" The glorious, labor-intensive birds-in-bird, cooked in the kerosene-heated oven, is possible thanks to the planning and design of captain and co-owner J.R. Braugh who, in 2014, alongside a team including captain Noah Barnes, Jane Barrett Barnes, Simon Larsen, Sean Boyd, and Miller, helped spearhead the 100-year-old ship's redesign, which included a complete gut of the galley.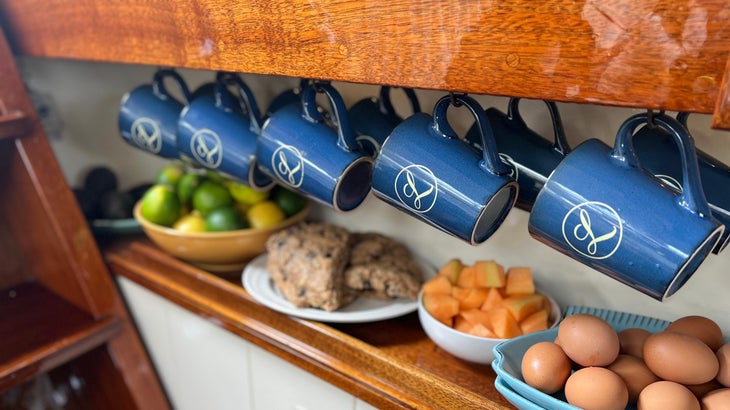 "Features in the galley like the lighting, fixtures, appliances, layout, soffit design, and range-hood were contributions I made," Braugh says. "The settees, tables, and counter storage considerations were done as a team. A plurality of existing passenger schooners inspired the design and ergonomics we hoped to achieve in Ladona's galley, keeping our signature chef, Anna, in mind the whole time."
The Schooner Ladona, which was originally commissioned by American industrialist Homer Loring in 1922, holds 17 guests—fewer than some of her neighboring vessels, which can accommodate up to 40—packed in like happy sardines. Originally built as a sailing yacht, the Ladona was named as a tribute to Loring's grandfather, who had a ship with the same name.
Over the course of a century, the Ladona went through multiple incarnations—and names. In the late 1960s, someone identified the Ladona, which, by then, had been converted into a fishing boat, as a former sailboat. She was later restored and her name was changed to the Joseph W. Hawkins. Later, the ship was renamed again to the Nathaniel Bowditch, a tribute to the famous American mathematician and military ocean navigator.
By 2014, the boat had fallen on hard times. Tied up in Rockland, Maine, the Ladona was deemed unfit to sail with a revoked certificate of inspection from the Coast Guard before Noah Barnes had the idea to rescue her. Braugh was, he himself says, "a willing co-conspirator, once Noah's idea and financial strategy were conceived." Braugh summoned his experiences at sea as he began thinking about a redesign and, importantly, about what kind of galley would be ideal for clientele.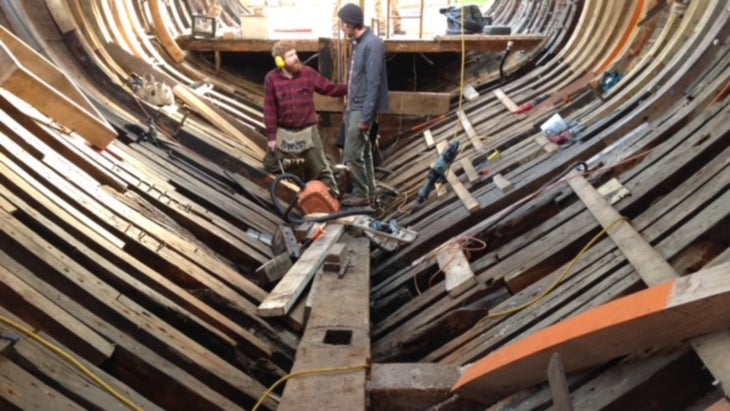 The result is a 196-square-foot galley that is both large enough to cook a massive turducken and seat the boat's guests for the breakfast Miller cooks to order between seven and nine. A banquette is situated against the back walls with benches facing a built-in table, so guests can eat as Miller cooks, chats, and preps later meals, all in a space that does not impede the flow. The benches also hide dry storage, so it's not unusual to be asked, mid-meal, to stand up for a moment so that someone can grab this or that.
Braugh and Miller worked together prior to the Ladona on a series of boats that were useful testing grounds—the Mercantile, Grace Bailey, Stephen Taber, and Roseway, often referred to as the green boats because they have green hulls. "They may not have a ton of creature comforts, in the way we aspire to," Braugh says, "but the galleys had a nice layout." This included a counter separating the chef's workspace from the passengers' space. "It gave them a little defensive barrier, and it portioned off a place that they could kind of call their own." That idea, Braugh says, was translated to the Ladona.
Other details include built-in wall shelving that holds Ball canning jars full of spices and other assorted mise-en-place; a freestanding slop sink that is the sole onboard "dishwasher" but does its duty well; and a kerosene stove tucked to the left as you enter the galley, behind captain Braugh's makeshift barrier. Next to the stove, a refrigerator—large for a ship, but not quite full-sized—stores perishables. Written on the outside in dry-erase marker are the chef's notes regarding the plans for the day or remaining charter. Miller points out wine storage for 70 bottles above the downstairs dining table, added on by Rockland cabinet-maker Sean Boyd a few years after the restoration.
Miller, who enrolls in two full-share CSAs every season for the boat, has the ability with the curated space to be relatively fearless. (When I ask her if there is anything that she would never attempt on this swaying kitchen of the sea, she stops to think a minute: "I'll try just about anything, but I definitely know that I couldn't pull off a soufflé for 17 people.")
This fearlessness delivers delicious delights. On our final day, for lunch, seated at the long table in June's brilliant Maine sunshine, we enjoy homemade Reuben sandwiches, still hot and joyously drippy, accompanied by crinkled-topped brownies. On our final night at sea, the smell of smoke erupts at the rear of the boat: charred steaks emerge, along with corn-on-the-cob, a warm bowl of seasoned potatoes, and, for dessert, tart and creamy slices of key lime pie.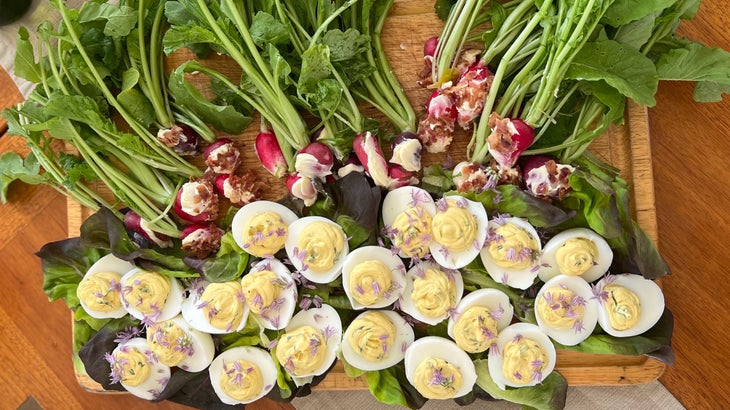 But before those meals, there is this one, the burnished turducken, a feat both of culinary rigor and circumstance. Here, on our first cool evening, perfectly cooked, small space notwithstanding, Miller produces, from the depths, a cured duck pastrami, made in-house, alongside truffled deviled eggs, garnished with chive blossoms from her CSA, and local French breakfast radishes, smeared thick with butter and dipped in lardons. And then the bird, served with potatoes and the conviviality that one might expect at, well, Thanksgiving.
It's hard to imagine, as twilight settles in, lights dance overhead, and the occasional seal noses up from the calm of Bucks, where we've anchored for the evening, that this bounty could have been created in a room smaller than my freshman dorm room.
Lead Photo: Hannah Selinger
Trending on Outside Online