Lake Tahoe Is Marrying Adventuring and Beer Drinking
A new interactive guide makes it easier to get your post-workout buzz on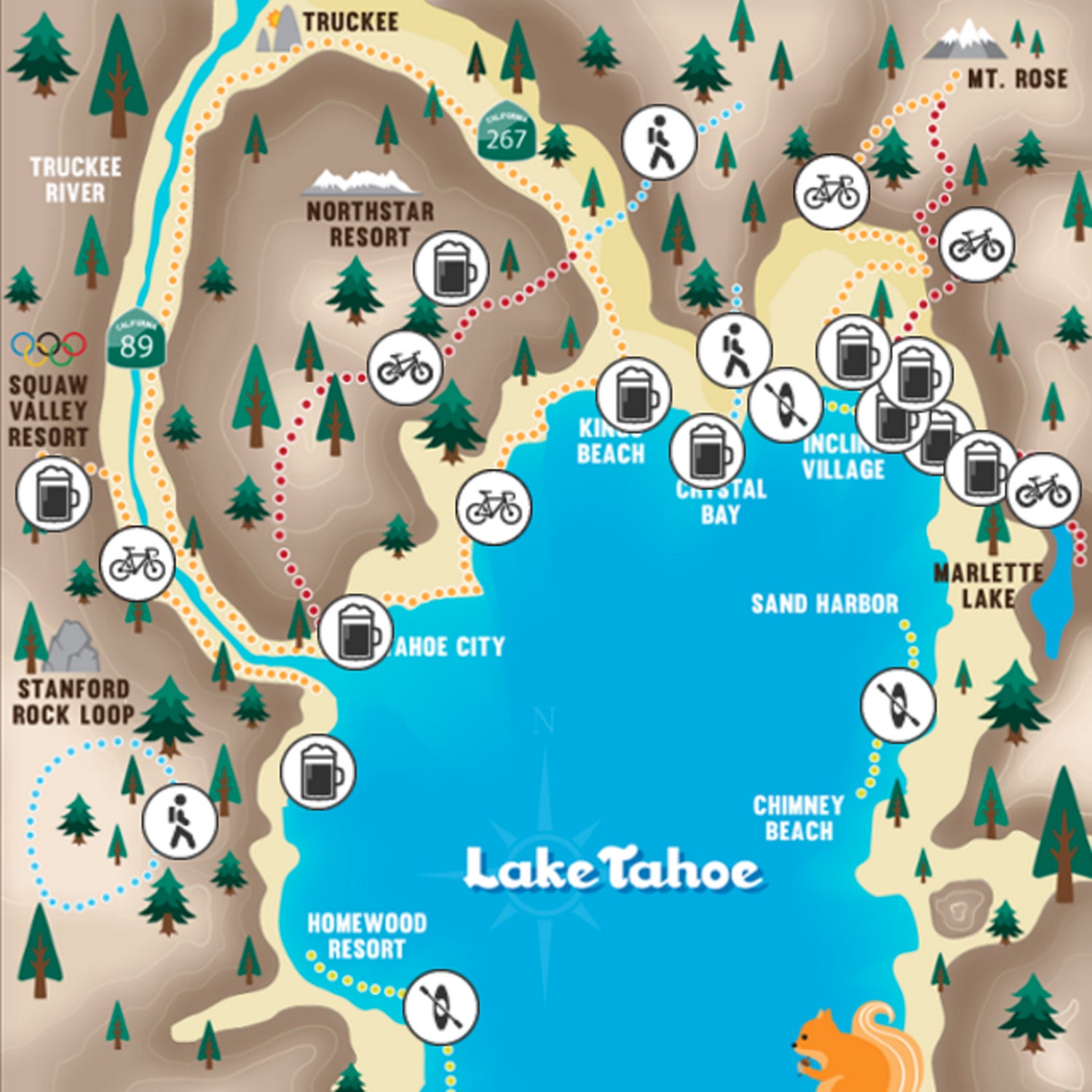 Heading out the door? Read this article on the new Outside+ app available now on iOS devices for members! Download the app.
After a long bike ride, it's natural that your mind shifts into beer mode—time to relax! In anticipation of that post-workout appetite, Lake Tahoe's tourism bureau has commissioned an interactive map to help steer you from the trails to the nearest watering holes. 
It's called the Ale Trail, and it's essentially a beer-drinking outdoorsman's dream itinerary planner: Pick an activity—hiking, road and mountain biking, and paddling are all included—choose a trail, and the Ale Trail Map will ensure there's a frosty pint somewhere near the finish.
"We're very passionate about our outdoors recreation up here, and the people that come here really want to get outside. We thought, how can we marry these two things?" says Andy Chapman, the President and CEO of Incline Village and Crystal Bay's convention and tourism bureau. Inspiration for the Ale Trail map came from seeing other towns tour-ize their craft beer enterprises.
"It's not the North Tahoe drunkard trail. It's about having fun on the trail and ending with a beer."
To be clear, no new trails in North Lake Tahoe were blazed during the creation of the Ale Trail; it's simply an organization of trails that abut great bars, breweries, alehouses, and taverns. The map does, however, highlight some of Tahoe's lesser-known trails. "A lot of visitors know about the Tahoe Rim Trail but maybe they don't know about the Fire Lookout, which has a big reward for a relatively short hike," says Ryan Eller, owner of Mellow Fellow, a taprooms listed on the map. He adds, "There's a lot of 'locals-only' type trails and things."
With 40 rotating craft taps, Mellow Fellow is a prime example of how Tahoe's beer scene has changed in the past decade. Even just a handful of years ago, the craft breweries and bars in Truckee and Incline Village were sparse. Those that did exist earned only mediocre reviews. Today, places like Alibi Ale Works, which serves consistently good microbrews, are proving that Tahoe wants to be taken seriously as a beer drinker's destination. 
Chapman says that the first iteration of the Ale Trail focused on summer sports. However, he hopes to have a winter version done before ski season hits. "It won't just be like après ski spots, since we already have something along those lines," he says. "It will focus on backcountry and cross-country and snowshoeing—maybe even snow biking, which is catching on."
If you check out the map, you'll notice that most routes suggest an outdoor activity and then a single bar as a destination. Chapman says this was done on purpose. "It's not the North Tahoe drunkard trail. It's not so much, 'How am I going to make it to all of these bars in one day?' It's about having fun on the trail and ending with a beer."
Lead Photo: Matt Palmer/Squaw Valley