Lost Coast, Found
Discover the wild, sandy stretch between Sydney and Melbourne, the next idyllic beach paradise Down Under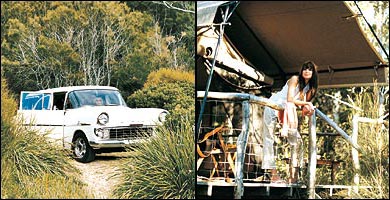 Heading out the door? Read this article on the new Outside+ app available now on iOS devices for members! Download the app.
If Nicole Kidman went feral," a friend told me one night in Sydney, "she'd hang out on the south coast." I remembered this dubious recommendation—which was made, I should add, at 3 a.m. in a raucous Bondi Beach pub—as I was piling a rental car high with camping gear for the 650-mile road trip southwest to Melbourne. The Princes Highway may connect Australia's two biggest cities, but it also skirts some of the wildest coastal bushland in the whole country. Imagine a stretch longer than San Francisco to San Diego, with wilds as beautiful and empty as Alaska, and you get the idea. For a little added challenge, I'd lured my wife, Lesley, and our five-year-old son, Henry, along on this seven-day grand excursion, so we had enough gear for an Everest assault.
Cape Conran Coastal Park

STAIRWAY TO PARADISE: the path to Salmon Rock, far off the beaten track in Cape Conran Coastal Park
Mollymook/Durras

On foot near Mollymook (left), a beach goer near Durras (right).
Cape Conran beach

GOOD ON YA, MATE: Cape Conran beach
map of Australia


My vision of a hardcore camping trip lasted about three hours. Some 120 miles south of Sydney, I turned onto a gravel track straight into virgin forest—and came upon a rustic refuge called Paperbark Camp. Wild and remote, yes, but not your average campground. Ten "luxury tented facilities" imported from South Africa's high-end safari circuit had been artfully placed among soft paperbark trees. Each tent was raised on stilts, with its own soft woolen-draped bed, solar-powered lights, and open-air bathroom stocked with handcrafted Australian cosmetics. A glassy creek, with canoe and paddles at the ready, meandered nearby. There was even a chic restaurant serving the latest modern Australian inventions, such as cumin-encrusted kangaroo fillets with caramelized-onion-and-red-wine jus.

What was going on? A few years before, visitors would have been as likely to find a decent caffe latte south of Wollongong as they would a three-star chef in Sprott, Alabama.

It's a sign of the times that a touch of glamour has reached the southeastern coast, sometimes derided as "daggy" (Australian for "uncool"). For generations, Sydney folks have preferred to head north to find their escapes. Now they're realizing that the often ignored road to Melbourne not only connects mile after mile of empty beaches and chunks of pristine wilderness but also contains extra enticements. Scattered at convenient intervals on the route are unexpected nodes of comfort and hipness—a string of small hotels and lodges that are designed to take full advantage of their settings.

Some of these, in fact, are shamelessly deluxe, like the Bannisters Point Lodge, in Mollymook, south of Jervis Bay—a funky retro motel recently renovated into a sleek jet-age love nest by the sea. The comfortable minimalist rooms offer sumptuous whirlpool bathtubs, while the lodge's rimless infinity pool, suffused with colored light, allows 300-degree views of the Tasman Sea. And then there are the Cape Conran Cabins, some 460 miles into the route, designed by trendy urban architects to integrate into the bush environment, using expansive decks of native timber and windows set in corrugated iron.

Other hotels have taken advantage of historic landmarks that happen to possess stunning locations: At the 335-mile mark, Mallacoota's Karbeethong Lodge, a revamped 1920s guesthouse overlooking a large inlet, has the soothing ambience of a Buddhist retreat. The isolated lighthouse at Point Hicks, deep in the otherworldly Croajingolong National Park (roughly 350 miles from Sydney), has turned its pair of atmospheric lighthouse keeper's cottages, built in the 1880s from shipwreck timber, into hideaways fit for Phileas Fogg. Each of these places offers the heady pleasures of a night in the Aussie bush without having to set up your tent.
This had been obvious from the moment we rolled the car into the lavish Paperbark Camp. We contemplated the prospect of driving to a regular campground, laying out our little tent, and rustling up some dinner—say, pasta and canned sauce. But an hour later, we were kicking back in the open-air restaurant over a bottle of Tasmanian chardonnay.

"Not bad for camping food," Lesley said as we worked our way through the Aussie cheese plate—Milawa blue and cloth-bound Pyengana cheddar, with muscatels. When it comes to modern Australian cuisine—a fusion of Asian and Mediterranean styles, using local ingredients such as yabbies (crustaceans), wattles (prawns), and emu prosciutto—reading a menu can require both a map and a gastronomic dictionary.

We couldn't have gotten closer to nature if we'd parachuted into the outback. There we were, unwinding beneath the Southern Cross and listening to cicadas while a trio of plump ringtail possums cruised the restaurant's railings, watching with saucer-shaped eyes as Henry consumed every bite of dessert. Posted on our bathroom door was a helpful illustrated guide to the local panoply of venomous snakes, which had names like punk-rock bands—copperhead, death adder, red-bellied black. Our next morning's workout was to paddle a canoe along Currambene Creek, the tranquil green waterway that runs three miles east to Jervis Bay's sugar-white sands.

The memory of Sydney began to recede with every click of the odometer. South of Jervis Bay, the Princes Highway traces a coastline of national parks with tongue-twisting Aboriginal names like Wadbilliga, Murramarang, Eurobodalla, and Coopracambra, and small fishing or farm villages called Ulladulla, Tilba Tilba, and Nowa Nowa. This place feels like a lost world, with remnants of dagginess surviving in the townships. In Bermagui (mile 242), abalone divers nurse their beers in the same frayed pub where western author Zane Grey relaxed after a deep-sea fishing trip in 1936. Farther south, in Eden (mile 310), the main attraction is the Killer Whale Museum, home to an impressive orca skeleton.
But nobody comes to the southeastern coast in search of giddy cultural life: The bush is still in charge here. We could randomly choose any turnoff from the highway and have our own private sand dunes, with pounding surf and wallabies sunbathing by a lagoon, with an ancient mollusk midden as the only sign of human activity. At Ben Boyd National Park, I scanned north and south to see sea cliffs twisting one after another to the horizon. Absolute remoteness can be achieved in Croajingolong National Park: Roughly equidistant from Sydney and Melbourne at Australia's southeastern tip, its 220,000 acres of raw bush are a serious schlep.

There's no doubt that Croajingolong is ideal for camping—bush walkers revere an eight-day, 60-mile trail along its sandy, windswept edge, where the coastline is punctuated only by dramatic headlands and salty estuaries—but who could turn down a stay at Point Hicks Lighthouse, especially after the tooth-jarring 20-mile ride on the dirt access road? Until the track went through in 1954, the lighthouse keepers received supplies twice a year by boat. But it still felt like The Ghost and Mrs. Muir as we bunked down in the original lighthouse keeper's quarters next to the whitewashed tower. I watched the sunrise from a chair made of driftwood, while offshore, fur seals frolicked on sea-battered rocks.

Perversely, after a week of bushland luxury, I was feeling mildly frustrated. Every morning, I would emphatically declare that tonight we would use the tent—but by the time dusk rolled around, we had found yet another unique place to stay.

On the last night of the road trip, when we reached Cape Conran Coastal Park—a reserve so far off the beaten track that few Aussies have heard of it—I knew this was my big chance. Henry was already feeding our dinner steak to the kookaburras, and I was just rolling out the sleeping bags, when Lesley spotted a cluster of stylish cabins hidden among the trees nearby: the Cape Conran Cabins. It transpired that, for not much more than the price of our campsite, we could have our own personal wilderness lodge, with a private sand path to a beach 15 miles long.

"No, no, no," I insisted. "We've got to use the tent!"

I looked at Lesley. We both looked at Henry. Henry had already started for the cabins.

I knew when I was beaten; but it was a happy defeat. We were still deep in the bush, only with soft mattresses and running water. I spent the dusk hours lounging on the deck, grilling steak as monitor lizards prowled the tree trunks and fruit bats came out to play. The final perk? When our mud-encrusted car finally rolled onto the fashionable streets of Melbourne, I didn't even have to clean the ground cloth.
The Slow Road South
The first step is getting yourself to Sydney. Qantas Airways (800-227-4500, www.qantasusa.com) flies there daily, with specials as low as $840 round-trip from Los Angeles. Then, hit the road to Melbourne. Commuters and truckers use the inland Hume Highway; for a road trip, follow the coastal Princes Highway and allow at least a week to travel the 650 miles. You can bring camping gear—Holiak Hire (011-61-2-9437-0278, www.holiak.com.au) allows you to rent in Sydney and drop off in Melbourne—but there are so many great hotels, many people never even break out the sleeping bag.

DAY ONE: Follow the signs from Sydney to Wollongong, but continue south until you reach Jervis Bay, about two and a half hours south of Sydney; turn off at Falls Creek for the luxury tents of Paperbark Camp (doubles, $337, including gourmet meals and use of canoes and bikes; 011-61-2-4441-6066, www.paperbark.com.au).

DAY TWO: Dive with gray nurse sharks and fairy penguins in Jervis Bay Marine Park ($100 for a two-tank dive; Pro Dive Jervis Bay, 011-61-2-4441-5255, www.prodivejervisbay.com.au). Then it's a 40-minute drive to Mollymook and Bannisters Point Lodge (doubles from $104; 011-61-2-4455-3044, www.bannisterspointlodge.com.au).

DAY THREE: Head for Depot Beach, where kangaroos leap along the sands, then sign on for a sea-kayak trip from Durras with Bay and Beyond Sea Kayak Tours ($32 for a half-day; 011-61-2-4478-7777, www.naturecoast-tourism.com.au/bayandbeyond). Take the coast-hugging road past Mimosa Rocks National Park to the old whaling town of Eden, still one of the best places for whale watching ($55 for a half-day; Cat Balou Cruises, 011-61-2-6496-2027, www.acr.net.au/~catbalou). Complete the nautical theme by spending the night at the Crown & Anchor; it was built in 1843 by German and English craftsmen from small rough stones and a lime render of seashells, horsehair, and termite nests. It's now a comfy B&B with dramatic sea views and roaring log fires ($100–$114, including breakfast; 011-61-2-6496-1017, www.crownandanchoreden.com.au).

DAY FOUR: In the morning, call in at Ben Boyd National Park, where a six-mile trail hugs the pink sea cliffs from Saltwater Creek to Bittangabee Bay (011-61-2-6495-5000, www.nationalparks.nsw.gov.au). After the Princes Highway crosses the state line from New South Wales to Victoria, take the turnoff east to Genoa. Karbeethong Lodge is a renovated 1920s guesthouse with a garden and relaxed ambience (doubles, $68–$93; 011-61-3-5158-0411, www.karbeethonglodge.com.au). At dusk, hire a "putt-putt" to explore the waterway (about $20 an hour at the docks), and take a fishing line.

DAY FIVE: Make the most of spectacular Croajingolong National Park by staying at one of its remotest spots, Point Hicks Lighthouse (cottages from $164; 011-61-3-5158-4268, www.pointhicks.com.au). This is the ideal base for day hikes to the giant Thurra sand dunes, Mount Everard, or West Beach. The epic Wilderness Coast Walk through Croajingolong can be either the full eight-day, 60-mile slog or an abbreviated two-day sampler from Bemm River to Point Hicks. Unless you can juggle transfers and have your own your camping gear, go with the Melbourne-based outfitter Echidna Walkabout (tailor-made walks from $143 a day; 011-61-3-9646-8249, www.echidnawalkabout.com.au).

DAY SIX: Return to Princes Highway, then detour along Cabbage Tree Road to Cape Conran Cabins, a set of comfortable wood-and-corrugated-iron cabins in the reserve, run by Parks Victoria ($59–$89; 011-61-3-5154-8438, www.conran.net.au). Stroll along the vast beach or take the three-hour hike to Yeerung Gorge to enjoy its black-rock pools.

DAY SEVEN: Dash the final 246 miles to Melbourne.