Making—and Eating—the World's Greatest Green Chile Cheeseburger
Plus a few other excellent things I learned at FUZE SW, a food conference you do not want to miss.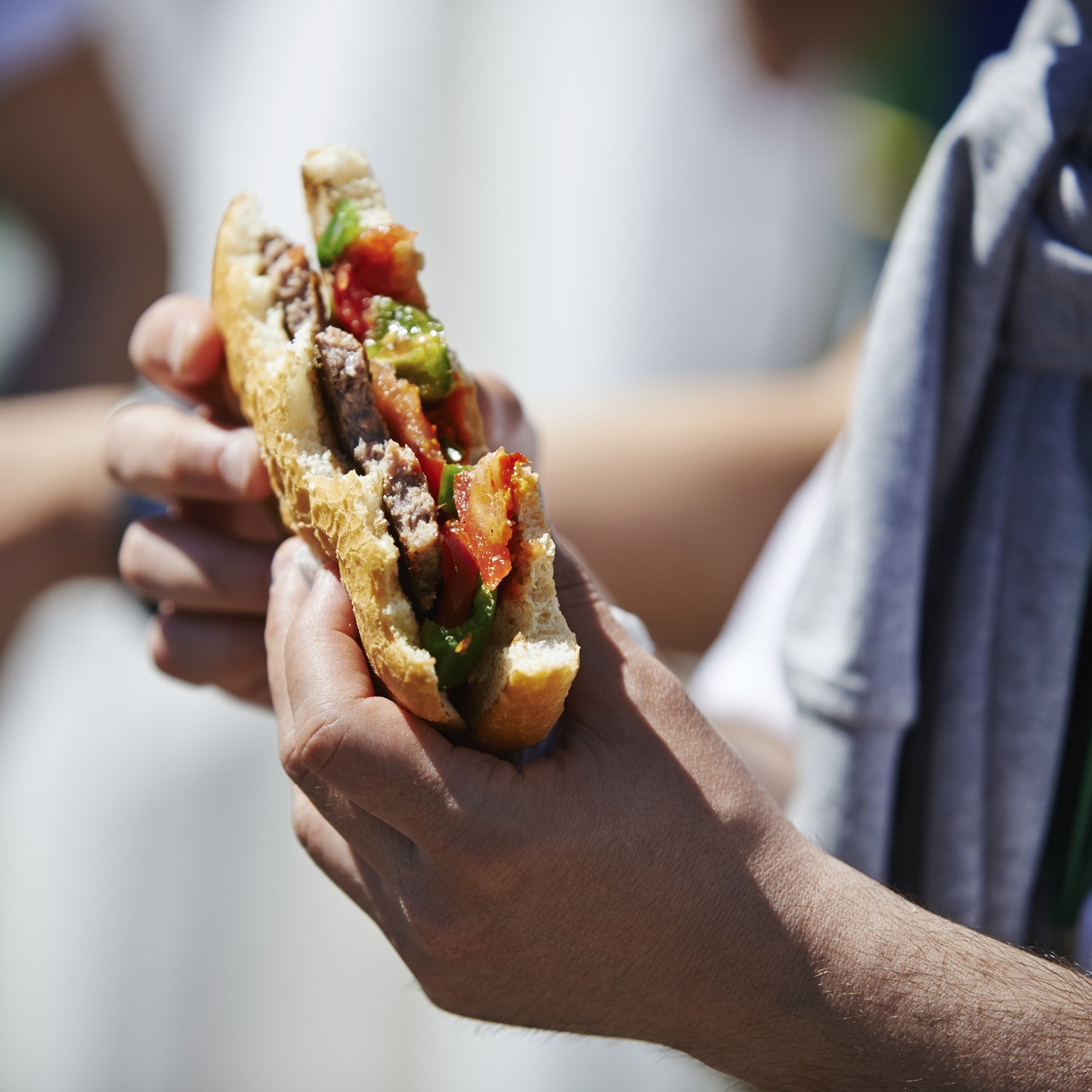 Heading out the door? Read this article on the new Outside+ app available now on iOS devices for members! Download the app.
I've been to a lot of journalism conferences over the years, but until recently I'd never been to a food conference. My first, which happened in Santa Fe on September 12 and 13, was an up-and-coming regional event, now in its second year, called FUZE SW. Held on the scenic grounds of the Museum of International Folk Art and the Museum of Indian Arts and Culture, FUZE focuses on the history, lore, science, literature, politics, agricultural techniques, and how-to's of food from the American Southwest and, by obvious extension, Mexico.
Both kinds of gatherings have similarities. As an audience member, you'll spend a lot of time listening to other people talk about what they do, which can be fascinating or frustrating, depending. We journalists have a tendency to talk about the importance of our calling in the loftiest terms—saying things like "the craft of longform narrative" and "we are a tribe of storytellers," when what we really mean are "reporting and writing stories" and "we are a wretched group of hacks."
Food people sometimes do the same thing. A frequently deployed term at FUZE was "foodways," which basically means "how people cook in the places where they live and why they do it like that." Everybody seems to know instinctively to use this word, and to say it in a clipped, academic manner—foodways—so you'll know that they're talking about venerable eating traditions instead of, say, a middlebrow supermarket chain in Iowa. 
Granted, this is only a little annoying, and it doesn't happen that much, but when it does your mind may start to drift. And this is where I think food conferences prevail over their literary counterparts. At book festivals or journalism events, if you're ready for a break, you start daydreaming about the drink you're going to buy as soon as you get a chance. At FUZE, you start thinking about the free food and beverages you're about to snarf down as part of your conference fee, which seemed quite reasonable at $250. (Full disclosure: as a media person, I got in free. And, yes, you should hate me for that.)
There were a lot of these breaks at FUZE. Over a two-day period, counting an opening reception on Thursday, September 10, I was given a chance to load my willowy frame a dozen times, and the food was always good. My inner alarm bells went off at the opening reception, where I found myself standing around with a glass of bubbly and studying, with rapt fascination, hors d'ouevres platters that came gliding toward me from every direction. On a central table, there was a hooded tray that contained hot empanadas made using fresh buffalo meat sourced from Taos Pueblo. I review restaurants part-time and I've recently had a chance to eat at some fancy places. These humble meat pastries were as good anything I've had in months. 
At the reception, I enjoyed a sitdown with Dennis Hogan, a food-marketing specialist with the New Mexico Department of Agriculture—FUZE is a state-sponsored event—who had the awesome responsibility of procuring everything we were about to eat. Looking at a list of what he'd brought to the table—"green chile, Hatch," "red chile, Chimayo," "Asadero cheese from F & A Dairy, Las Cruces," "Lamb from Talus Wind Ranch, Galisteo"—I came close to weeping. I also thought about wearing running shoes on Friday and Saturday, so I could get everywhere first.
But there was no need for that. There was plenty of food to go around, and I had a chance to sample all sorts of wonderful things: super-delicate blue corn piki bread made at Tesuque Pueblo, a "grandmother's lunch" cooked by a team of Native American women who know what they're doing with red chile, green chile cheeseburgers (we'll return to these!), more empanadas (just as good the second time), and three kinds of tacos, all maestroed by David Sellers, a Santa Fe chef and restaurant owner who runs something called the Street Food Institute, a training program that teaches students how to start small businesses, including food trucks.
Sellers was part of a star-studded panel that preceded the taco feast, called, fittingly enough, "Talkin' Taco … Not Taco Bell." Other panelists on offer were Mark Kiffin (owner of one of Santa Fe's best restaurants, The Compound) and Gustavo Arellano, a food historian and journalist from L.A. who you may know better as the guy who writes the syndicated column "¡Ask a Mexican!" 
Arellano is extremely knowledgeable about the history of Mexican food in the U.S., a subject he wrote an entire book about, called Taco USA: How Mexican Food Conquered America. He's also hilarious, and he talks about food with a vivid enthusiasm that prompts his listeners to salivate. "I was born with a taco in my hand," he said loudly, going on to describe his favorite taco of all time, the so-called Golden Taco, which I think means a taco made using a fresh, fried corn tortilla shell, with potatoes as part of the filling.
I found Gustavo inspiring. When the panel broke up, I didn't quite run to the food truck, but I did walk pretty fast.
The tacos were everything you might expect—featuring fresh, warm, home-made tortillas and fillings that I'm really, really sorry you weren't there to experience with me: pulled pork, short ribs, and pork belly. (Plus all the other usual doodads and goops, like fresh cilantro and tomatillo sauce.) I was sitting on a low wall with a few other people, installing tacos in my face like a hot-dog-eating champ, when a local woman of Asian descent walked up and posed, in all seriousness, this Zen-like question:
"What makes a taco a taco?" she said. "What creates its taco-ness?"
Somebody started talking about the importance and digestibility of the corn tortilla. I think I sort of gargled.
As for FUZE's weightier content, it took me a couple of panels to understand the rhythm and purpose of it all. At first, I guess, I thought I had to take notes on everything, as if there would be an exam at the end. But my writing hand broke down when I tried to keep up with a rapid-fire lecture on the history of avocados, and I realized that getting everything on paper is not the point.
A conference like this is set up to expand not just your stomach, but your mind, in a way that fuels the enthusiasms that presumably brought you to it in the first place. I've been cooking for 30 years (strictly amateur), and I love hearing about new recipes and new places to buy good ingredients. The people who put FUZE together—a group that included vegetarian cookbook master Deborah Madison and Cheryl Alters Jamison, a standout cookbook writer and the food editor of New Mexico magazine—know what they're doing, and they assembled a wide-ranging and creative program.
I went away from FUZE with roughly two dozen things I want to follow up on. Along with the taco panel, my other favorite was one called "Navajo Churro Sheep, Corriente Cattle, Bison, and the Modern Rangeland." On the dais were Madison, the great Betty Fussell (author of My Kitchen Wars and The Story of Corn, among other classics), Glenna Dean (a retired archeobotanist who dyes her own churro wool), Nancy Ranney (a rancher who raises grassfed Angus beef in central New Mexico), and Laurie Bower, director of the Southwest Grassfed Livestock Alliance.
I already knew I should only be eating grassfed beef, but I'd never heard of corriente cattle, a relatively small breed brought over by Spaniards and now used mainly in rodeos. They are not widely marketed for consumption, but it's possible to have corriente beef shipped. I may have to try it, though I may opt to have a corriente as a backyard pet. Madison has eaten it before, and she made it sound like the Steak of the Gods. 
My biggest night out at FUZE involved a humbler form of beef—ground—and it happened at a ticketed satellite event called the Green Chile Cheeseburger Smackdown, held Friday night inside the pavilion of the Santa Fe Farmer's Market. The smackdown pitted eight local restaurants that had survived a World Cup-like qualifying process to battle for the big prize. There were two victor classifications: the Judge's Choice Award and the People's Choice Award.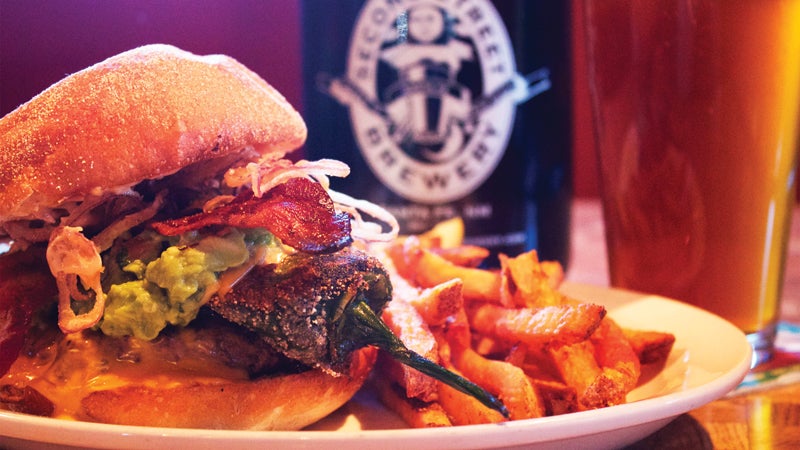 Cheryl Alters Jamison, who was a judge, gave the nod to the entry from Santa Fe's Second Street Brewery, called the Original Alien Burger. This creation has a lot of ingredients—two forms of green chile, pepper jack cheese, guacamole, bacon, queso, fried red onion, and chipotle mayo—which I sometimes find suspicious. I don't like those now-ubiquitous, Paula Deen-esque burgers that, essentially, are overloaded towers of messy, falling stuff.
Like most right-thinking people, Jamison feels the same way. One thing she looks for when judging is "burgerbility"—that is, whether the ingredients actually meld together as a viable burger that you can handle and eat. In an email to me, Jamison hailed the Alien Burger's overall balance. 
"If you see the list of things on it," she said, "you might not think you'd be able to taste the burger and chile, but the chef had a very deft hand, with everything being in good proportion. The meat was well-seasoned and seared. The chile, and the amount of it, packed a punch, but didn't overwhelm it."
Alas, I didn't get to eat one. (Grumble.) Like Cheryl's husband, Bill, who co-authors cookbooks with her, I chose not to exploit my media credential and get special backstage treatment. Instead, I and my friend Dave Cox—a local outdoorsman, photographer, magazine designer, and talented cook—chose to buy tickets and take our chances with The People. This wasn't the best idea, since the smackdown turned out to be quite the mob scene. Our local newspaper described the lines as "20 deep," but every line I stood in was more like 60.
Fortunately, I was able to try—and vote for—the People's Choice winner, the Mad Chile Burger from the Mine Shaft Tavern, a popular bar and restaurant south of Santa Fe, in the quirky little town of Madrid. Its inventor, Mine Shaft proprietor Lori Lindsey, was energetically working the counter where the burgers were doled out, taking time to convey to each customer both the ingredients and the unknowable karma of her creation.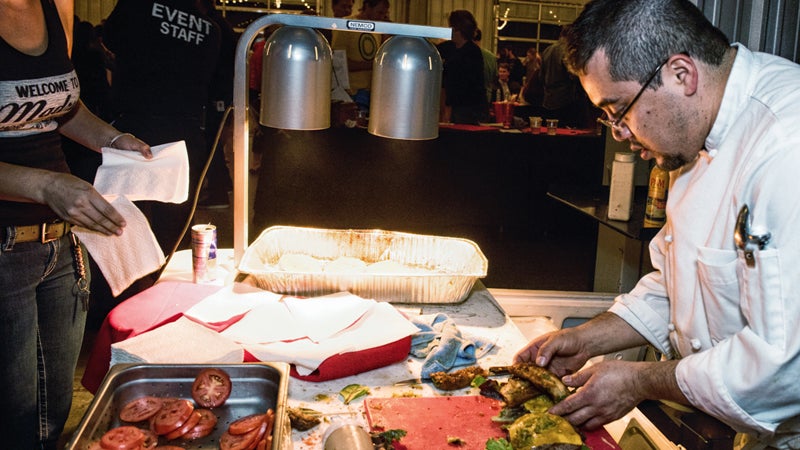 Thank you for that, Lori: that's good customer relations. But it's even better burgering.
Below, courtesy of the Mine Shaft and Second Street, are the recipe for the winners, with a special margarita formula thrown in—at no extra charge—by Lori.
---
Mad Chile Burger, The Mine Shaft Tavern
Lori Lindsey custom-designed this burger for the smackdown, working with her partner, Melinda Bon'ewell. Makes 4.
Ingredients:
1 quart canola oil for frying
8 large medium-hot to hot Big Jim or Sandia Hatch green chiles
4 brioche buns
2 pounds 85/15 Black Angus ground chuck
1½ cups tempura batter (recipe below)
6 T hot, chopped roasted Hatch chiles
6 t chipotle dijonnaise (recipe below)
8 ounces sliced cheddar cheese
2 generous handfuls mixed greens
8 slices beefsteak tomato
Sliced dill pickles
Tempura batter:
1 egg yolk
3/4 cup ice water
7/8 cup sifted flour
Place egg yolks in a large bowl, add water slowly, stir and blend well. Add flour and stir. (Lumps, if you see any, are okay.) Heat oil, 2 inches deep, in a large frying pan. Dredge chiles in batter and gently place in hot oil. Fry for about 4 minutes or until golden brown. Set aside in warm oven or under heat lamp.
Hatch chiles:
Fresh chiles are available in New Mexico from early September until late October. Otherwise, you have to buy frozen. There are several quality autumn roast chiles available. Just heat in a small sauce pan prior to serving.
Chipotle dijonnaise:
Mix 1 can chipotles in adobe sauce
1 cup Dijon mustard
1 cup mayonnaise
Grilling and assembly:
1. Heat outdoor grill to medium hot.
2. Split ground beef into four balls. Smash burgers. Season with salt and pepper. Place on grill. Mark burgers on grill, flip to other side. When burgers are rare, place cheese on top and melt.
3. Butter brioche buns and place on grill, cut side down.
4. Remove buns after heating and begin building burger.
5. Add dijonnaise to bun, mixed greens, pickles, tomato, patty with cheese, chopped green chile, tempura'd chiles on top.
6. Serve immediately.
---
The Original Alien Burger, Second Street Brewery
Ingredients:
6 ounces Black Angus ground beef
Chopped green chile
Whole green chiles for chile relleno
Blue cornmeal
Pepperjack cheese
Guacamole
Fried onions
Queso blanco
Bacon
To make the relleno:
1. Slice a large, peeled green chile down the middle vertically, then remove seeds and white veins.
2. Fill the chile with shredded cheddar and jack cheese.
3. Close it up loosely and roll stuffed chile in blue cornmeal until the entire chile is dusted.
4. In a small pan, heat enough vegetable oil to pan-fry the chiles over medium-high heat, flipping a few times.
5. When you can see the cheese inside the chile is melted, the relleno is ready to be placed on top of the burger.
To grill the onions:
Fry onions rings in the same oil, using a batter similar to what's used in the Mine Shaft burger.
To grill the burgers:
Grill burgers to desired doneness, place on heated bun, and add guacamole, bacon, onions, and chile relleno. Spread chipotle mayo on the top bun of the burger.
---
Chile Cucumber Margarita, The Mine Shaft Tavern
Lori Lindsey, whose work history includes a stint as a beverage manager for restaurants in Seattle, developed this recipe for The Mine Shaft, a popular tourist spot where margaritas are a very frequent order. This recipe was inspired by Lori's love for the way Chimayo red chile and cucumber taste together. It's scaled to make 16 margaritas.
There are five main components: cucumber/jalapeno puree, margarita lime mix, 100 percent agave silver tequila, Cointreau, and Chimayo red chile salt.
For the puree:
2 medium cucumbers
1 medium jalapeno
1. Peel cucumbers and set aside.
2. Seed the jalapeno.
3. Place cucumber and jalapeno in blender or food processor and puree slightly. 
4. Refrigerate.
Margarita mix:
½ gallon lime juice (best to squeeze your own, but a good brand of bottled lime juice may be used)
3½ cups sugar
5 cups water
1. Make simple syrup by combining sugar and water in a sauce pan. 
2. Heat, stirring slowly, until sugar is dissolved. 
3. Let cool. Once the simple syrup is cool, add chilled lime juice. 
4. Add water or sugar to taste, since limes vary in sugar intensity.
Chimayo Chile Salt:
4 ounces Chimayo or New Mexican ground red chile
2 ounces kosher salt
Combine salt and red chile—a simple, but necessary, step.
Final assembly for each drink:
1. Fill a 16-ounce shaker glass with ice. 
2. Pour 1½ ounces tequila and ¾ ounce Cointreau over ice. 
3. Add 1 overflowing teaspoon of cucumber mixture.
4. Fill with 3 ounces margarita mix. 
5. Shake vigorously.
6. Take another 16-ounce glass, place rim in lime juice, then place rim in chile salt. 
7. Pour margarita with ice into salted glass. Garnish with lime wheel and cucumber wheel.
Lead Photo: onixxino/Thinkstock