The Missing Ingredient?
Vitamin D may turn out to be a wonder nutrient for your health and performance. If you're not getting enough—and you probably aren't—you need to start.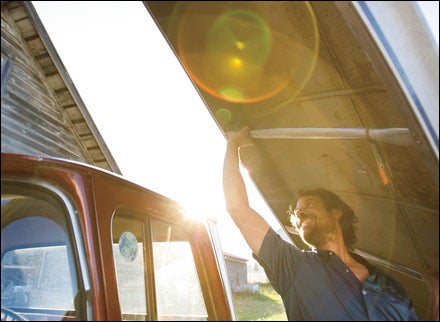 Heading out the door? Read this article on the new Outside+ app available now on iOS devices for members! Download the app.
Vitamin D is like Tiger Woods—it just can't stay out of the news.
Which vitamin D supplements should I be using?
If you're not already taking a multivitamin with at least 800–1,000 IU of D—like Nature Made's Multi for Him (;
naturemade.com
)—start there. But if you still need more D (for example, in winter), take a single-nutrient vitamin D pill. Opt for the D3 form, which is more potent than the vegetarian D2 form. And don't overdo it: Supplements with extreme levels of D–above 2,000 IU–are needed only when a blood test shows you're deficient.
Wild-caught salmon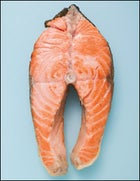 Wild-caught salmon: a vitamin D power broker
Hardly a week went by this spring without a study spotlighting some powerful new health benefit of the sunshine vitamin: that it boosts the immune system, lowers the risk of a battery of cancers, protects our hearts, prevents joint and muscle pain, and combats osteoporosis and weakening muscles as we age. Depression, hypertension, diabetes, multiple sclerosis, autism, fibromyalgia—all are being tied in some way to not getting enough vitamin D. Recent studies have even suggested that higher levels of D can benefit athletes—improving fast-twitch muscle strength and power, reducing inflammation and the chance of stress fractures, and boosting the body's ability to fight off colds and the flu during training. Over the past five years or so, the data has been so convincing, across so many fields, that the Institute of Medicine, an advisory body to the USDA and FDA, is considering bumping up our daily recommended intake. What's also clear is that we're not getting nearly enough.
While humans evolved to quickly get megadoses of vitamin D from sunlight, our indoor jobs, diligent use of sunscreen, and legitimate concerns about skin damage from sun exposure have caused a shortage on an epidemic scale. Approximately 77 percent of the U.S. population has "insufficient" levels of vitamin D, according to a study last year in the Archives of Internal Medi­cine. That includes people living in sunny climates and athletes who spend lots of time outside. In a 2007 study of 20 distance runners in fair-weather Baton Rouge, Louisiana, 40 percent were short on D.
"Getting adequate vitamin D is probably more important than any other nutrition recommendation we have made for years, including whether to reduce saturated fat or salt intake," says Dr. Robert Heaney, a researcher at Nebraska's Creighton University and one of the country's leading vitamin D experts. "We won't know the true burden of chronic disease until we eradicate vitamin D deficiency."
Our diet isn't helping much. Even in fortified foods like milk, there's just not enough vitamin D to provide what many experts now say we need—between 1,000 and 2,000 international units (IU) per day.
The fastest and easiest way to get more D—briefly dousing the body with UVB light—is also the most controversial. After all, those are the same cancer-causing, skin-aging rays that make dermatologists shudder, and only a few experts, like endocrinologist and researcher Michael Holick, author of The Vitamin D Solution , are willing to recommend it. "You can get five to 15 minutes of unfiltered sun two to three times weekly, depending on your skin type and the time of day," Holick says. "Your arms and legs should be exposed, but you can still protect your face."
That statement doesn't sit well with the American Academy of Dermatology, which, while recognizing the widespread shortage of vitamin D in the U.S., insists that no amount of unfiltered sun exposure is safe. One in five Americans will develop skin cancer during their lifetimes, mostly from unfiltered UV rays.
A far safer bet is to take a supplement, like a multivitamin or single-nutrient vitamin D pill—but even here the experts are in disagreement. Many nutritionists believe that the FDA's daily recommended intake of 400 IU for adults up to age 50—which you'll see on products' nutrition labels—is woefully outdated. Groups like the Skin Cancer Foundation and many vitamin D researchers agree you need at least 1,000 IU daily. The National Institutes of Health says that 2,000 IU is the upper limit of what's healthy.
Good luck getting that dose from your food. A seven-ounce fillet of wild salmon may give you 1,400 IU, but you should eat no more than 12 ounces a week due to mercury concerns. An eight-ounce glass of vitamin D–fortified milk comes in at a surprisingly low 100 IU.Since you're active and probably in the sun more than most people, you're likely getting some solar vitamin D, even if you're slathering up: A few UVB rays slip through sunscreen,no matter how frequently it's applied. But don't count on that being enough. The most reliable way to see if you're coming up short is to get your blood levels tested (see next page) and adjust your supplements accordingly.
"We're not saying that you should get vitamin D from sunlight, but don't expect to obtain it from food," Heaney says. "And if you're not going to obtain vitamin D from either, you must take supplements."
Vitamin D Test

The only way to know if you're getting enough vitamin D is to get tested—either by your doctor (a simple, standard blood test) or by yourself: ZRT Laboratory provides an easy-to-use, relatively painless home test ($75; zrtlab.com). The results might surprise you. Case in point: Here's how several Outside editors—outdoor junkies in sunny Santa Fe, New Mexico—and our writer in Chicago fared at the end of winter:
MONIQUE RYAN, WRITER // CHICAGO,51*
ABE STREEP, SENIOR EDITOR // SANTA FE,33
JUSTIN NYBERG, ASSOCIATE EDITOR // SANTA FE, 31
CHRISTOPHER KEYES, EDITOR // SANTA FE,24
RYAN KROGH, RESEARCH EDITOR // SANTA FE,20
U.S. AVERAGE IN WINTER 15-18
*Supplementing with 1,200 IU of vitamin D daily. It takes about 1,000 IU to raise blood levels by 10 units.
SOURCE: ZRT LAB TESTS; THE VITAMIN D SOLUTION, BY MICHAEL HOLICK
UNITS: NANOGRAMS OF VITAMIN D PER MILLILITER OF BLOOD (NG/ML)