The Rewards of an Adventurous Appetite
Our April 2013 magazine makes a foray into the bizarre but edible—from insects to IPAs. But it's not all about the shock factor.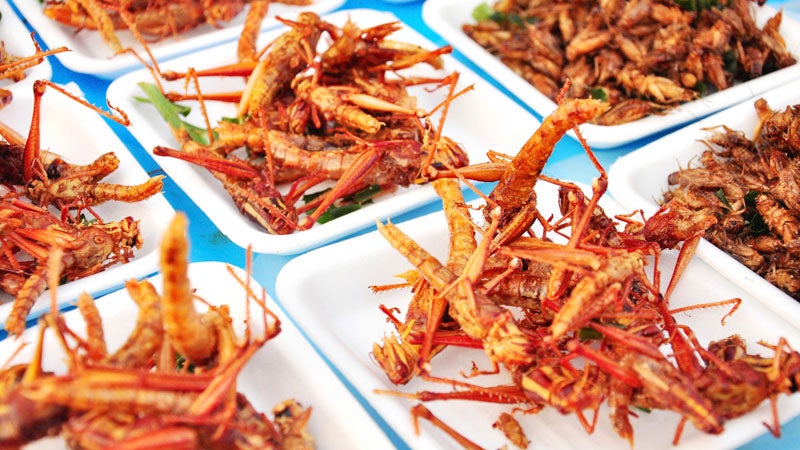 Heading out the door? Read this article on the new Outside+ app available now on iOS devices for members! Download the app.
Did cavemen eat bugs? That may seem like an odd question to lead off an issue packed with adventure-travel stories and headlined by our third-annual installment of the Outside Travel Awards, but surprises are one of the things I love about working here. For months we'll believe we're assembling an issue that's all about, say, adventure or fitness. Along the way, however, a strange and entirely unplanned subtheme will materialize—one we won't even recognize until we're close to sending our pages to the printer. This month's stealth theme? Extreme culinary frontiers. Or, as senior editor Abe Streep put it in an e-mail to me one night, "We have a lot of critter eating going on in April."
Which brings me back to my question, the one I had to Google after reading our lead Bodywork story this month, "Bug Bites". The consensus is that insects were, in fact, a part of our ancestors' diet, which helps explain why entomophagy might soon be the next big trend in food. A few years ago, a number of reports came out suggesting that protein-rich insects are one of the most sustainable ways to feed a planet of seven billion people. Now several brave entrepreneurs are grinding crickets and grasshoppers into flour, hoping followers of the paleo movement will gladly chomp on insect energy bars.
Meanwhile, in Dispatches, there's a story about American microbrewers who are hitting nearby trails to forage exotic ingredients—kudzu, milk thistle—to make unique local beers like wild-fig IPA ("Strange Brews"). Finally, we have "Waiter, There's a Lionfish in My Soup!", contributing editor Rowan Jacobsen's profile of Bun Lai, the Connecticut chef who devised an inspired strategy for winning the War on Invasive Species. Specifically, Bun is harvesting some of the alien plants and animals, like Asian shore crabs, that are destroying native ecosystems and giving them a starring role on his menus.
Of course, if you love food but the thought of grasshopper energy bars and tunicate sashimi turns your stomach, our 2014 Travel Awards are the antidote. Our pick for the world's best culinary destination will surprise you.