Should Hydroponically Grown Produce Be Considered Organic?
Inner city restaurateurs are trying their hands at metropolitan agriculture.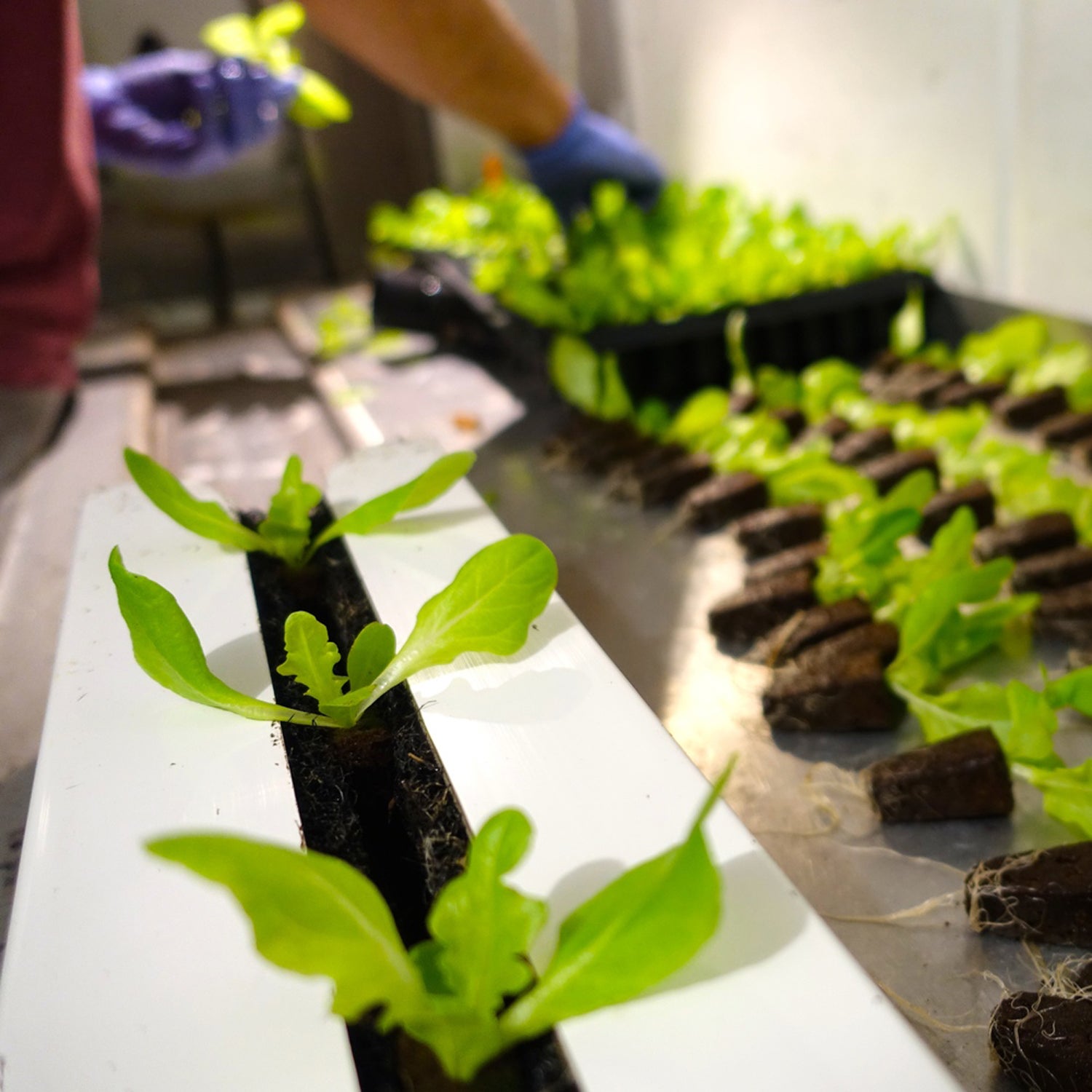 Heading out the door? Read this article on the new Outside+ app available now on iOS devices for members! Download the app.
The founders of Freight Farms want you to know that grow lights are good for more than just shady basement pot operations. The Massachusetts company reclaims shipping containers as hydroponic grow dens designed to supply inner city restaurants with fresh, quality produce.
"Our goal was to create a system that works the same in Alaska as it does in Dallas," says Jon Friedman, the president and co-founder of Freight Farms. There's no soil required. All you need is a concrete pad and a plug. Because it's so minimalist in its demands, the systems are popping up on school campuses, health care provider campuses, and even in the parking lots of local restaurants. A single container is capable of rendering between 50,000 and 55,000 lettuce plants per year. And each container's light, temperature, and nutrient settings can be controlled by a smartphone.
David Dubois, CEO of the Boston's Franklin Restaurant Group heard about the company a few years ago and is aiming to open a Tasty Burger in Cambridge with a Freigh Farms Leafy Green Machine onsite. (The Tasty Burger will be built entirely from shipping containers, so the $76,000 agriculture unit should blend right in.)
"I'm a city kid and I understand that there's so little space in the city," Dubois says. "The idea that you could grow 20-to-25 acres worth of food in this tiny space in the city just fascinates me." Tasty Burger's staff will be responsible for keep up the mini farm. "But it takes very little input," Dubois says. "These things pretty much manage themselves."
But in rolling out its container-gardens, Freight Farms has stepped squarely into a longstanding debate over the merits of hydroponically grown food. Many organic farmers were unhappy when, in 2014, the USDA's National Organic Program decided that hydroponic produce could be labeled as organic. Curiously, this decision was at odds with a 2010 recommendation from the National Organic Standards Board (also a USDA-run organization), which said that hydroponic products should be excluded from receiving the organic stamp.    
At the very core of the issue is the way that the National Organic Standards Board defined organic agriculture way back in 1995. At the time, NOSB wrote, "Organic agriculture is an ecological production management system that promotes and enhances biodiversity, biological cycles and soil biological activity. It is based on minimal use of off-farm inputs and on management practices that restore, maintain and enhance ecological harmony."
Which hydroponics clearly is not. Hydroponic operations rely on all off-farm inputs and are generally run as monocultures, with zero biodiversity. "My first thought on seeing the video [for Freight Farms] was to imagine a spoof video titled Freightbistro," says Eliot Coleman, who owns organic Four Seasons Farm in Maine. "Diners would enter, sit at sterile tables with artificial flowers, and then would have different intravenous needles inserted in their arms from test tubes labeled 'cocktail', 'appetizer', 'wine', 'entrée,' and 'desert.' Hydroponics is 100 percent driven by artificial inputs. Are we are supposed to think that is a good idea in a world of diminishing resources?"
Freight Farms cofounders counter that the organic labeling system is murky at best, and that their rig uses far less water (ten gallons per day, says Friedman) than an equivalent outdoor organic operation. If you're growing produce in, say California, ten gallons a day is likely much less water than you'd use to irrigate. But Coleman counters, saying that during a normal year on his farm, his plants receive no more than rainwater that falls from the sky.
So many variables go into farming that it's hard to identify one technique as objectively better for the environment. Ultimately, whether hydroponic growing is more or less energy and water intensive than growing using traditional methods likely depends on where you live. For those who run a restaurant in the city—like Dubois—something like Freight Farms probably makes more sense than trying to get the abandoned lot next door re-zoned as a community garden. And it's definitely much, much easier than trying to keep the neighbors from plucking your ripe tomatoes. 
Lead Photo: Freight Farms