Switzerland's Cheesemaking Ski Bums: Actually a Great Idea
In the Alps, ski guides herd both tourists and cows. And they're a case study for a dual lifestyle that keeps small farms thriving.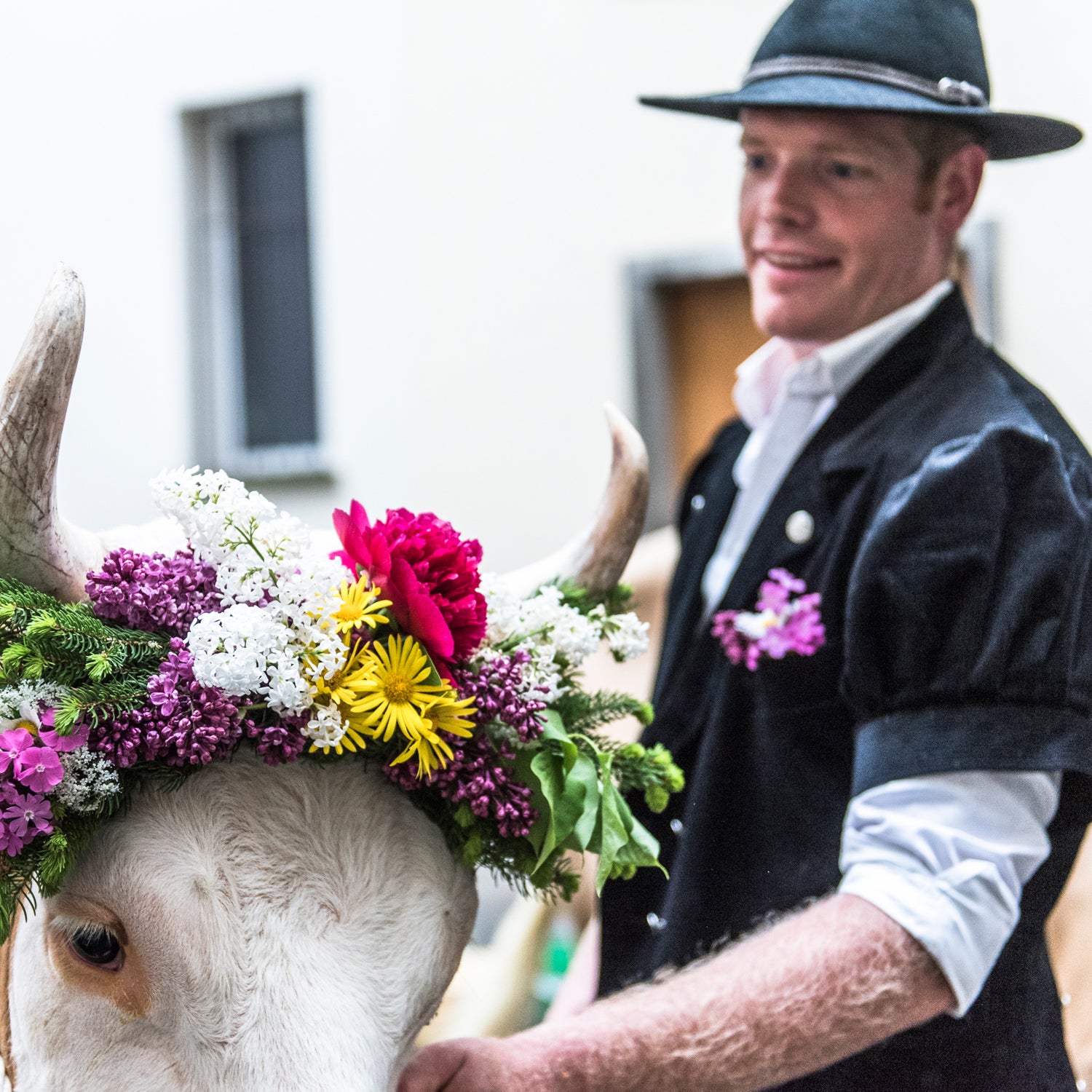 Heading out the door? Read this article on the new Outside+ app available now on iOS devices for members! Download the app.
It takes Christian Von Siebenthal a moment to think about how he wants to answer the question, Which are easier to work with, your cows or the guests you're teaching to ski? 
He laughs, takes a swig from his lager, and says, "Probably the cows."
Von Siebenthal, a twenty-something with shaggy blond hair, spends his winter days shuttling wealthy gravity junkies around the slopes in ritzy Gstaad, Switzerland. But at the end of each day, you'll rarely find him parked in Gstaad Palace's Lobby Bar like this. While his clients unwind with cocktails, Von Siebenthal changes out of ski boots and into muck boots. "My après ski happens in the barn," he says. 
For three generations, the Von Siebenthal family income has come from two sources: cattle farming and ski guiding. Von Siebenthal spends his winters on the slopes and his summers making cheese. All year long, he lives on his family's farm in the hills surrounding Gstaad and helps with daily chores. 
Von Siebenthal's dual occupation isn't all that unusual in Switzerland. In fact, dairy farmer-ski guide hybrids have been around for generations, and the next generation seems just as keen on continuing the tradition. It may be the secret to why Switzerland's meat and cheese industry is so revered around the world, since it's likely helping artisanal producers ride out tough market times. 
Since around the 1950s, America has seen a steep decline in family-owned and non-industrialized farms. The most recent report from the U.S. Department of Agriculture defined America's farms as "fewer and bigger." Almost all of Switzerland's agricultural economy, on the other hand, is still driven by small family farms. While the average American farm is now 400 acres, the majority of Swiss farms are between 20 and 50 acres. "Almost all Swiss farms are family businesses," Forney says. "There is no significant number of corporate-industrialized farms." A 2014 USDA study shows that 90 percent of America's farms are family-owned, but take the term "family-owned" with a grain of salt: A mere 3 percent of those farms make up 47 percent of production.
Competing alongside industrialized farm giants, small farmers increasingly need to hustle to make a living. "It's a common story in the U.S.," says Justin Gardner, a professor of agribusiness at Middle Tennessee State University. Growing up, his father supplemented the family's farming income by selling feed. Farmers under 35, especially those paying off student loans, are facing a particularly tough situation. A 2015 report from the National Young Farmers Coalition found that more than 42 percent of young farmers had to hold an additional non-farming job in order to make ends meet. But in rural American communities, those non-farm jobs are often in local factories or at Walmart, offering little autonomy.
It's likely that many Swiss farming families have found ski guiding to be the perfect income complement. True, these farmers have advantages that many in the States may not have: the right location and a family history with both of those specific jobs, among other factors. Still, the idea of combining two seasonally complementary jobs remains largely unexplored in the U.S., while it's common practice in Switzerland. "Winter has always been a quieter time in a farmer's year and it's traditionally been the time to develop other activities to earn extra money," says Jérémie Forney, who studies farmers at the University of Neuchâtel. "Numbers indicate that tourism, including skiing, plays a significant role in Swiss farmers' strategies." 
Early in his career Von Siebenthal spent eight months working on a commercial dairy farm in Wisconsin. The experience made him realize just how good the setup is in Switzerland. The grind of working in a hyper-streamlined commercial process in the U.S. grated on him. "I love to be outside and I love that you can basically decide what you want to do every day as a farmer," he says. "I have work to do, but I can decide when I do it." It's the same with guiding—he's essentially a freelancer, allowed to take or decline guests as his schedule permits. 
The lifestyle is keeping more young farmers engaged in the family business. Switzerland, like many other Western nations, is losing young farmers, but maybe not as quickly as we are in the US. In Switzerland, Dr. Forey says the average age of farmers is 50. The average age of an American farmer is 58. Plus, according to the National Young Farmers Coalition, 78 percent of the young farmers joining their group are not from farming families—which means that many kids who grew up on farms here in the states are leaving them for greener pastures.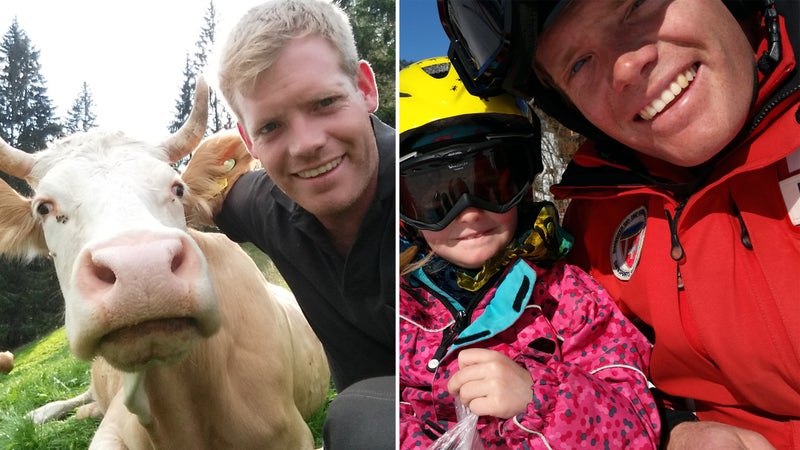 Lucas Bach, a colleague of Von Siebenthal's, did exactly that—but now he's back. Bach also comes from a longtime farm/ski family, but he left farming in his early 20s. "When I was young I wanted to do anything but farming," he says. He moved to Zurich and got an office job. But the land called him home: "I realized how nice it was here and came back. I'm not sitting in a chair doing the same stuff all year." 
The Bachs have been making a living from raising dairy cows and peddling skiing lessons for three generations. As the snow melts on the mountains this year, the family will take their cows up the mountains and stay for several months in a small, mountaintop hut. 
Down the line, all of this makes for some really great cheese. "At different elevations there are different herbs and flowers that grow," says Peter Wyss, head chef at Le Grill, Gstaad Palace's 16 Gault Millau point restaurant. These herbs and flowers change the flavor and quality of the milk. It's terroir for cheese, and the better you know your local mountains, the better the finished product is going to be.
"We have fondue or raclette, which is plain cheese melted over potatoes, once every two weeks in the winter," says Von Siebenthal. "It tastes like home," says Bach. "My mom always makes it and it's not a fast meal—you sit together, spend time together, you drink good wine." It's slow food, he says, at the table and on the farm.
Lead Photo: Courtesy of Lucas Bach