10 Days of High Country Trout and Singletrack in Colorado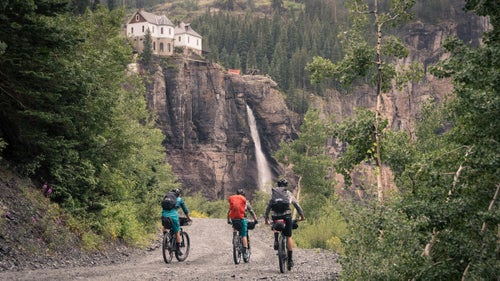 Spend ten days ripping singletrack and fly fishing through Colorado's San Juan Mountains with a group of your best friends and you might just have a dream vacation. This August, photographer and rider Ben Kraushaar put together a crew of MTB and adventure junkies to do just that. With Telluride as the jumping off point, Kraushaar was joined by Justin Reiter, Dylan Stucki, Sam Simmons, and Trevor Downing for some high country trout, great riding, and plenty of challenging Colorado weather. Here, Kraushaar shares some favorite shots from their San Juan mission.
Photo: (Left to right) Sam Simmons, Justin Reiter, and Dylan Stucki pedal towards Bridal Veil Falls, the tallest waterfall in Colorado, in Telluride. We started our ten-day bikepacking trip in Telluride with the intention of fishing numerous alpine lakes and streams on our course through the San Juan Mountains.
My setup: The Yeti Cycles SB5.5C outfitted with ENVE wheels and Maxxis tires was my weapon of choice for this trip. The Revelate Designs handlebar bag carried my ultralight Big Agnes tent, sleeping bag, and pad, in addition to my stove, fuel, and cookpot. My Redington Rod was also strapped to the bar for the duration of our journey. In the seat bag I carried my food, fishing supplies, and Bedrock Sandals. On my back I carried clothes and camera equipment.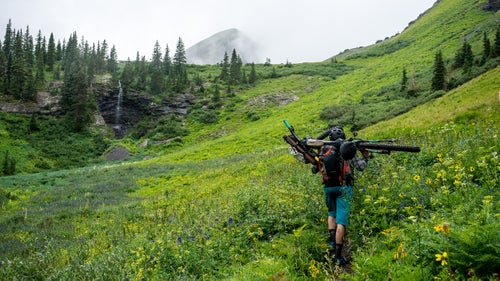 Despite warnings from a fellow fisherman about the steep and technical terrain on the trail to the first lake, we were fueled by determination to make it up the 1.2 miles. Rain made the rocks extra slippery and bushes had grown over the trail, making it nearly impassable with a bike on your shoulders. But we managed: three and a half hours later we crested the steepest part of the trail and were rewarded with a foggy view of a waterfall and large peaks in the background.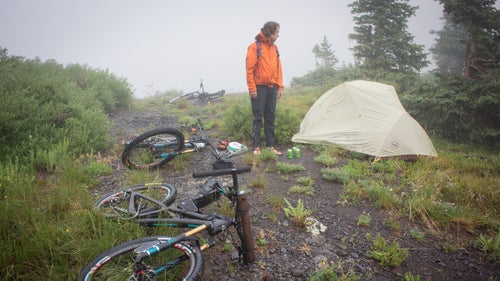 After the steepest and most brutal hike-a-bike any of us had ever experienced, we finally made it to a beautiful lake nestled high above Telluride, where we camped. Unfortunately, heavy rain resulted in frustrating fishing and lots of tent time. Here, Sam Simmons surveys our camp between downpours.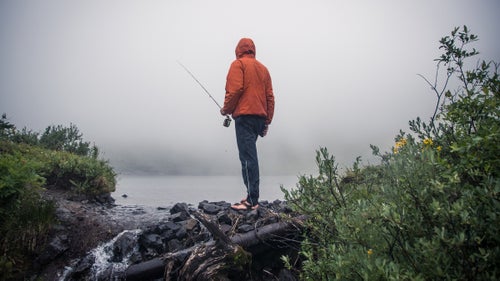 Simmons looks for risers through the heavy fog at camp one. Despite throwing everything we had at the fish (dries, streamers, and nymphs) they seemed uninterested. Collectively we only managed to outsmart one fish at the first lake, thanks to Olympic snowboarder Justin Reiter's perseverance.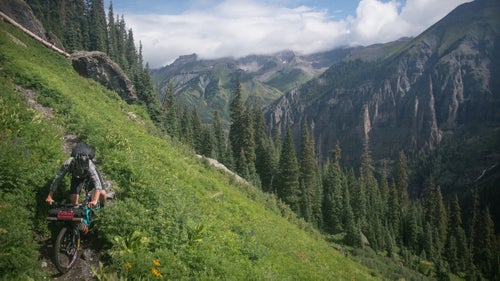 Dylan Stucki takes advantage of a break in the weather to shred his Yeti SB4.5C on some amazing Colorado singletrack. The ridiculous hike we suffered up a couple days prior sure was a lot more fun to ride down.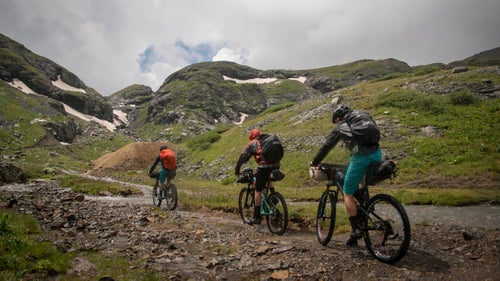 (Left to right) Reiter, Stucki, and Simmons ride past old tailings piles on their way to the top of Bridal Veil Basin on the third day of our quest.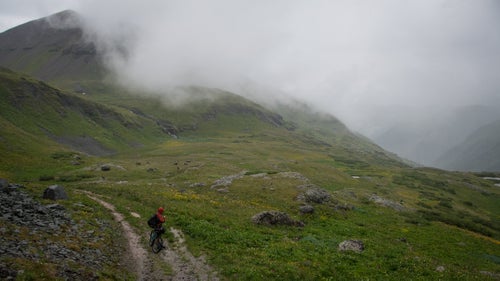 Stucki watches as the next wave of rain makes its way up the valley. For the first five days of our trip we battled through horrendous weather. Cold rain at nearly 13,000 feet, for days on end, makes for an epic journey.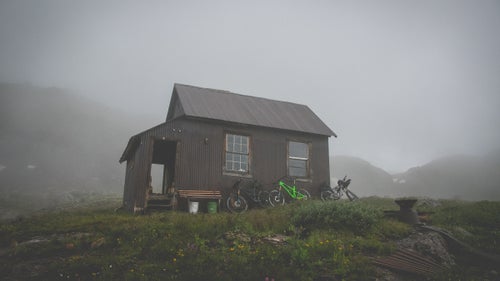 This old mining cabin saved our crew. Instead of making a push over an exposed pass in pouring rain, we were able to post up, make a fire, and sip whiskey until we were warm and in good spirits.
(Left to right) Kraushaar, Simmons, Stucki, and Trevor Downing take refuge from the monsoon weather in a small mining cabin. The crew studies the upcoming day's routes, hoping for sun and hungry trout.