This 24-Hour MTB Race Is So Fun, Lance Armstrong Did It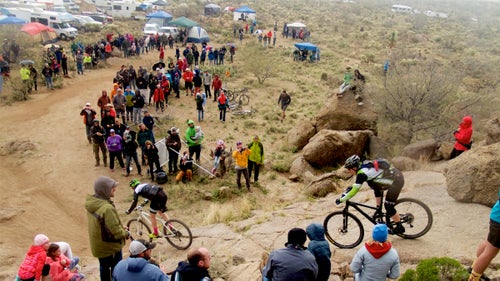 24 Hours in the Old Pueblo, one of the country's great 24-hour races, went off this President's Day weekend, complete with thundering rain, a rowdy party, and four former members of the U.S. Postal Service Pro Cycling Team. On a quiet patch of rock and dirt outside Tucson, Arizona, nearly 2,000 riders and even more spectators gathered on February 18 for a round-the-clock, relay-style mountain bike competition on a 16-mile loop through the desert.
Team WEDU24 caught attention for its star-studded roster—Lance Armstrong, George Hincapie, Christian Vande Velde, and Dylan Casey. But they didn't come with major expectations of winning. Instead, like most other competitors, they were intrigued by the party and a chance to ride for 24 hours straight, and they found exactly what they were looking for. Photographer Maria Nasif followed the crew through a rainy night.
Photo: A crowd gathered at a popular spectator section called the Rock Drop just before the skies opened up and soaked the course.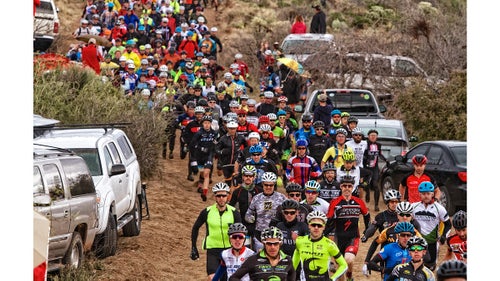 The race began at 12 p.m. sharp with a run to the bikes, which were loosely stacked together about a quarter-mile away. Then it was on to the 16-mile loop, which crossed over seven rolling hills filled with front-wheel-bending ruts and plenty of spots where spectators lined up to witness potential disaster or inspiration. Upon completing a lap, team members handed off their batons at an exchange tent, where their time was recorded, then they refueled and slept until the cycle repeated.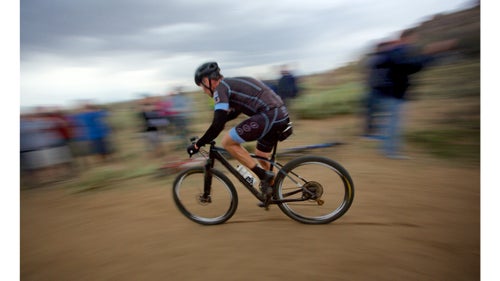 Lance Armstrong cruises to a lap time of 00:58:28, one of the fastest of the event. Team WEDU24 joined the party not as true contenders but as fellow merrymakers, hoping to clock some moderately fast lap times and enjoy tastings at the beer garden and whiskey tree in between. The team's moniker, WEDU, is Armstrong's work-in-progress brand or event platform for promoting and hosting all types of endurance events. At this event, team WEDU24 came in third.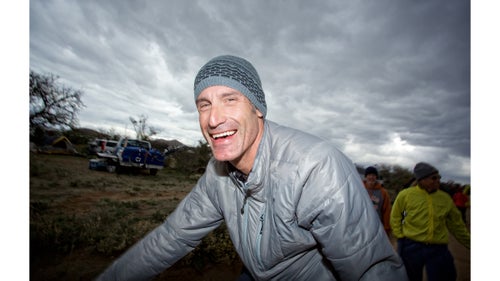 Delighted by the crowds (and by not having to run the LeMans), George Hincapie looked right at home. Teammate Dylan Casey says the race format is what caught the team's attention. "The extreme nature of 24 Hours in the Old Pueblo and the commitment required to prepare for it is what we love," he says. "Even though we've all done three-week stage races and are comfortable suffering, I think we [were] all a little anxious given it's a new experience—but that's part of the attraction."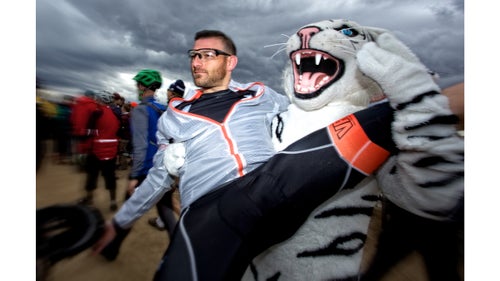 A participant demonstrates partner-assisted prerace stretching. There is no prize money at 24 Hours in the Old Pueblo. The goal is to donate $20,000 to local charities. Race organizer Todd Sadow has a simple formula for raising the funds and keeping participants coming back again. "What I've always wanted for all Epic Rides events is for all levels of mountain bikers to feel welcomed," he says. "We've always made a concerted effort to keep our entry fees low while providing all our attendees an experience beyond measure."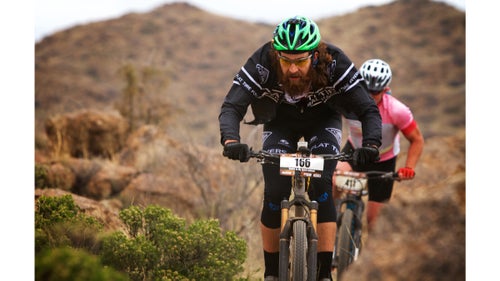 Ryan Goold, from Cave Creek, Arizona, competed in the solo singlespeed male division. It's a competitive event, but fun is a theme you will hear repeatedly from racers, from casual corporate teams to pros determined to win their category. Every discipline, from solo rider and singlespeed to groups as large as ten, all race together here.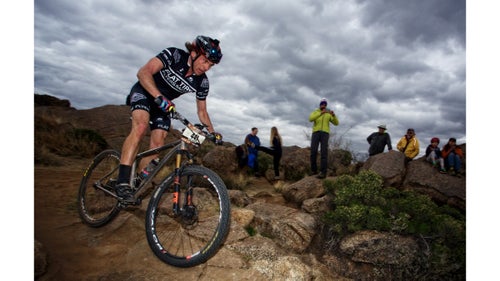 Dax Massey, of Denver, Colorado, rides before the storm for team Roca Roja Rollers. He finished with a fast lap time of 01:01:36.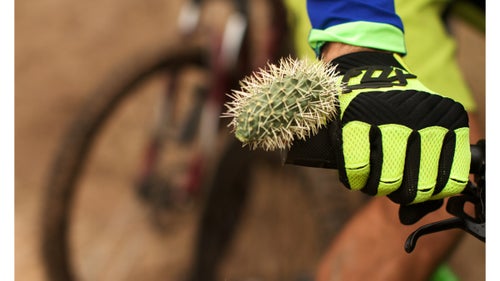 An unwanted passenger takes hold for a free ride. Although the course is not considered overly technical, plenty of dangers abound. Various combinations of rugged desert terrain (bring tweezers and pliers), late-night revelry, and physical exhaustion have led to a number of unlucky riders being medevacked out over years, but this event went off without a hitch.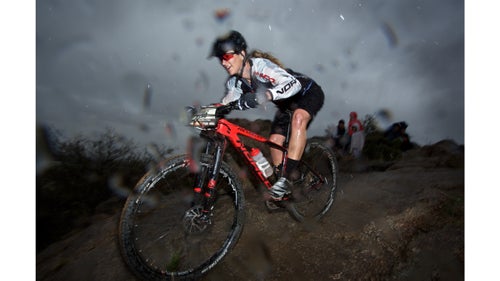 Tucson's own Cayley Brooks of team Beers, Babes, and Boys shows everyone how to descend a slab in the rain.
Full race results and all the info you need for next year is on the race's website.