Our 12 Favorite Adventure Rigs from Overland Expo West 2023
Here are the builds we drooled over while combing the overlander gathering's show space and parking lots
To fully take in Overland Expo West—held in Flagstaff, Arizona from May 19 to 21 this year—you have to do two things. First, you'll want to walk around the show and gawk at the amazing rigs that sit in the company booths. These vehicles are hung with all the newest gear and spit-polished to perfection. Second, after you've walked the show, you should head to the on-site camping area where thousands of attendees have stationed their personal rigs for the three-day event. These vehicles, which real people are using to adventure across the world, aren't as shiny, but they're often more creative, and always inspiring. We spent two days tracking down our favorite vehicles from both areas. Here are 12 we wanted to jump in and take out into the wilderness.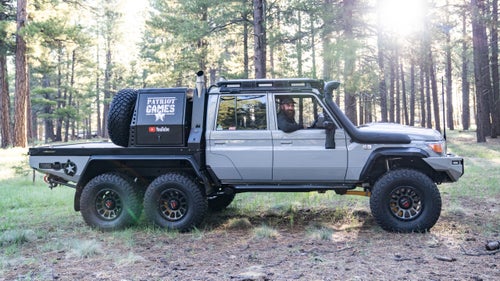 2017 79 Series Toyota Land Cruiser
This is—obviously—no run-of-the-mill Land Cruiser. Built by Justin Montesalvo, who owns Patriot Campers in Gold Coast, Australia, it's been modified to have a third axle, making it a six-by-six instead of a four-by-four. While it might look gimmicky, the truck is designed to rally offroad in the most difficult and notorious spots in Australia and across the world. Each of the portal axles is locked for increased traction and under the hood is a 4.5-liter turbocharged V8 turbo diesel that puts out 600 horsepower and is drooled over by Americans because we can't buy it stateside. To learn more, check out Motesalvo's full YouTube video about the build.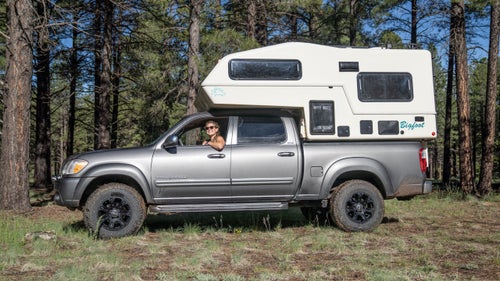 2006 Toyota Tundra
We love the lines of these beautiful old, first-generation Tundras—so much so that Outside writer Nick Heil even made a compelling argument for why it's the best truck ever made. But the real draw here is the 1994 Bigfoot 6.11 trailer. No longer in production, the Bigfoot is highly sought after by overlanders because it's the perfect match for mid-size trucks, well laid out, and comes insulated for four-season camping. This one is owned by Alexandria Gallizioli who lives full-time in the camper with her dog Terra. She's installed many upgrades including a full redwood-paneled interior, a five-cubic-foot fridge/freezer, and 450 watts of solar. To learn more about the truck and stay up on Gallizioli's adventures, follow her on YouTube at @SheRoamsWild.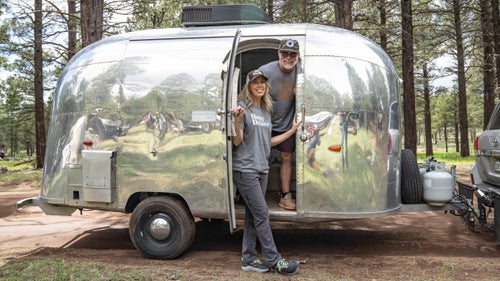 1961 Airstream Bambi 16-Foot Trailer
Erica and Jef Sherwood are the definition of Texas nice. I walked up to them and within five minutes they were shaking our hands and hugging us like we were old friends. They bought their 16-foot classic Airstream from the original owner and it came with everything that the duo needs for weeks on the road—a bathroom, shower, fridge, propane cooktop, heater, and air conditioner. The trailer was in mint condition minus a small dent caused by a falling tree during a windstorm, which they plan to fix so the outside will be just as pristine as the inside. Living together in 125 square feet seems to me like solid credentials for the Sherwoods' radio show in Austin, Texas that's all about marriage. You can listen here.
2011 Ural Gear Up 2WD Gobi
Joey Jelf shattered his thigh in a motorcycle accident several years back. It was a horrific experience, but it didn't dissuade him from climbing back on motorcycles, which he's ridden since he was a kid. However, to keep things more stable, and a bit calmer, he invested in this Gobi that comes with a sidecar and is only meant to go about 60 miles per hour. Since buying the Ural, which is made in Russia, Jelf and his dog, Cisco, a red heeler, have criss-crossed the country twice on back roads, taking in the views at a slower pace. If he ever finds himself stuck in mud, snow, or dirt, Jelf can shift the bike into two-wheel drive (front and back, like four-wheel drive for a car), and the added traction will get him out of most sticky situations.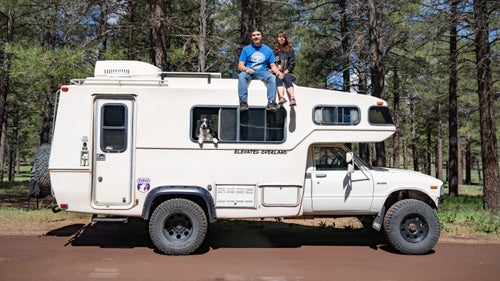 1983 Toyota Sunrader
This isn't what this Sunrader looked like when it was produced 30 years ago. Like other original Sunraders, it was a low-slung, two-wheel-drive camper meant for pavement and national parks. But Padric McCelvey of Durango, Colorado takes Sunraders like this and does a full drivetrain restoration while converting them to four-wheel drive so that owners can travel much farther afield. His version now sits on 35-inch tires and awaits a full remodel of the interior. Pictured with him are his wife, Jena McCelvey, and dog Carnage. Learn more about McCelvey's business at Elevated Overland.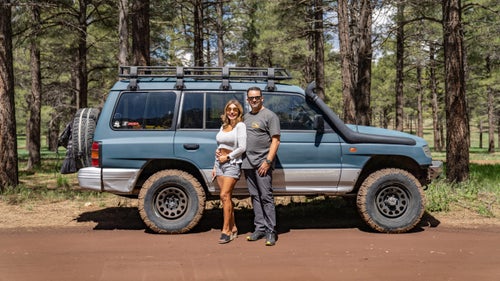 1999 Mitsubishi Gen 2.5 Montero
Jorge Cantres grew up in Puerto Rico and remembers seeing Monteros everywhere as a kid. So when he set out to find a capable but affordable off-road vehicle the vintage Mitsubishi seemed like an obvious option. He bought this one for just $3,000 and has since rallied it all over the country and taken it on some of the U.S.'s hardest and most notorious off-road trails, including Poison Spider in the Moab, Utah area. Right now it's on 33-inch tires, runs full skid plates, and has an armored front bumper. Cantres plans to add a front locker for additional off-road traction. Pictured with him is his partner, Maritza Mijares.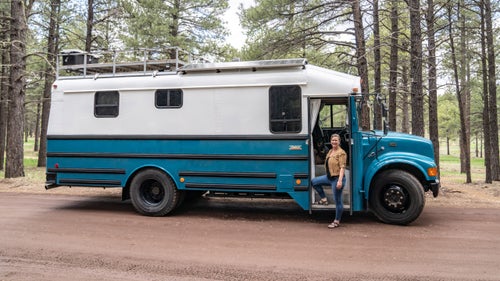 1998 International 7.3 Liter Turbo Diesel School Bus
When Jamie Nieto got burnt out from her corporate executive career in the aerospace industry, she quit her job and now lives full time in her bus. Because there's so much space, she's invested in many comforts including a rooftop deck for yoga, a full-size fridge, propane stove, wood burning stove, hardwood floors, radiant floor heating, and cedar paneling throughout. The bus isn't four-wheel drive but it sits on logging-grade tires that help her get off road to explore. Following Overland Expo West, Nieto said she would be on her way to help out on an organic farm in Oregon as part of the Worldwide Opportunities on Organic Farms, USA (WWOOF USA).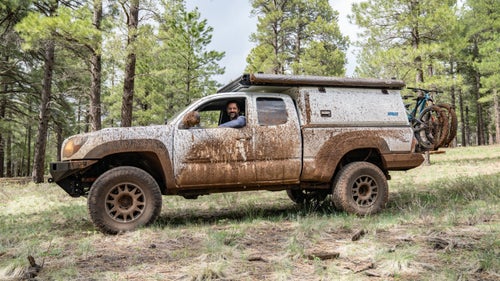 2007 Toyota Tacoma
It's sort of a cliche to include a second-generation Tacoma in an overland gallery because so damn many have been built out. But this one caught our eye in the Expo parking lot because it was obviously being used hard. The owner David Wilson had just gotten back from slogging through the mud of Northern Arizona as part of a mountain bike trip where he used his Tacoma to its full potential. Features on his truck include long-travel suspension, a Super Pacific camper, and a healthy 230,000 miles on the odometer.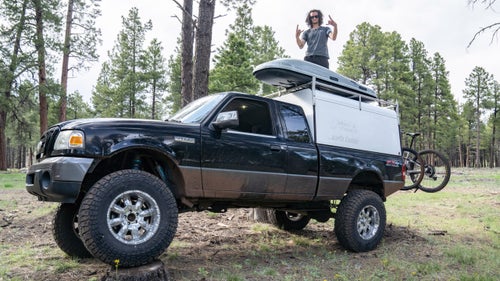 2008 Ford Ranger
Overlanders are generally outgoing people who love to adventure. But Kyle Correia, who lives in Flagstaff, Arizona and owns this Ranger, is a whole other level of enthusiastic. When we told him we wanted to photograph his truck, he literally bounced with excitement and insisted on pulling the front tire onto a tree stump to show off his suspension. Other features include 35-inch tires, a solid front axle that he swapped in from a Jeep, a rear axle from a Ford Explorer, and a windowless contractor's camper on the back with a simple bed where he lives full time.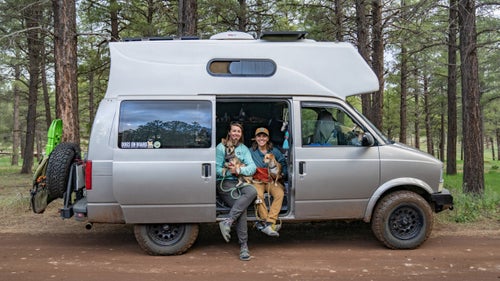 2005 Chevrolet Astro Van
After Overland Expo West, Heidi Vancamp and Katie Baldanza said they were heading to Alaska. Once they've toured the last frontier, they plan to drive the 19,000-mile-long Pan American Highway all the way to the tip of Argentina. They're doing all of it in their Astro van that they converted from all-wheel drive to four-wheel drive for better traction. The van also comes with a high-top conversion from Fiberine, 3.5-inch lift, armored bumper, 20-gallon freshwater tank, cassette toilet, 360 watts of solar, custom wood countertop, and 45-liter fridge. They're pictured here with their dogs, Sumo and Toaster.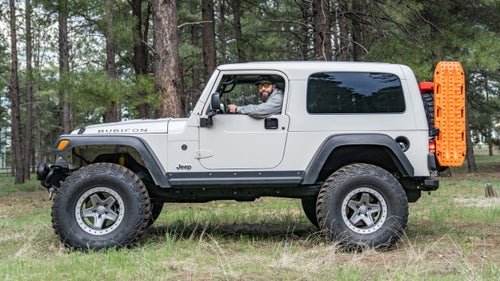 2006 Jeep Wrangler LJ Rubicon
To most of us this looks like a standard old Jeep Rubicon. But those who know why it's special stopped to gawk all day long as it sat in Overland Kitted's booth. It's so valued among the Jeep crowd that at one point an attendee walked up to Overland Kitted's owner Matt Scott and offered him a healthy six-figure sum. Scott didn't even consider the offer. Driven here by Scott's friend, Matt Glass, the Jeep commands so much attention because it showcases early conversions and upgrades from AEV, a company that's exploded in popularity and now works with brands like Jeep and Ram to offer off-road upgrades directly from the factory. One of the most important upgrades AEV did to this Rubicon was to swap in a V8 Hemi engine (an upgrade the company pioneered) that boosted the Jeep's power and made it hum on the road. Another reason it's such a high-value rig: that engine has only 13,000 miles on it.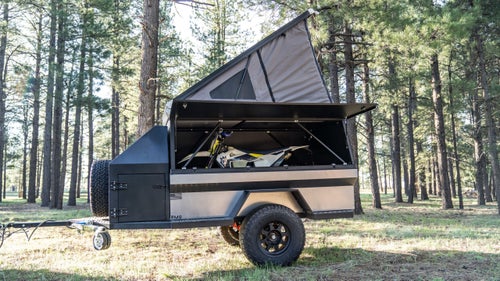 Rustic Mountain Overland Anzac Trailer
Look around the next time you cruise the freeway and you'll likely see a Go Fast Camper on the back of someone's truck. They're the most popular lightweight truck campers, by far, and now you'll start seeing them on trailers, too. Built by Rustic Mountain Overland out of Birmingham, Alabama, this new trailer is designed to haul all your camping gear plus your mountain or dirt bikes beneath a Go Fast Camper that slots on top as a sleeping space. Company owner Ryan Hand outfits the trailers with a battery and a fridge as well so they're ready for camping on delivery.